U.S. Economists Predict Endless, Mandelbrot-Shaped Recovery https://t.co/MWwaVtkucl pic.twitter.com/AqMVEnCkPA

— The Onion (@TheOnion) May 14, 2020
Bold (But Not Italic) Move
Like a lot of companies, rather than license a pre-existing typeface, Goldman Sachs has decided to design its own—Goldman Sans. It's available for anyone to download and use for free—although Boing Boing points out some sticking points in the user agreement:
(C)(2)(d) The User may not use the Licensed Font Software to disparage or suggest any affiliation with or endorsement by Goldman Sachs.
That is, you can't use Goldman's own font to say nasty things about them. (The designer of Comic Sans should have written that into the EULA.)
Also:
(E)(2) Further, Goldman Sachs may terminate this License, without notice to the User, for any reason or no reason at all and at any time, completely at Goldman Sachs's sole discretion.
Those of us who used to endure Courier substitutions are not afraid.
Core77 also identifies other brands/companies that have developed their own typefaces, including Apple, the BBC, and Netflix.
Copywrong
If you take a picture of your food in Germany, the chef legally owns the rights to the photo as it's considered their artwork.

— Quite Interesting (@qikipedia) June 20, 2020
Restoration Hard
Are you looking to have your Spanish Baroque paintings restored? No, nor were we (the wall décor here in the Around the Web Cultural Accretion Bunker comprises only declassified NSA Cold War propaganda posters), but if you are looking to have any pieces in your priceless art collection restored, you might want to hire a professional. Says the BBC:
An art collector in Spain has been left stunned by the botched restoration of a copy of a painting by Baroque artist Bartolomé Esteban Murillo.

The Valencia-based private collector paid €1,200 ($1,355; £1,087) for it to be cleaned by a furniture restorer, according to Spain's Europa Press.

But despite two attempts to fix it, the picture of the Immaculate Conception has been left unrecognisable.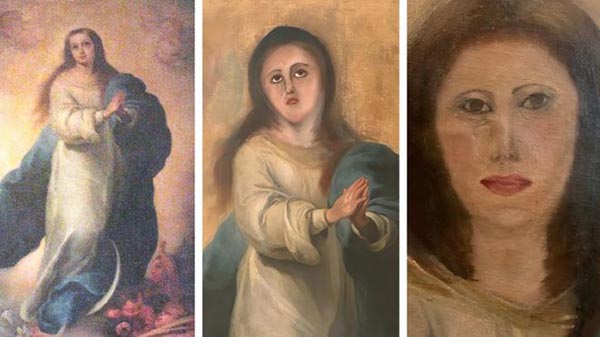 Europa Press
Furniture restoration...art restoration. How different could they be, really? (Although we did once hire an art restorer to fix up an antique table and we ended up with a Velázquez that seats eight.)
This is apparently not an unusual phenomenon.
In 2012, an elderly parishioner attempted to restore a prized fresco of Jesus Christ at her local church near Zaragoza. But her paint job led to the painting being dubbed "Monkey Christ."
Part of the problem is that there's no law in Spain preventing anyone from restoring artwork, even if they are completely unskilled.
the country's Professional Association of Restorers and Conservators (Acre) condemned the lack of legal protections, and called the recent incident an act of "vandalism".
We Should Try This with Printing Shipments
The numbers in this chart are completely unrelated to the size of the bars in this bar chart. Florida does it again. pic.twitter.com/R0NHxk1Mpc

— Dare Obasanjo (@Carnage4Life) June 23, 2020
I've Seen That Movie
It seems more and more headlines these days sound like a bad action movie from the 1970s, or something that would have been riffed on Mystery Science Theater 3000. From Gizmodo: "U.S. Army Soldier Charged With Plotting to Attack His Own Unit With Neo-Nazi Satanists."
Positive Sign
openly weeping pic.twitter.com/pZqBPNYF8u

— caitie delaney (@caitiedelaney) June 12, 2020
Trouble Was His Business
Boing Boing this week paid tribute to Raymond Chandler, dubbing the roman noir author "the once and future king of opening paragraphs." Chandler was not the most prolific of writers—in fact, he only became a writer at the age of 44 after losing his job as an oil company executive during the Great Depression—and all his books are classics, but his best known is The Big Sleep (largely due to the Howard Hawks film adaptation with the perfectly cast Humphrey Bogart as Philip Marlowe).
The opening of his short story "Red Wind" is an all-time classic:
There was a desert wind blowing that night. It was one of those hot dry Santa Anas that come down through the mountain passes and curl your hair and make your nerves jump and your skin itch. On nights like that every booze party ends in a fight. Meek little wives feel the edge of the carving knife and study their husbands' necks. Anything can happen. You can even get a full glass of beer at a cocktail lounge.
Chandler was also great at one-liners, usually given to his perpetual narrator, hard-boiled private detective Philip Marlowe. Esquire rounds up a bunch:
"From 30 feet away she looked like a lot of class. From 10 feet away she looked like something made up to be seen from 30 feet away." —The High Window

"I'm an occasional drinker, the kind of guy who goes out for a beer and wakes up in Singapore with a full beard." —Philip Marlowe's Guide To Life

"She smelled the way the Taj Mahal looks by moonlight." —The Little Sister
The Long Goodbye is arguably his masterpiece.
Get the Reboot
Inspired by Perry Mason on HBO, I'm writing a pilot about a slew of grisly Jack the Ripper-type killings in Victorian London and calling it My Mother The Car.

— Frank Conniff (@FrankConniff) June 24, 2020
Judging Covers by Their Books
One of the things you kind of lose with ebooks and even audio books is the impact of the cover. A great cover can be just as memorable as a great book, and when a great book has a great cover, that's the mark of a true classic. Some book covers have become icons, such as Francis Cugat's 1925 cover for F. Scott Fitzgerald's The Great Gatsby: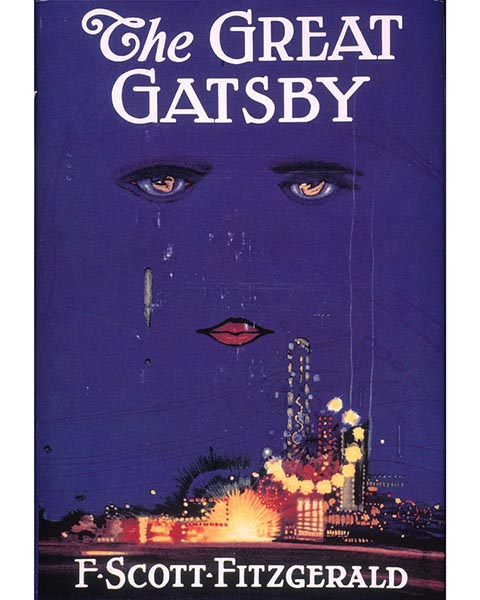 The BBC a few weeks ago had a feature on what makes for an iconic book cover.
Covers can be a swift way to signal genre, but the good ones do more than that. They give face to a book's personality. They're what will make you pick it up in the first place, then keep it on your shelf to remind you what it meant to you. "When you're reading a book, it stays with you for a while, literally," says Donna Payne, creative director at Faber & Faber. "The physical book is in your bag, in your hand, by your bedside table."

...

A successful cover conveys something about the words inside. "If you've got a visceral piece of writing that's risk-taking and bold, it's important to put that cover on that book," she says, citing Eimear McBride's A Girl is A Half Formed Thing – which she designed – as an example. "The symbol of the fruit and the wet and kind of rotting paper, along with the font, just felt like it fit so seamlessly into the reading experience."
If It's Not One (More) Thing...
I didn't have meth gators on my bingo card ?? pic.twitter.com/cuRpGbuugy

— Andrew Mccluskey (@Mccloosk) June 20, 2020
...It's (Yet) Another
'Mutant ticks' overwhelming hospitals in Siberia
A Good Look
Like I've been saying to everyone, for so many years: please wear a mask

— Emo Philips (@EmoPhilips) June 24, 2020
Glassmask
Earlier this week, Inkjet Insight's Mary Schilling wrote about her sideline printing and making masks, lamenting that the biggest drawback to having to wear a mask is not being able to see anyone smile. Well, Core77 writes about a team of scientists who have developed a clear glass face mask:
The Civility Mask, created by a team of 14 designers and 15 engineers coordinated by French engineer Pierre Blondon, is made out of glass(!) and a TPE seal that contacts the wearer's face.

Two ports on either side of the face contain small electric fans (one blowing in, one blowing out; I assume that's how they prevent the mask from fogging). Both fans have replaceable filters over them, and according to Blondon feature even better filtration than an N95 mask....
Just change your name to Locutus of Borg, and you're all set! We'll stick with Mary's...
Mooving Violation?
Again, I'm struck by the inconsistencies of lockdown pic.twitter.com/wZqP4dL6J8

— Yakub Qureshi (@yqshi) June 20, 2020
Ringoletto
The lockdown has hit everyone in some way, but the performing arts in particular have taken quite a beating. Musicians and other performers are finding unique ways to continue to connect with fans or stage home-bound performances. One of the most creative ideas we have come across is "opera by phone." Says the NY Times:
A love letter fluttered into my inbox last week. "I miss you terribly," it began. "Each day without you is like a day without breathing."

The writer went on to lament the pain of separation and spoke of arms aching for an embrace, of love songs written as company during long, lonely nights. Then, a rendezvous: At an appointed hour the following day, I was to receive a phone call and hear those songs sung for me alone.

The email was the opening shot in a playfully ardent and intimate new production of Beethoven's "An die ferne Geliebte," a song cycle about the power of music to transcend time and space. Presented by On Site Opera under the title "To My Distant Love," the concept delivers live and interactive one-on-one performances by phone through July 6. Texts by the playwright Monet Hurst-Mendoza add a touch of contemporary whimsy, and invited me to entertain the illusion that this collection of songs written in 1816 were in fact personally, passionately, pandemically intended for my ears only.
Nah; we'll send it to voicemail.
Mixed Messages
Getting mixed messages here pic.twitter.com/fvIGE4o1vb

— Ross Hutchinson (@Ross_Hutchinson) May 1, 2020
Full Houseplants
If not opera by phone, how about Barcelona's UceLi Quartet's performance of Puccini's "Crisantemi" to a packed house—but with a unique audience composition: "Conceptual artist Eugenio Ampudia prepared an original, unique and different concert, in which the 2,292 seats of the auditorium were occupied on this occasion by plants." The plants were supplied by local nurseries, and after the performance were donated to 2,292 healthcare workers on the frontlines battling the COVID crisis.
There is something a bit Monty Pythonesque about the whole thing.
What's Old Is Nu Again
As #DarkestHour is about to begin, this is your regular reminder that Gary Oldman is 13 days younger than Gary Numan.

— Richard Osman (@richardosman) May 9, 2020
Fake Words
Some of us have long subscribed to A Word A Day, in which we are emailed a new word each day. The downside is that it only draws from words that actually exist. But what if we were looking for a word-of-the-day service for words that are completely made up? Well, Thomas Dimson has launched an Artificial Intelligence-based word generator called This word does not exist.

Some of them could be quite useful. It also brings to mind the classic Samuel Johnson episode of Black Adder the Third:
Lovely Letters
Lovely letter in today's Times pic.twitter.com/eGfsPASutf

— Tom Rowley (@tomjrowley) June 22, 2020
Scoot Away
Whilst the Segway became something of a pop culture icon (we will always associate it with GOB Bluth's ride of choice in the brilliant 2000s sitcom Arrested Development), it never quite caught on as a practical (or desirable) mode of transportation. So, as of this summer, it is being discontinued. Says CNN: "The Segway PT made a splash in December 3, 2001 when it was unveiled on Good Morning America. Inventor Dean Kamen said that an urban transportation revolution was coming and cars would be obsolete. Kamen felt it was absurd to use 4,000-pound cars and trucks for short trips."
He does have a point. Of course, one could also walk.
At any rate, we are happy to see it go away if for no other reason than it has led people to misspell the word "segue."
Glutton for Punishment
Depraved Masochist Enjoys Following The News https://t.co/ccBjl9EF4q pic.twitter.com/2Cv1C2AfUH

— The Onion (@TheOnion) May 15, 2020
This Week in Printing, Publishing, and Media History
June 22
1906: Austrian-born American director, producer, and screenwriter Billy Wilder born.
1969: The Cuyahoga River catches fire in Cleveland, Ohio, drawing national attention to water pollution, and spurring the passing of the Clean Water Act and the creation of the Environmental Protection Agency.
June 23
1860: The United States Congress establishes the Government Printing Office.
1868: Christopher Latham Sholes receives a patent for the "Type-Writer."
As you all know, it's #TypewriterDay. Here's Mark Twain writing to his brother in 1874 on his "NEW F FANGLED WRITING MACHINE," the Remington No. 1, which only produced upper-case characters.

(More info at the Letters of Note blog, which still exists: https://t.co/epo9kntt9F) pic.twitter.com/1EzYGaYz3K

— Letters of Note (@LettersOfNote) June 23, 2020
1912: English mathematician and computer scientist Alan Turing is born.
1926: The College Board administers the first SAT exam.
1969: IBM announces that it will start pricing its software and services separately from hardware—thus creating the modern software industry.
1991: Sonic the Hedgehog is released to American audiences, then to PAL and Japanese audiences a month later, kickstarting the successful Sonic franchise.
June 24
1842: American short story writer, essayist, and journalist Ambrose Bierce born.
1947: Kenneth Arnold makes the first widely reported UFO sighting near Mount Rainier, Wash.
1949: The first television western, Hopalong Cassidy, is aired on NBC starring William Boyd.
1957: In Roth v. United States, the U.S. Supreme Court rules that obscenity is not protected by the First Amendment.
June 25
1848: A photograph of France's June Days uprising, "Barricades on rue Saint-Maur," becomes the first photograph used to accompany a newspaper story, launching the practice of photojournalism.
1903: British novelist, essayist, and critic George Orwell born.
June 26
1927: The Cyclone roller coaster opens on Coney Island.
1929: American illustrator and graphic designer Milton Glaser born.
1948: Shirley Jackson's short story The Lottery is published in The New Yorker magazine.
1974: The Universal Product Code is scanned for the first time to sell a package of Wrigley's chewing gum at the Marsh Supermarket in Troy, Ohio.
1997: Oh, FFS: the U.S. Supreme Court rules that the Communications Decency Act violates the First Amendment to the United States Constitution.
June 28
1846: Adolphe Sax patents the saxophone.
1926: American actor, director, producer, and screenwriter Mel Brooks born.