The global market for printed signage in 2018 was valued at $43.30 billion in 2019. The printed signage market has marginally declined at a -0.3% compound annual growth rate (CAGR) in its constant price value from 2014 to 2019 although it is forecast to recover some of this value over the next five years when growth of 0.2% CAGR will see the market reach a value of $43.73 billion in 2024.
Global Printed PoS/Signage by Product, 2018 (million m2)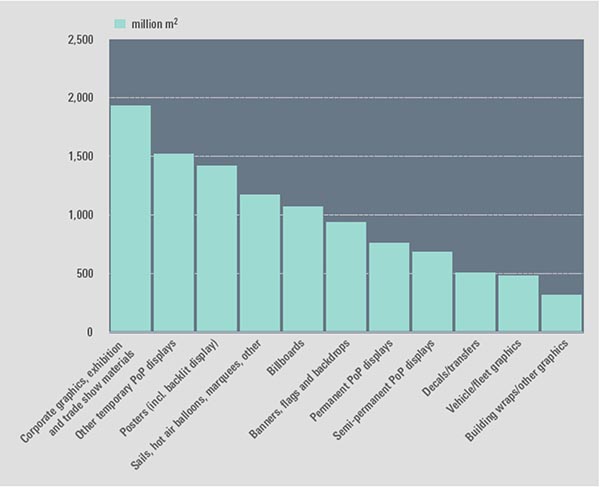 Source: Smithers Pira
The Smithers study The Future of Printed Signage in an Electronic World to 2024 segments this market across:
Four print processes
Eleven signage formats
Eleven substrates
Eight geographic regions, including eleven key national markets.
Within its analysis Smithers identifies the following five key transformative trends.
Automation in Print Equipment
The main development driver for all signage print equipment is the reduction of production costs through faster press set-up and increasing automation of all stages of the process from initial order to despatch. As it continues to grow in importance for the signage industry, inkjet has become the focus of development activity, particularly for wide-format presses. Developments in inkjet printheads are improving the quality of the image so that it approaches that obtained from screen and offset litho. In particular, the introduction of six- or eight-color inkjet printers increases the colour gamut available to printers.
The growth in web-to-print platforms is an ideal fit with inkjet printing, with customers placing orders via the internet along with a computer-generated image for the inkjet printer, saving time and costs for both the customer and the printer.
Inks for Soft Signage
Technology innovations are also being made in inks to provide printers with better levels of productivity and occupational safety. These ink developments include improvements in the performance and durability of water-based and eco-solvent inks; an increased use of energy-efficient UV-LED inks across all print processes; and inks that provide a broader color palette or for special effects, to increase design options and help to create a more upmarket quality look to signs.
There has been a rapid growth in demand for soft signage printed by digital wide-format presses over the last 10 years, using polyester, cotton, and other fabrics. The use of textiles provides a higher quality signage than PVC banners, self-adhesive vinyl, or paper substrates. Textile substrates can be printed with a dye-sublimation technology, UV inks, or "latex" inks.
Latex inks are water-based products based on synthetic polymers supplied in emulsion (or dispersion) form, and mainly used for indoor soft signage. The term "latex" was first coined for this new generation of water-based inks by HP. Since then, Mimaki has also developed its own latex inks and printers which are claimed to dry at lower temperatures than those from HP. Epson also has a latex printer, but only for labels currently. Some ink manufacturers are also now supplying third-party latex inks.
Retail Evolution
The retail sector is the largest market segment for signage where it is used for grand openings or re-openings, promotions, seasonal discounts, store closures, and many other end-use applications.
The global retail industry is transitioning as bricks-and-mortar stores, particularly the large retail chains, are subjected to increasing competition from e-commerce.Competition from online retailers is leading to store closures, consolidations within the retail industry, and changes to traditional retail models.
Alongside this trend there is a growing number of smaller stores that are less impacted by the online trade. These include:
Independent retailers selling specialist product ranges.
Smaller convenience grocery stores in residential districts and transport terminals.
Although the process of change is at different stages in different parts of the world, the underlying trend is being seen in all markets.
This changing retail environment offers both challenges and opportunities to signage printers. Although a reduction in the number of large stores will impact the demand for conventional signage, this can be partially offset by a need for signs for special promotions and events. The growing number of smaller stores also increases the potential customer base for the signage industry.
Addressing Asia
From a geographic perspective, Asia is increasingly a focus for signage print markets. Its share of the global market is now 33.5% by value, having overtaken North America on 31.5%. This is prompting global print equipment manufacturers and ink formulators to develop their sales presence in the region, placing them in competition with lower cost domestic press builders and ink companies.
Demand is being stimulated by a developing consumer base with Western-style shopping habits, brand exposure, and hence aspirations.
In China, for example, supermarkets now account for the majority of grocery retail sales in the large cities, but there are seven million small stores outside the big cities in China. Smaller stores such as mini-marts and convenience stores are also the norm for food shoppers in India and Indonesia, with a growth in Indonesia of these types of stores of 21% per annum over the past decade.
Large modern stores may be the preferred destination for those consumers looking for Western-style clothing and electronic equipment, but the network of small stores and kiosks is the source of the largest retail growth in countries, such as India.
The concept of "experiential shopping" is gaining ground in a growing number of Asian department stores and shopping malls, with some retailers opening up special experiential or flagship stores. These stores and malls regularly incorporate consumer experiences centered on food and beverages, children's activities, art and culture, or lifestyle elements to provide additional attractions for their customers other than just shopping. These customer experience events need promotional signage to advertise them before the event and to provide details of the programs on the days that they are being held.
Competing Digital Signage
Digital signage uses electronic screens or projectors to displaycomputer-generated messages or videos. It offers a highly flexible method of displaying information that can be updated or completely changed almost immediately; an obvious benefit over printed signage. Digital signage demand has been growing at around 7% per annum, a much higher rate than that for printed signage, and it is forecast to sustain this rate up to 2024, fuelled by reducing hardware costs.
Digital signage is a threat to the use of printed signs for some end-use applications. It comes with a high capital investment cost however. Interestingly, it simultaneously offers opportunities to combine printed and digital signage for more effective promotion programs. This is especially true as printed formats currently retain an advantage for greater installation flexibility, as they do not require complex hardware or power.
The Future of Printed Signage in an Electronic World to 2024 examines and quantifies each of these trends in depth, to develop a model of the current and future global market place for signage printing in an unparalleled level of detail.