Printed food packaging is used for the primary packs of foods and beverages that are supplied direct to consumers. Within that, primary packaging is packaging that is normally in direct contact with the product itself.
According to Smithers Pira's new report The Future of Printed Food Packaging to 2023, the 2018 global market for printed primary food packaging is $227.2 billion and 79.4 million tons, with a printed area of 394.6 billion square meters. The global demand for printed food packaging grew at 3.3% CAGR by value and 3.1% CAGR by weight and printed area from 2013 to 2018. It is forecast to grow at a faster rate of around 3.6% CAGR from 2018 to 2023, with the global market reaching a value of $271.3 billion, equating to 95 million tons and a printed area of 472.4 billion square meters by 2023.
Regional Markets
At a regional level, Asia-Pacific (comprising Asia and Australasia) is the largest market for printed primary food packaging in 2018. It is also the region that has exhibited one of the fastest regional growth rates from 2013 to 2018 at around 4.5% CAGR, increasing its share of global printed food packaging demand from 35% of the value in 2013 to 37% by 2018. Meanwhile growth in North America has been slightly slower, and Western Europe's growth slower still, meaning its share of the total market value has actually declined, from 23% in 2013 to 22% in 2018.
Western Europe and North America have well-established markets for packaged food and beverages and growth of food packaging in these regions will be modest over the next five years, around the same rates as general economic growth. Faster growth in demand for printed food packaging up to 2023 will come from those countries and regions where urbanization is growing quickly, and where the packaged food and beverage market has more room for expansion. Again, Asia-Pacific is forecast to see significant growth, driven largely by the Chinese and Indian markets—though growth is promising in areas such as the Middle East and Latin America too.
Figure 1: Global printed food packaging sales by region, 2013–23 ($ million, constant 2017 prices and exchange rates)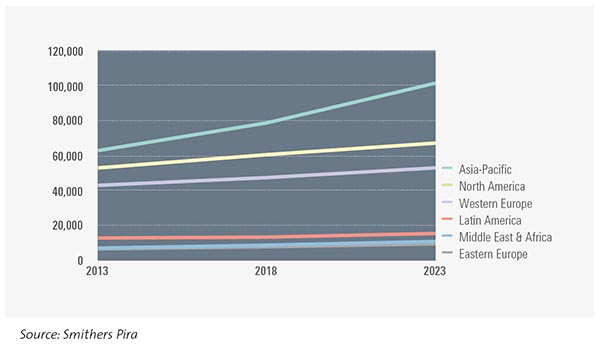 Regulatory Developments
Food contact regulations and requirements are an ever-present factor in the area of printing for food packaging. The choice of materials used in the production of packaging for food and beverages plays an important part in ensuring the safety of foods from manufacture to consumption. Although printing inks are used to provide a range of information on the packaging, either directly on the packaging or on a label fixed to the packaging, the Swiss Ordinance is the only national regulation covering the composition of inks and coatings that will be used for food packaging.
Leading ink manufacturers supplying the food packaging industry offer guidance to printers on how to use their products to ensure that the printed packaging will comply with food safety regulations. As these regulations change and develop, companies in the supply of inks and materials are required to respond—for instance, as certain chemical products are phased out of the market.
Sustainability
As well as the regulatory landscape, several key market and consumer trends have affected the demand for different packaging materials over the last five years, and will continue to do so up to 2023. For instance, sustainability remains an important driver in the packaging market, and will affect the printed food packaging market. Most food packaging is single-use, and enters the waste disposal process once the food or drink has been consumed. Packaging materials such as metal cans, glass bottles, and paperboard cartons are relatively easy to collect and recycle, but there is growing concern around the world about the level of plastic packaging that is going to landfill, for incineration or into the environment.
Leading brand owners, retailers, and packaging companies are taking an active approach to this problem, with commitments to shift to the likes of reusable, recyclable, or compostable packaging over the coming years. This will require dramatic changes in the materials supply chain for printed food packaging.
When it comes to printed food packaging, there is added complexity around sustainability. The quality of recovered material from recycling processes for plastic and board food packaging depends on whether inks and overprint varnishes used to decorate and label the packaging can be completely removed. The success in removing these inks varies significantly between paper and board waste and plastic waste. Technology improvements in all stages of the recycling process over the last few years have meant that recycled pulps can produce paper and board of a quality approaching that of virgin materials. Alongside these process improvements, ink manufacturers have developed printing inks with improved deinking properties.
Figure 2: Global ink sales for printing food packaging by ink type, 2018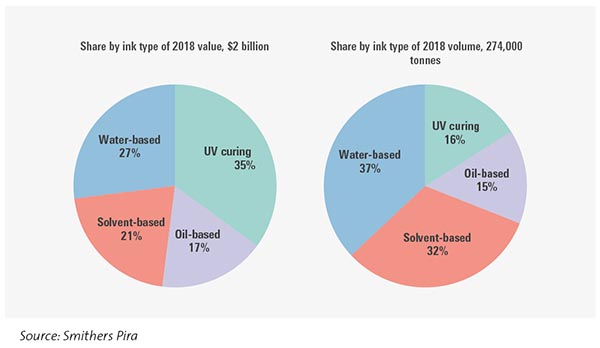 Premiumization
Another important trend at play in printed food packaging is premiumization. This is the process by which consumer perception of a product can be enhanced through the appearance of the packaging, without changing the product itself. A variety of product categories are finding success in applying a premium quality look to packaged products such as foods, beers, wines, and spirits. This is being done by altering the shape of the packaging, and/or by a higher-quality looking printed design using special print effects or from the choice of label substrate.
Printing has a key role to play in premiumisation, as a range of embellishments and effects can be used by the printer to provide a premium look to labels or packaging. These include:
Gloss text or image over a matte base, to give the print a 3D effect.
High-build coatings with a raised tactile effect.
Speciality inks and coatings, such as scented or glitter-infused inks.
Hot or cold foils on paper or clear film substrates, to provide a metallized effect.
Healthy Eating
A third key trend driving changing requirements for printed food packaging is the shift by a small but significant share of consumers to healthy, organic, and additive-free food and drink. Although many consumers purchase foods and beverages produced by leading brands from large national food retail outlets, this trend is being met by an increasing number of local, specialist food and drink manufacturers producing small batches of their products by more traditional processes. These short production runs mean that it is often more cost-effective to use labels rather than print directly on the packaging—a factor in the higher growth rate in labels than for other packaging materials. And as this trend is associated with consumers with higher levels of disposable incomes, it is seen as a lucrative opportunity for many in the printed food packaging value chain.
As regulations continue to develop, and consumer requirements shift along the lines of these and other key trends, companies that can respond to the changing market can capitalize on the promising growth in the printed food packaging sector.
This article is based on research conducted for Smithers Pira's market report The Future of Printing for Food Packaging to 2023. For more information visit www.smitherspira.com.