By John Nelson
As print markets adjust to new realities in 2021, there is interest in diversification into security and brand protection features for packaged goods.
The packaging industry was not unscathed by the experience of COVID-19; sales of printed label and packaging fell by -3.1% across 2020 relative to 2019, but this contrasts positively with the -14.0% decline in graphics print and -17.1% fall in publications. One segment that has benefitted has been e-commerce, which grew to account for 21.3% of all U.S. retail spending in 2020. This combined with other factors, such as compulsory pharmaceutical serialization requirements and heightened consumer interest in the veracity of goods, is helping to support further investment in security print and labelling applications.
This is among the defining trends for the next five years examined in the recent Smithers expert market data study—The Future of Anti-Counterfeiting, Brand Protection and Security Packaging to 2026. This finds that out of total market worth $3.25 billion in 2021, $721 million is dedicated to coding print; and a further $347 million will be spent on specialized security labels this year.
Market Proposition
The market for all security packaging features—such as holograms, tamper-evidence fixtures, film wraps, and RFID systems—will grow at a compound annual growth rate (CAGR) of 5.6% over 2021–2026. Printed coding sales will grow significantly faster, at an 8.1% CAGR. This is indicative of greater concerns of supply chain security in the wake of the pandemic.

Against this backdrop, major print OEMs are showing new interest in security applications. In May, HP launched its new Indigo Secure solution, based around the new 6K Secure Press. This promises multiple options, including print with invisible or infrared inks, variable data printing, unique serialized IDs, QR codes, and microtext. It has been designed via a collaboration with Switzerland's Jura JSP, an existing player in the security
print sector.
High-security printing has typically remained a discrete and secretive segment, dominated by a few technology suppliers and specialized systems, such as intaglio presses. The innovation of digital print systems is now making it more accessible. Anti-counterfeiting packaging and labels represent the best points of entry for mainstream print OEMs and print service providers into security printing. They are also segments that are most cost competitive, as the print buyers are typically brand owners. In contrast for contracts for higher security print products—such as banknotes, passports or tax stamps—governments prefer established partners, with experience of an array of covert and overt technologies.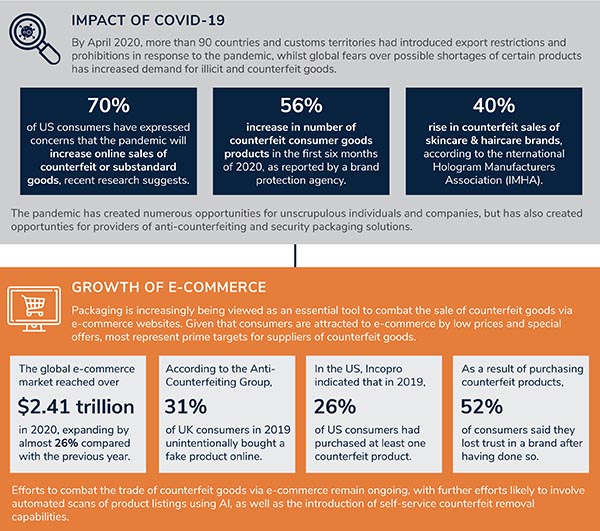 Coding Print
The use of coding print has steadily increased in multiple markets over the 2010s, but saw a significant boost from COVID-19 and the resultant demand for touchless solutions. Data from Statista indicates that around 11 million households in the U.S. scanned a QR code in 2020, while around half of the Chinese population scans QR codes several times during an average week.
The coding market has numerous suppliers, many of which have developed technologies to differentiate their solutions for tracking goods. For example, Oregon-headquartered Digimarc offers printed codes that carry more information than traditional barcodes. Described as "virtually imperceptible to the naked eye," the Digimarc Barcode is used on alcoholic drinks, pharmaceuticals, tobacco, and apparel. Over 18 million Digimarc encoded images have been identified by customers since 2017, it reports.
In New York, Zortags prints randomly distributed 3D particles within the design of a standard format 2D data matrix code to create an "impossible to clone" 3D optical fingerprint.

Commercial Entry
Much of this technology is the IP of small companies, many of which have been spun off from academic R&D projects. These present easy acquisition targets for print OEMs; but the broader challenge is selecting base technologies that can be scaled to work with existing presses at respectable print speeds and cost.
From a brand owner's perspective these can be value-adding options, with secure, unique printed markings also being used as multi-functional customer engagement tools. The same printed overt or covert code that a consumer uses to verify the authenticity of an e-commerce package, can then be leveraged to offer them other benefits, such as promotional discount codes for repeat or related purchases.
This is an option being investigated by one of the fastest growing companies in packaging print—flexible substrate contract printer ePac. In Q4 2020, it launched ePacConnect. A new platform for creating serialized, traceable brand protection packaging that simultaneously enables new ways to engage with consumers. In this, all customer orders received via the ePacConnect platform include serialized QR codes on individual packs, giving each a unique digital identity. The concept has already been piloted in both Europe and the U.S. A full global rollout is planned for 2021.
Thermal Inkjet
One technology that is firmly embedded in supply chains for goods protected by anti-counterfeiting packaging is thermal inkjet. A number of technology suppliers are now embracing innovative inks to diversify their products beyond simple monochrome bar or 2D data matrix codes, which are relatively easy for any counterfeiter to copy.
This includes invisible ultraviolet (UV) thermal inkjet printing developed by Rotech Machines. This entered the market in early 2020. It is invisible to the naked eye, but elements of the codes—serial numbers, barcodes, standard batch codes, and QR codes—then become viewable when placed under a UV light. It is being positioned as a solution for packaged pharmaceuticals, food and beverages, as well as industrial components, that require traceability and authentication.
An alternative solution has been developed by Dover Corp's Markem-Imaje. This employs a thermochromic ink that changes color from black to blue at high temperatures. It can be used to indicate the correct sterilization of food packaged in filled cans and plastic pouches.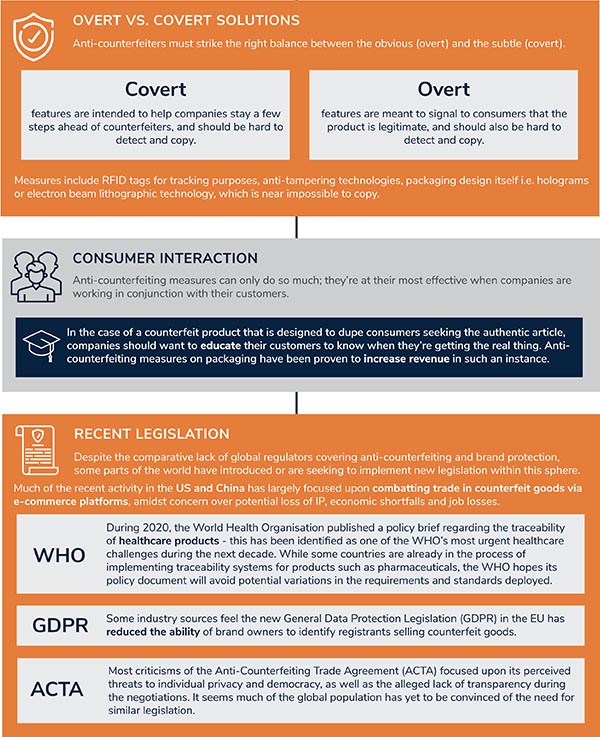 John Nelson is an award-winning editor and journalist working in the market reports and consultancy business of Smithers. Here he covers market and technology developments across multiple technical and commercial segments; including home and personal care, sustainability, packaging, printing, paper, nonwovens, rubber, and tires.