By John Nelson
There is short-term positive news for the global print equipment market. Data from the latest Smithers study—The Future of Print Equipment Markets to 2026—shows total global sales value will reach a projected $15.86 billion in 2021.
This is a welcome response after the unprecedented disruption of 2020, when sales amounted to just $13.23 billion. As print shops struggled, drupa 2020 was cancelled, and demand in graphics and publications works plummeted, new sales fell by 23.6% over 2019–2020. The 2019 annual sales value of $17.31 billion, will not be recovered, however. With total sales value remaining essentially flat over 2021–2026, making the market place increasingly competitive.
A Post-COVID Marketplace
The experience of COVID-19 will accelerate trends that were already established pre-2020. Most analog markets are forecast to decline at an increasing rate, and digital printing will increase its relative share of print output. There will be fewer unit sales, leaving OEMs selling fewer but more expensive machines, and creating an impetus to develop smart operations and value-adding customer services.
High-volume publications work—magazines, newspapers, catalogs, directories—have all continued to decline. This is affecting sales of analogue presses in particular. Overall sales of analog equipment will decline at a -1.9% compound annual growth rate (CAGR) for 2022–2026.
Post-COVID print volumes are forecast to decline, and run lengths of whatever physical print orders remain will be shorter. This will strongly favor digital printing. Inkjet and other press output will grow, partially through taking work from analog print lines and partially through enhanced variable imaging capability creating new markets.
The only major analog print process that will resist this downward trend is flexo, mainly due to its popularity in longer-run packaging and labels; flexo sales will increase at a +0.9% CAGR for the same period.
Analog Technology
Offset equipment manufacturers have been badly hit as the demand for the printed output of their presses declines. The effects of the pandemic have brought this decline into sharp focus and it is not clear whether companies affected worst can shed cost fast enough. In response to this threat, nearly all analog OEMs are investing in greater on-press automation to improve responsiveness and turnaround.
For post-purchase service support, many machines are now sold already linked into a proto-industry 4.0 platform with multiple sensors providing real-time monitoring. These can be used to improve press performance, and schedule maintenance intelligently. To serve existing customers the same technology is also be sold as a retrofit option.
Automation, including quicker plate engraving and change over, helps to address another issue: the shortage of skilled analog press operators. With fewer manual steps, press uptimes are increasing, and print rooms can operate with fewer highly skilled staff.
Many analog OEMs are pursing this as part of a twin-track strategy, where they are simultaneously developing their own digital print options—either fully inkjet or hybrid. This involves cooperation with existing inkjet technology suppliers, but analog press builders can enhance this with their knowledge of media handling and finishing systems, with some new models designed directly inside existing flexo or offset architecture.
A Digital Future
Inkjet will see the highest growth rate across 2021–2026, as handling and print quality continue to improve. Inkjet users will benefit from access to more high-productivity machines now entering the market. Dwindling needs for flatbed wide-format machines means the installed base of inkjet machines overall will be static across 2022–2026, however. In contrast, the number of electrophotography presses in operation will rise.
It will take over some work from analog in graphics and some publications work, including books and short-run marketing media, but the major boom markets are in packaging. Labels has been the initial entry point for many digital print OEMs, who are seeing the future road to success in diversification. This includes both adaptation of narrow-web presses to print on an array of flexible packaging media and dedicated models for print on cartonboard and corrugated substrates
Bespoke e-commerce packs are one segment that has boomed across the past 18 months. Sales in this channel will continue to grow, creating a market for sales of smaller presses for installation and in-house printing with larger e-commerce sellers.
For OEMs, sales of proprietary inks to its inkjet operators are an important revenue stream. Through 2021–2026 there will be more scrutiny on the cost of consumables as these are magnified when print service providers move onto longer print runs. Hardware vendors will be pressured to review their pricing strategies if they are to be successful in selling systems into higher-volume print markets.
Selling in an Online World
With drupa and other print shows cancelled, OEMs have moved to more online sales channels to promote their latest equipment. This is also dovetailing with the increased demand from users for more immediate and smart post-sales support.
With only limited participation at the rescheduled drupa 2021, the pre-existing four-year development cycle culminating in the launch of new presses at the Dusseldorf event has now been broken. Even though drupa will return in 2024, times have changed with more sales pitches, demonstrations, and user conferences happening online. For further real-world engagement, OEM sales and marketing teams will instead target smaller more specialist exhibitions.
Regional Shifts
Overall, countries in East Asia have been best managing the spread of the pandemic. This means they have led the recovery from the pandemic, with China almost unique among major economies in recording positive economic growth for 2020. This is creating a new focus for press sales into Asia in H1 2021, which aligns with the broader trend for 2021–2026. In contrast, sales in Japan fell by -2.9% CAGR in the five years to 2021, but with a regional share of 23% by value, is still Asia's second largest print equipment market.
Asia will remain the largest regional market representing 38.3% of all new press sales in 2026, as well as a thriving market for second-hand equipment. Across the same period to 2026, Western Europe's sales will decline by -0.5% CAGR, while in Eastern Europe sales will fall by a -2.2% CAGR. The outlook for North America is more positive. Smithers forecasts growth at a +0.9% CAGR for the same period. Latin America will shadow this with +0.7% CAGR forecast.
Comprehensive data on the current and future demand for print equipment sales is available to purchase now in the Future of Print Equipment Markets to 2026. Its analysis of the post-COVID marketplace gives unparalleled granularity for new sales and the installed base for all types of print equipment and pre- and post-press systems (by value and volume). This is presented in an authoritative dataset sub-dividing sales by print technology, press format, and 28 geographic regions and leading national markets.
Print equipment sales are recovering in 2021, but this is latent demand 2020. In the future, annual sales will stabilize at around $15.8 billion (constant prices) for the next five years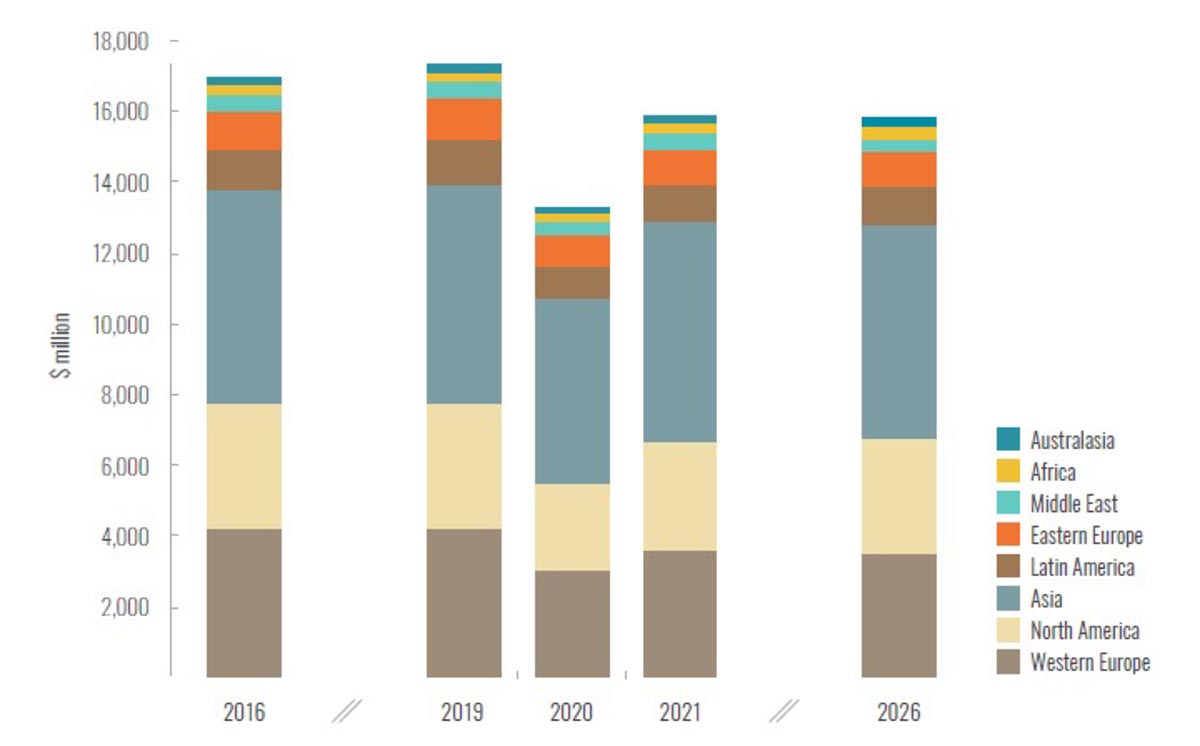 Source: Smithers
John Nelson is an award-winning editor and journalist working in the market reports and consultancy business of Smithers. Here he covers market and technology developments across multiple technical and commercial segments; including home and personal care, sustainability, packaging, printing, paper, nonwovens, rubber and tires.