Welcome to the fourth Industrial Revolution!
If the first Industrial Revolution (18th Century) was around the mechanization and the introduction of steam and water power, the second (19th Century) brought the assembly line and electricity, and the third ( 20th century) leveraged computers and electronics for increased automation, the 21st century has brought us the fourth Industrial Revolution, or Industry 4.0
We all hear about Industry 4.0 these days, even if it's called different things on the news. Terms like "big data" and "machine learning" and "the Internet of Things" and "artificial intelligence" are all part of it.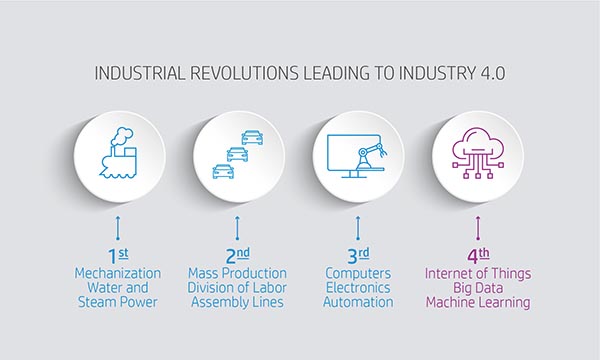 Industry 4.0 is just as relevant for the printing industry as it is for self-driving cars or smartphones. Industrial devices, such as printing presses, are connected to the Internet and can constantly transmit data about their status. This data is being automatically analyzed in the cloud, and the insights gained are further communicated to drive actions such as alert notifications or remote service.
As more and more presses are connected to the cloud, better data and insights are gained by aggregating the data across the entire population being monitored. This enables unique value, such as remote monitoring, predictive maintenance, remote service, color and quality control and other benefits.
Furthermore, presses can be integrated with other systems, such as MIS, driving better decisions with accurate, up-to-date information. The result is an increase in Overall Equipment Effectiveness (OEE)—see a previous article on OEE here.
But there is more good news. Countries around the globe offer financial incentives to businesses that invest in Industry 4.0-compliant presses to encourage the adoption of this modern technology to increase industrial efficiency.
Among the countries that give grants, tax refunds or subsidies are Italy, The Netherlands, Singapore, Malaysia, and many others. When submitting the request for a grant, you may need to include specific information about your Industry 4.0 compliance. An example of such a compliance document for HP Indigo presses can be found here.
The industry is challenged by increasingly tough customer requirements for fast delivery, high quality, and low price. Without a significant improvement in production efficiency, it will be difficult, if not impossible, to meet these challenges. Industry 4.0 provides the technological infrastructure for improvement, and government support will lower the barriers to implementation.
At the end of the day, Industry 4.0 will enable the smart print factory of the future that will be more agile, flexible and responsive to customers. Print service providers will be able to better manage not only production but also the supply chain. Industry 4.0 in the print shop is no longer be just a strategic advantage. It is an operational necessity.
To view the entire Workflow Chef series and other relevant sponsored content from HP Indigo, visit https://whattheythink.com/topic/hp-workflow-chef/.
1 - https://institutes.kpmg.us/manufacturing-institute/articles/2018/industry-4-0-govt-incentives.html