Your Friday Drone Flight Through a Bowling Alley
I can't think of the last time a word as ugly sounding as "fungible" entered the zeitgeist.

— e m m a s w i f t (@emmaswiftsings) March 9, 2021
Automatic for the Beeple
Two weeks ago, we learned a new buzzterm: "non-fungible token (NFT)," something which seems to have gone from 0 to ridiculous in 60 seconds, as per this headline in the New York Times: "JPG File Sells for $69 Million, as 'NFT Mania' Gathers Pace." We wonder just what the folks who work for Christie's must be thinking…
After a flurry of more than 180 bids in the final hour, a JPG file made by Mike Winkelmann, the digital artist known as Beeple, was sold on Thursday by Christie's in an online auction for $69.3 million with fees. The price was a new high for an artwork that exists only digitally, beating auction records for physical paintings by museum-valorized greats like J.M.W. Turner, Georges Seurat and Francisco Goya. Bidding at the two-week Beeple sale, consisting of just one lot, began at $100.
The artwork, called "Everydays — The First 5000 Days," is a collage of all the daily images that Beeple has posted online since 2007.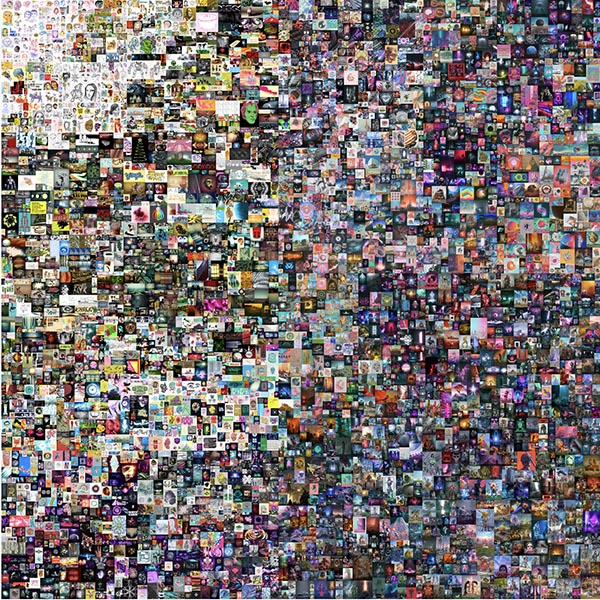 In a related story, via Gizmodo, "For Whatever Reason, People Are Willing to Pay up to $10 Million for an NFT of Jack Dorsey's First Tweet."
Dang—if only we had taken screen shots of every day's WhatTheyThink home page for the past 21 years.
Easily Excited
Whoever wrote this has ridiculous expectations of people's capacity to find joy in things. pic.twitter.com/q2DElDZcbG

— David Mitchell (@RealDMitchell) March 6, 2021
Cotton Conundrum
Cotton gets high marks for being a natural fiber, but it has its issues—it uses lots of land and water that could be used for growing food, for example. And then you have polyester, with which we have a love/hate relationship—fossil fuels, microfibers, and landfill perpetuity are just a few of its issues. But neither is going away anytime soon as, says Fibre2Fashion, "together make up 76 per cent (51.5 per cent polyester and 24.1 per cent cotton) of the global fibre market in the fashion industry."
Fungal Fashion
The lowly mushroom has been upgraded to Hermes! Hermes has partnered with MycoWorks, who also had developed genetically engineered spider silk but has also developed a leather made from mushrooms. Called Mylo, it is another example of plant-based chemistry being leveraged to create more sustainable materials.
Flowers of Mediocrity
A mediocre bunch of flowers is called a b'okay

— Andy Ryan (@ItsAndyRyan) February 26, 2021
Of Corset Will
As our Cary Sherburne has pointed out on numerous occasions, the fashion industry has a pretty lousy environmental track record, but one of the "projects" for the coming years is to find ways of making it more sustainable. One idea comes from the brand FRISKMEGOOD™, that, says The Verge, "creates upcycled high fashion and editorial pieces out of used or deadstock sneakers and other secondhand finds."
Owner and designer Cierra Boyd found success on her Depop shop when her signature designs — corsets and bodysuits made from old or unused shoes — were featured on its Explore page. Now, her brand's ballooning popularity has enabled Boyd to pursue opportunities beyond her online shop.
Boyd, based in Cleveland, Ohio, now lives and works in her studio apartment after three years of growing her business and creativity from her mom's house. While she hopes to eventually expand, everything one can find on her shop and website has been handmade by her. Her corsets and bodysuits have gained her followers on social media, been presented in fashion shows, and most notably, worn by American rapper Dream Doll.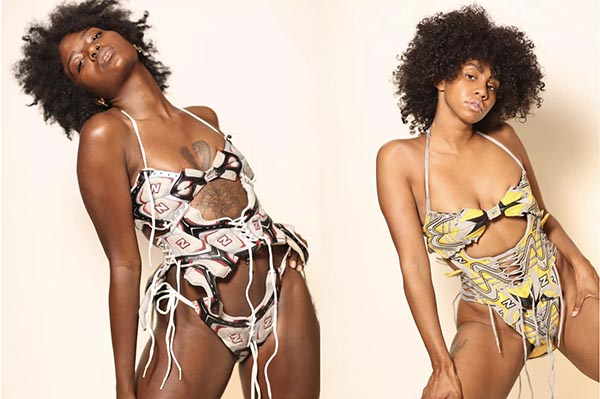 Do people even wear corsets anymore? It's doubtful the Victorians would go for this look.
Cry for Help
Had the wrong bagel order delivered today and let me just say to the other Sarah who ordered an egg and cheese with STRAWBERRY JAM on an everything bagel: Who hurt you?

— Sarah Mimms (@mimms) March 9, 2021
Dance of the Seven Screens
If you've ever tried to share a screen via Zoom when you have more than one monitor, you know it can be challenge. But what if you are using the Expanscape Aurora 7 laptop, that has seven—count 'em, seven!—fold-out displays?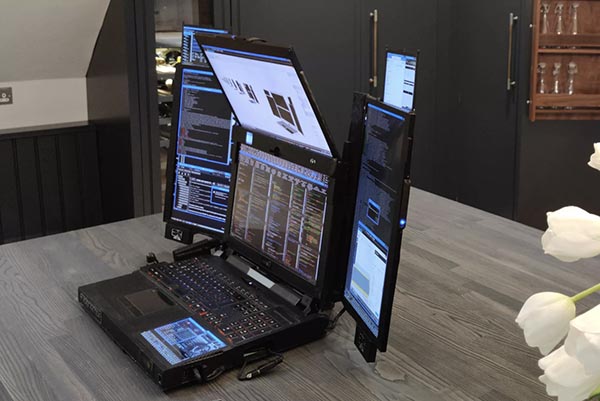 Adds The Verge:
Piggybacking on the main 17.3-inch 4K display are three other screens of the same size and resolution. Above the left and right displays is a single seven-inch 1200p monitor. You'll also find one more seven-inch 1200p touchscreen display mounted into the wrist rest. This prototype weighs about 26 pounds and is 4.3 inches thick.
Still only a prototype, it's designed for mobile security applications, although it would be ideal for those who love to have multiple browser tabs open simultaneously.
Contact Imminent
Audi shows off the Q4 E-Tron's new augmented reality display https://t.co/6ofr5Ja32A pic.twitter.com/los99mbXC9

— The Verge (@verge) March 9, 2021
AI-Yi-Yi, Part the Infinity: "Typographic Attack"
It's no secret that artificial intelligence is getting smarter. (And actually we're helping it. You know all those CAPTCHAs where you have to identify parking meters or motorcycles? They're being used to train AI.) However, via The Guardian, we were bemused to read that AI can be fooled using what is called "typographic attack." Take for example, OpenAI's Clip:
show Clip a picture of an apple and it can recognise that it is looking at a fruit. It can even tell you which one, and sometimes go as far as differentiating between varieties.
However:
If you write out the word "iPod" on a sticky label and paste it over the apple, Clip does something odd: it decides, with near certainty, that it is looking at a mid-00s piece of consumer electronics. In another test, pasting dollar signs over a picture of a dog caused it to be recognised as a piggy bank.
Take that, robot!
Overload
our two-year-old washing machine has started emailing me usage stats and i just have no idea what i'm supposed to do with this information pic.twitter.com/IpbnPZqz2I

— dan seifert (@dcseifert) March 4, 2021
There My Heart Forever Lies
Atlas Obscura (via novelist John Green in a TEDx talk) and NPR (via Frank Jacobs' Strange Maps blog) tell an interesting tale about a non-existent New York town that came briefly into existence, then disappeared again.
Back in the days before GPS and Google Maps, when people used actual printed maps to get around, one hedge that map publishers had against plagiarism was adding a "fictional" street or town (called in the trade "paper streets" or "paper towns") so that if a rival just copied a map and tried to publish it, they could be easily called out.
In 1937, the General Drafting Company did such a thing, inventing the fictional town of Agloe, N.Y., which they placed at the intersection of two dirt roads not far from the real town of Roscoe in Sullivan County, about 70 miles west of Poughkeepsie. The name "Agloe" was derived from the first letters of the names Otto G. Lindberg (OGL) and Ernest Alpers (EA), the director of the General Drafting Co. and his assistant, respectively.
All well and good—until several decades later, when rival map company Rand McNally published a map that had Agloe on it. Busted! Or were they? It turns out, Rand McNally had a pretty good defense:
in the early part of the 1950s, someone armed with the General Drafting map [which had been bought and distributed by Esso, the gas station chain] went to visit Agloe. Seeing nothing there, they figured that opportunity had knocked. This lost-to-history fellow, likely figuring that others would also come to Agloe – it was on the map, after all! – would expect to find something there. So he opened a small shop and called it the "Agloe General Store." Over the next forty years, the fictional town of Agloe grew.
In Agloe's heyday (such as it was), the "town" boasted a gas station, the original general store, and two houses. Not a bustling metropolis, true, but it was enough of a town that the Sullivan County administrators considered it a real place—as did Rand McNally's cartographers, who had actually gone to the location and seen the "Agloe General Store."
Alas, the "real" Agloe was not long for the world. The general store closed, and that was that. A fake town had briefly come into existence, then vanished again. Still, the name remained on maps—and a search for Agloe, N.Y., on Google Maps actually did get a hit—although today it bears a disclaimer: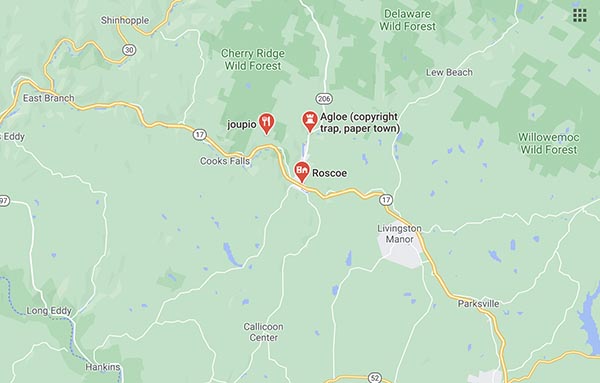 It also shows, in a weird way, how print has the power to will something into existence.
UPDATE: Says The Verge: "Google Maps will soon let you draw on a map to fix it." Get ready for a lot of "Streety McStreetfaces" turning up.
Half-Baked
DO NOT TURN OFF YOUR OVEN (or connect it to the internet????) https://t.co/gV3MfEKJbl

— Internet of Shit (@internetofshit) March 8, 2021
For All in Tents and Purposes
If you are a high school band, play brass instruments, and want to practice together without infecting each other, what do you do? Sure, you could rehearse over Zoom, but at this point, is there anyone who wouldn't rather chew their own head off than go on Zoom? No, we can completely understand why the solution for one school band in Wenatchee, Wash., is to rehearse together in tents.
There is something a little Spinal Tap-ian about it…
Not the Onion
Onions spill across Ben Franklin Bridge after tractor-trailer overturns, backs up traffic https://t.co/jZ7HMMqVlD pic.twitter.com/KzGgYAECUX

— njdotcom (@njdotcom) March 8, 2021
Handle with Care
As people start to get out and about post-COVID, there remains the challenge of door handles. Yes, door handles, those virus-laden germfests that nonetheless are often a requirement for entering or exiting a location. What to do? Well, via Gizmodo:
One solution that's been slowly adopted around the world is replacing traditional hand-operated door handles with foot-operated mechanisms so there's never any skin contact being made. It's an idea that will undoubtedly gain popularity in new constructions moving forward, but the process of retrofitting existing doors with foot mechanisms is complicated and expensive.
Is there a better way? Why, yes: "a Swiss company called Tweaq has created what it's calling the 'world's first smart self-disinfecting door handle.'"
once the handle is released, a sensor pumps liquid disinfectant from a built-in reservoir into a sponge located on the inside of a metal ring that sits around the door handle. With the disinfectant applied, a motorized mechanism then slides the ring back and forth along the length of the handle which Tweaq claims eliminates "99% of bacteria and viruses in less than three seconds."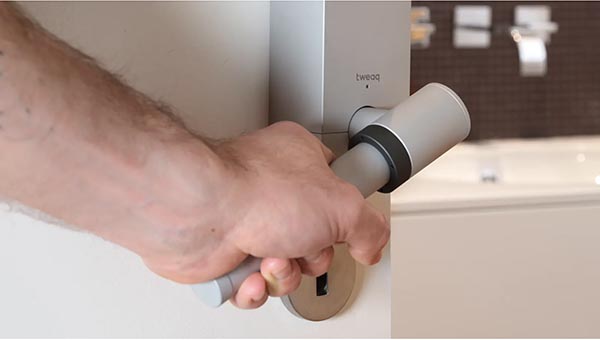 Handy!
Not the Onions on the Bridge
CDC Recommends Also Wearing Face Mask On Back Of Head In Case Coronavirus Attacks From Rear https://t.co/nZlIHoGL28 pic.twitter.com/7E5m0BYDBy

— The Onion (@TheOnion) January 26, 2021
Creepy Court
In this space, we have linked to amusing Tales from Zoom, such as the lawyer and the cat filter and the plastic surgeon who attended Zoom traffic court while in the middle of an operation. This week, we came across one that was not much humorous as downright creepy. It involved a Zoom court procedure in Sturgis, Mich., that included Judge Jeffrey Middleton; the defendant, Coby James Harris who had been charged with assault with intent to create great bodily harm; prosecutor Deborah Davis; defense attorney Paul Gibson; and Mary Lindsey, the alleged victim. Harris was out on bond and, like everyone, had called in remotely. But from where? This is where it gets creepy. From Boing Boing:
Prosecutor Davis then tells the judge she thinks that defendant Harris is in the same house as Lindsey and says she is extremely concerned for Lindsey's safety. At about 8 minutes in the judge asks Lindsey where she is, and she tells him she is at home. The judge then asks Harris if he is in the same house as Lindsey. Harris says he's not. The judge tells Harris to take his phone outside and show the address of the house, but Harris says he can't because his phone battery is "at 2 percent" and will die if he unplugs it.
At that point prosecutor Davis tells the judge that the police at already at Lindsey's house knocking on the door. Lindsey gets up to answer the door. Shortly after that Harris gets up, too and his camera shuts off.
… A bit before the 12-minute point, defendant Harris turns his phone on for a second, then it goes dark again. It looks like he is still in the house. At 13.5 minutes Harris appears again, this time being recorded on Harris's phone. He's got a cigarette in his mouth and he tells the judge, "Me and Mary both don't want the no-contact. I ask that that be dropped. I'm sorry I lied to you. I knew the cops were outside."
Said the judge: "It's the first time I ever had anybody sitting in the next room potentially intimidating a witness."
Truer Words Have Not Been Tweeted
March 11, 2021
Munster Cheese
Now, for your enjoyment, via Boing Boing, an old clip of Grampa Munster (Al Lewis) doing a weather report on NYC's WPIX.
Lewis (who died in 2006) also ran for Governor of New York and owned a (not very good) Italian restaurant on Bleecker Street.
Come Again
"I spent five thousand dollars to attend a reincarnation seminar next weekend. Yeah, it's a lot of money but I thought, to hell with it, you only live once."
Ronnie Shakes.

— Danny Baker (@prodnose) March 9, 2021
An AtW Public Service Announcement
In the interest of public safety, we offer this link to a vital WikiHow article on "How to Survive an Encounter with an Ostrich." Enjoy your weekend—and stay safe!
This Week in Printing, Publishing, and Media History
March 8
1010: Persian poet Ferdowsi completes his epic poem Shahnameh.
1618: Johannes Kepler discovers the third law of planetary motion.
1775: An anonymous writer, thought by some to be Thomas Paine, publishes "African Slavery in America," the first article in the American colonies calling for the emancipation of slaves and the abolition of slavery.
1817: The New York Stock Exchange is founded.
1865: American type designer Frederic Goudy born.
1931: American author and critic Neil Postman born. (His 1985 book Amusing Ourselves to Death was eerily prescient.)
1979: Philips demonstrates the compact disc publicly for the first time.
March 9
1454: Italian cartographer and explorer Amerigo Vespucci born.
1776: The Wealth of Nations by Scottish economist and philosopher Adam Smith is published.
1815: Francis Ronalds describes the first battery-operated clock in the Philosophical Magazine.
1842: Giuseppe Verdi's third opera, Nabucco, receives its première performance in Milan; its success establishes Verdi as one of Italy's foremost opera composers.
1918: American crime novelist Mickey Spillane born.
1954: CBS television broadcasts the See It Now episode, "A Report on Senator Joseph McCarthy," produced by Fred Friendly.
1959: The Barbie doll makes its debut at the American International Toy Fair in New York.
1963: American journalist and author David Pogue born.
March 10
1876: The first successful test of a telephone is made by Alexander Graham Bell.
March 11
222: Roman emperor Elagabalus dies (b. 203).
1702: The Daily Courant, England's first national daily newspaper is published for the first time.
1851: The first performance of Rigoletto by Giuseppe Verdi takes place in Venice.
1952: English author and playwright Douglas Adams born. Don't panic!
1970: American lawyer and author Erle Stanley Gardner dies (b. 1889).
1989: Sir Tim Berners-Lee submitted his proposal to CERN for an information management system which would be developed into the world wide web.
2020: The World Health Organization (WHO) declares COVID-19 virus a pandemic.
March 12
1838: English chemist and academic William Henry Perkin born. Whilst trying to synthesize artificial quinine to help battle malaria, Perkin accidentally invented the first synthetic organic dye, mauveine, made from aniline.
1858: American newspaper publisher Adolph Ochs born.
1894: Coca-Cola is bottled and sold for the first time in Vicksburg, Mississippi, by local soda fountain operator Joseph A. Biedenharn.
1922: American author and poet Jack Kerouac born.
1928: American director and playwright Edward Albee born.
March 13
1781: William Herschel discovers Uranus. (Careful with that pronunciation.)
1921: American cartoonist Al Jaffee born.
1930: The news of the discovery of Pluto is telegraphed to the Harvard College Observatory.
1943: American poet, short story writer, and novelist Stephen Vincent Benét dies (b. 1898).
March 14
1663: Otto von Guericke completes Nature of Space and the Possibility of the Void, which postulated the existence of a vacuum. The book sucked.
1836: English author of Mrs Beeton's Book of Household Management Isabella Beeton born.
1874: Dutch businessman and co-founder of Philips Electronics Anton Philips born.
1879: German-American physicist, engineer, academic, and Nobel Prize laureate Albert Einstein born.
1885: The Mikado, a light opera by W. S. Gilbert and Arthur Sullivan, receives its first public performance in London.
1931: Alam Ara, India's first talking film, is released.
1936: The first all-sound film version of Show Boat opens at Radio City Music Hall.
1994: Linux kernel version 1.0.0 is released.
2018: English physicist and author Stephen Hawking dies (b. 1942).
Anything catch your eye "around the Web"? Share it with us at [email protected].