Your Friday Birth of a New Sound
This recording is by newborn Luca Yupanqui, who is about to release her debut album, the world's first LP recorded inside the womb. The Guardian has more.
Overnight results: almost 12 picas (2") pic.twitter.com/eSR3JyqEmW

— Steve Cole (@earth2steve) February 11, 2021
Escape Claws
If you had paid even a cursory glance to the news this week, you can probably guess what our top Around the Web story is, given our history of unparalleled coverage of kitten filters run amok on social media platforms. The headline from The Guardian tells it all: "Texas lawyer, trapped by cat filter on Zoom call, informs judge he is not a cat."
The coronavirus has been responsible for a series of video-call stumbles and mishaps, and the phenomenon seemingly reached its zenith this week, when a Texas lawyer appeared before a judge as a cat, after being unable to change a video filter.
"I'm not a cat," Rod Ponton was forced to clarify during a hearing in Presidio county, south-west Texas, as he and his assistant scrambled to remove the filter.
The filter, which displayed a kitten instead of Ponton's face, was able to capture the lawyer's horror and confusion, its eyes flitting across the screen as Ponton scrambled to remove it.
It reminds us of that scene in the movie The Elephant Man in which the titular character, John Merrick, screams, "I am not an animal! I am a human being!"
A lawyer using Zoom had to let a judge know that he wasn't a cat after inadvertently activating a face filter pic.twitter.com/vChc14mjM1

— Mikael Thalen (@MikaelThalen) February 9, 2021
Honestly, if Mr. Ponton doesn't make his next in-person court appearance dressed in an actual cat costume, there is no justice.
Trouble Waiting to Happen
If anybody read the news about poor Mr. Ponton and said, "I gotta get me a realistic cat filter for my Zoom calls," Gizmodo can help you out.
It's easy to virtually Animorph your face into a cat's if that's all you're after. Unfortunately, the specific cute cat overlay seen in the video is a proprietary effect only available on older Dell webcam software.
So, unless you have a Dell PC and webcam from around 2010, the filter you use will look different. There are lots of other kitten filters out there, however. Here's a quick look at how to find one that works in any video chatting software via the free Snap Camera app, available for Windows or Mac.
We're not all that into cat filters. Let us know when we can add some invertebrate species, perhaps a squid or octopus.
Angels and Angles
I made a snow angle pic.twitter.com/wHGlppS7X5

— Sir Boothby Graffoe (@boobygraffoe) February 10, 2021
New Blue Review
You would have thought by now that all the colors that could be made have already been created, but, via the NY Times, a team of scientists recently developed a brand-new blue:
Before 2009, when a team of chemists at Oregon State University developed a color now known as YInMn Blue (quite unexpectedly), it had been 200 years since the last inorganic blue pigment was created. (That one was a cobalt pigment, the chemical composition of which was discovered by the French chemist Louis Jacques Thénard in 1802.)
The name, by the way, is derived from the three chemical elements of which it is composed: yttrium, indium, and manganese. And it is now available to paint and even color with:
Now, YInMn Blue is available to artists as a paint and for commercial use. (The Environmental Protection Agency approved it for industrial coatings and plastics in 2017.) It has a home in the archive of the Forbes Pigment Collection at Harvard University, and has even inspired an addition to the spectrum of Crayola crayons — a striking shade called "Bluetiful."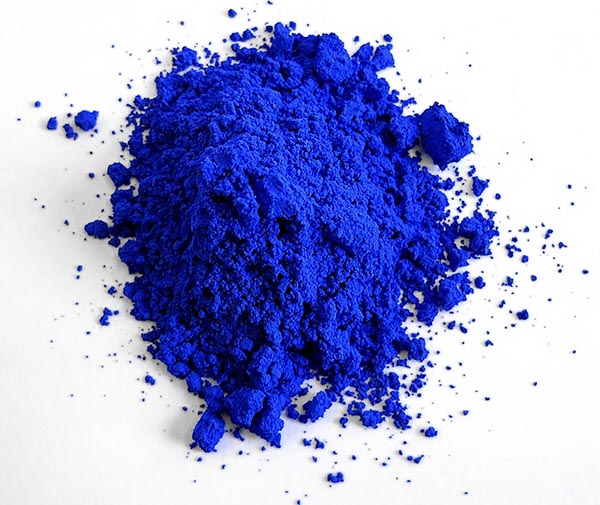 Color Keys
Artist Tyree Callahan replaced typewriter keys with colour pads to create a painting keyboard pic.twitter.com/lZEefwSZJ3

— Mat Osman (@matosman) February 6, 2021
Cleaning Up with Detergent
Core77 has an interview with the founder and CEO of a company called Dirty Labs, a new brand of laundry detergent. The company was designed as a way of creating a product that was truly sustainable without the usual "greenwashing."
One of the company's main reasons for focusing on detergents was the opportunity to make a large impact on a pervasive problem that's still low on the radar of even the most conscious of consumers. Watkins says that "there are around 37 billion loads of laundry that are done a year, and if you associate every load of laundry with a dose of laundry detergent, the vast majority of all those laundry detergents contain carcinogens and toxins like 1,4- Dioxane." Many of these chemicals leach into our water supply, which in turn pollutes soils and food supply. Dirty Lab's original detergent formula utilizes Phytolase®, an enzyme-driven solution that targets stains, naturally breaking it down into simpler components that allow the stain to wash away more easily.
This clever approach to sustainable impact in business makes the Dirty Lab team a great one for gleaning advice on how to start a company or launch a product from the ground up using a holistic sustainability approach. We recently chatted with Watkins to learn more about Dirty Lab's origin story and advice he would give to anyone hoping launch their own sustainable business.
It's an interview worth checking out.
Koala-la-la
I thirst for knowledge https://t.co/CJJAVh93VQ

— Charles P. Pierce (@CharlesPPierce) February 5, 2021
Back to Normal?
Here is some worrying polling via Axios:
People now see less intense risk when it comes to in-person gatherings, dining out, using taxis or rideshares or airplanes, and vacationing. In a new question this week, only 11% said they see a large risk in outdoor sports, such as skiing, sledding or skating.
Even more worrying:
Perhaps the most important measure of when people anticipate they can return to normal is on the question of resuming in-person gatherings with family and friends outside the home.
28% of overall respondents said they already have. That share surges for Republicans (42%), while it's dramatically less for Democrats (10%) and people 65 and older (15%).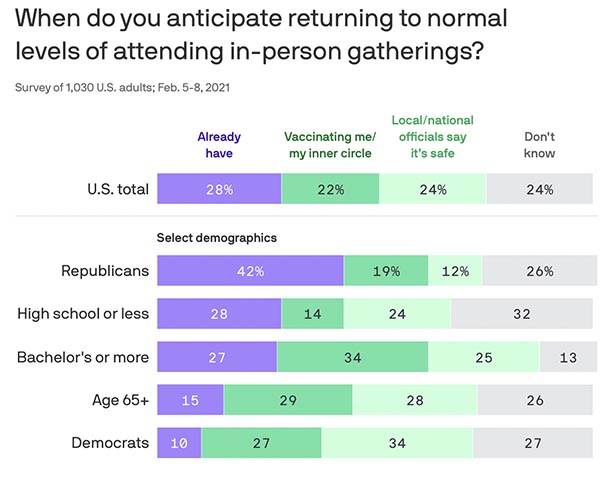 Data: Axios/Ipsos survey; Note: ±3.4% margin of error for the total sample; Chart: Andrew Witherspoon/Axios
This is kind of why this whole thing has dragged on this long.
Superbill
NFL Bankrupted After Receiving $6.3 Trillion Bill From Hospitals For Healthcare Workers Appearance https://t.co/0OIaA4UDbv pic.twitter.com/DqQ4wOcmjk

— The Onion (@TheOnion) February 8, 2021
Left to Our Devices
If you're often confused, as we often are, by which household appliance is best for which specific use, this handy chart by Randall Munroe via Laughing Squid should help you sort it all out.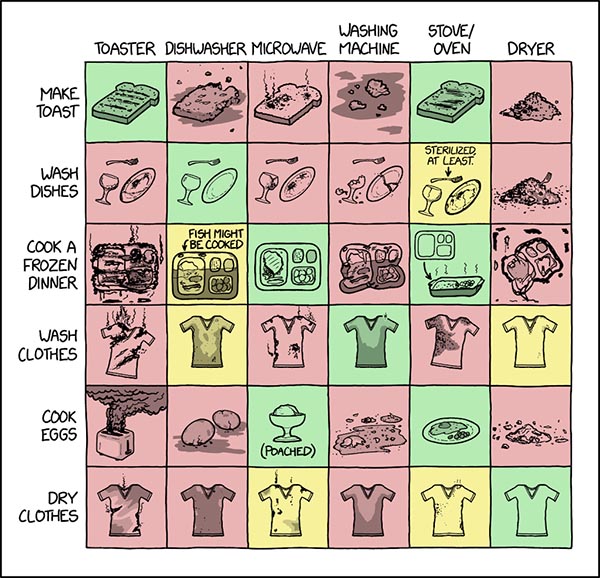 Ah, so that explains why we go through shirts like crazy.
Looking for Mr.
Goodbar

Coffee
Not gonna lie. Some mornings the sound of that coffeemaker is the only thing keeping me sane

— April Baer (@aprilbaer) February 11, 2021
Not Gonna Lye
hackers breaking into a water treatment plant and very nearly poisoning an entire town by messing with the chemical levels is about the level of dystopia I was expecting from smart devices https://t.co/6LJ0gm0Pbw

— Internet of Shit (@internetofshit) February 8, 2021
Actually, you can't blame this on smart devices, but on a combination of dumb devices and some not very smart system administrators. Says Gizmodo:
In case you missed it, a hacker allegedly hijacked the plant's operational controls on Friday, temporarily driving up the sodium hydroxide content in the water to poisonous levels. The facility is the primary source of drinking water for the city's 15,000 residents. Though a plant operator was ultimately able to return the water to normal levels, the incident has nonetheless launched a national conversation about the state of security in America's critical infrastructure.
However:
According to a new cybersecurity advisory from the state of Massachusetts, the plant's protections for these systems left something to be desired. Not only was the facility using Windows 7—an outdated software that Microsoft no longer supports—but all of its employees apparently shared the same password to access TeamViewer. On top of this, the advisory claims that the facility "appeared to be connected directly to the Internet without any type of firewall protection installed."
One is tempted to use phrases like "that opens up the floodgates…" but we shall refrain.
You're Just My Type
Looking for a creative gift for #ValentinesDay? Look no further than our gift shop! Whether your passion is wood type, hot metal, or books on love you will find it here.

We're open from 10-4 on Saturday. Come by and have a look!

(Covid restrictions in place. Masks required.) pic.twitter.com/AnTeNDu84R

— Museum of Printing (@MOPrinting) February 11, 2021
The Steaks Are High
For steak lovers out there, there was news this week about which you may have mixed feelings: "The First 3-D-Printed Rib-Eye Was Just Unveiled, and It Looks Surprisingly Tasty."
The lab-grown rib-eye that hit the pan on Tuesday is the handiwork of Aleph Farms. The Israeli company, which aspires to shift the paradigm of meat production and consumption globally, first started working on its cruelty-free cultivated beef in 2018, but has scaled it up for mass production via the use of 3-D-printing.
The pioneering bioprinting technology, developed with research partners at the Technion Israel Institute of Technology, involves the printing of actual living bovine cells that are then cultivated in a lab environment to acquire the texture and qualities of a bona fide steak. This system, which is similar to the vascularization that occurs naturally in tissues, reportedly gives the meat the same shape and structure as the flesh found on a cow. This means it's possible to produce large quantities of premium whole-muscle cuts without harming any actual animals.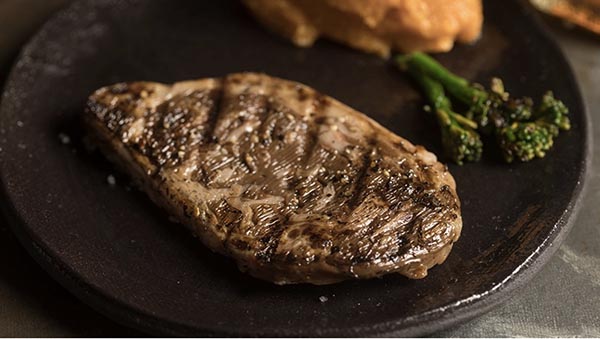 Aleph Farms
What about the broccoli, though? Shouldn't that be cruelty-free? After all, who hears the cry of a broccoli at harvest? (We do. Is that weird?)
Anyway, it will be interesting to see if actual steakhouses go this route. You know how Morton's Steakhouse, instead of a printed menu, brings around samples of the actual cuts of meat? Maybe in the future they'll be bringing a 3D printer out to the table.
(Dear Morton's: This is a joke. Love, AtW)
I Am Not a
Robot

Droid
I laffed. pic.twitter.com/WGTVaPZy5G

— Bjarne P Tveskov (@tveskov) February 6, 2021
Rack it Up
Boing Boing points us to the latest in Matty Benedetto's latest Unnecessary Invention: "a HookShot hanger that pours you a stiff one as soon as you hang your coat."
Sounds cool—Oh, wait: after you hang up your coat. Ah.
Or at Least Make it More Bearable
Eating more cheese and drinking more wine may help delay cognitive decline.

— Quite Interesting (@qikipedia) February 7, 2021
This Week in Printing, Publishing, and Media History
February 8
1587: The death of Mary, Queen of Scots (b. 1542).
1828: French author, poet, and playwright Jules Verne born.
1834: Russian chemist and academic, and creator of the Periodic Table of Elements Dmitri Mendeleev born.
1915: D. W. Griffith's controversial film The Birth of a Nation premieres in Los Angeles.
1922: United States President Warren G. Harding introduces the first radio set in the White House.
1946: The first portion of the Revised Standard Version of the Bible, the first serious challenge to the popularity of the Authorized King James Version, is published.
1971: The NASDAQ stock market index opens for the first time.
1978: Proceedings of the United States Senate are broadcast on radio for the first time.
February 9
1737: English-American philosopher, author, activist, and pamphleteer Thomas Paine born.
1870: US president Ulysses S. Grant signs a joint resolution of Congress establishing the U.S. Weather Bureau.
1881: Russian novelist, short story writer, essayist, and philosopher Fyodor Dostoyevsky dies (b. 1821).
1923: Irish rebel, poet, and playwright Brendan Behan born.
1964: The Beatles make their first appearance on The Ed Sullivan Show, performing before a record audience of 73 million viewers across the US.
1986: Halley's Comet last appeared in the inner Solar System.
February 10
1890: Russian poet, novelist, literary translator, and Nobel Prize laureate Boris Pasternak born.
1898: German director, playwright, and poet Bertolt Brecht born.
1940: Tom and Jerry make their debut with the cartoon Puss Gets the Boot.
1962: Roy Lichtenstein's first solo exhibition opens. It includes Look Mickey, which featured his first use of Ben-Day dots, speech balloons, and comic imagery sourcing, all of which he is now known for.
1967: American director, producer, and screenwriter Vince Gilligan born.
1996: IBM supercomputer Deep Blue defeats Garry Kasparov in chess for the first time.
2005: American actor, playwright, and author Arthur Miller dies (b. 1915).
February 11
1650: French mathematician and philosopher René Descartes dies (b. 1596). Guess he didn't think.
1800: English photographer, politician, and inventor of the calotype Henry Fox Talbot born.
1840: Gaetano Donizetti's opera La fille du régiment receives its first performance in Paris, France.
1843: Giuseppe Verdi's opera I Lombardi alla prima crociata receives its first performance in Milan, Italy.
1847: Thomas Edison born.
1909: American director, producer, and screenwriter Joseph L. Mankiewicz born.
1938: BBC Television produces the world's first ever science fiction television program, an adaptation of a section of the Karel ?apek play R.U.R., that coined the term "robot."
February 12
1804: German anthropologist, philosopher, and academic Immanuel Kant dies (b. 1724).
1809: English geologist and theorist Charles Darwin born.
1809: Sixteenth U.S. President Abraham Lincoln born.
1885: German publisher and founder of Der Stürmer Julius Streicher born.
1924: George Gershwin's Rhapsody in Blue receives its premiere in a concert titled "An Experiment in Modern Music," in Aeolian Hall, New York, by Paul Whiteman and his band, with Gershwin playing the piano.
1948: American computer scientist and engineer Ray Kurzweil born.
1950: English singer-songwriter, guitarist, and producer Steve Hackett born.
1994: Four thieves break into the National Gallery of Norway and steal Edvard Munch's iconic painting The Scream.
February 13
1914: In New York City, the American Society of Composers, Authors and Publishers is established to protect the copyrighted musical compositions of its members.
1923: American general and pilot, and first test pilot to break the sound barrier Chuck Yeager born.
Buzz saying Happy Birthday to Chuck Yeager is why god made Twitter. https://t.co/fgzL9Ct4Lh

— Charles P. Pierce (@CharlesPPierce) February 14, 2019
1950: English singer-songwriter and musician Peter Gabriel born.
1967: American researchers discover the Madrid Codices by Leonardo da Vinci in the National Library of Spain.
February 14
1778: The United States flag is formally recognized by a foreign naval vessel for the first time, when French Admiral Toussaint-Guillaume Picquet de la Motte renders a nine gun salute to USS Ranger, commanded by John Paul Jones.
1819: American journalist and politician, and inventor of the typewriter Christopher Latham Sholes born.
1849: In New York City, James Knox Polk becomes the first serving President of the United States to have his photograph taken.
1876: Alexander Graham Bell applies for a patent for the telephone, as does Elisha Gray.
1894: American actor and comedian Jack Benny (né Benjamin Kubelsky) born.
1924: The Computing-Tabulating-Recording Company changes its name to International Business Machines Corporation (IBM).
1961: Element 103, Lawrencium, is first synthesized at the University of California. Hopefully they sent an atom or two to Michael Battaglia.
1975: English novelist and playwright P. G. Wodehouse dies (b. 1881).
1989: Iranian leader Ruhollah Khomeini issues a fatwa encouraging Muslims to kill Salman Rushdie, author of The Satanic Verses.
1990: The Voyager 1 spacecraft takes the photograph of planet Earth that later become famous as Pale Blue Dot.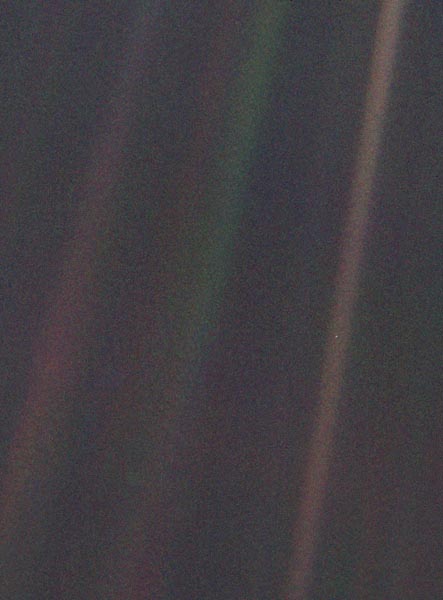 Seen from about 3.7 billion miles, Earth appears as a tiny dot (the bluish-white speck approximately halfway down the brown band to the right) in the darkness of deep space. Makes you think, don't it?
2005: YouTube is launched by a group of college students, eventually becoming the largest video sharing website in the world and a main source for viral videos.
Anything catch your eye "around the Web"? Share it with us at [email protected].