First of all, to kick off your Friday right, a speeding javelina.
A javelina was caught speeding near 22nd and Kolb in Tucson. https://t.co/NPmuBvrATc pic.twitter.com/X1F1StOYVG

— Hannah Tiede (@HannahTiedeTV) February 25, 2020
A javelina is also known as a peccary, and a wise man once told us that a peccary is "a little pig."
Shake the Shake
As we prepare for the spring trade shows and other events, we can't help but keep the coronavirus in mind. In addition to the flying Petri dish that is the modern airplane, these events always involve a lot of meet-and-greets and "pressing the flesh." But what is more potentially germy than shaking hands? How to avoid such a thing without coming across like a germophobe—which I guess we would be, technically?
As it happens, a 2014 study from the American Journal of Infection Controloffers a possible solution: "The fist bump: A more hygienic alternative to the handshake." "We developed an experimental model to assay transfer of bacteria during greeting exchange, and show that transfer is dramatically reduced when engaging in alternative so-called dap greetings known as the high five and fist bump compared with a traditional handshake. Adoption of the fist bump as a greeting could substantially reduce the transmission of infectious disease between individuals."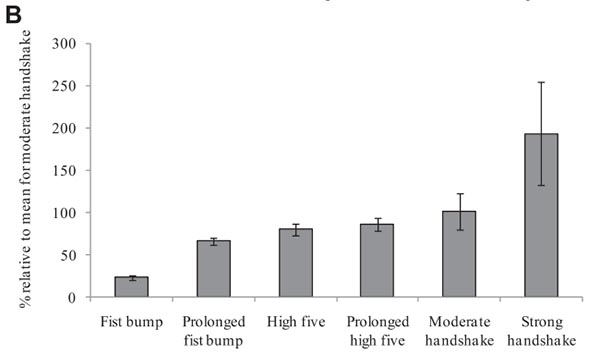 We're going to give it a shot...
(h/t Marginal Revolution)
Face/On
Made this service that prints your face on an N95 mask, so you can protect people from viral epidemics while still being able to unlock your phone.

??+??????????????=??https://t.co/SXslSjoiMz pic.twitter.com/rByMBwdPB8

— Danielle Baskin (@djbaskin) February 15, 2020
The Institution
The venerable Smithsonian Institution has released 2.8 million high-res images into the public domain, which include tons of images of patent models of old printing presses.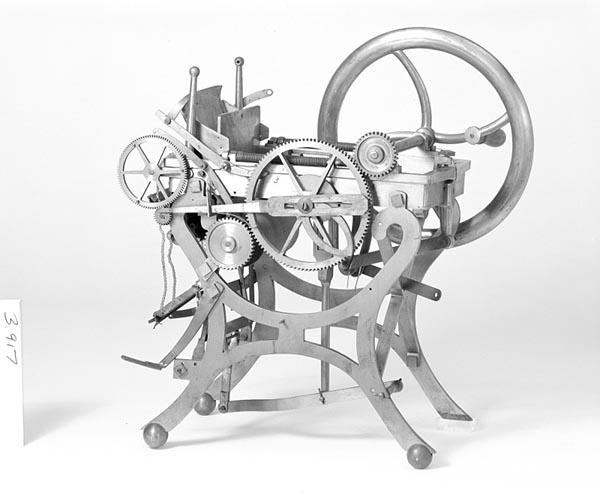 Whale of a Tale
now THAT'S a ted talk https://t.co/QnwHPTrXdr

— Emo Philips (@EmoPhilips) February 21, 2020
Butterflies Are Free
Meanwhile, 150,000 nature illustrations have just entered the public domain thanks to the Biodiversity Heritage Library.
the Biodiversity Heritage Library (BHL), the world's largest open-access digital archive dedicated to the natural world, is now offering more than 150,000 high-resolution illustrations for copyright-free download.
These public domain images belong to an archive of more than 55 million pages of literature about earth's species of flora and fauna. They include animal sketches, historical diagrams, botanical studies, and scientific research collected from hundreds of thousands of journals and libraries across the world. Some of the illustrations date back to the 15th century.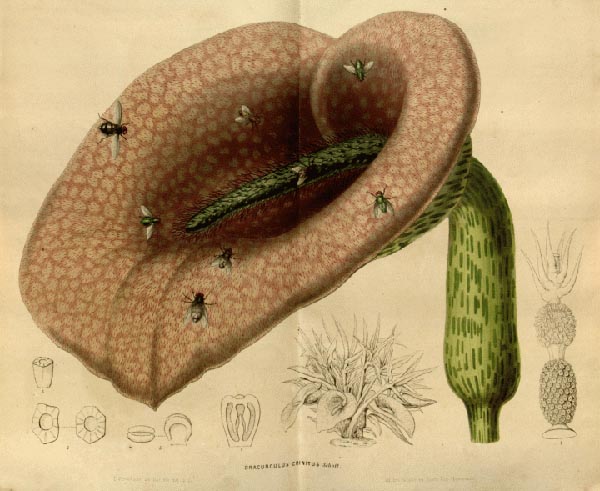 Not Fine
Despite the Internet, libraries still continue to serve a vital function in many communities—even if only to provide Internet access to those who may not be able to get it—or afford it—at home. Hoping to attract more users, libraries are increasingly discontinuing late fees on overdue books and other materials. They are also hoping that abolishing late fees will also help recover items, since users may be more inclined to return an overdue item if they don't have to pay a fee. Other library policies—which were criticized by the American Library Association—prohibited patrons with overdue items from accessing other library services or participating in events, and happily libraries are becoming less strict. (Libraries offer movie nights, career training and literacy programs, "maker" programs for kids, and many other things in addition to lending books.)
Exit with Gift Shop
In addition to libraries, museums are changing with the times, as well. Don't have time to visit a museum in its entirety? Then take it with you! Or at least such is the philosophy of the Swedish Design Museum, which offers a "Museum To Go." "Swedish Design is made to be used. To fully experience it, observing is not enough. You need to feel it, smell it, touch it and put it to work. So while regular museums put their design objects on pedestals, we put ours in bags. One portable exhibition for each direction of our country, for you to use on your stay in Sweden."
Restoring the Mail Order Business
If you have ever gone into a Restoration Hardware looking for a socket wrench or a length of PVC tubing, you were no doubt horribly disappointed. (Likewise, if you have ever gone into an Ace Hardware looking for a divan for your ski chalet, you were probably even more disappointed.) At any rate, Restoration Hardware (actually now just called RH—perhaps too many people wandered in looking for socket wrenches), more than any of the products it sells, focuses on its "source books"—aka catalogs. The Atlantic takes a deep dive into the Restoration Hardware catalog—and how the mail order business still survives.
All the pageantry for catalogs might seem puzzling, given that print media and retail stores are struggling to compete with the infotainment hub of the smartphone. But although the number of catalogs mailed in America has fallen since its high of 19 billion in 2007, an estimated 11.5 billion were still sent in 2018. As retailers become ever more desperate to find ways to sell their stuff without tithing to the tech behemoths, America might be entering a golden age of the catalog.
Eight Sides to Every Story
Over at Core77, a tour of the DOT inplant in Queens, N.Y., that manufactures Stop signs—the inplant's biggest bestseller. "The Stop sign is the most frequently crashed-into, vandalized or stolen, and the shop has constant orders to produce replacements."
They make a variety of other directional signage for the city, as well. (Those Exit signs are bigger than they look when you're passing them at 65 mph.)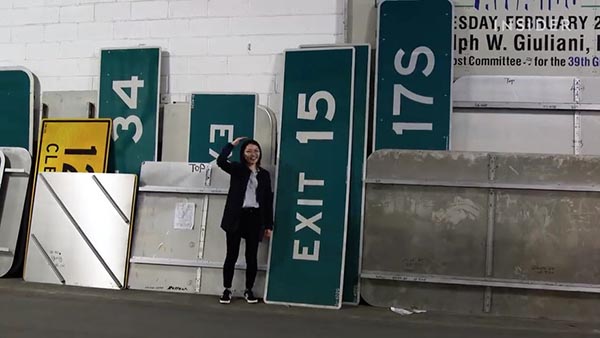 Helllp Meeeee
Time seems to pass faster if you imagine that you're miniaturised.

— Quite Interesting Facts (@qikipedia) February 22, 2020
Face Filter Failure, Part the Infinite
We have linked in previous Around the Web installments to various "face filter failures"—usually people giving dead serious press conferences via Facebook Live with kitten AR filters inadvertently turned on. This week, we have a North Carolina weatherman who "forgot to disable the wacky Facebook Live Mystery Mask augmented reality filters before going on air to report on some unusual snowfall in the area."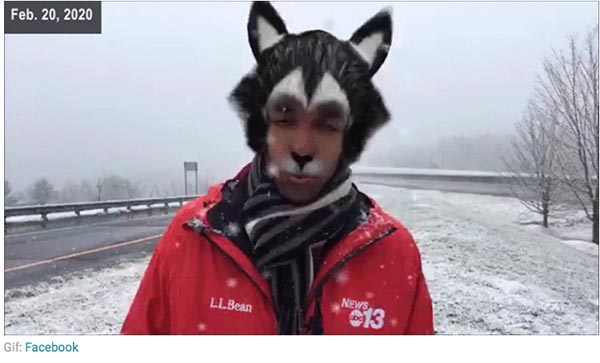 Suddenly, Jim Cantore has an idea.
Cheesy Charts
For more QI facts and behind-the-scenes pictures, follow us on Instagram at https://t.co/ZtEaPJb6RL pic.twitter.com/a5WlpQmhoj

— Quite Interesting Facts (@qikipedia) January 25, 2020
Things Finder
Are you worried about the proliferation of Internet of Things devices and the kinds of information they may be harvesting from you? Well, so are we, to some extent. To that end, researchers at Carnegie Mellon have developed an IoT Assistant app (available for both iOS and Android) that will identify any smart devices around you and warn you about what kind of information they might be collecting.We have not tried it, so we cannot vouch for its accuracy, but if you're worried about privacy, it may be worth checking out.
Pipe Dreams
...absolutely not pic.twitter.com/URBJzmq3pm

— Internet of Shit (@internetofshit) February 25, 2020
We Are Totally Stealing that Term
"why-fi enabled" is how i'm going to call all the @internetofshit devices that don't need to have wireless internet capabilities. like washing machines.

— EricaJoy (@EricaJoy) February 21, 2020
"Oh, Mr. Belpit, Your Legs Are So Swollen"
Here's another "make sure you're not drinking anything when you scroll down" sort of story. "For his graduate collection at the London College of Fashion, menswear designer Harikrishnan has matched cropped tailored jackets with billowing latex trousers to create exaggerated silhouettes."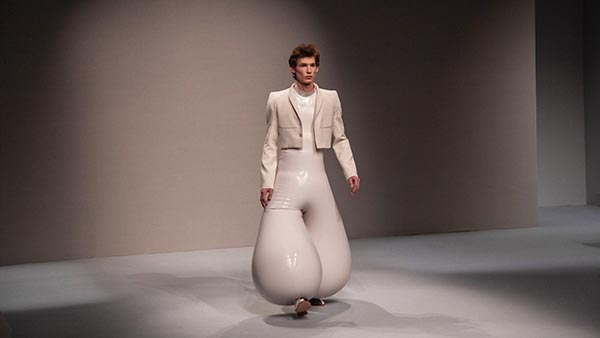 Kind of reminds us of Barbara Eden's I Dream of Jeannie harem pants gone horribly wrong. Mind you, it does look like these would be ideal if you are nursing a knee injury—or have to make a water evacuation from an aircraft.
Karl in a Box
In less surreal fashion news, Woolmark is honoring its long relationship with the late fashion icon Karl Lagerfeld with a DIY Knit Karl Box. Knitters can recreate four of his last designs with this kit that includes Australian merino wool.
Not Sure We Want to See the Sanitation Dept. Headquarters
If most Americans hate architectural abstraction and Mies-inspired modernism, then there's still a compromise solution. It's simple: All federal buildings should be designed in the style of India's National Fisheries Development Board. https://t.co/w93J3GxmJS pic.twitter.com/GN8uVLsm9d

— Robinson Meyer (@yayitsrob) February 20, 2020
Assault and Batter
Who says you shouldn't play with your food? Via Boing Boing, Wriggles & Robins's "Max's Journey to the Moon" is a stop-motion animation made from 600 pancakes. (Apparently, last Tuesday was National Pancake Day.)
In a Giffy
The makers of Jif peanut butter team up with Giphy to try to settle the GIF/Jif debate once and for all https://t.co/9VyPGpDOnC pic.twitter.com/FrLbD1VtNJ

— The Verge (@verge) February 25, 2020
Not So Deep Pockets
We admit that we are not all that interested in the college admissions scandals of the rich and famous, but one headline caught our attention: "Hot Pockets heiress reportedly sentenced to 5 months in prison..." It goes on, but we stopped reading after "Hot Pockets heiress." It seems logical that such a person would exist, but bewildering that they should be able to be snooty about it. It would be only slightly less deflating than "Heir to the Cap'n Crunch fortune."
No Bad Phones
Apple won't let bad guys use iPhones in movies, says Knives Out director https://t.co/0IeUo3thtA pic.twitter.com/xho8lfcbjQ

— The Verge (@verge) February 26, 2020
Best Thing Since Sliced Bread?
While sliced bread has long been overrated (although some of us prefer it to Hot Pockets), we're positive that sliced mayonnaise is vastly underrated, if it is even rated at all. For those who find squeezing a bottle a hardship, there is now such a thing:
Created by the Japanese company Bourbon, which dabbles in seemingly everything except booze, the new mayo slices are a result of the company's expertise in creating sliced chocolate which it previously perfected as a way to avoid accidentally shredding a slice of bread while trying to apply viscous spreads like Nutella. It's also reminiscent of products like sliced peanut butter that were invented a few years back as a way to streamline the PB&J assembly process.
Cold Open
The Friends reunion should start with an empty Central Perk covered in blood spatter followed by the caption "48 hours earlier".

— Michael Spicer (@MrMichaelSpicer) February 22, 2020
This Week in Printing, Publishing, and Media History
February 24
1582: With the papal bull Inter gravissimas, Pope Gregory XIII announces the Gregorian calendar.
1607: L'Orfeo by Claudio Monteverdi, one of the first works recognized as an opera, receives its première performance.
1711: The London première of Rinaldo by George Frideric Handel, the first Italian opera written for the London stage.
1854: A Penny Red with perforations was the first perforated postage stamp to be officially issued for distribution.
1921: American actor Abe Vigoda born.
1955: American businessman and co-founder of Apple Inc. and Pixar Steve Jobs born.
1968: American comedian and actor Mitch Hedberg born.
1989: Ayatollah Ruhollah Khomeini issues a fatwa and offers a USD $3 million bounty for the death of Salman Rushdie, author of The Satanic Verses.
February 25
1644: English pastor, engineer, and inventor of the first practical steam engine Thomas Newcomen born.
1841: French painter and sculptor Pierre-Auguste Renoir born.
Today is Renoir's birthday pic.twitter.com/5k8hAPdgxS

— CindyLouYear (@cindynorth1) February 25, 2020
1928: Charles Jenkins Laboratories of Washington, D.C. becomes the first holder of a broadcast license for television from the Federal Radio Commission.
1943: English singer-songwriter, guitarist, and producer George Harrison born.
February 26
1564: English playwright, poet, and translator Christopher Marlowe born.
1616: Galileo Galilei is formally banned by the Roman Catholic Church from teaching or defending the view that the earth orbits the sun.
1802: French author, poet, and playwright Victor Hugo born. (We had a hunch.)
1909: Kinemacolor, the first successful color motion picture process, is first shown to the general public at the Palace Theatre in London.
1918: American author and critic Theodore Sturgeon born.
February 27
1807: American poet and educator Henry Wadsworth Longfellow born.
1812: Poet Lord Byron gives his first address as a member of the House of Lords, in defense of Luddite violence against Industrialism in his home county of Nottinghamshire.
1891: American businessman and founder of RCA David Sarnoff born.
1902: American journalist, author, and Nobel Prize laureate John Steinbeck born.
February 28
1683: French entomologist and academic René Antoine Ferchault de Réaumur born. After observing wasps building their nests, Réaumur was the first to propose making paper out of wood.
1827: The Baltimore and Ohio Railroad is incorporated, becoming the first railroad in America offering commercial transportation of both people and freight.
1935: DuPont scientist Wallace Carothers invents nylon.
1939: The erroneous word "dord" is discovered in the Webster's New International Dictionary, Second Edition, prompting an investigation.
1940: Basketball is televised for the first time (Fordham University vs. the University of Pittsburgh in Madison Square Garden).
1944: English graphic designer and cofounder of Hipgnosis Storm Thorgerson born.
1954: The first color television sets using the NTSC standard are offered for sale to the general public.
1970: American journalist, author, and accordion player Daniel Handler born. Under the name Lemony Snicket, he is the author of the children's book series A Series of Unfortunate Events.
1983: The final episode of M*A*S*H airs, with almost 106 million viewers. It still holds the record for the highest viewership of a season finale.
February 29
1860: American statistician and businessman, Herman Hollerith, co-founder of the Computing-Tabulating-Recording Company, born.
1940: For her performance as "Mammy" in Gone with the Wind, Hattie McDaniel becomes the first African American to win an Academy Award.
2008: Misha Defonseca admits to fabricating her memoir, Misha: A Mémoire of the Holocaust Years, in which she claimed to have lived with a pack of wolves in the woods during the Holocaust.
March 1
1790: The first United States Census is authorized.
1869: Dmitri Mendeleev finishes his design of the first periodic table of elements and sends it for publishing.
An alternative version of the periodic table, as designed by Theodor Benfey in 1964. pic.twitter.com/RTWgQ4jQK8

— Quite Interesting (@qikipedia) February 27, 2019
1872: Yellowstone National Park is established as the world's first national park.
1873: E. Remington and Sons in Ilion, N.Y., begins production of the first practical typewriter.
1893: Electrical engineer Nikola Tesla gives the first public demonstration of radio in St. Louis, Mo.
1896: Henri Becquerel discovers radioactive decay.
1914: American novelist and literary critic Ralph Ellison born.
1917: American poet Robert Lowell born.
1917: The Zimmermann Telegram is reprinted in newspapers across the United States after the U.S. government releases its unencrypted text.
1922: American publisher and founder of MAD Magazine William Gaines born.
1998: Titanic became the first film to gross over $1 billion worldwide. (It is worth checking out this site that adjusts the highest-grossing movies for inflation.)
2006: English-language Wikipedia reaches its one millionth article, Jordanhill railway station.