Your Friday 14-String Guitar Solo
Well OF COURSE Covid would say that! pic.twitter.com/6LG6UFMUKu

— Matt Charlton (@Matt_Charlton) March 1, 2021
Mollusk Mania
If you had to take a guess as to who was the winner of the 2020 Ocean Art Underwater Photo Competition, you probably would have guessed someone human. And you'd be right—although that's technically be wrong. This contest, which was already pretty strange for reasons you can probably imagine, got even weirder when it was arguably won by an octopus. Says Scuba News: "The Best of Show by Gaetano Dario Gargiulo is a once-in-a-life-time moment where a curious octopus took a selfie of itself with the photographer's family."
"On the day of the photo, I remained in the tide pool as the tide was too low to venture outside of its boundaries. In one of the shallowest parts of the pool I noticed an octopus. I placed my camera near its den and the octopus started interacting with it. It came completely out of the den and to our amazement it started shooting pictures! My son (3 y.o. in the background) was very curious about the octopus." Gaetano Dario Gargiulo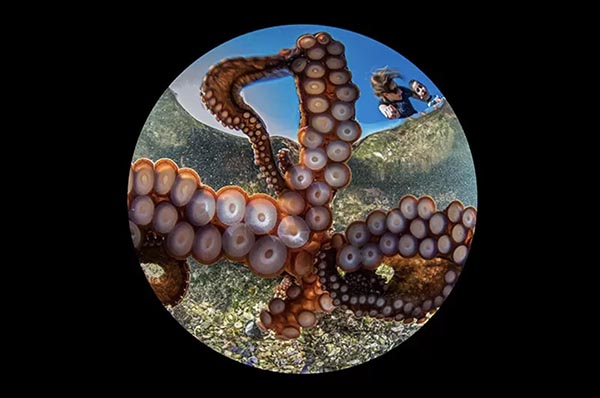 The octopus should at the very least be credited as co-winner of the contest.
Lost In Translation
In the 1880s, 'The Merchant of Venice' was translated into Japanese as 'The Trial for the Pawning of Human Flesh', 'Julius Caesar' as 'The Mirror of the Rise and Fall of Rome', and 'Romeo and Juliet' as 'Writings on Western Girls: A Peculiar Marriage Between Rivals'.

— Quite Interesting (@qikipedia) February 17, 2021
First-Class Mail
In much simpler times, before computer IDs, passwords, and having to identify parking meters before being allowed to log onto Zoom, there were what were known as "locked letters." Before envelopes, you folded a letter to be its own self-mailer, and to send a "locked letter," you folded it intricately, such that it was unlikely to be read accidentally or "accidentally on purpose" by anyone other than the intended recipient. (We wonder if Trish Witkowski ever sends letters this way.)
Anyway, recently, a stack of 577 locked letters, written and mailed to The Hague, Netherlands, between 1689 and 1706, were found in a trunk of undelivered mail and bequeathed to the Dutch postal museum. The dilemma for conservators was: how to read the contents of the letters without destroying the clever folding? Well, says CNN: "Using a highly sensitive X-ray scanner and computer algorithms, researchers virtually unfolded the unopened letter."
"The scanning technology is similar to medical CT scanners, but using much more intense X-rays which allow us to see the minute traces of metal in the ink used to write these letters. The rest of the team were then able to take our scan images and turn them into letters they could open virtually and read for the first time in over 300 years."
So what was in the letter that was so secret?
The technique revealed the contents of a letter dated July 31, 1697. It contains a request from Jacques Sennacques to his cousin Pierre Le Pers, a French merchant in The Hague, for a certified copy of a death notice of Daniel Le Pers.
…The details may seem prosaic, but the researchers said the letter gives fascinating insight into the lives of ordinary people -- a snapshot of the early modern world as it went about its business.
The letters belonged to 17th-century postmaster Simon de Brienne and his wife, postmistress Marie Germain. They had never been delivered, probably because, in the days before stamps, it was recipients who paid the postage (direct mail would never have worked under this system). If a recipient refused to pay, or was deceased, or was otherwise unable to pay the postage, they weren't delivered. (Let's not give Louis DeJoy any ideas.)
You can find out more about letter locking at the Unlocking History Research Group.
Not So First-Class Mail
Mail service has gotten so bad I now cheer like the Mars Rover team when something I sent arrives on time.

— J. Elvis Weinstein (@JElvisWeinstein) February 21, 2021
Dynamic Signs
American Sign Language (ASL) is a very expressive language that can use both very broad, expansive movements as well as very small, subtle gestures to communicate. And while the deaf have long used videoconferencing, the increased reliance on Zoom (etc.) is forcing some changes in the nature of ASL. Says Scientific American:
One adaptation arises as a result of a video meeting's limited frame size. "The signing space is expansive," says Michael Skyer, a senior lecturer of deaf education at the Rochester Institute of Technology. "Even if many signs are produced easily or normally in the 'Zoom screen' dimensions, many are not." The sign for "body," for example, is usually produced by making a "B" hand shape and moving it from the shoulders to the hips. But to fit the reduced signing space demanded by videoconferencing, many signers have been ending it at the chest.
Signs that take up a lot of space may be harder to convey on video, but so are small ones that involve finer details. Finger-spelled words, for example, as well as numbers and colors, all involve relatively small details formed with a single hand—which can make them harder to see clearly on a tiny conference screen. Skyer says signers must go slower and repeat themselves more often to fill in such gaps.
…Signers communicating through video must also consider how they angle their bodies so as to convey what they mean clearly. If two people face each other in an in-person interaction, each can easily see whether the other's hands are moving toward them or away from them. This can be crucial for grammatical reasons.
Some deaf signers are adapting the way they orient their bodies on camera and some are even editing themselves so they can avoid signs that can be easily misconstrued on Zoom. It's also likely that some of these changes—like many others that have come about during the pandemic—will be retained.
You Do the Math
U.S. Mint Introduces New Seven-Cent Coin To Bolster Citizens' Math Skills https://t.co/KyiM62YbGA pic.twitter.com/Ed6BSC4chE

— The Onion (@TheOnion) February 15, 2021
Cutting Remarks
From the WTF files, via the Sacramento Bee:
A Northern California plastic surgeon who showed up for his traffic trial Thursday afternoon via videoconference surprised a Sacramento judge by going live from his operating room.
Amid the whirs and bleeps of medical machinery, the sounds of suction and the bright glow of surgical lamps, Scott Green appeared before Sacramento Superior Court Commissioner Gary Link's virtual courtroom at Carol Miller Justice Center, donning his surgical scrubs, ready to proceed, the patient undergoing the procedure just out of view.
It would be apt if his patient was there to have a cat filter removed from his face.
Bricked
"car is stuck on boat because it needs a software patch"

product manager missed their deadlines, huh? https://t.co/USbQ4jTVi8

— Internet of Shit (@internetofshit) March 1, 2021
Not the Children!
This is just wrong:
With the Fisher-Price® My Home Office set, your preschooler is the boss of their own workstation at home, the local coffee shop, or the moon. This 8-piece pretend play set includes a pretend laptop, 4 fabric apps to attach to the computer screen, a wood smartphone and headset for all those important business calls, and a to-go cup for kids to sip their favorite beverage.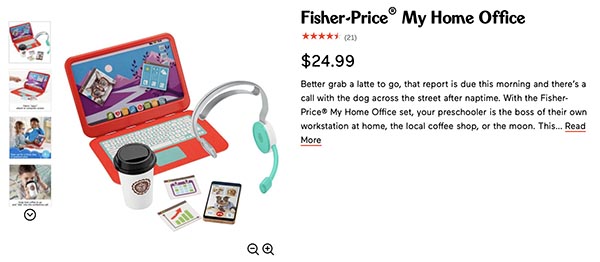 And it's wrong because it's actually a better set up than a lot of adult work-from-homers have!
For some of us, this is primarily what Zoom meant as a child:
These Kids Today
My child has prepared a speech, with powerpoint presentation, for his dad. pic.twitter.com/oiEDgFm5Cj

— Dr Katherine Schofield (@katherineschof8) February 25, 2021
No Touch!
Remember when touchscreens were going to be the interface of the future? Several years ago, a number of videos started circulating—such as one from Corning, the masters of glass—that showed us a world of touchscreens everywhere. (It would be a very messy world for people who liked to eat chicken wings.)
Anyway, as you would expect post-COVID, no one is all that keen on the idea of touchscreens anymore. What is the alternative? Some have suggested gesture-based interfaces, but the idea of a holographic interface is pretty cool, such as Floating Pictogram Technology, produced by Japan startup Parity Innovations in collaboration with the Murakami Corporation. The technology, says Core77, "produces bright, high-resolution images and reportedly accurate finger-sensing technology out of a relatively compact device. The developers envision it being integrated with ATM machines, elevators, kiosks and even public toilets with bidet features."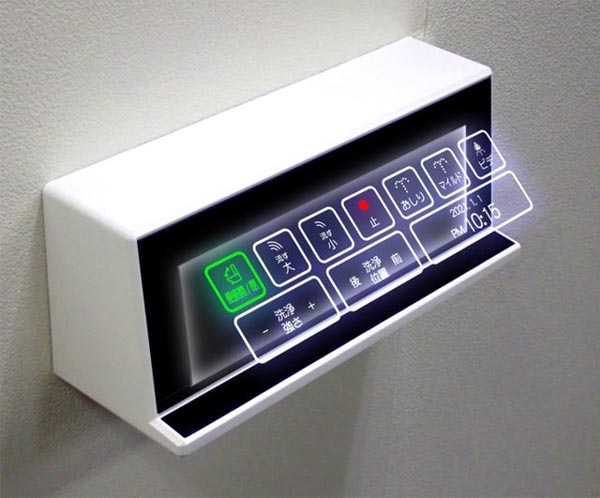 Heck, we like this idea COVID or no COVID!
The Fog of Mask
One of the downsides of mask-wearing for some people is that one's glasses tend to fog up. One option is to have eye surgery, but a less intrusive (and less expensive) option is a new mask design from Oakley that features an eyewear channel. Says Core 77:
Their MSK3 has been thoughtfully designed with an eyewear channel for glasses to nest in, and a silicon gasket that prevents your breath from drifting up beneath your eyewear.
… As with most Oakley products, that level of design attention comes at a cost, in this case $60. Even so, the mask is so popular that it's currently sold out.
Floored
Do you want a giant television but don't want to look at it or even be aware of its existence when you're not watching it? If you have $400K to spare, you can get one that folds into the floor. From Gizmodo:
The 165-inch C SEED M1 is a massive folding display that completely disappears into the floor when not in use. Unfortunately, installation looks like a giant pain—and that's assuming you survive the sticker shock.
…The C SEED M1, available in gold, black, or titanium finishes, can be yours for $400,000, but that doesn't include the renovations needed to make a room ready for its installation. If you want the full effect of a giant TV screen that disappears into your floor, you're going to have to get a contractor to ensure that it's even possible for a room—and then there's the room below it to consider if you live in a multi-floor home. If you live in an apartment or a condo in a tower, you'll have to instead settle for other installation options, which include a giant box sitting on the floor for the M1 to collapse into, or matching decorative furniture for it to hide inside.
Right?!
Only two parts. But takes 42 minutes to put back in place if they jump off track. pic.twitter.com/LLr1prVnjR

— Roy Wood Jr- Ex Jedi (@roywoodjr) February 5, 2021
Art Fur Art's Sake
You know what would be better than works of classic art? Works of classic art…rendered in fur. Says Laughing Squid:
Turkish digital artist Murat Yildirim has quite brilliantly reimagined six iconic works of art by great artists in digital 3D fur. These "Furry Artworks" include "The Starry Night" by Vincent van Gogh, "Mona Lisa" by Leonardo da Vinci, "Girl With a Pearl Earring" by Johannes Vermeer, "The Scream" by Edvard Munch, "The Persistence of Memory" by Salvador Dali and "Soleil Levant" by Claude Monet.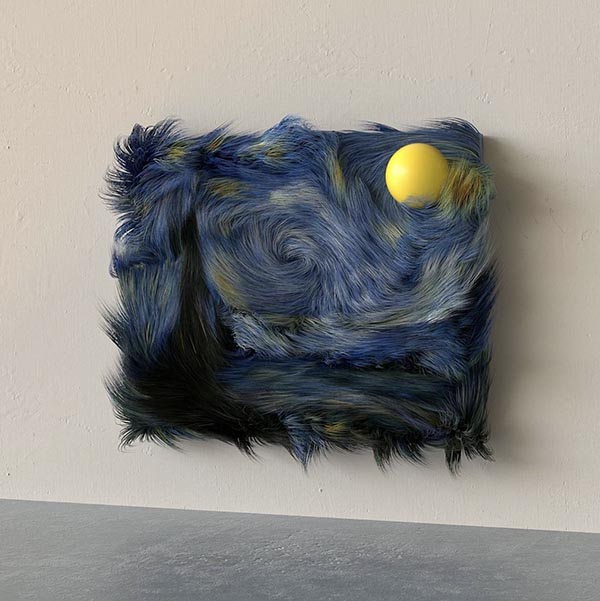 "Furry Night"?
Printing Shipments Look Even Better
Nation's Unemployment Outlook Improves Drastically After Fifth Beer https://t.co/VvU64jeL3U pic.twitter.com/5KwheRhFgB

— The Onion (@TheOnion) March 1, 2021
Hello Dolly
Never has the phrase "a taste of one's own medicine" ever been more apt. Here, Dolly Parton gets the jab and also sings a new version of her classic song "Jolene" called "Vaccine."
Options
After I get vaccinated I want to both see friends and read a book alone at a bar. I contain multitudes.

— Brenna Ehrlich (@BrennaEhrlich) March 2, 2021
This Week in Printing, Publishing, and Media History
March 1
1790: The first United States census is authorized.
1869: Dmitri Mendeleev finishes his design of the first periodic table of elements and sends it for publishing.
An alternative version of the periodic table, as designed by Theodor Benfey in 1964. pic.twitter.com/RTWgQ4jQK8

— Quite Interesting (@qikipedia) February 27, 2019
1872: Yellowstone National Park is established as the world's first national park.
1873: E. Remington and Sons in Ilion, N.Y., begins production of the first practical typewriter.
1893: Electrical engineer Nikola Tesla gives the first public demonstration of radio in St. Louis, Mo.
1896: Henri Becquerel discovers radioactive decay.
1914: American novelist and literary critic Ralph Ellison born.
1917: American poet Robert Lowell born.
1917: The Zimmermann Telegram is reprinted in newspapers across the United States after the U.S. government releases its unencrypted text.
1922: American publisher and founder of MAD Magazine William Gaines born.
1998: Titanic became the first film to gross over $1 billion worldwide. (It is worth checking out this site that adjusts the highest-grossing movies for inflation.)
2006: English-language Wikipedia reaches its one millionth article, Jordanhill railway station.
March 2
1545: English diplomat and scholar, founder of the Bodleian Library Thomas Bodley born.
1717: The Loves of Mars and Venus is the first ballet performed in England.
1791: Long-distance communication speeds up with the unveiling of a semaphore machine in Paris.
1904: American children's book writer, poet, and illustrator Dr. Seuss (né Theodor Seuss Geisel) born.
1930: English novelist, poet, playwright, and critic D. H. Lawrence dies (b. 1885).
1933: The film King Kong opens at New York's Radio City Music Hall.
1942: American novelist and screenwriter John Irving born.
1942: American singer-songwriter, guitarist, producer, and actor Lou Reed born. Just like Sister Ray said.
1982: American philosopher and author Philip K. Dick dies (b. 1928).
1983: Compact discs and players are released for the first time in the United States and other markets. They had previously been available only in Japan.
1995: Yahoo! is incorporated.
2010: Hailey Dawson, an American girl a with 3D-printed robotic hand, born.
March 3
1847: Scottish-American engineer and academic and inventor of the telephone Alexander Graham Bell born.
This is your occasional reminder that when Alexander Graham Bell (born #onthisday in 1847) invented the telephone, he suggested it be answered with the phrase 'ahoy-hoy.'

Which is exactly what we say in #Orkney whenever we sail past the island of Hoy. pic.twitter.com/A8IEMi0uPX

— Orkney Library (@OrkneyLibrary) March 3, 2021
1873: The U.S. Congress enacts the Comstock Law, making it illegal to send any "obscene, lewd, or lascivious" books through the mail.
1875: Georges Bizet's opera Carmen receives its première at the Opéra-Comique in Paris.
1875: The first ever organized indoor game of ice hockey is played in Montreal, Quebec, Canada.
1882: Italian swindler, con artist, and "businessman" Charles Ponzi born. He was a practitioner of what eventually became known as the "Ponzi scheme."
1885: The American Telephone & Telegraph Company is incorporated in New York.
1904: Kaiser Wilhelm II of Germany becomes the first person to make a sound recording of a political document, using Thomas Edison's phonograph cylinder.
1920: Canadian-American actor and purported inventor of transparent aluminum James Doohan born.
1923: TIME magazine is published for the first time.
1931: The United States adopts "The Star-Spangled Banner" as its national anthem.
1949: American historian, journalist, and author Ron Chernow born.
1951: Jackie Brenston, with Ike Turner and his band, records "Rocket 88," often cited as "the first rock and roll record," at Sam Phillips's recording studios in Memphis, Tenn.
1953 English singer-songwriter and guitarist Robyn Hitchcock born.
March 4
1852: Ukrainian-Russian short story writer, novelist, and playwright Nikolai Gogol dies (b. 1809).
1882: Britain's first electric trams run in east London.
1913: The United States Department of Labor is formed.
1957: The S&P 500 stock market index is introduced, replacing the S&P 90.
1974: People magazine is published for the first time in the United States as People Weekly.
March 5
1512: Flemish mathematician, cartographer, and philosopher Gerardus Mercator born.
1616: Nicolaus Copernicus's book On the Revolutions of the Heavenly Spheres is added to the Index of Forbidden Books 73 years after it was first published.
1953: American screenwriter and producer Herman J. Mankiewicz dies (b. 1897).
March 6
1475: Italian painter and sculptor Michelangelo born.
Michelangelo wrote a poem about how much he disliked painting the Sistine Chapel and his aversion to painting in general. You can read it here: https://t.co/LpiAB5AOIk

— Quite Interesting (@qikipedia) March 7, 2019
1665: The first joint Secretary of the Royal Society, Henry Oldenburg, publishes the first issue of Philosophical Transactions of the Royal Society, the world's longest-running scientific journal.
1885: American journalist and author Ring Lardner born.
1888: American novelist and poet Louisa May Alcott dies (b. 1832).
1899: Bayer registers "Aspirin" as a trademark. What a headache that must have been.
1927: Colombian journalist, author, and Nobel Prize laureate Gabriel García Márquez born (not in the time of cholera).
1943: Norman Rockwell published Freedom from Want in The Saturday Evening Post with a matching essay by Carlos Bulosan as part of the Four Freedoms series.
1946: English singer-songwriter and guitarist David Gilmour born.
1966: English comedian, actor, and screenwriter Alan Davies born.
1975: For the first time the Zapruder film of the assassination of John F. Kennedy is shown in motion to a national TV audience by Robert J. Groden and Dick Gregory.
March 7
1274: Italian priest and philosopher Saint Thomas Aquinas dies (b. 1225).
1765: French inventor of photography Nicéphore Niépce born.
1792: English mathematician, astronomer, experimental photographer, and inventor of the blueprint John Herschel born.
1872: Dutch-American painter Piet Mondrian born.
1876: Alexander Graham Bell is granted a patent for an invention he calls the "telephone."
1917: American engineer and programmer Frances Elizabeth "Betty" Holberton born. She was one of the six original programmers of ENIAC, the first general-purpose electronic digital computer, and was the inventor of breakpoints in computer debugging.
1999: American director, producer, and screenwriter Stanley Kubrick dies (b. 1928).
Anything catch your eye "around the Web"? Share it with us at [email protected].