Your Friday Building and Playing a Nail Violin
Even Daft Punk is over wearing masks.

— J. Elvis Weinstein (@JElvisWeinstein) February 22, 2021
Marsh Madness
Way back in April, toward the start of "all this," Around the Web linked to the Marshes, a very talented English family that began recording song parodies in their living room that spoofed the then-new lockdown life. Their videos have gone, um, viral, and the NY Times brings us up to date on how they have handed the various British lockdowns.
Meet the Marshes — Ben, Danielle, and their four children Alfie, 14, Thomas, 13, Ella, 11 and Tess, 9 — a family from the English town of Faversham that has gained unexpected fame for their revamped, tongue-in-cheek cover tunes about life in times of Covid. This six-voice choir, with its sweet harmonies and the occasional wobbly note, is creating songs that dramatize the mundane moments of lockdown life, from too much screen time to the horrors of remote learning….
…"We feel a little bit like we can put things into words that sometimes other people wouldn't say — or struggle to say," said Ben, the father, during a Zoom interview from his home, adding that they hoped to bring people some "fun and family."
And now they ring in 2021 with their rendition of "Total Eclipse of the Heart"—"Totally Fixed Where We Are."
Racing Rovers
Next time they should land two Mars rovers, then at least they could have races. Also see which one's photos get more Insta likes etc. Opportunity missed NASA.

— Richard Osman (@richardosman) February 19, 2021
What's a Grecian Urn?
Last week marked the bicentenary of the death of English poet John Keats, who died of tuberculosis at the age of 25. The Guardian has a round-up of the events that were taking place (mostly in the UK) to mark the occasion.
The Poetry Society and the Keats House Hampstead are working together to mark the anniversary. The society has commissioned poets Ruth Padel, Rachael Boast and Will Harris to write poems inspired by Keats. Padel was inspired by his Ode to a Nightingale, Harris responded to Hyperion, and Boast to When I Have Fears That I May Cease to Be….
… The Keats-Shelley Memorial House in Rome, where Keats died, has launched an immersive video tour of the house, led by rock star and philanthropist Bob Geldof, to mark the anniversary. Geldof, who is the Keats-Shelley200 ambassador, is also narrating a video story for the museum, The Death of Keats, in which he will read from letters that tell the story of Keats's time in the house and his death. "Keats and the house in Rome mean a lot to me, and it was a pleasure to work on these projects for the bicentenary of his death," said Geldof. Geldof's tour can be watched with a VR headset or on a regular screen, while a panoramic tour of the house with a live guide will also be available on 23 February….
… "Keats didn't consider himself to be a Romantic poet, but I think he knew he was a poet working on the vanguard of language and the imagination, qualities which still hold true," said Giuseppe Albano, curator of Keats-Shelley House. "And then there's the irresistibly sad story of his life and death, as well as his letters, which are among the freshest and deftest in the English language. It never ceases to amaze me just how much love he inspires in visitors to the Keats-Shelley House, and how his work has the power to draw people in and connect them. Two hundred years after his death, Keats's poetry has never been more alive or more loved."
Sock it to Me
My pal Katherine gets me the best presents, library card socks! pic.twitter.com/3za6aV91YD

— Robin Ince ??(@robinince) February 23, 2021
Discarded Footwear
Once upon a time, Reeboks were the ultimate in cool, but it's sad to see—after a staunchly defended acquisition—Adidas now trying to ditch them. Says Business Insider:
Adidas acquired Reebok in 2006 for roughly $3.8 billion in an attempt to better compete with Nike, but the brand has posted disappointing sales figures in recent years. Adidas said Tuesday that it has begun a formal process to divest from Reebok, pivoting to focus on its core brand.
Perfect Gift for Warren Werbitt
HELL YES pic.twitter.com/TdzlaPz9bU

— Garbage Ape ?? (@GarbageApe) February 23, 2021
The (Type)Write Stuff
The phrase "hot typewriter action" may not be one you hear a lot, but, via Boing Boing, here is The Typewriter by video essayist Ariel Avissar, "a collection of hot typewriter action as seen in movies and TV shows." We have two challenges for you: name each film, and name each typewriter.
The Typewriter (supercut) from Ariel Avissar on Vimeo.
The soundtrack is, of course, Leroy Anderson's "The Typewriter," a concerto for orchestra and solo typewriter.
Coming Out Party
I finally stopped playing games and admitted to my computer that I'm a robot. Huge relief.

— (((Joshua Malina))) (@JoshMalina) February 24, 2021
While You Were Art
Would you pay nearly $600,000 for an animated cat with a Pop-Tart body? No, nor would we, but the NY Times had a story this week on the growing market for—hoo boy—"nonfungible tokens" (NFTs) or, basically, "digital art, ephemera and media."
In the 10 years since Chris Torres created Nyan Cat, an animated flying cat with a Pop-Tart body leaving a rainbow trail, the meme has been viewed and shared across the web hundreds of millions of times.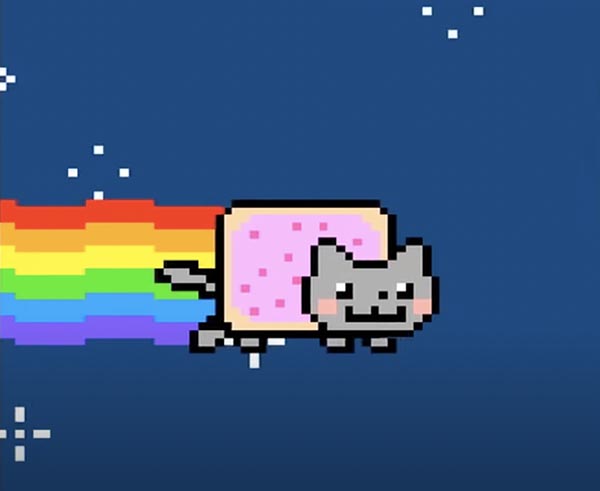 On Thursday, he put a one-of-a-kind version of it up for sale on Foundation, a website for buying and selling digital goods. In the final hour of the auction, there was a bidding war. Nyan Cat was sold to a user identified only by a cryptocurrency wallet number. The price? Roughly $580,000.
Interestingly, "The buyers are usually not acquiring copyrights, trademarks or even the sole ownership of whatever it is they purchase. They're buying bragging rights and the knowledge that their copy is the 'authentic' one.
Other digital tokens recently sold include a clip of LeBron James blocking a shot in a Lakers basketball game that went for $100,000 in January and a Twitter post by Mark Cuban, the investor and Dallas Mavericks owner, that went for $952.
If you are interested in an authentic version of this or any other Around the Web installment, feel free to contact our sales staff.
Heaven Knows I'm Miserable Now
It is possible for this to be BOTH a legitimately good idea and a fake Morrissey album https://t.co/ThYG1LP8ek

— DC Pierson (@DCpierson) February 22, 2021
New Directions in Art
How much different The Picture of Dorian Gray would have been if the titular libertine had had his portrait painted by Spanish artist Sergi Cadenas. An "optical art artist," Cadenas is perhaps best known for his lenticular oil painting technique, lenticular being a type of image that changes based on the direction at which you are viewing it. His technique is described by the Galeria Jordi Barnadas (which exhibits his work) as "plac[ing] thin vertical lines made with painting paste on the canvases and, once the paste is dry, paints two different portraits on each of the two sides of the almost two hundred lines." He uses the lenticular technique to "capture through painting: the passing of the years, the idea of death, intelligence opposed to physical beauty, equality of races or opposite feelings."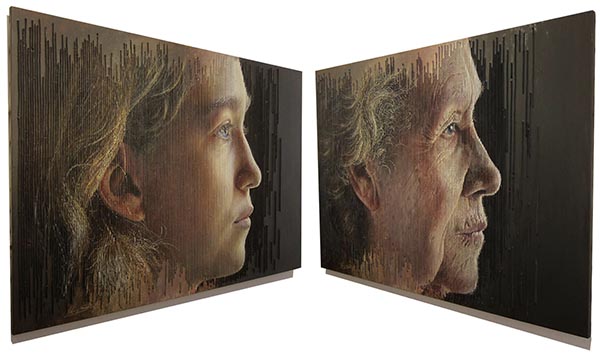 Carpet Burns
A hotel in Germany uses 3D carpets to keep guests from running in the hallway. How absolutely Brilliant. pic.twitter.com/ogSUqhBEN7

— Jerry Avenaim (@avenaim) February 21, 2021
E, Spy
Although we have discovered that many people do not read emails, it turns out that email may be reading them. Writes the BBC on the subject of "spy pixels":
Tracking pixels are typically a .GIF or .PNG file that is as small as 1x1 pixels, which is inserted into the header, footer or body of an email. Since they often show the colour of the content below, they can be impossible to spot with the naked eye even if you know where to look. Recipients do not need to click on a link or do anything to activate them beyond open an email they are embedded in. British Airways, TalkTalk, Vodafone, Sainsbury's, Tesco, HSBC, Marks & Spencer, Asos and Unilever are among UK brands Hey detected to be using them. But their use was much more widespread despite many members of the public being unaware of it, said Mr Hansson.
What do they do?
Emails pixels can be used to log:
if and when an email is opened
how many times it is opened
what device or devices are involved
the user's rough physical location, deduced from their internet protocol (IP) address - in some cases making it possible to see the street the recipient is on
This information can then be used to determine the impact of a specific email campaign, as well as to feed into more detailed customer profiles.
Can they spot any obscene gestures made to a specific email message?
Lead Us Not into Penn Station
Set it in Penn Station and the first hour could be the zombies trying to find their track. https://t.co/nYAlxRyQC7

— @ACNewman (@ACNewman) February 19, 2021
Pre-Zoom Zoom
Given how prevalent Skype, Zoom, Teams, Meet, etc., are now in our lives (and were for several years before COVID), it's amusing to think that for decades the "videophone" was a perennially doomed commercial venture. Case in point, AT&T's Picturephone, which was introduced at the 1964 World's Fair, launched commercially (only in Pittsburgh and Chicago) in 1970, and then discontinued the following year after no one bought it. (There is a neat history of videophones at Engineering and Technology History Wiki.)
We bring this up because Boing Boing recently unearthed a 1970s AT&T Bell Labs promotional film for the Picturephone.
Post-Zoom Snooze
If you find Zooming (and we are using the term in a generic sense to refer to videoconferencing, even though we could just as easily—or more easily, given the length of this explanation—have used the term "videoconferencing") to be as exhausting as this sentence, there is a reason—four of them, actually. Or so are the findings of a new study out from Stanford University on the subject of "Zoom fatigue." The study appears in the journal Technology, Mind, and Behavior.
The first cause for Zoom Fatigue suggested by Bailenson is the state of stressed hyper-arousal generated by excessive stretches of close-up eye contact. Unlike an in-person meeting, where participants will shift from looking at a speaker to other activities, such as note taking, on Zoom everyone is always staring at everyone….
…Bailenson says the constant barrage of complex non-verbal cues, both being sent and received, during a Zoom interaction can be a major influence on the novel sense of fatigue generated by the technology. He suggests long Zoom meetings should require audio-only breaks, to help relieve the cognitive load of video interactions….
…Perhaps the strangest part of modern videoconferencing is one's reflection constantly staring back from the screen. …[T]here may be a small negative affect generated by intensive mirror image viewing, and this is potentially underpinned by the way a reflection of oneself amplifies critical self-evaluation. But Bailenson points out this particular factor is perhaps the most profoundly understudied aspect of videoconferencing as most prior mirror-image research has only focused on the influence of seeing oneself for short periods of time.
The solution for all of this is, of course, cat filters.
Not so Special Delivery
I don't know. "GREAT" seems like an awfully big word to use to describe this. pic.twitter.com/9urjC5toj1

— Merrill Markoe (@Merrillmarkoe) February 22, 2021
One for the Cutters
We're not sure this is a particularly good idea, but the name of the company is a pretty good warning. Via Core77: "A Seattle-based company called DangerousThings.com sells small NFC, RFID and NTAG chips that you can inject into your body, via a syringe and a big-ass 5mm-diameter needle that they also sell." Uh…OK. But wait, there's more:
They also offer this larger, programmable FlexMN Magic NTAG chip that can be "installed" by slicing your hand open and placing it beneath the skin. For extra bling, the chip has embedded LED lights that can be seen through your skin.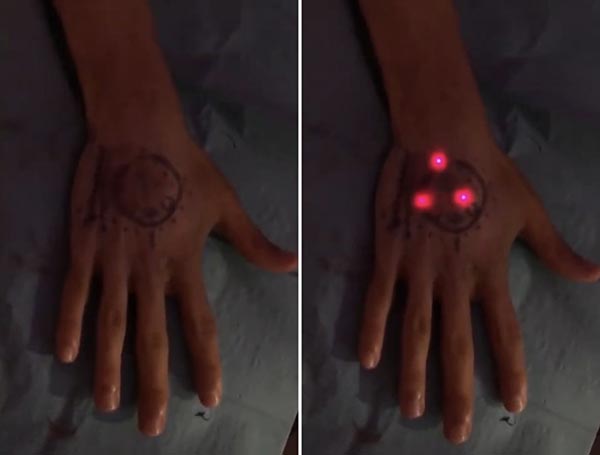 The company hastens to add, "The flexMN transponder has not been tested or certified by any regulatory agency for implantation or use inside the human body." Caveat emptor, to be sure. "[T]he company recommends 'professional installation' for the FlexMN"—well, random googling should help find a hand-slicing-open-and-chip-inserting professional. But for those who like the DIY approach, "they also sell scalpels, a 'numbing gel' topical anesthetic and a Pain Management Kit consisting of 'a collection of materials biohackers have been known to use in concert to produce a localized anesthetic pain blocking effect.'"
Which all begs the question, why would one want to do this? The Core77 article offers a series of videos of the company's not just-owner-but-customer using it to unlock a smart door, unlock a computer, start a car or motorcycle,
"We believe our bodies are our own, to do with what we want," the company writes. "Biohacking is leading the next phase of human evolution, and we're excited to be a part of it."
We'll pass on that one.
Vodka Vacuum
i know that the pandemic has been hard for everyone but who knew the roombas were taking this so badly? https://t.co/VCsqEzjqME pic.twitter.com/RwV9N0eYPF

— Internet of Shit (@internetofshit) February 24, 2021
Wynning Podcasts
Via The Verge, "Wynn Resorts announced today that it's investing $3.5 million in Blue Wire, a sports podcasting network, in a deal that'll include the build out of a podcasting studio in the Wynn Las Vegas' lobby."
EFI absolutely has to take this over for the next in-person Connect.
Members Only
I keep trying to love Clubhouse, but it's just an app full of the panels you skip at conferences?

— Nicholas Carlson (@nichcarlson) February 24, 2021
Dam It!
Although we have heard of rescue dogs, rescue cats, etc., we had no idea that there was a "rescue beaver." Via Core77, Nancy Coyne a wildlife rehabilitation expert who adopts young, orphaned animals of many species, did in fact take in an abandoned beaver pup. There is, however, a drawback to adopting a rescue beaver: "indoors, 'Beav' has the hilarious habit of spontaneously creating dams where he perceives voids, using household objects."
Makes You Think, Don't It
Perspective. https://t.co/KkCugeTG5Z

— Fleur Hitchcock?? (@FleurHitchcock) February 24, 2021
This Week in Printing, Publishing, and Media History
February 22
1632: Galileo's Dialogue Concerning the Two Chief World Systems is published.
1857: German physicist, philosopher, and academic Heinrich Hertz born.
1878: In Utica, N.Y., Frank Woolworth opens the first of many of five-and-dime Woolworth stores.
1924: U.S. President Calvin Coolidge becomes the first President to deliver a radio address from the White House. We bet it was riveting.
1925: American illustrator and poet Edward Gorey.
1983: The notorious Broadway flop Moose Murders opens and closes on the same night at the Eugene O'Neill Theatre.
February 23
1455: Traditional date for the publication of the Gutenberg Bible, the first Western book printed with movable type.
1633: English diarist and politician Samuel Pepys born.
1821: English poet John Keats dies (b. 1795).
1898: Émile Zola is imprisoned in France after writing J'Accuse…!, a letter accusing the French government of antisemitism and wrongfully imprisoning Captain Alfred Dreyfus.
1904: American journalist and historian William L. Shirer born.
1927; U.S. President Calvin Coolidge signs a bill by Congress establishing the Federal Radio Commission (later replaced by the Federal Communications Commission) which was to regulate the use of radio frequencies in the United States.
February 24
1582: With the papal bull Inter gravissimas, Pope Gregory XIII announces the Gregorian calendar.
1607: L'Orfeo by Claudio Monteverdi, one of the first works recognized as an opera, receives its première performance.
1711: The London première of Rinaldo by George Frideric Handel, the first Italian opera written for the London stage.
1854: A Penny Red with perforations was the first perforated postage stamp to be officially issued for distribution.
1921: American actor Abe Vigoda born.
1955: American businessman and co-founder of Apple Inc. and Pixar Steve Jobs born.
1968: American comedian and actor Mitch Hedberg born.
1989: Ayatollah Ruhollah Khomeini issues a fatwa and offers a USD $3 million bounty for the death of Salman Rushdie, author of The Satanic Verses.
February 25
1644: English pastor, engineer, and inventor of the first practical steam engine Thomas Newcomen born.
1899: German-English journalist and businessman, founder of Reuters Paul Reuter dies (b. 1816).
1928: Charles Jenkins Laboratories of Washington, D.C. becomes the first holder of a broadcast license for television from the Federal Radio Commission.
1943: English singer-songwriter, guitarist, and producer George Harrison born.
1983: American playwright, and poet Tennessee Williams dies (b. 1911).
February 26
1564: English playwright, poet, and translator Christopher Marlowe born.
1616: Galileo Galilei is formally banned by the Roman Catholic Church from teaching or defending the view that the earth orbits the sun.
1802: French author, poet, and playwright Victor Hugo born. (We had a hunch.)
1909: Kinemacolor, the first successful color motion picture process, is first shown to the general public at the Palace Theatre in London.
1918: American author and critic Theodore Sturgeon born. (It was an amok time.)
February 27
1691; English publisher, founder of The Gentleman's Magazine Edward Cave born.
1807: American poet and educator Henry Wadsworth Longfellow born.
1812: Poet Lord Byron gives his first address as a member of the House of Lords, in defense of Luddite violence against Industrialism in his home county of Nottinghamshire.
1891: American businessman and founder of RCA David Sarnoff born.
1902: American journalist, author, and Nobel Prize laureate John Steinbeck born.
February 28
1683: French entomologist and academic René Antoine Ferchault de Réaumur born. After observing wasps building their nests, Réaumur was the first to propose making paper out of wood.
1827: The Baltimore and Ohio Railroad is incorporated, becoming the first railroad in America offering commercial transportation of both people and freight.
1935: DuPont scientist Wallace Carothers invents nylon.
1939: The erroneous word "dord" is discovered in the Webster's New International Dictionary, Second Edition, prompting an investigation.
1940: Basketball is televised for the first time (Fordham University vs. the University of Pittsburgh in Madison Square Garden).
1944: English graphic designer and cofounder of Hipgnosis Storm Thorgerson born.
1954: The first color television sets using the NTSC standard are offered for sale to the general public.
1970: American journalist, author, and accordion player Daniel Handler born. Under the name Lemony Snicket, he is the author of the children's book series A Series of Unfortunate Events.
1983: The final episode of M*A*S*H airs, with almost 106 million viewers. It still holds the record for the highest viewership of a season finale.
Anything catch your eye "around the Web"? Share it with us at [email protected].