Commentary & Analysis
Recovering Recovery and Quadrennial Snapshots: More Logical than it Sounds
For once the employment report was bad on the outside but good on the inside. Printing employment continues to show consolidation effects. The recovery indicators have their own recovery. August printing shipments are big, making up for July's disturbing decline. Dr. Joe's good Graph Expo included a visit to the Printerverse and a digital book discussion worth watching.
By Dr. Joe Webb
Published: October 10, 2016
Employment: Skip the Headline and Get the Details
The unemployment rate edged up to 5.0% but it was a rise in the civilian work force of +444,000 workers that caused it, and employment in the household survey increased by a robust +345,000. The underlying increase was good, but the headline unemployment rate made it seem employment got worse when it got considerably better. The number of full-time workers decreased slightly, so the net increase was mainly part time workers. Full time workers had a large gain last month, so these latest data indicate a digestion of that gain. This was actually a good report.
Printing employment still shows the effects of consolidation, as the number of production workers is flat, while other positions are contracting. Compared to last year, those positions are down nearly -5%.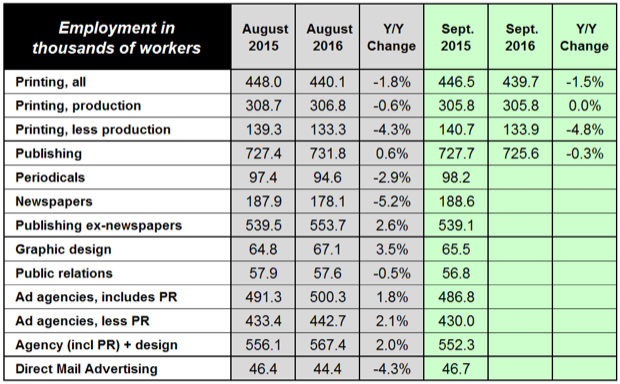 On the content creation side, ad agencies are still expanding, with employment breaking the 500,000 mark. Public relations employment retreated slightly compared to last year (-0.5%) while graphic design employment is up +3.5% compared to last year.
Recovery Indicators Bounce Back
The recovery indicators had a terrible month in the last report and rebounded handsomely in these last weeks. Since last year, the NASDAQ is up +9.9%, new orders for manufacturing up +10%, and for non-manufacturing up +5.8%. Imports are down since last year, but were part of last month's rebound. Proprietors income for the second quarter was revised down to $1407.8 billion from $1410.7 billion, a tiny change. Proprietors income is up +2.2% since last year, not adjusted for inflation, which means it's tracking at a slightly slower rate than real GDP.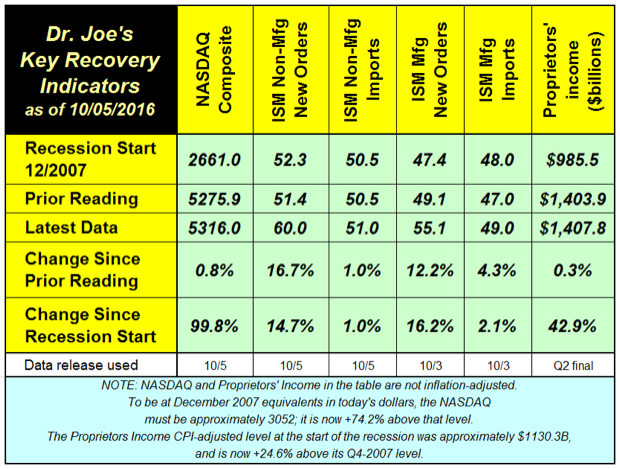 At the end of October, we get our first official look at Q3 real GDP. The Atlanta Fed's GDPNow lets us take a quick peek at the calculation every few days as new economic data are released. Nearly every time those data are released, the Q3 estimate keeps shrinking.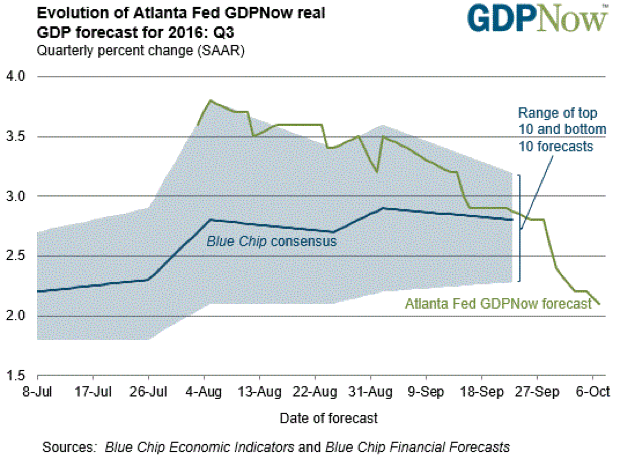 Regarding the economy, I was surprised to hear a speaker at an event say they did not understand why the economy remained so slow. Implicit in their comment was that with all this deficit spending and monetary stimulus the economy should be much better. That's very debatable, but this slide I've been using for over five years explains the sluggishness best. I used it again in last month's webinar (slides, audio, and video are available). In the years that I have used the slide, any changes to the slide have been mainly for grammar or clarification. These conditions still hold.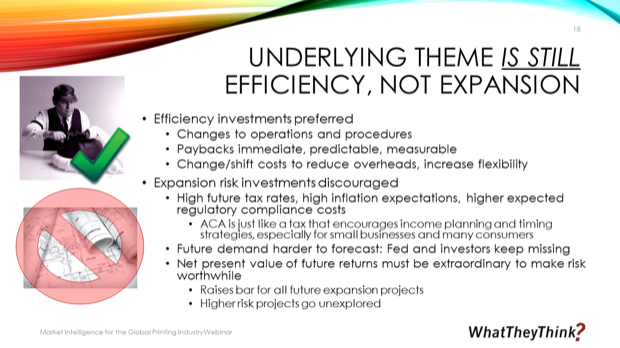 Inflation may seem low, but incomes have not caught up to pre-recession levels. That means there is a stealth inflation rate where prices may be the same, but the goods with those prices all have a slightly greater percentage of income to buy. To oversimplify, if the price is 100 and your income was 100 but is now 98, you've had a stealth inflation of 2. Easy money has killed small savings and its ability to compound. Using the rule of 78, a 6% interest rate will double savings in 13 years. At 1%, it takes 78 years. Compound reinvested interest was one of the small savers' defenses against inflation. When small savers can't save and build their assets, that ripples through the economy, especially for young savers attempting to get the foundation emergency fund with additional savings that might be used to take the calculated risk of starting a business.
August Printing Shipments Rebound from a Bad July
August US commercial printing shipments were good, up +2.7% to $7.4 billion, in increase of +$197 million. This was in stark contrast to the very weak July which was down -5.7% compared to last year. On an inflation-adjusted basis, August shipments were up +1.7%. Year-to-date shipments for January through August were up +0.4% compared to 2015, but down -0.6% after adjusting for inflation.
The chart shows the rebound for August shipments, moving them higher than 2014 and 2015's inflation-adjusted level.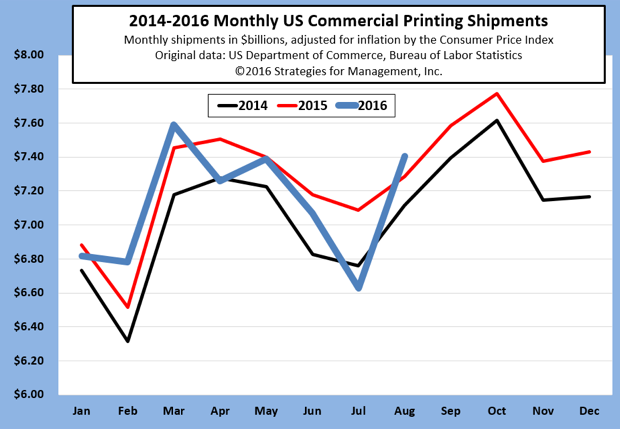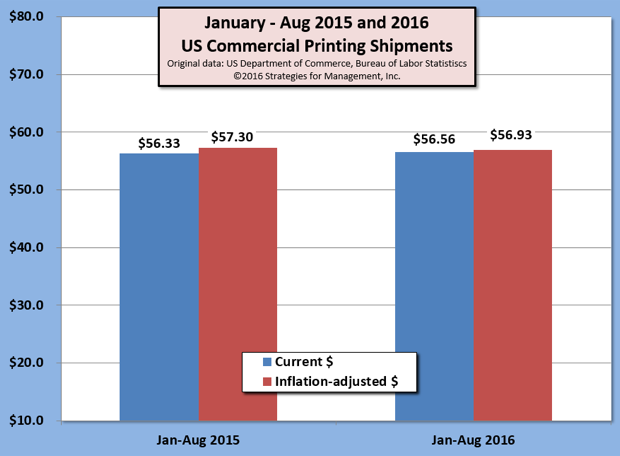 Shipments are basically flat for the year, but we have to remember that this does not mean individual establishments are having the same experience. The number of establishments is still shrinking, meaning that even in a flat total market, there are firms absorbing the volume that would have gone to others. The employment data imply that this consolidation effect is occurring. Theoretically, all of the surviving firms can have increasing sales while total industry volume is declining.
Industry suppliers need to know the size of the total market to calculate the supplies that the industry will need. Printers, however, rarely need to know that data. They use national data as a kind of baseline, but what matters more are statistics about their niche or geographic area, and especially their target customers. It's easy to get caught up in the macro data of the industry, especially when it seems like those are the only data available. There are regional data available, which we discussed last year.
Quadrennial Media Snapshot Shows Big Changes
The quadrennial US presidential elections offer a good way to step back and understand the nature of media. The constant flow of data from month-to-month and quarter-to-quarter sometimes make it hard to see the extent of marketplace change. The old Al Stewart song, On the Border, has the line "no one sees the change from day to day."
The chart of Internet users and broadband access that we have used in the past has been augmented with the calculation of mailed pieces on a household basis. A lot a mail volume is to businesses, but we've taking the whole and divided by households just to have a divisor that gave it some practical context.

The broadband calculation is different: technology always changes. Broadband at home is actually down to 67%. But smartphones give users access to broadband, so it was logical to add smartphone users who do not have broadband access to the calculation. Note that the number of broadband users has increased by nearly 60 million while the number of Internet users is up about 35 million. This is one of the reasons why companies like Netflix have done so well. At the end of the last presidential cycle, Netflix stock was in the range of $12. Today it is $100.
This is the first election that does not involve an incumbent since 2008. Since that time, the number of broadband users is up about 70%, while the number of Internet users is up only 27%. Broadband makes a big difference!
The long term perspective of the presidential elections and their quadrennial snapshots makes the changes in media more striking.
For more information and data about the Internet, the downloadable Internet Society report is a worthwhile resource.
Dr. Joe's Graph Expo 2016 Adventure
The show in Orlando was smaller than Graph Expos of the past, but yours truly had a busy show with some interesting twists and some excellent discussions.
The book, UnSquaring the Wheel, co-authored with consultant Wayne Peterson and RIT's Chris Bondy was used to demonstrate a range of technologies for digital book production. A panel at the Printerverse booth included yours truly, the production manager of Toronto printer Webcom, and some HP executives discussing the nature of digital book production. It was a rather far-reaching discussion including a bit of brainstorming. At the beginning of the discussion I give a description of UnSquaring the Wheel and its new nonprofit educational status. The panel was an hour, and it was one of the better panels I have been on, and can be viewed at the Printerverse.
One of my privileges this year was to work on the State of the In-Plant Industry report for IPMA. Canon was the sponsor, and I chatted Frances Cicogna about the "Roadmap to Relevance" at their booth; the video is now available at YouTube.
I spoke at a special IPMA lunch event, and that was followed a week later with a webinar presentation of the study. The archive is available for IPMA members. It's not posted yet, but check their webinar page soon. If you have an interest in the in-plant printing market, contact IPMA about the study.
I'd like to express my thanks to the many WhatTheyThink readers who stopped by for booksignings or found me for discussions at the show. Your encouraging comments were greatly appreciated