Data Analysis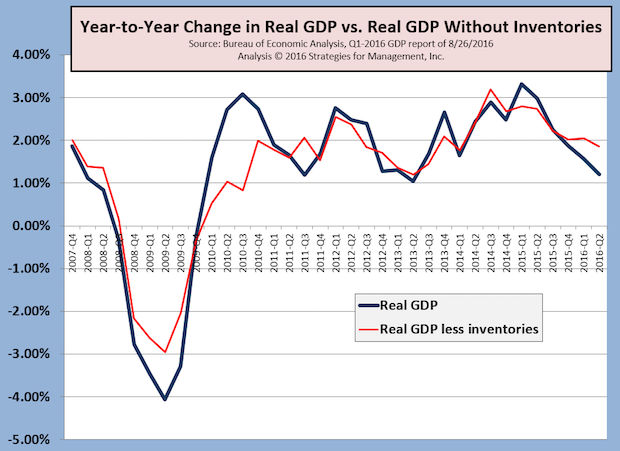 Real GDP for Q2 Revised Down Slightly to +1.1%; Durable Goods Orders Still Contracting
Published: August 29, 2016
The latest revision of real US GDP for Q2-2016 dropped from +1.2% to +1.1%. The estimate for Q3 from the Atlanta Fed is above +3%.

E-Commerce and US Retail Sales
Published: August 25, 2016
E-commerce has been running at the rate of 15% annual growth for many years, but is just 8% of retail sales. That seems tiny in relation to what we've seen happen to print promotions like catalogs and direct mail, and the rise of zombie or troubled shopping malls. The problem is that big ticket items, like autos, raise the size of retail sales. Those items may be researched online, but their actual purchase is not made until it is transacted at a car dealer. Restaurant purchases are also a distorting issue in the data. This chart explains it a little better. E-commerce sales is at the bottom (red line). In the second quarter, it was just short of $100 billion. The blue line is retail sales less vehicles and parts. The green line has food service sales deducted. The black line had e-commerce sales deducted, and shows retail sales through traditional channels. Those sales through older channels are lower than they were at the start of the recession. All of the growth in non-auto and non-restaurant retail for the last decade has occurred in e-commerce channels.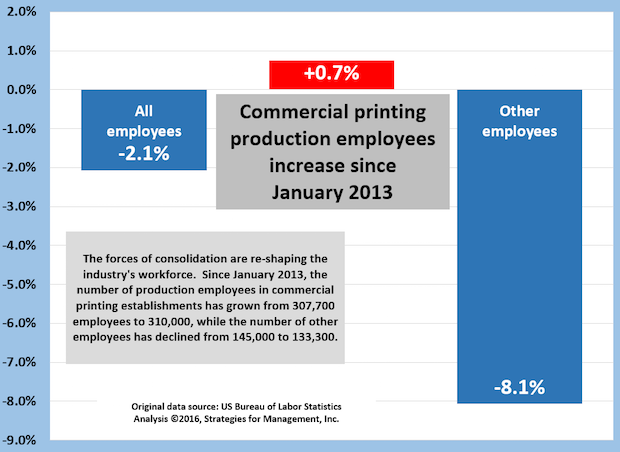 Commercial Printing Employment: Production Employees Up +0.7%, Administrative Down -8.1%
Published: August 11, 2016
Since January 2013, the number of production employees in commercial printing establishments has grown slightly, and is up +0.7%, from 307,700 employees to 310,000. Other employees, which are mainly administrative including sales, are down -8.1%, from 145,000 to 133,300.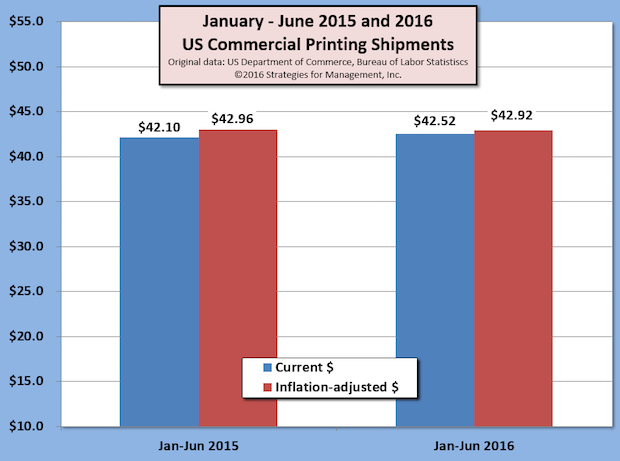 US Commercial Printing Shipments for First Half of 2016 Up +1%; Q2 Shipments Decline
Published: August 5, 2016
In data released by the US Department of Commerce, commercial printing shipments for June 2016 were down -$58 million compared to last year (-0.8%). On an inflation-adjusted basis, shipments were down -$130 million (-1.8%).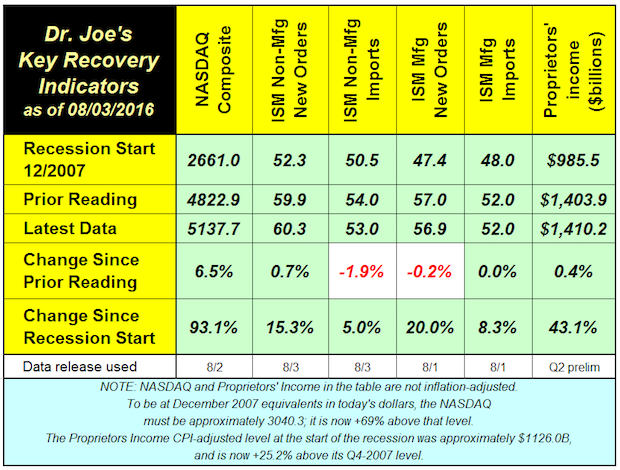 Recovery Indicators: 3 Up, 2 Down, 1 Unchanged
Published: August 4, 2016
The NASDAQ had a good month, rebounding by 6.5% last month. Compared to last year at this time, the NASDAQ is up +0.6%, which is a negative return compared to inflation (less inflation it is -0.5% because the CPI is +1.1%).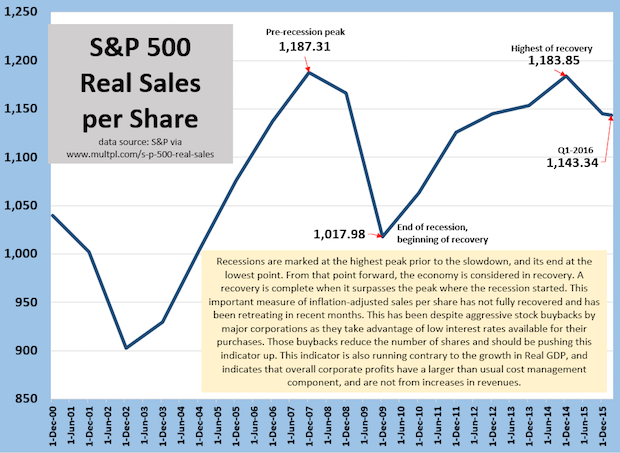 S&P 500 Real Sales per Share Reflects Struggling Economy
Published: July 28, 2016
A way of judging the health of the economy is to calculate the inflation-adjusted sales of all of the companies in the S&P 500 and divide it by the total number of public shares. This index should have a natural upward bias. S&P 500 companies are very large, and acquire or merge with other companies, many of which are outside of the 500 companies. Buybacks of stock, which has been a trend of note these last five or so years, reduce the number of shares, or slow the growth in shares, reduce the denominator, again, giving it an upward bias. Instead, this measure has suffered. It peaked in 2007, and has yet to surpass that level. This means that corporate profits, which have generally been good (though slowing lately) have been managed by refinancing of debt to lower interest rates and reductions in costs and expenses. Those better profits are not the result of increased revenues. Slow, sluggish economic growth is reflected in these figures, and is a reminder that one should not look only to GDP as an indicator of the true health of the private sector.