Data Analysis from the Economics & Research Center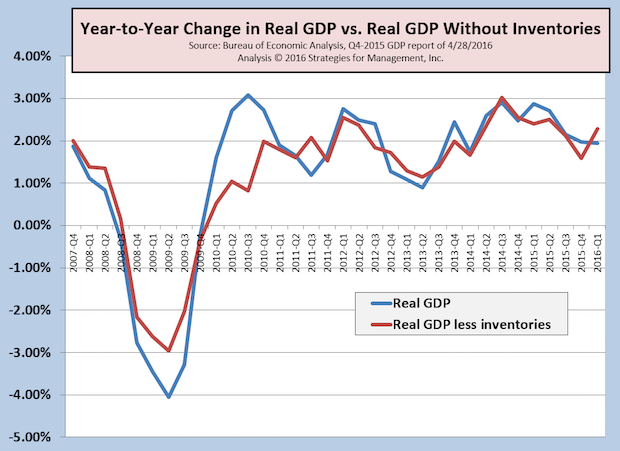 Q1-2016 GDP +0.5%; Inventory Correction Finally Arrives
Published: April 29, 2016
US real GDP for Q1-2016 was reported at annual growth of only +0.5% compared to Q4-2015. On a year-to-year basis, the growth rate was +1.95%. The inventory adjustment that the economy has needed finally came, with the lowest net inventories in two years. Real GDP growth less inventories was +2.3% on a year-to-year basis.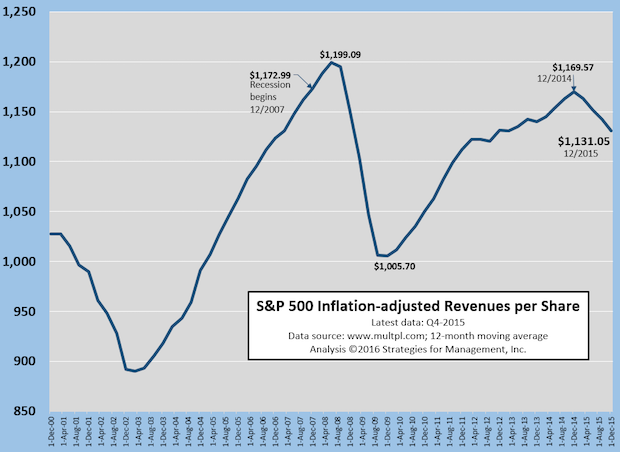 S&P 500 Revenue Per Share Still Lags Economy
Published: April 28, 2016
Everyone knows that the stock market is up from its lows at the bottom of the recession,but one obscure but key measure underscores how sluggish the economy has been. The S&P 500 should have a bias of steadily increasing revenues. It has most of the best companies in the world, with international presence in the globe's growing markets and a foundation in the established ones. It is rare for companies to be dismissed from the S&P 500, but companies are added all the time. When S&P companies merge, they create a new entity of combined revenues, and another company is added with new revenues to add to the index. The other upward bias should be the high level of stock buybacks buy these large companies, as they borrow money at low interest rates and create "shareholder value" by reducing the number of shares and increasing the value of each share of stock. We've called this cowardly, as it increases earnings per share (EPS) without needing to increase total profits. So this revenue per share should be steadily increasing with a growing economy in a recovery that started in mid-2009. It seems that companies have done a much better job of financial engineering than they have in creating revenues.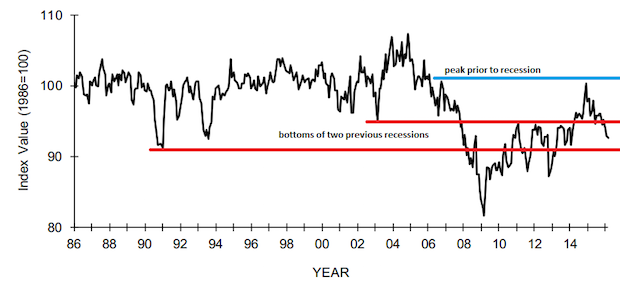 NFIB Small Business Index: A New Recession for Main Street?
Published: April 21, 2016
Economic data have been conflicting of late, but there is one consensus in the data that is clear: the small business economy did not recover from recession, and looks like it's back in recession territory. There are many indicators we use for small business but one that is watched often is that of the NFIB. It is published monthly and has a long history. US government data focuses attention on the largest businesses because they represent big chunks of the economy and report some kind of data, especially payroll data, with great frequency. Think of it as counting whales rather than minnows. Their recent analysis said "The small business sector... is underperforming, doing little more than operating in maintenance mode. Slow economic growth is now just a result of population growth, more haircuts, retail customers, health care patients, etc. But there is no exuberance, no optimism and not much hope, the numbers make it clear." Economies stuck in +2% growth mode tend to do that.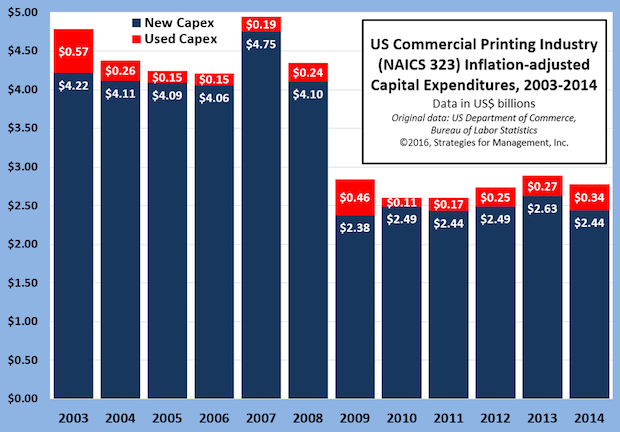 2014 US Commercial Printing Capital Expenditures: New Purchases Down, Used Purchases Up
Published: April 19, 2016
The US Department of Commerce recently released its Annual Survey of Manufactures Capital Expenditures report, issuing data for 2014.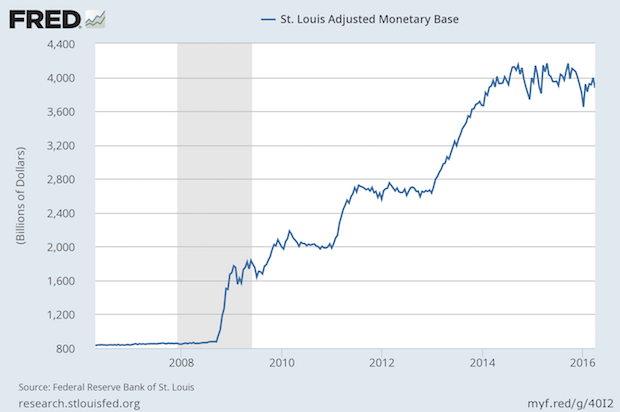 The Fed Never Really Stopped QE3
Published: April 14, 2016
This week's chart shows the aggressive actions of the Federal Reserve after the housing bubble. For decades, the Fed's balance sheet increased by about 6% per year, averaging about half inflation and half economic growth. The rocket-like rise when the bubble burst is clear, and then the three steps up of each of the quantitative easings are plainly seen. The Fed has wanted to raise rates for some time, but they have also wanted to stop the buying of government instruments that characterized the QE programs. They create shortages of publicly traded bonds which increases their prices, which makes the effective interest rates low. Rather than ending their purchases, the Fed has been replacing matured obligations. In effect, this keeps QE3 going. Can the Fed ever end it? They may hold on and hope that over time that economic growth and inflation catches up to them in time, but that can take forever, or perhaps longer. It will be difficult for the Fed to end its policy without robust economic growth that will give them the flexibility and opportunities to unwind their holdings. Should a recession begin, or a new financial crisis emerge (even an internationally) the Fed might need to create an additional QE effort.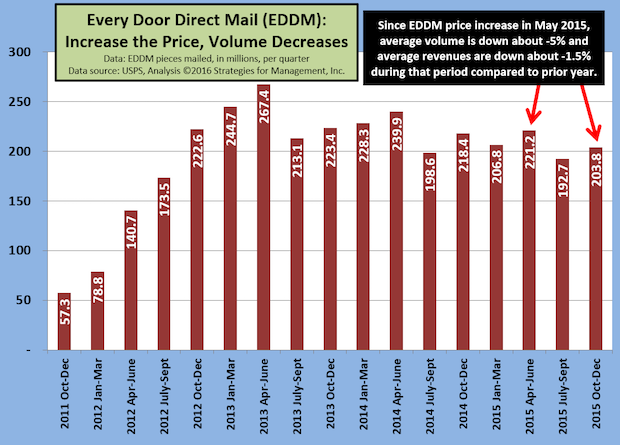 Can USPS Price Increase Rollback Get EDDM Moving Again?
Published: April 7, 2016
The USPS is always in the news, and last month's Annual Compliance Determination report was not particularly positive. "The majority of products failed to meet service performance targets for FY 2015" read the Postal Regulatory Commission press release. The PRC directed "the Postal Service to improve service performance and provide a comprehensive plan within 90 days."