Data Analysis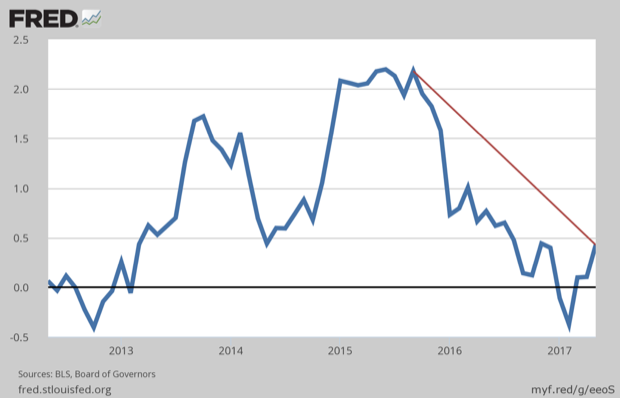 Did You Know Interest Rates Have Been Falling?
Published: July 6, 2017
The Fed has been so reticent about raising rates, and in the process, rates for the 10-year US Treasury actually were negative in February. No, that's not market rates, that's the 10-year rate less the year-to-year Consumer Price Index. Since that time, the rate calculated in this manner has moved up 80 basis points. The rate peaked in September 2015 and it's been down since then. The Fed is having problems making the decision to raise rates, and often announced more rates in a future period but increasing rates at a slower pace. They have a target inflation rate of 2% (which means you lose about 25% of your savings over 10 years on a compounded basis). If you believe that the inflation rate is calculated in a manner that makes it seem lower than it actually is, then the Fed's desire to see inflation at the 2% rate before they start pushing interest rates higher may be be difficult to reach or sustain. That means long term rates will stay artificially low (on purpose) for a longer period of time than most experts expect.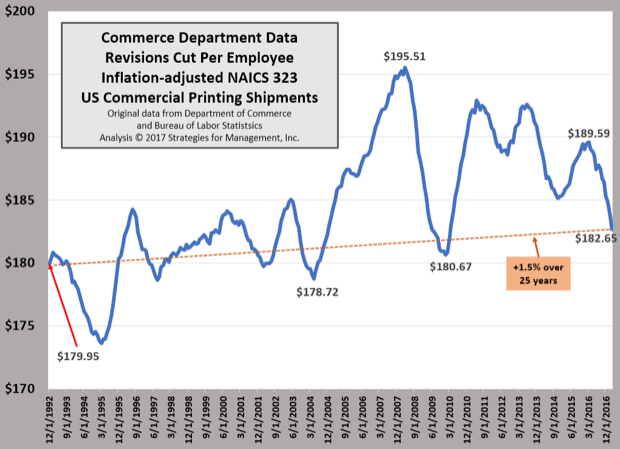 Inflation-adjusted Shipments per Employee
Published: May 25, 2017
The Commerce Department's revisions to industry shipments show a much different picture of a key metric for the industry, sales per employee. The chart was created using 12-month moving totals of inflation-adjusted shipments and the 12 month moving average of total industry employment. The latest reading through March 2017 is $182.65 per employee, a meager +1.5% higher than it was at the end of 1992. It fell from a peak of $195.51 which was just before the burst of the housing bubble, the rise of social media platforms, tablets, and smartphones. The fall in this calculation has some interesting characteristics. Historically, large printing businesses focused on magazines, catalogs, and newspaper inserts, had sales per employee that were significantly higher than the industry averages, anywhere from 30% to 50% higher.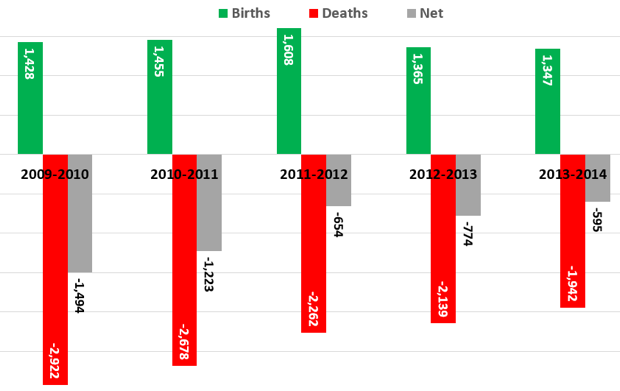 Births and Deaths of Commercial Printing Establishments, 2010 to 2014
Published: May 11, 2017
The Commerce Department tracks the number of business establishments by industry, and among he more interesting reports is the calculation of new and closed businesses. The data take a while to be released, and these new data about 2014 were recently made available. There's a word of caution here. If someone was a corporation and decides to become a partnership or a proprietorship, that counts as one business closed and one business opened. And then there's "poor man's mergers" where two business owners decide to close their two businesses and open one new one. Same people, same equipment, no real change except to the tax authorities and government statisticians. The most important number is the net change of births less deaths. In the worst of the recession, the net number was 6% of establishments. For 2014, that had fallen to a little more than 2%.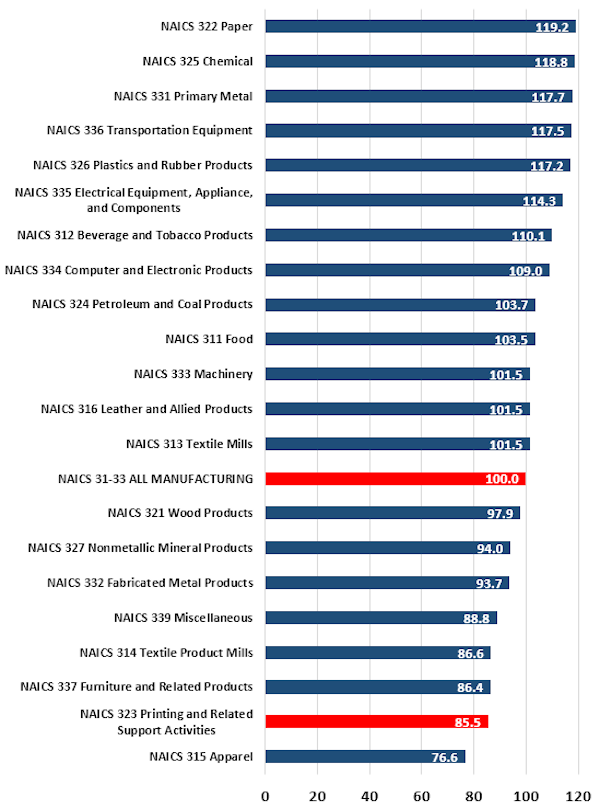 Printing Industry Lags Other Manufacturers in Defined Management Processes
Published: April 27, 2017
In what is not a surprise to many, the job shop operational structure of many printing businesses put the industry near the bottom of all manufacturing industries in terms of its management processes.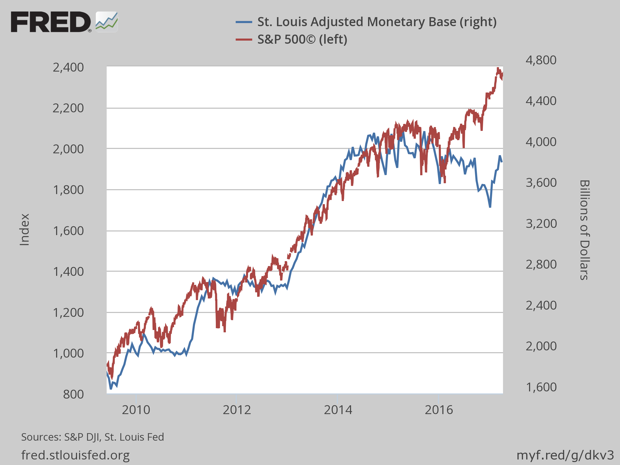 The Fed's Balance Sheet and the S&P 500
Published: April 13, 2017
The financial markets were rattled a little bit by the recent minutes of the Fed meeting where they discussed the unwinding of their interventions and the ballooning of their balance sheet. The data are reflected in the St. Louis Fed Adjusted Monetary Base. The chart shows how the run-up in the S&P 500 stock index relates to the Fed's quantitative easings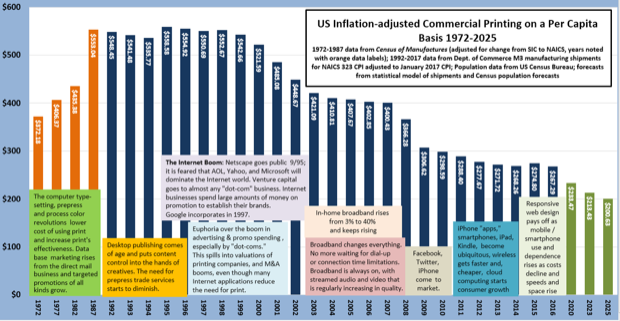 US Commercial Printing Shipments on a Per Capita Basis
Published: March 30, 2017
Yes, that sounds boring, but the data have been made interesting by including details about the last forty years or so of industry history and technological change. We added some statistical forecasts from our models that take the data out to 2025. When we started this chart almost ten years ago, those outlying years were near zero. They're not any more (whew!). The data are inflation adjusted and based on the population data and forecasts of the US Census Bureau. It's interesting how there are periods of relative stability, a change, followed by another period of stability. Technological change has been a much bigger factor affecting consumption than general economic conditions.