Data Analysis

Manufacturing May Be Declining, but Real Retail Sales are Still Positive
Published: September 22, 2016
Data about manufacturing from the ISM and the Commerce Department have show a contraction compared to the prior year. In some cases that slowdown and contraction has been in process for 18 or more months. Retail sales and consumer spending have been the brighter spots of the economy. The inflation-adjusted growth rate of retail sales has been slowing since the beginning of 2015.
Pew Offers Essential Insights into Book Readership
Published: September 15, 2016
The Pew Research Center's recent report about book reading gives us a peek at the relationship of print and digital media. The report says "A growing share of Americans are reading e-books on tablets and smartphones rather than dedicated e-readers, but print books remain much more popular than books in digital formats." The chart shows what formats their respondents used in the year prior to the survey. Only 6% were digital-only readers. The report states that 26% read no book in the last year; they may have read other things, but not books. Contrary to many reports about the "demise" of e-books, that has risen from 17% to 28%. It's been stuck there for three years. Print-only readers were 39% (remember: that used to be the entire market of book readers). Print and digital readers are now at 29%. Add the 6% digital-only, and you're at 35%. Content needs to be available in multiple media. Media selection is based on many factors, such as time, convenience, price, income, education, age, and others. Pew also offers insights into the use of audiobooks. The report is free can be downloaded from the Pew Research Center. One other note: when you hear that tablet sales are down or that e-book reader sales are down, keep in mind the versatile use of smartphones and their growing role in content engagement. Among readers 18-29 years old, 22% of them are reading books on their smartphones, 4x more than read them on e-book readers.
Four of Six Recovery Indicators Fall, Two Now Below Levels of Last Recession
Published: September 8, 2016
The recovery indicators were hit hard last month last month, with two of them falling below the levels at the start of the last recession. Those levels were the readings of these indicators for December 2007.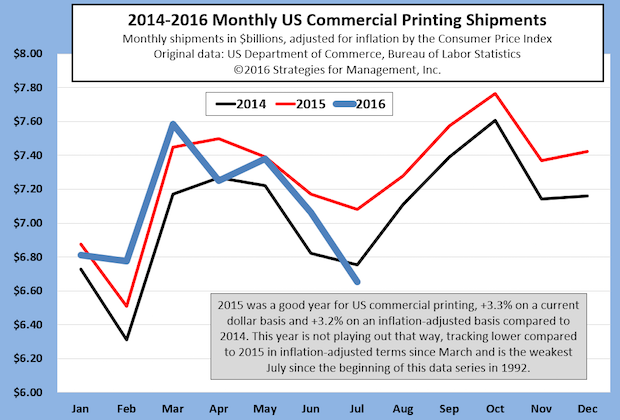 US Commercial Printing Shipments Have Rough July
Published: September 7, 2016
The reversal in trend for US commercial printing shipments went from somewhat benign to significant in July's data. Last year, the industry was relatively stronger than 2014, but shipments have been on a downturn for the last four months of reporting.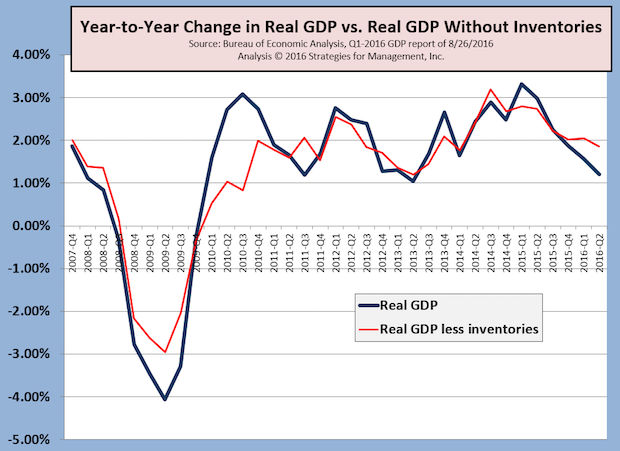 Real GDP for Q2 Revised Down Slightly to +1.1%; Durable Goods Orders Still Contracting
Published: August 29, 2016
The latest revision of real US GDP for Q2-2016 dropped from +1.2% to +1.1%. The estimate for Q3 from the Atlanta Fed is above +3%.

E-Commerce and US Retail Sales
Published: August 25, 2016
E-commerce has been running at the rate of 15% annual growth for many years, but is just 8% of retail sales. That seems tiny in relation to what we've seen happen to print promotions like catalogs and direct mail, and the rise of zombie or troubled shopping malls. The problem is that big ticket items, like autos, raise the size of retail sales. Those items may be researched online, but their actual purchase is not made until it is transacted at a car dealer. Restaurant purchases are also a distorting issue in the data. This chart explains it a little better. E-commerce sales is at the bottom (red line). In the second quarter, it was just short of $100 billion. The blue line is retail sales less vehicles and parts. The green line has food service sales deducted. The black line had e-commerce sales deducted, and shows retail sales through traditional channels. Those sales through older channels are lower than they were at the start of the recession. All of the growth in non-auto and non-restaurant retail for the last decade has occurred in e-commerce channels.