Data Analysis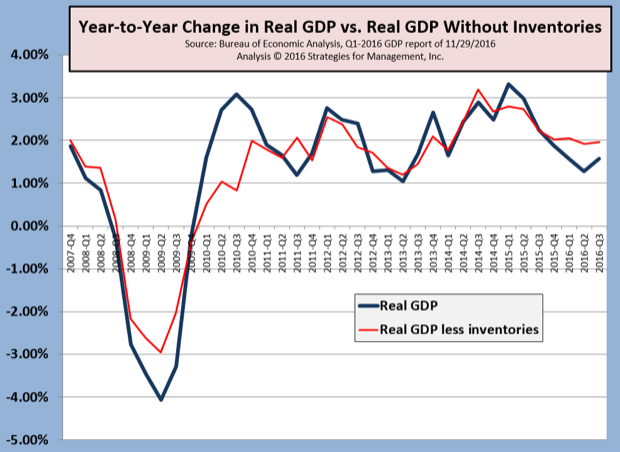 Q3-2016 Real GDP Revised Up from +2.9% to +3.2%; Little Change in Yearly Comparison
Published: December 1, 2016
The Bureau of Economic Analysis issued its second estimate of real gross domestic product, raising it to +3.2%. Real GDP for 2Q-2016 was +1.4%. Each advance release of GDP data is revised monthly as "more complete source data" is used rather than estimates. We prefer comparing GDP data to the same quarter as the prior year, which helps minimize the variation and possible distortions of seasonal adjustments. Compared to last year, Q3-2016 was +1.6%. Because inventory changes can distort GDP estimates, we also look at the data less inventories, and it shows the economy still hovering around a +2.0% growth rate. Lately, the inventory adjustments have been small. Theoretically, they should be zero in the long run, and for these last two quarters that has nearly been the case. In 2015, it averaged +$82 billion per quarter. Some of 2016's sluggish performance has been an inventory adjustment in the overall economy. The Atlanta Fed's GDPNow estimate for the current Q4 is running at +2.4%.

Fed's Industrial Production Index Down for 13 Consecutive Months: A Recession on Inauguration Day?
Published: November 17, 2016
Will the newly inaugurated President Trump be dealing with a recession like his predecessor did? In December 2008, a recession was declared, and the experts said it started almost a year before then. Several economic indicators, like durable goods orders and factory orders, have been negative compared to the prior year's level for almost two years. The Federal Reserve's Industrial Production Index released on November 16 marked its thirteenth consecutive negative comparison to the prior year. The only sector that is holding up in the GDP reports is the consumer side of that bookkeeping. That can't hold up for long unless the production and investment side of the GDP ledgers start to perk up. There is optimism in the markets about a Trump recovery, but it must be noted that there are many legislative hurdles ahead, and most economic plans take about 18 months to develop notable impact.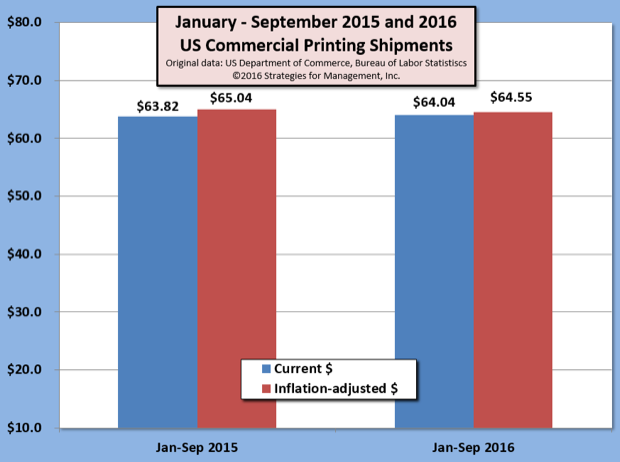 US Commercial Printing Shipments in Mild Downturn; Employment Consolidation Continues
Published: November 7, 2016
US commercial printing shipments for September 2016 were down -$8 million compared to the prior year (-0.1%). On an inflation-adjusted basis, shipments were down by -$118 million. Interestingly, inflation-adjusted August shipments were up by +$118 million, making the net change for the two months zero.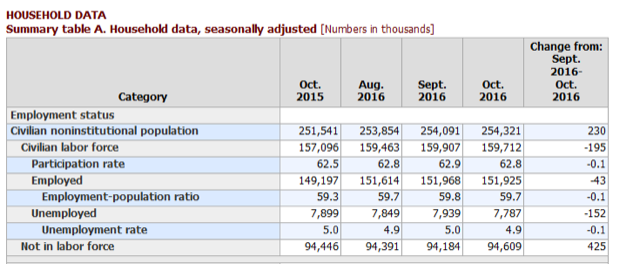 US Employments Report: Not What the Headlines Said
Published: November 7, 2016
The business headlines about the October employment report may have said "unemployment rate falls to 4.9%; payrolls grow +161,000," but the details of the overall employment picture deteriorated.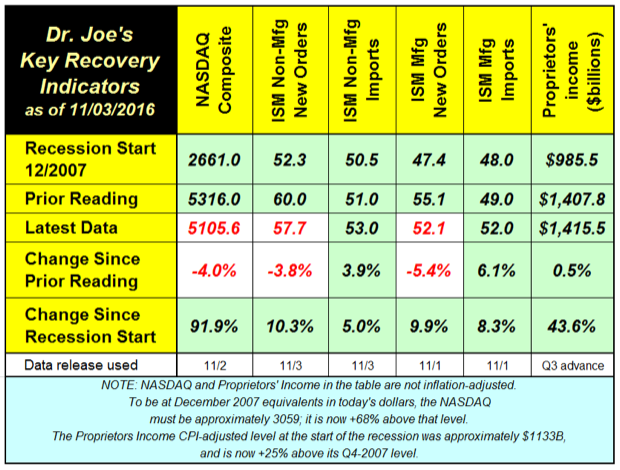 Recovery Indicators Mixed Again
Published: November 4, 2016
Last month's recovery indicators bounced back big from a dreadful report, but this month's have moderated. The ISM manufacturing and non-manufacturing new orders decreased, but they are still above the 50 breakeven level, showing growth. The non-manufacturing side is still strongly on the growth side of the line.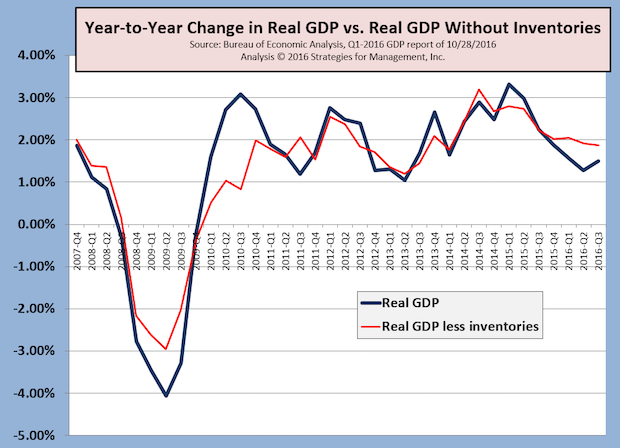 Q3 Real GDP +2.9%; Soybeans Lead the Charge?
Published: November 1, 2016
Prior to the release of Q3's advance estimate of real GDP, the Atlanta Fed's GDPNow forecast was +2.1%. The official figure came in much better, at +2.9%. It is likely to be revised down slightly, but it was a much better showing than recent data.