Data Analysis from the Economics & Research Center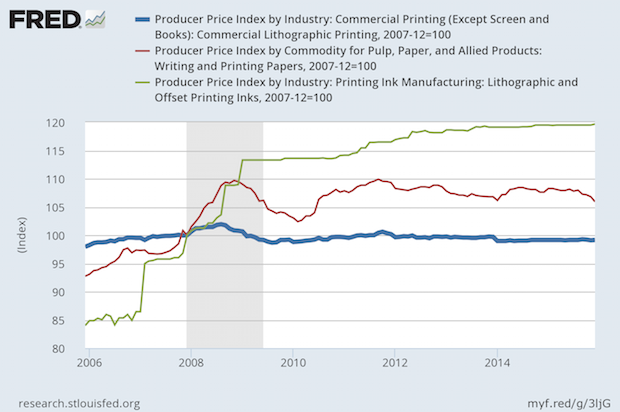 Commercial Printing Prices Less Than December 2007; Paper and Ink Higher
Published: February 4, 2016
Since December 2007, the CPI is up by +12.6%. How have the PPI for commercial printing, ink, and paper changed? Commercial printing prices are lower, -0.8%. This means that a commercial printing business has to increase its productivity and profitability to reward its owners and employees to make up for the loss of purchasing power they have in their paychecks.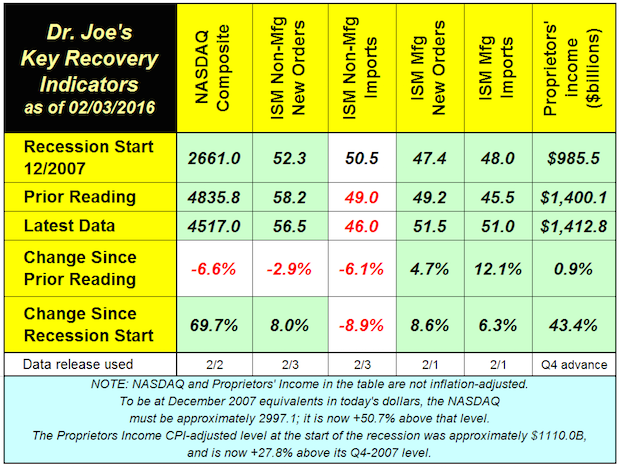 Recovery Indicators Show Economic Slowdown Underway
Published: February 4, 2016
The monthly recovery indicators were uneven again. The NASDAQ fell almost -7% in the last month, and ISM non-manufacturing new orders and imports also declined.
4Q-2015 GDP Disappoints at +0.7%; 2015 GDP +1.8%
Published: February 1, 2016
Real Gross Domestic Product (RGDP) for the US increased by an annual rate of +0.7% in the fourth quarter of 2015. On a year-to-year basis, RGDP was up +1.8%.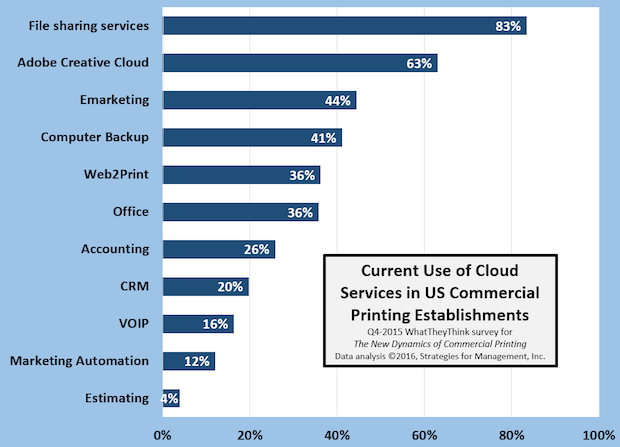 Cloud Product Usage in the Printing Industry
Published: January 28, 2016
The chart shows the percentage of US commercial printing establishments of all sizes and their responses to the question about the cloud-based services they use today. The question did not ask them their frequency or intensity of use, just whether or not they use it today. Some of the "non-users" may not even be aware that they are using cloud services, since some services run transparently in the background, such as backup services like Carbonite and others. Others may not be aware that they are using a VOIP phone system. Some cloud services such as Dropbox allow customers to brand their service so it looks like a company file sharing site. Generally, larger printers are using more cloud services than others, but the disparity is narrow.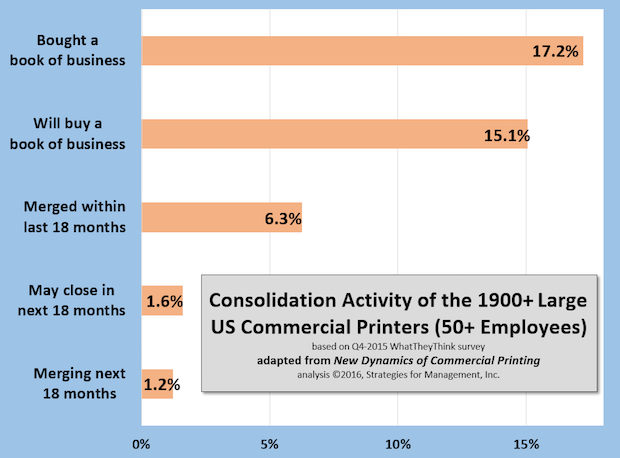 Consolidation is Somewhat Different Than Industry Common Wisdom
Published: January 21, 2016
Here are data from our survey at the end of 2015 where we asked respondents to identify the status of their companies in terms of consolidation. Generally, formal consolidations are executed by the largest print businesses, and small businesses close their respective shops and reopen a new business with new partners.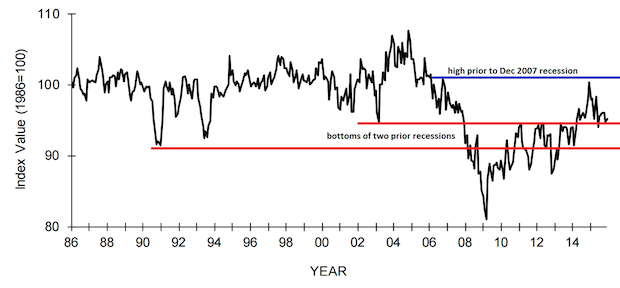 NFIB Small Business Index Still Shows Weak Small Business
Published: January 14, 2016
The latest survey of NFIB shows their index bouncing along the level of the early 2000s recession low, and down from the high prior to the December 2007 recession. Passing that level on the way up would have indicated a completed recovery of this sector but it just couldn't make it that far and break through. Using this indicator that means that small business did not emerge from the recession yet. Big business and the stock markets dominate the headlines, but small business remains the front line of the economy, and its difficulties are often hidden from view as being un-newsworthy. Its breakout above the bottom of the early 2000s recession took some time, and the recent trend in the chart looks like it's getting ready to fall below that again. It dipped below that level briefly a few months ago and climbed back out. Will it climb out again? It's worth watching.