Data Analysis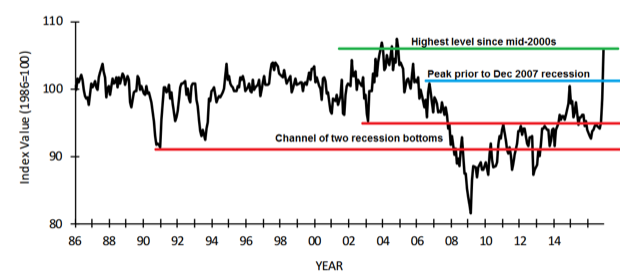 Small Business Index Rockets Up to Mid-2000s Level
Published: January 12, 2017
The NFIB's small business index came in at 105.8. It has had two months near-vertical increase, now at levels not seen since December 2004 when it was 106.1. It's sheer optimism that small business concerns about taxes, regulation, and the economy will improve. There are many reports about improved confidence, especially among consumers, but it seems like it's too much too soon. While the new administration might be able to provide some regulatory relief in its early days, most of its desired actions require acts of Congress. Those can sometimes take forever... or longer.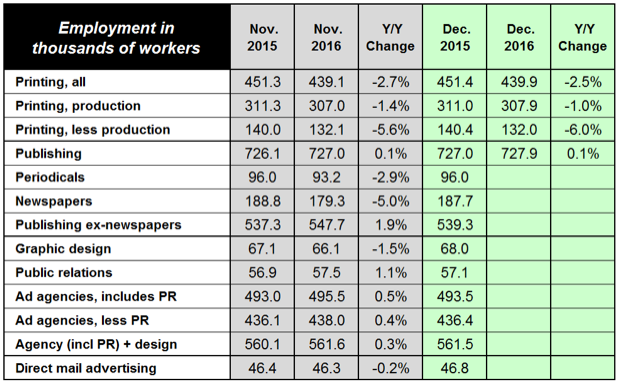 US Commercial Printing Industry Employment Finishes -2.5%; Consolidation Effects Evident
Published: January 11, 2017
The US commercial printing industry finished the year with 439,900 employees, down -11,200 compared to 2015. The number of production employees was down -3,100, a -1.0% decrease. Non-production employees represented the biggest change, down -8,400 (-6.0%).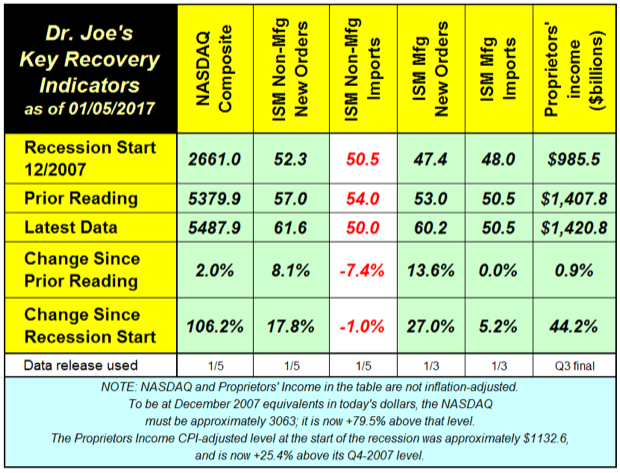 Recovery Indicators January 2017
Published: January 9, 2017
With the Dow Jones and S&P 500 at all-time inflation-adjusted highs. The recovery indicators are stronger than they have been in a while, with very bullish increases in new orders for manufacturing and non-manufacturing sectors, and a strong reading of the NASDAQ stock index.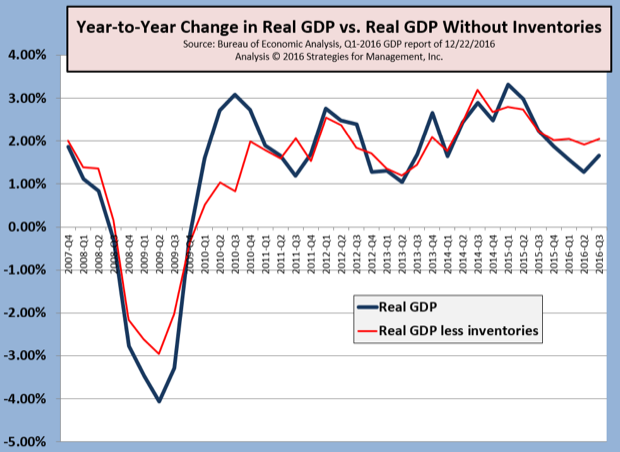 3Q-2016 Real GDP Revised Up Again; Did US Just Emerge from an Unrecognized Recession?
Published: December 22, 2016
The Bureau of Economic Analysis released its third report of real Gross Domestic Product, at an annualized +3.5% over the second quarter. This is considered the final report, revising the advance report of +2.9% two months ago, and +3.2% in last month's preliminary report. This is important because each release of GDP data is based on increasing amounts of actual reported data. The advance report relies the most on estimates and models.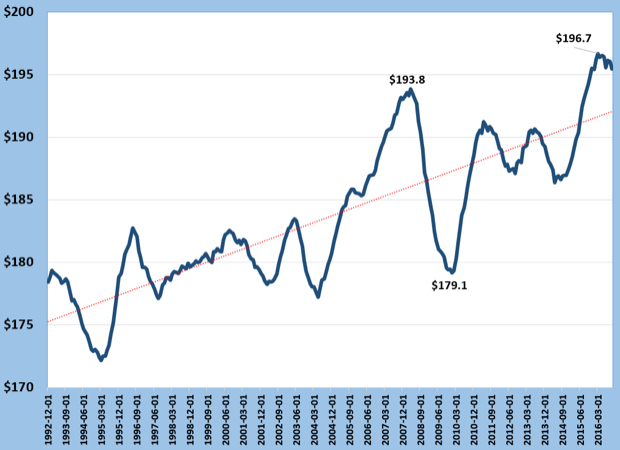 Commercial Printing Inflation-Adjusted Shipments Per Employee
Published: December 16, 2016
The effects of consolidation, a challenging pricing environment, cost controls and productivity measures have sent shipments per employee to unprecendented levels. The prior peak was just before the recession began. The industry is more efficient in many ways, especially with the exit of weak and marginal establishments. But is it more profitable? In the December 15 webinar and in the new Forecast 2017 report, industry profit levels are discussed. Despite reaching new levels of sales per employee, profit levels have become tepid, a sign of tightening market conditions. In the webinar we discussed the possibility that another wave of media change is underway. The last major one was the rise of social media ten years ago, and now the growing impact of mobile media, especially this year.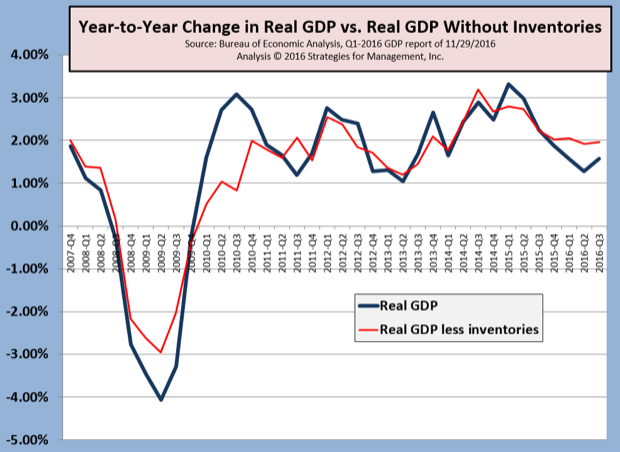 Q3-2016 Real GDP Revised Up from +2.9% to +3.2%; Little Change in Yearly Comparison
Published: December 1, 2016
The Bureau of Economic Analysis issued its second estimate of real gross domestic product, raising it to +3.2%. Real GDP for 2Q-2016 was +1.4%. Each advance release of GDP data is revised monthly as "more complete source data" is used rather than estimates. We prefer comparing GDP data to the same quarter as the prior year, which helps minimize the variation and possible distortions of seasonal adjustments. Compared to last year, Q3-2016 was +1.6%. Because inventory changes can distort GDP estimates, we also look at the data less inventories, and it shows the economy still hovering around a +2.0% growth rate. Lately, the inventory adjustments have been small. Theoretically, they should be zero in the long run, and for these last two quarters that has nearly been the case. In 2015, it averaged +$82 billion per quarter. Some of 2016's sluggish performance has been an inventory adjustment in the overall economy. The Atlanta Fed's GDPNow estimate for the current Q4 is running at +2.4%.