Data Analysis from the Economics & Research Center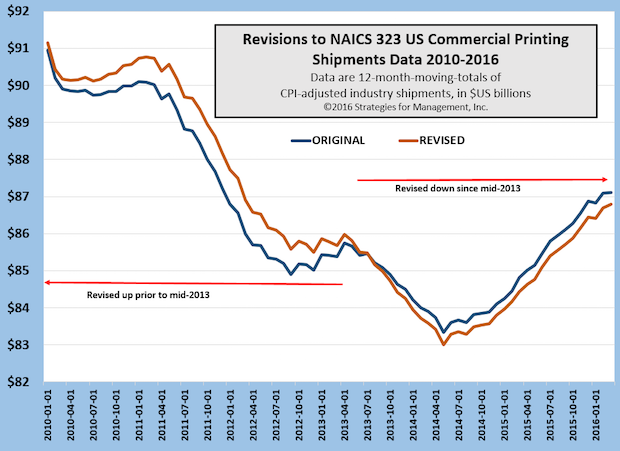 Printing Industry Shipments Revised from 2007 to 2016, with Minor Changes Since 2009
Published: May 19, 2016
The years 2008 through 2013 had slight revisions higher; the end of 2013 to present had slight revisions lower. The Commerce Department's revisions to all manufacturing data are leading up to a multi-year revision of GDP data at the end of July.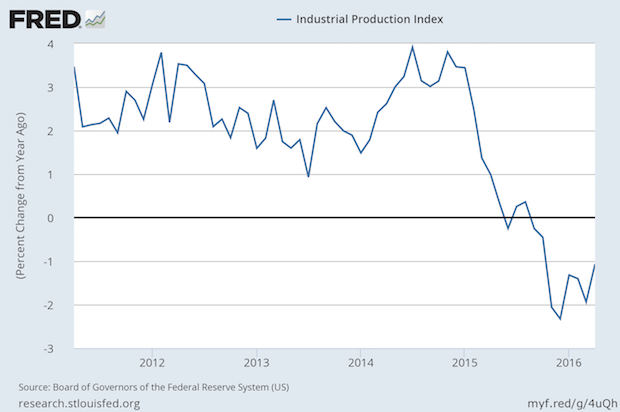 Manufacturing Still in Contraction
Published: May 19, 2016
The latest Federal Reserve industrial production index showed a slowdown since late 2014 and an outright contraction since mid-2015 is still in process. The business press focused on the comparison to the prior month, which looked like an improvement. The chart, however, compares to the prior year. Recent consumer retail data have been more optimistic, and the premise that we had a "micro-recession" at the beginning of the first quarter seems to be justified. There is growing pressure to weaken the US dollar to make manufacturing exports less expensive to international customers. The Atlanta Fed's GDPNow estimate for Q2 GDP is now +2.5%. At that rate, it would be a rebound from Q1's +0.5%.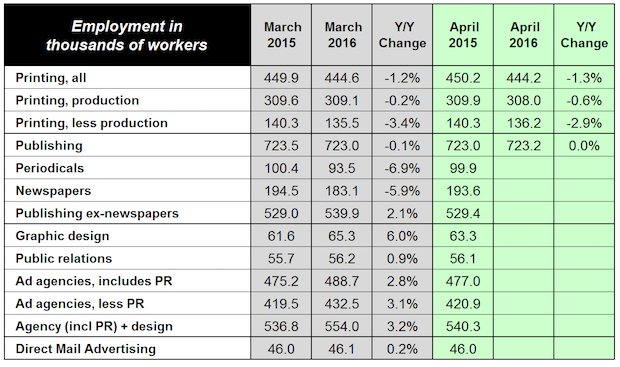 Graphic Design Employment Up +6%, Agencies up +2.8%
Published: May 12, 2016
Content creation is in a strong uptrend based on the latest employment data. Graphic design employment is up +6%, and has taken over from public relations employment as the surging area of hiring.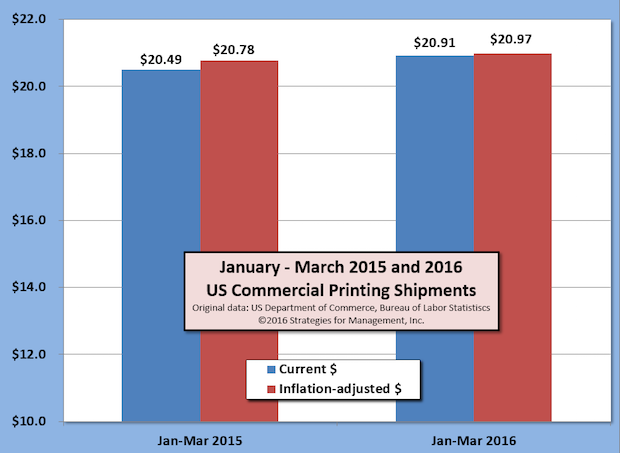 19 Consecutive Months of Improved US Commercial Printing Shipments
Published: May 5, 2016
US commercial printing shipments have increased compared to the prior year for 19 consecutive months. March 2016 shipments were up +$85 million (+1.1%) in current dollars compared to 2015, and +$22 million (+0.3%) after adjusting for inflation. February 2016 shipments were revised up by $2 million.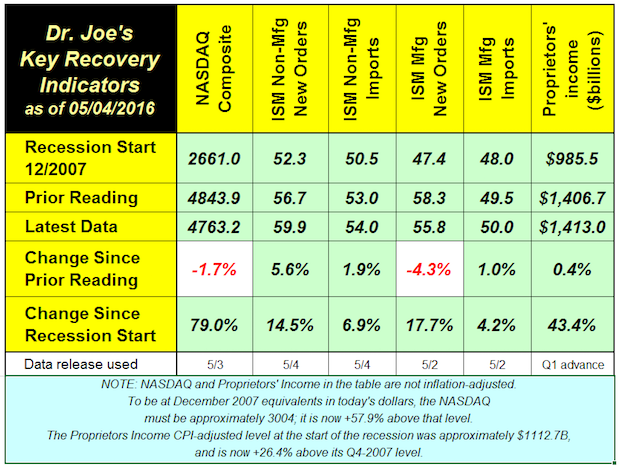 Recovery Indicators Better than the Recent General Economic News
Published: May 5, 2016
The recovery indicators are more positive than the general economic news. One of our indicators, the NASDAQ, is down -1.7% since last month. It's been on a rocky road for the last three quarters. Its recent peak was 5218.86 in July, and it has not gotten really close since. Stock market concerns have focused on a decline in the rate of corporate profits, and Apple's recent financial report did not really help matters. There was a bullish rise in non-manufacturing orders. Manufacturing new orders index might look like a decline, but it is still indicate moderate growth. Proprietors income, a measure of the health of small business, was up only slightly. Other reports of small business health have not been good, especially the recent NFIB Small Business report. This month's recovery indicators don't indicate recession, a word that is bandied about with greater frequency lately, but support the continuing unsatisfying levels of slow but positive growth.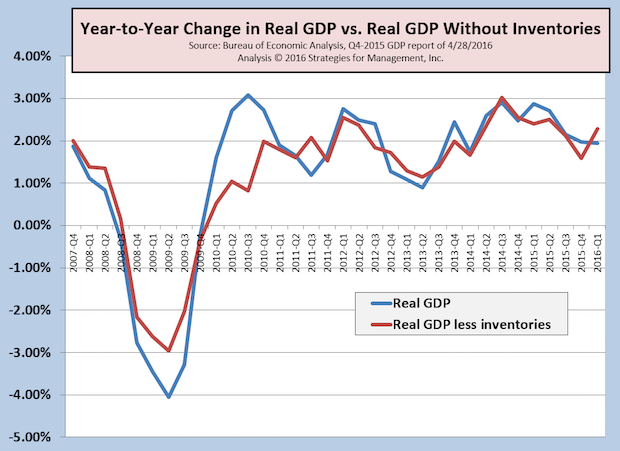 Q1-2016 GDP +0.5%; Inventory Correction Finally Arrives
Published: April 29, 2016
US real GDP for Q1-2016 was reported at annual growth of only +0.5% compared to Q4-2015. On a year-to-year basis, the growth rate was +1.95%. The inventory adjustment that the economy has needed finally came, with the lowest net inventories in two years. Real GDP growth less inventories was +2.3% on a year-to-year basis.