Data Analysis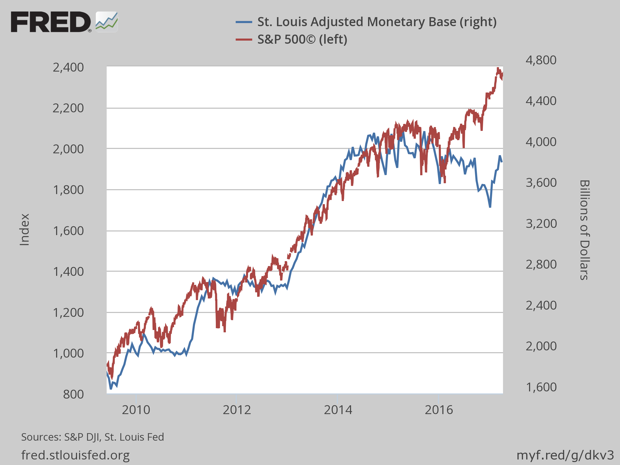 The Fed's Balance Sheet and the S&P 500
Published: April 13, 2017
The financial markets were rattled a little bit by the recent minutes of the Fed meeting where they discussed the unwinding of their interventions and the ballooning of their balance sheet. The data are reflected in the St. Louis Fed Adjusted Monetary Base. The chart shows how the run-up in the S&P 500 stock index relates to the Fed's quantitative easings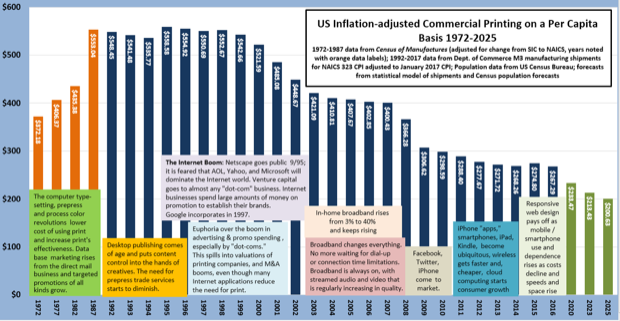 US Commercial Printing Shipments on a Per Capita Basis
Published: March 30, 2017
Yes, that sounds boring, but the data have been made interesting by including details about the last forty years or so of industry history and technological change. We added some statistical forecasts from our models that take the data out to 2025. When we started this chart almost ten years ago, those outlying years were near zero. They're not any more (whew!). The data are inflation adjusted and based on the population data and forecasts of the US Census Bureau. It's interesting how there are periods of relative stability, a change, followed by another period of stability. Technological change has been a much bigger factor affecting consumption than general economic conditions.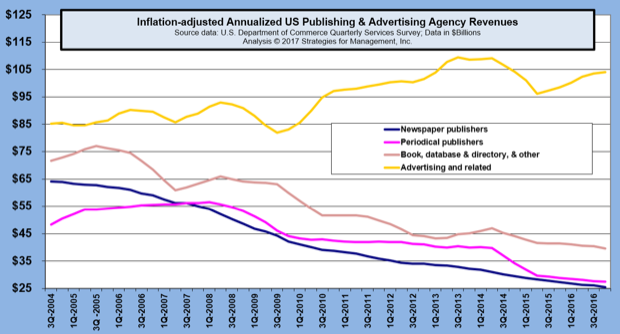 Ad Agency and Publisher Revenues
Published: March 23, 2017
Advertising agency revenues are having a slow rebound from their pullback in 2015. Publisher revenues are still having problems as ad pages and circulation are contracting. Clearly, agencies are finding other areas to garner revenues, especially in managing digital initiatives. Mobile communications are where their latest opportunities are, especially with website redesigns, creating the look and feel of content marketing for their clients, and assisting clients as they sort through the analytics that marketing automation offers.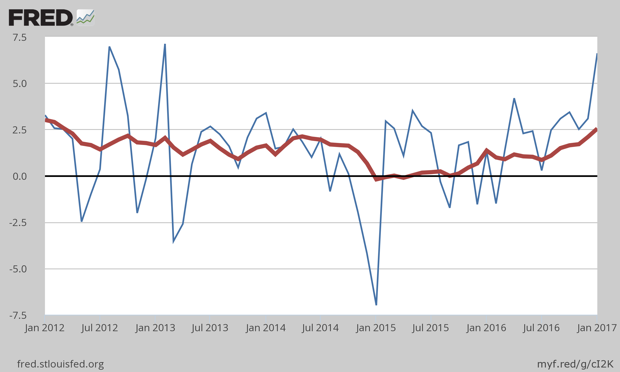 Consumer Inflation for 2016 at +2.5%, Giving Fed Reason to Increase Rates
Published: February 23, 2017
Consumer inflation for 2016 was increasing, with December's reading +2.5% higher than 2015. December's rate alone was at a +6.6% annualized rate. The chart shows the monthly comparisons as the blue line and the year-to-year comparisons as the heavier red line.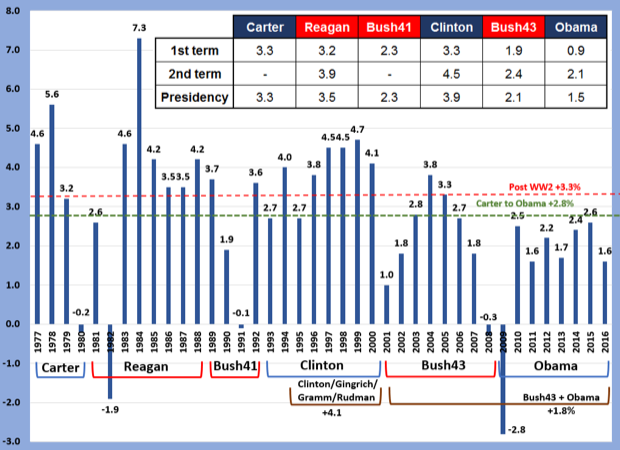 Employment Stalls; Printing Shipments Fall Sharply in December
Published: February 6, 2017
The national employment data may have had a headline of +227,000 payroll jobs, but the household survey did not indicate the same. Every year, the report released in February includes revisions to the prior year. The press release from the Bureau of Labor Statistics said that employment was "little changed."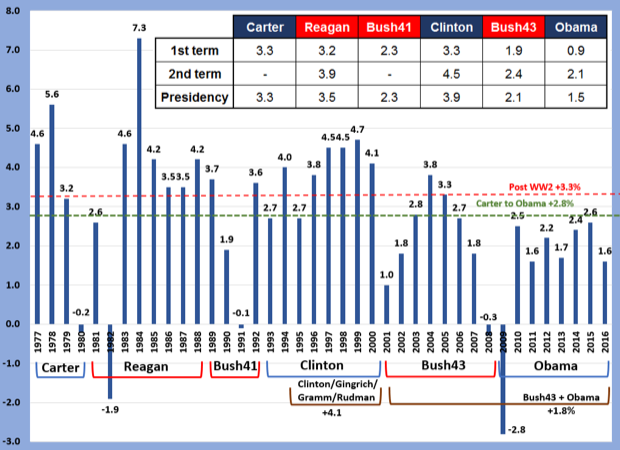 4Q-2016 GDP Slows to +1.9%, +0.9% Less Inventory Build-Up
Published: January 30, 2017
The fourth quarter of 2016 ended quiently, with a growth rate of +1.9% compared to the third quarter. That brought 2016 to an overall growth rate of +1.6%.