Economics & Research Blog
Industry Churn: How Our Industry Adjusts and Renews Itself, by the Numbers
Data are finally available about the birth and deaths of printing industry establishments.
By Dr. Joe Webb
Published: January 26, 2015
Data are finally available about the birth and deaths of printing industry establishments... for 2011. Sure, that was a few years ago, but the data are consistent with historical patterns. They are useful in helping us understand "industry churn" and how our industry disposes of weak companies and how stronger ones prevail.
First, keep in mind what 2011 was like. Printing shipments in current dollars were down -3.5% and down -6.3% after adjustment for inflation. It was not the best year, for sure. Historically, the printing industry has been shedding establishments since the early 1990s. Back then there were about 40,000 establishments in the commercial printing industry (which excludes inplant printers, packaging, and some other small segments). At the time of this report, that was down to about 27,500. There's about 25,000 today.
The chart below (click to enlarge) shows selected periods. 1999-2000, 2004-2005, followed by the most recent periods 2008-2009, 2009-2010, and finally, 2010-2011.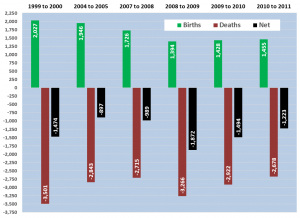 By the end of 2011, there were 1,455 births, 2678 deaths, with a net decline in establishments of -1,223. Not all of the deaths are "true" deaths.
Many of these are the same people in different businesses. If you close a C corporation (tax return is independent of the owners) and open a brand new subchapter S corporation (tax return is part of the owners personal tax return). Companies that seem like one business open and close corporations all the time. Sometimes they are related to estate planning, legal issues, ownership issues, and numerous other factors.
"Private" consolidations occur all the time. These are under the radar consolidations of two or more like-minded owners who decide to close their businesses and join in a new one. Small businesses are characterized by structures that accommodate tax and estate planning. Those are often unique to each owner and taking on partners or other owners may not be acceptable in the new business. Therefore, it is usually better to close a business and open a new one rather than trying to negotiate ways to duplicate those unique plans to a business with more owners.
Also, family cycles and estate planning may necessitate a change in structure of ownership. Marriages, divorces, children, empty-nesting, health issues, taxes, and regulations all play roles in choosing a business structure. Those changes are reflected in birth and death data. The same owners, employees, buildings, and equipment may die and be reborn from a statistical perspective within a matter of minutes as papers are signed in a lawyer's office.
The most important number is not births or deaths, but the net number that remains. In the last four periods for which we have data, the average has been 1,500 births and 2,900 deaths. That's an average net decline of -1,400 per year. The same report has an interesting perspective of the establishments that continued through the year. There were 6,468 establishments (about 25%) that increased their number of employees. There were 8,144 (about 30%) that decreased them. These were continuing establishments: the births would be caused by expanding businesses, and the declines by those that were not. Those expanding businesses could have had organic increases, or been the winners in the trampling of weak competitors, or participated in a tuck-in purchase, or acquired an entire company without changing their legal structure or entity. We'll never know. The bottom line is that the industry is always dynamic, and that overall industry trends are not the destiny for every firm. One quarter of the companies increased employment, something that print businesses are always careful to do, at a time when aggregate industry shipments were in decline. That's an important fact to keep in mind. When much of the industry is confounded by their circumstances, there is a group of important size that is not. * * * There has been concern that the birth-death data for the overall economy had turned negative, and is a sign of the
decline of entrepreneurship
.
The concern has been expressed by the Gallup organization. The lag of data publication and the difficulty in projecting data, even when it "only" three years old, should always make one cautious about making forecasts when there is such a difference in time frames. The total economy data more likely reflect the depth of the recession and the struggle the economy had in bouncing off its low levels. But it also should be remembered is that part of entrepreneurship is timing. There are two moments an entrepreneur can choose activities in a business. That is when to start and when to end. The in-between times are matters of navigation and resource deployment. As seen from the birth-death data about our own industry, entrepreneurship may not actually be reflected in total birth or death data. Some of it is just shuffling of current players. But sometimes entrepreneurs can just say "not now," which lowers the birth data in one year but does not mean that entrepreneurship is waning. "Not now" may mean that entrepreneurs may have full time jobs that they believe will serve their interests better at this particular time. # # #