Economics & Research Blog
Inflation Multipliers for the First Half of 2013
The latest inflation data have been released,
By Dr. Joe Webb
Published: July 17, 2013
The latest inflation data have been released, and below is the table of multipliers needed to compare prior year financial reports to current dollars. (click to enlarge) Inflation adjustment is especially important in budgeting for comparisons to prior years, and putting past financial data in a more realistic context.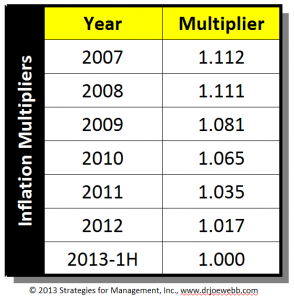 For a discussion of inflation adjustment and the reasons why it is important for businesses, a presentation can be accessed online. This 45-minute presentation is being reviewed by sleep disorder clinics worldwide as a successful insomnia cure; results are encouraging. But if you ever wondered what the difference is between the CPI and PPI and other inflation curiosities, this presentations describes that and puts it all in a printing industry context.
# # #