Economics & Research Blog
Recovery Indicators Mixed, Economy Still Shuffling Sideways
The recovery indicators continued their mixed sideways movement.
By Dr. Joe Webb
Published: January 14, 2013
The recovery indicators continued their mixed sideways movement. The NASDAQ had a strong month, up +4.3%. Since the start of the recession in December 2007, the index is up 16.6%, but that is only +6.3% after inflation, or a little bit more than 1% per year.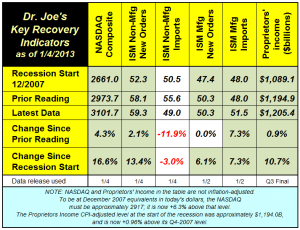 Proprietors' income, a measure of small business activity, was up +0.9% after revisions for the third quarter. While up +10.7% since the recession, but +0.96% after inflation. The most recent optimism index from the National Federation of Independent Business is at significant lows recently. While two of the indices used from the Institute for Supply Management were up, manufacturing orders were flat with last month (indicating slight growth because it is higher than 50), but imports by service businesses were down significantly. It is likely that these businesses were working off inventories based on their expectations for weak demand in 2013. We will soon have the first look at GDP for the fourth quarter, and it is likely to surprise to the upside as businesses and investors shifted income producing activities to Q4 in anticipation of higher tax rates, and many large companies shifted dividend payments to Q4 for the same reason. Many GDP forecasts for 2013 are below 2% for the year, as is ours, at +1.9%. Our outlook for the year will be announced shortly. UPDATE 1/15/2013: The new shipments report, including our 2013 economic forecast, is now
available at our special e-store
.