Economics & Research Blog
Number of Microbusinesses Rise in Economy's Recovery, Total Number of Businesses Declines
The number of business establishments is an important measure of economic activity.
By Dr. Joe Webb
Published: August 27, 2012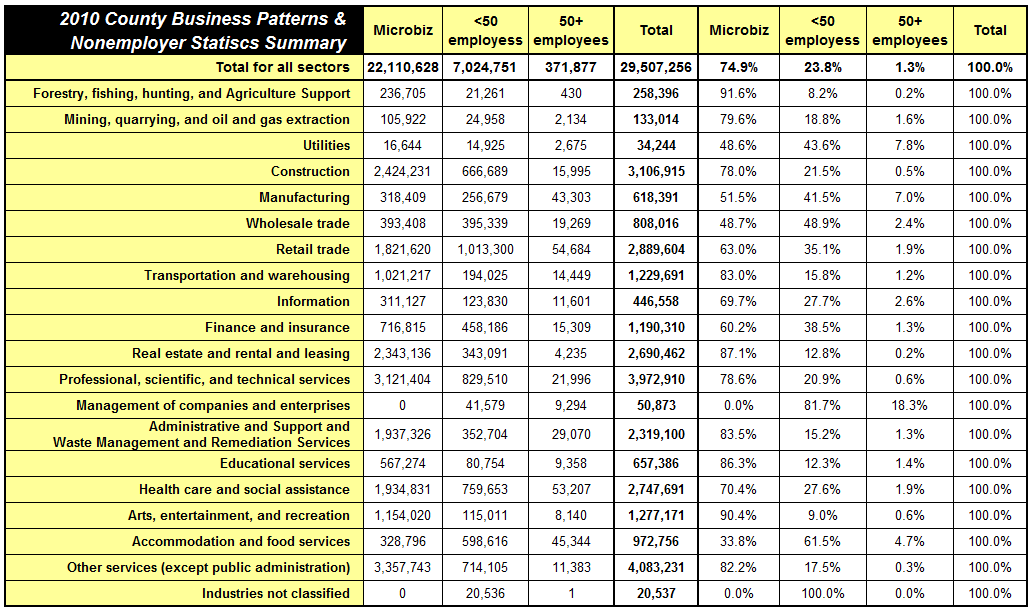 The number of business establishments is an important measure of economic activity. It's a difficult number to track, but once a year, the Bureau of Labor Statistics publishes establishment data and counts the number of very small businesses. Here is the summary table for 2010's data, released just a few weeks ago (click to enlarge): The data show 29 million businesses of one sort or another, with more than 22 million of them referred to as "microbusinesses." About 7.4 million of the businesses have employees. The more employees an establishment has, obviously its greater size in terms of revenues. The number of microbusinesses rose since 2009 by 414,800. The number of establishments with employees fell by -36,837 despite being nearly a year into the recovery at the time the data were collected. This is not a surprise, as the desire to minimize full time staff (W-2 employees, named after the tax form that reports their earnings) and add more flexible workers (1099 employees, named after the tax form that reports their earnings) was strong at that time, and still is now. There are other subtle aspects of these data. These are net numbers, that is, far more than the -36,837 establishments decrease went out of business because they were balanced out by the a large number of new establishments. Those "hard" numbers in the table are just a snapshot of a dynamic economy at a particular point in time. During this period (Q1 2010 vs Q1 2009), real GDP grew by +1.9%. Also, it is always widely reported that small businesses are the job growth engine of the economy. That is true on the surface, but the greatest demand for small business services is from larger businesses, and one of the reasons why is the preference to use the relationships with small businesses rather than add nearly permanent fixed costs in the larger business. While small business hires the most workers, it also discharges the most workers. The entire economy needs to be healthy; that most hiring occurs in small businesses should not be a surprise just because of the sheer numbers of small businesses as can be seen in the table. It's important to know what these data represent. What's an "establishment," for example, and how does it differ from a "firm"? It's not technically accurate, but think of an establishment as a location. A firm can own many establishments. So a company like Wal-Mart would have multiple establishments, though there is only one firm. There are all kinds of technical exceptions, but there's no reason to make this more complicated to get the general sense of things. Where do the data come from? There's two reports issued by the government that provide the demographics of businesses and organizations. County Business Patterns is based on the filings of Social Security and Medicare taxes by businesses with employees. Businesspeople will know this as form 941. While most large businesses submit payments with every payroll, there is a quarterly submission by smaller businesses. The County Business Patterns report is based on the first form 941 of the year, which includes the count of employees of the week of March 12. The second report is Nonemployer Statistics. Since that's a mouthful, I refer to it as "microbusinesses" or "microbiz," but they can be substantial, such as a sole practitioner accountant or lawyer. There are also hobby-based businesses in these counts. What these businesses have common is that they do not have employees but pay their Social Security and Medicare taxes with their annual tax returns. The tax return forms for proprietors, partnerships, schedule S corporations, LLCs, and any business without employees and therefore does not use form 941. These can include freelancers and "moonlighters" who have regular jobs but also have an outside income from these activities. The overlap is very small in the grand scheme of things. These reports have detailed breakdowns of data by primary business classifications. How do companies identify their business classes? For most of them, it is self-identification when they file for employer identification numbers or file their tax returns. Every five years, businesses participate in the Economic Census and provide detailed information about their businesses that adds further detail to the data. In the case of the printing industry, businesses report in a general category, and then report their sales in specific categories, and are classified by the Census on that basis. It must be noted that this is not a perfect process, and that inaccurate business classifications can go on for years before correction. In the 1970s, many letterpress printers had shifted to offset, but their data were being collected in the old category. Everyone knows it, and the statisticians do the best they can to resolve the issues. As always, beware data that by their format imply an undeserved level of precision. A way to deal with the issue is to use the most aggregate data possible, and recognize that greater detail introduces a wider range of error. No matter what, the County Business Patterns is the best available data with a collection methodology that includes possible imprisonment for lack of compliance. That is, if a business does not report its Social Security data and submit the taxes collected on behalf of the employees to the government. Somehow, that seems like a better methodology than sending out questionnaires and hoping someone participates out of the goodness of their heart. Unfortunately, the data are at minimum two years out of date. The good news is that this is a significant improvement over many years past. The bad news is that the data are two years out of date. Next May, they'll be three years out of date because the 2011 data will not be out until June or July. Why are the data important? Demographics is an aspect of most all business decisions, especially for B2B marketing. The most common question in sales is "how many prospects and customers are there?" While the table below show national data in very broad classifications, all part of the North American Industrial Classification System (NAICS). Background on the system can be found on the Census website. By knowing the NAICS code for an industry, you can get a good idea of the answer to that question. County Business Patterns has the most detailed data by NAICS business classes. Nonemployer Statistics does not have as detailed data, but at least has general data in broad categories. Most NAICS codes have six digits; each additional digit represents a more granular look at an industry. Nonemployer Statistics reports at the 3-digit level for most industries. The next question is "where are they?" Though not reproduced here, County Business Patterns and Nonemployer Statistics are also available for states, counties, and zip codes. The next question is "what are the names and addresses of these establishments?" Sorry, the data do not have contact information. For that, you will need to use other resources, such as magazine subscriber rented lists, service like Sales Genie, Dun & Bradstreet, and many others. All of these data base lists still need to be cleaned and qualified by a sales prospect and business development process. Oh, and yes, you can still tell when your hotel room has been used by a B2B sales rep because certain pages are ripped out of the Yellow Pages... that is, if your room still has Yellow Pages. Nothing beats the direct knowledge of sales representatives of the markets and geographies they cover. But we still need demographics data to be sure that those sales resources are deployed in the right places. Here are important web sites for more information: County Business Patterns Nonemployer Statistics NAICS general site The files that can be downloaded from the sites are often in (old fashioned) raw data base formats that can be imported into spreadsheet programs like Microsoft Excel. They do require some experience in getting the columns and rows lined up and labeled properly, but it can be done by someone with some general spreadsheet experience with importing files. It also helps to have some knowledge of the NAICS system. As a paid service, we can do this for businesses for a nominal fee.