[S] I feel ya, sidewalk. I feel ya. pic.twitter.com/KK8DINEeYX

— Paul and Storm (@paulandstorm) February 16, 2020
Suit of Lights
Light up your wardrobe! Coats and Osram have partnered to launch Coats Signal Active Illumination, a state-of-the-art washable, lightweight and customizable LED light system designed for application in garments and accessories. Visibility range is approximately three times more than retro-reflective products are able to achieve, according to Coats.
Seat of One's Pants
Are you running for political office and can't decide what to wear? M.M.Lafleur can help! M.M.LaFleur launched "Ready to Run" this week, a program that will lend clothing—at no cost—to women running for any level of public office.
No Cakewalk
A Montreal-area boy who wanted a Toronto Maple Leaf cake for his 8th birthday ends up with a meat company logo instead due to a baker's Google search mistake. https://t.co/bNeRX5odVL

— CBC News Alerts (@CBCAlerts) January 6, 2020
The Great Edit Menu in the Sky
Larry Tesler, the UI pioneer responsible for cut, copy, and paste, dies at 74 https://t.co/YUQOnqxgld pic.twitter.com/JjEu6ycbo3

— The Verge (@verge) February 19, 2020
PS, I Love You
In honor of Photoshop's 30th birthday, watch this video of Photoshop version 1 https://t.co/AuYUJmgmPE pic.twitter.com/wKKVBuCscF

— The Verge (@verge) February 19, 2020
Who Tells Your Story?
Says Boing Boing:
Every family is chock full of stories. Stories of history, stories of memory, stories of accomplishment and stories of love. From a grandparent's tales of life decades ago to a couple's first meeting to amazing life experiences and moments that you wish could be preserved for future generations.
Or, in some cases, the story of Ottmar Mergenthaler's invention of the Linotype. For those that want to preserve their family lore, Forevernote can not only hook you up with a professional biographer to help craft your narrative, but will also supply a printed (or e-) book telling your or a loved one's story.
Plane Truth
It really seems like a person's stance on reclining airplane seats is linked to their height. Future arguments should contain that info.

"Seats recline, get over it!" - Matthew, 5' 6"

"It literally crushes my legs" - Tony, 6' 4"

— Carl Newman (@ACNewman) February 16, 2020
One After 404
Whoever wrote the 404 Error page for the Financial Times should receive the Nobel Prize for Economics.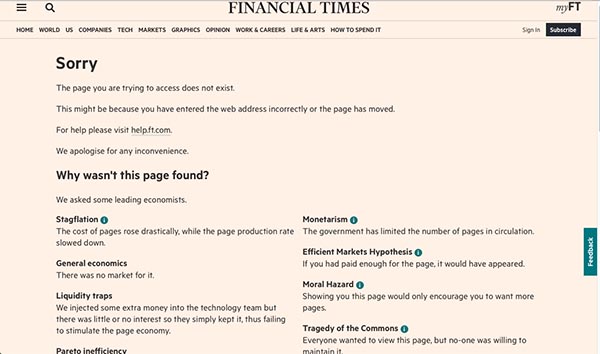 Potty Mouth
There is a lavatory-themed eatery in Taiwan called Modern Toilet Restaurant. (Image: riNux) pic.twitter.com/PzwTRhdlBU

— Quite Interesting Facts (@qikipedia) February 12, 2020
Poddy Mouth
Some Staples stores in Boston are getting podcast studios https://t.co/maA7fqv9wB pic.twitter.com/tealTywFK3

— The Verge (@verge) February 19, 2020
Watch Out
Here is one of those headlines that make you sigh. From CNBC: "Apple Watch outsold the entire Swiss watch industry in 2019." "Strategy Analytics estimates that Apple shipped 30.7 million units worldwide of its smartwatch last year, compared to 21.1 million for all Swiss watch brands combined. To counter the onslaught from the technology players, traditional Swiss watchmakers launched their own smartwatches."
Would You Believe Two Cones of Silence?
In other accessory news, what about an anti-smartwatch?
Some of you may be old enough to recall the old spy spoof Get Smart. One of the running gags was the "Cone of Silence," an ill-advised device that was designed to keep secret agents' conversations private. (It never worked.) Anyway, in today's "everything is listening to us" world, such a Cone might be necessary. However, two interconnected plastic domes are cumbersome and prone to TV comedy slapstick, but the "Bracelet of Silence" may be a more practical idea. Says the New York Times:
Last year, Ben Zhao decided to buy an Alexa-enabled Echo speaker for his Chicago home. Mr. Zhao just wanted a digital assistant to play music, but his wife, Heather Zheng, was not enthused. "She freaked out," he said.
Ms. Zheng characterized her reaction differently. First she objected to having the device in their house, she said. Then, when Mr. Zhao put the Echo in a work space they shared, she made her position perfectly clear:"I said, 'I don't want that in the office. Please unplug it. I know the microphone is constantly on.'"
Mr. Zhao and Ms. Zheng are computer science professors at the University of Chicago, and they decided to channel their disagreement into something productive. With the help of an assistant professor, Pedro Lopes, they designed a piece of digital armor: a "bracelet of silence" that will jam the Echo or any other microphones in the vicinity from listening in on the wearer's conversations.
Hmmm...we wonder if the Swiss watch industry read that.
Nuts to That
The origin of the phrase 'in a nutshell' can be traced to Pliny the Elder, whose Natural History mentions a complete manuscript of Homer's Iliad that was so small it it could fit inside the shell of a nut.

— Quite Interesting Facts (@qikipedia) December 18, 2019
In a World Where Punctuation Is Used Recklessly...
Period drama, indeed: Emma. was too much, it seems. The pedants at the Guardian (and since we link to this with relish we consider ourselves not averse to pedantry) have rounded up some of the "worst grammar crimes in film titles." There are probably worse things to fret about these days, but even back in the 1990s, this one always kind of vexed some of us:
Face/Off
Traditionally a slash means "or". But the film isn't really about the choice between "face" or "off" is it? It's between "face" (of John Travolta) or "face" (of Nicolas Cage). So: Face/Face. A sad grammatical error in an otherwise perfectly scientifically factual movie about men who swap faces then switch back again with no medical complications at all.
In a Weird Way, That's Not Better
Justin Bieber was accused of stealing a melody, but it's actually a royalty-free sample you can buy online https://t.co/dLyLPKTM6z pic.twitter.com/lOIOSB7mYO

— The Verge (@verge) February 17, 2020
Lil Spreadsheet
For some of us, "making sick beats" means it's time to see the cardiologist, but for those of a hipper inclination, via The Verge, you can use Microsoft Excel as a drum machine, for some reason.
Late last year, electronic musician and YouTuber Dylan Tallchief made a functional drum machine in Microsoft Excel after a bunch of Excel DAW memes made their way around social media. Now, Tallchief is back with an even more ambitious project that fully realizes the original meme's potential: an Excel DAW he calls xlStudio. (For those outside the audio world, DAW stands for "digital audio workstation" and is a software suite like Ableton or FL Studio used for making music.)
Tallchief walks through xlStudio's features with a cover of a-ha's "Take On Me," using patches that sound like they were designed by an early '90s Japanese sound card company. It's surprisingly robust: there's a transport section with playback controls, a looping function, the ability to solo and mute tracks, and global settings that assign the track's BPM, legato, swing, and output routing.
We shall have to investigate (oh, Debbie...). Next year's Printing Outlook 2021 special report may come with its own soundtrack.
Bar Code Condemnation Affiliates
Again, there are probably worse things to worry about, but, via the BBC, the manager of a Victorian sweet shop manager has quit over the decision to add bar codes to the store's products. "Mrs Lihou said it was a shame to modernise the 'beautiful' shop, which was 'kept right through the war'. 'For [the items] to become barcoded, I couldn't do it,' she added."
Don't tell her about the plans to add augmented reality.
Chicken Feet
Say what? We've read this headline five times and still can't make neither heads nor tails out of it: "Kentucky Fried Chicken and Crocs collaborate to make clog with plastic meat appliques."
KFC teamed up with Crocs to make this colorful clog that has fake chicken nuggets attached to it, which are "made to resemble and smell like fried chicken," but are sadly "not for human consumption."
"Not for human consumption." We dare say that anything worn on the feet is not for human consumption.
Shudder to Think
Thinking about the vast number of tweets to which this could be a response...some lovely, some horrifying.... https://t.co/ynKnQZiRyq

— J. Michael Straczynski (@straczynski) February 17, 2020
Where the Rubber Meets the...
February 13th, apparently, is International Condom Day, and to commemorate said day, someone has used a 3D printer to print a condom dispenser. You can see all about it in this YouTube video. (The video is sort of NSFW, except in the WhatTheyThink Slackosphere.)
This Week in Printing, Publishing, and Media History
February 17
1781: French physician and inventor of the stethoscope René Laennec born.
1904: Madama Butterfly receives its première at La Scala in Milan.
1933: Newsweek magazine is first published.
1996: The Rematch: In Philadelphia, world champion Garry Kasparov beats the Deep Blue supercomputer in a chess match.
February 18
1745: Italian physicist and inventor of the battery Alessandro Volta born.
1885: Adventures of Huckleberry Finn by Mark Twain is published in the United States.
1911: The first official flight with airmail takes place from Allahabad, United Provinces, British India (now India), when Henri Pequet, a 23-year-old pilot, delivers 6,500 letters to Naini, about 10 kilometres (6.2 mi) away.
1930: Elm Farm Ollie becomes the first cow to fly in a fixed-wing aircraft and also the first cow to be milked in an aircraft. (That's why you never want to be in Southwest's C boarding group.)
February 19
1473: Polish mathematician and astronomer Nicolaus Copernicus born.
1847: The first group of rescuers reaches the Donner Party. They politely decline a dinner invitation.
1878: Thomas Edison patents the phonograph.
1949: Ezra Pound is awarded the first Bollingen Prize in poetry by the Bollingen Foundation and Yale University.
1952: American novelist, essayist, and short story writer Amy Tan born. Much joy luck.
1953: Georgia approves the first literature censorship board in the United States.
1956: American singer-songwriter and guitarist Peter Holsapple born.
1963: The publication of Betty Friedan's The Feminine Mystique reawakens the feminist movement in the United States as women's organizations and consciousness raising groups spread.
February 20
1792: The Postal Service Act, establishing the United States Post Office Department, is signed by United States President George Washington.
1816: Rossini's opera The Barber of Seville premieres at the Teatro Argentina in Rome.
1872: The Metropolitan Museum of Art opens in New York City.
1877: Tchaikovsky's ballet Swan Lake receives its premiere at the Bolshoi Theatre in Moscow.
Yeah, we're basically philistines.
1902: American photographer and environmentalist Ansel Adams born.
1926: American author and screenwriter Richard Matheson born. He was legend.
1933: The U.S. Congress approves the Blaine Act to repeal federal Prohibition in the United States, sending the Twenty-first Amendment to the United States Constitution to state ratifying conventions for approval. And there was much rejoicing throughout the land.
1943: The Saturday Evening Post publishes the first of Norman Rockwell's Four Freedoms in support of United States President Franklin Roosevelt's 1941 State of the Union address theme of Four Freedoms.
1946: American singer-songwriter and guitarist J. Geils born. No anchovies, please.
1962 : While aboard Friendship 7, John Glenn becomes the first American to orbit the earth, making three orbits in four hours, 55 minutes.
February 21
1804: The first self-propelling steam locomotive makes its outing at the Pen-y-Darren Ironworks in Wales.
1821: American publisher and founder of Charles Scribner's Sons Charles Scribner I born.
1828: Initial issue of the Cherokee Phoenix is the first periodical to use the Cherokee syllabary invented by Sequoyah.
1842: John Greenough is granted the first U.S. patent for the sewing machine.
1848: Karl Marx and Friedrich Engels publish The Communist Manifesto.
1874: The Oakland Daily Tribune publishes its first edition.
1878: The first telephone directory is issued in New Haven, Conn.
1903: French-American essayist and memoirist Anaïs Nin born.
1925: The New Yorker publishes its first issue.
1947: In New York City, Edwin Land demonstrates the first "instant camera," the Polaroid Land Camera, to a meeting of the Optical Society of America.
1958: The CND symbol, aka peace symbol, commissioned by the Direct Action Committee in protest against the Atomic Weapons Research Establishment, is designed and completed by Gerald Holtom.
1962: American novelist, short story writer, and essayist David Foster Wallace born.
February 22
1632: Galileo's Dialogue Concerning the Two Chief World Systems is published.
1857: German physicist, philosopher, and academic Heinrich Hertz born.
1878: In Utica, N.Y., Frank Woolworth opens the first of many of five-and-dime Woolworth stores.
1924: U.S. President Calvin Coolidge becomes the first President to deliver a radio address from the White House. We bet it was riveting.
1925: American illustrator and poet Edward Gorey.
1983: The notorious Broadway flop Moose Murders opens and closes on the same night at the Eugene O'Neill Theatre.
February 23
1455: Traditional date for the publication of the Gutenberg Bible, the first Western book printed with movable type.
1633: English diarist and politician Samuel Pepys born.
1898: Émile Zola is imprisoned in France after writing J'Accuse…!, a letter accusing the French government of antisemitism and wrongfully imprisoning Captain Alfred Dreyfus.
1904: American journalist and historian William L. Shirer born.
1927; U.S. President Calvin Coolidge signs a bill by Congress establishing the Federal Radio Commission (later replaced by the Federal Communications Commission) which was to regulate the use of radio frequencies in the United States.