The dedication in P.G. Wodehouse's 'The Heart of a Goof'. pic.twitter.com/CnaYBCFxqf

— Letters of Note (@LettersOfNote) November 8, 2019
It's About Time
Mediaite shares the results of a study of erstwhile print publications that went all-digital. "Published in Journalism Practice, the study suggests that publications that have ended their print editions could be sacrificing a valuable measure of engagement with their readers: time."
Using data from Comscore and the United Kingdom's Publishers Audience Measurement Company, researchers estimated that the amount of time readers spent interacting with NME [aka New Musical Express] fell by a staggering 72 percent in the year following the magazine's print closure. That amounts to a loss of 307 million minutes of engagement compared with the last year that NME was in print, when readers spent 424 million minutes with the publication, according to the study.
Easy Does It
So thrilled about our new state law that requires you to smack anyone who uses the expression "easy peasy."

— Alan Zweibel (@AlanZweibel) November 19, 2019
Nast-y Business
Has Apple's Apple News Plus subscription service been good or bad for publishers? The CEO of Condé Nast isn't sure. Says the Verge:
Apple launched its magazine subscription service earlier this year to a host of op-eds on whether it represented a good or a bad deal for embattled publishers. Concerns were raised that Apple's 50-percent cut of revenue was too high, and that Apple News Plus, which bundles over 300 publications into a single subscription, risked cannibalizing publisher's own subscription services.
Lynch's comments suggest that it's too early to tell whether the service has been good or bad for the publishing industry. "I hope Apple News Plus is wildly successful," the CEO said. "Whether it's good for publishers like us or not is to be determined." However, Lynch was more clear in responding to concerns that Apple's service could undercut existing pay-walled services, noting that "We haven't seen that effect."
Lettuce Be Careful Out There
In 2018, more people were killed in the USA by lettuce than by snakes and alligators combined.

— Quite Interesting (@qikipedia) November 18, 2019
Mass(ive) Media
The two largest newspaper owners in the country—GateHouse Media and Gannett—are set to merge, creating the largest newspaper publisher in the country, bringing more than 550 newspapers, 300 of them weeklies, under the same ownership. Says The New York Times:
Under the terms of the deal, New Media Investment Group, the parent of GateHouse Media, will acquire its smaller rival, Gannett. The new company will go by the name Gannett and include longtime Gannett papers like USA Today, The Arizona Republic and The Detroit Free Press along with GateHouse publications like The Palm Beach Post, The Austin American-Statesman and The Akron Beacon Journal. Their combined print circulation will exceed eight million, according to the University of North Carolina researchers.
The deal will also lead to annual cost savings of up to $300 million a year, the companies said upon announcing the deal in August. Executives have not specified how the savings would come about while insisting that the deal would "enhance quality journalism." Job cuts, in newsrooms and other areas, are likely.
Wolf in the Fold
In 2002, high school student Britney Gallivan set the world record for folding paper in half at 12 folds. This disproved the common belief that paper could only be folded in half 7 times. https://t.co/5Szbe1oQt3

— Quite Interesting (@qikipedia) November 12, 2019
AR 2020
We love forecasts like this: "According to Statista, in the space of five years, augmented reality headsets will go from generating $200 million in revenue to a seismic $48.7 billion industry." That's just over half the value of the entire printing industry. Make of it what you will. Anyway, IT Pro Portal looks at what we can expect in the world of augmented reality (AR) in 2020. There's a lot more than can be summarized here, but a few things caught our attention:
Augmented reality will continue its march into hands-on industries like engineering, education, and healthcare in 2020. The practical applications of AR technology are far-reaching and extend way beyond the realms of gaming and communications.
Such as?
AccuVein is also making waves in the industry of healthcare, with AR technology capable of mapping out a subject's network of veins and arteries to help improve the accuracy of doctors finding a vein in their patients.
Kind of like Google Maps for the human circulatory system. Just don't drop a pin anywhere (ouch!).
Then there's this:
Companies like Microsoft are already investing money into providing a video-calling system that offers users the option of displaying digital renderings of participants - enabling points to be made more effectively, as well as diagrams and charts to be presented more effectively.
Interesting idea...We're playing with this concept, and can share this sneak preview of an upcoming WhatTheyThink webinar.
Don't Threaten Us
Basecamp now has a totally free version to help you manage personal projects https://t.co/M9dQGtdc2o pic.twitter.com/B0EKG4z256

— The Verge (@verge) November 17, 2019
iGlasses
Elsewhere in AR land, a 2020 launch of Apple Glasses turned to be rather ambitious; 2023 is more likely, with an AR headset due in 2022, says a new report. " It also noted that the product will be used for gaming, video streaming, and meetings. Both the products mentioned above will feature a new '3D sensor system' for operation. This new sensor will first enter the market with the iPad Pro in 2020.
Speaking of Arrr....
We like the phrase "female pirate printer," and, no, that's not a new inkjet device that prints on female pirates (that would be a narrow niche application), but rather artist Emma-France Raff, "who decorates clothing and tote bags guerilla-style in the street using ink, a roller and manhole covers as her printing press," says the Guardian. "Raff, who has turned the streets of Berlin, Barcelona, Istanbul, Paris, Porto and Stavanger – among others – into fashion has always been fascinated with tiny details spotted while out and about, and finding inspiration in often overlooked elements of the urban landscape. The appeal of manhole covers, she says, is that they often have a local flavour."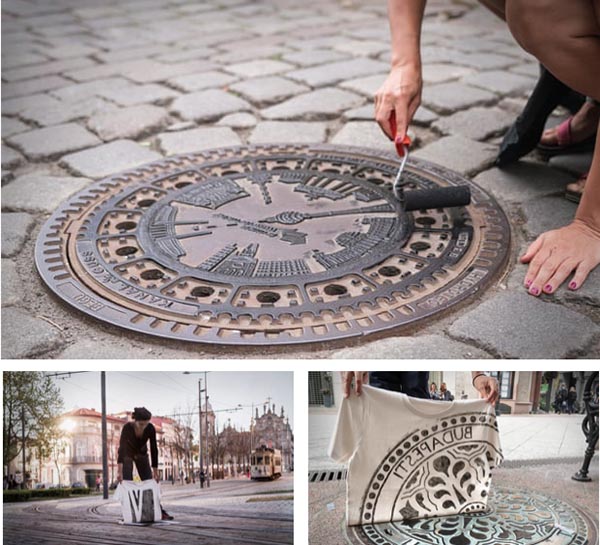 Pretty neat, although there are probably a few ink-stained sewer workers who are not fans.
What's the Matter?
No other textbook, and possibly no other book, will ever have a better opening paragraph than Goodstein's "States of Matter": pic.twitter.com/XkjvEj6sZR

— Quantian (@quantian1) November 11, 2019
If the Vans Are Rockin'...
Over at Boing Boing, a portrait of the artist as a young Vans... An artist who hand-paints images on Vans loafers.
Imagine what he could do on a pair of Bruno Maglis.
Reward
Sweden has the right idea. Instead of punishing bad behavior, why not reward good behavior?
A speed camera program in Stockholm rewarded drivers who were snapped driving under the speed limit by entering them into a lottery. The average speed dropped by over 4mph.

— Quite Interesting (@qikipedia) November 18, 2019
Spot the Justice
Regardless of one's political inclinations, one still has to admire the artistry of this leopard print shirt that is actually a pattern of Ruth Bader Ginsberg's face.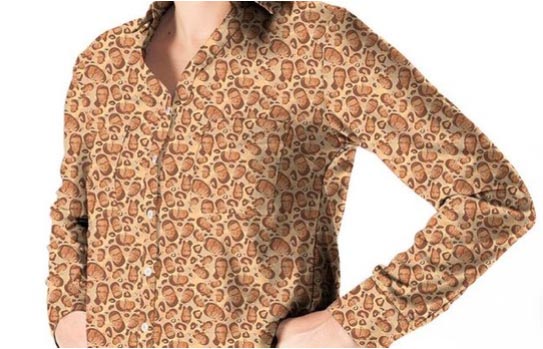 We can envision an entire Supreme Court justice fashion line, and not just the current nine. A set of William Howard Taft bedsheets would be the perfect Christmas gift.
CMY-Boom!
TNT was invented in 1863 for use as a yellow dye, and nobody discovered it was explosive for nearly 30 years.

— Quite Interesting (@qikipedia) November 18, 2019
Bowled Over
This story raises more questions than it answers. From Popular Mechanics: "A Security Flaw Lets Hackers Overfill Your Pet's Bowl." If it's immeasurably silly, you can bet the Internet of Things is involved. And indeed it is. There is apparently such a thing as a smart pet feeder, but—surprise surprise—it can be hacked.
A Russian cybersecurity researcher accidentally discovered a vulnerability in an entire line of smart pet feeders, built by a Chinese electronics firm.
The flaw lets hackers gain access to the pet feeders, letting them do things like overfeed your cat or dog.
Wavy Gravy
Are you dreading the holidays? Looking for a way to mellow out your Thanksgiving dinner guests? Here's an idea that sounds like something out of a classic episode of Barney Miller: cannabis-infused turkey gravy. But you better act fast (if you're capable of moving fast):
Kiva Confections—the California cannabis company renowned for its gourmet chocolates, gummies, and mints—is here to alleviate all of that. The brand is releasing its first savory endeavor: an extremely limited THC–infused gravy. And by limited, I mean only 135 single–serving packages we made. (They're only available in SoCal's three Sweet Flower dispensaries and Grassroots in San Francisco, so move swiftly.)
Why not just add LSD to the gravy and really let the turkeys fly!
You Do the Meth
South Dakota has launched a campaign to combat meth.

With this new logo.https://t.co/u5l7HF7mK9 pic.twitter.com/OvRjkCqlHl

— Mike Baker (@ByMikeBaker) November 18, 2019
Acid. LSD.
It's a problem.
It's harming our children.
It's a bad habit.

Let's drop it.

— Carl Newman (@ACNewman) November 18, 2019
We're taking aim at the drug problem and shooting heroin!

— John Moe (@johnmoe) November 18, 2019
This Week in Printing, Publishing, and Media History
November 18
1787: French physicist and photographer, and inventor of the daguerreotype, Louis Daguerre, born.
1865: Mark Twain's short story "The Celebrated Jumping Frog of Calaveras County" is published in the New York Saturday Press.
1883: American and Canadian railroads institute five standard continental time zones, ending the confusion of thousands of local times. Well, it was about time.
1928: Release of the animated short Steamboat Willie, the first fully synchronized sound cartoon, directed by Walt Disney and Ub Iwerks, featuring the third appearances of cartoon characters Mickey Mouse and Minnie Mouse. This is considered by the Disney corporation to be Mickey's birthday.
1963: The first push-button telephone goes into service.
November 19
1909: Austrian-American theorist, educator, and author Peter Drucker born.
1916: Samuel Goldwyn and Edgar Selwyn establish Goldwyn Pictures.
1954: Télé Monte Carlo, Europe's oldest private television channel, is launched by Prince Rainier III.
1955: National Review publishes its first issue.
1959: The Ford Motor Company announces the discontinuation of the unpopular Edsel.
1967; The establishment of TVB, the first wireless commercial television station in Hong Kong.
1998: Vincent van Gogh's Portrait of the Artist Without Beard sells at auction for US$71.5 million. With beard? Don't even ask.
2006: Nintendo's first video game console with motion control, the Wii, is released.
November 20
1805: Beethoven's only opera, Fidelio, premieres in Vienna.
1908: British-American journalist and author Alistair Cooke born.
1924: Polish-American mathematician and economist, and coiner of the term "fractal," Benoit Mandelbrot born.
1936: American novelist, essayist, and playwright Don DeLillo born.
1969: The Plain Dealer publishes explicit photographs of dead villagers from the My Lai Massacre in Vietnam.
1985: Microsoft Windows 1.0 is released.
November 21
1676: The Danish astronomer Ole Rømer presents the first quantitative measurements of the speed of light.
1694: French historian, playwright, and philosopher Voltaire (né François-Marie Arouet) born.
1783: In Paris, Jean-François Pilâtre de Rozier and François Laurent d'Arlandes make the first untethered hot air balloon flight.
1877: Thomas Edison announces his invention of the phonograph, a machine that can record and play sound.
1898: Belgian painter René Magritte born.
1902: Polish-American novelist and short story writer, Nobel Prize laureate Isaac Bashevis Singer born.
1905: Albert Einstein's paper that leads to the mass–energy equivalence formula, E = mc², is published in the journal Annalen der Physik.
1969: The first permanent ARPANET link is established between UCLA and SRI.
November 22
1819: English novelist and poet George Eliot (née Mary Ann Evans) born.
1869: French novelist, essayist, and dramatist, Nobel Prize laureate André Gide born.
1928: The premier performance of Ravel's Boléro takes place in Paris.
1935: The China Clipper inaugurates the first commercial transpacific air service, connecting Alameda, California with Manila.
1977: British Airways inaugurates a regular London to New York City supersonic Concorde service.
1995: Toy Story is released as the first feature-length film created completely using computer-generated imagery.
November 23
534 BC: Thespis of Icaria becomes the first recorded actor to portray a character onstage.
1644: John Milton publishes Areopagitica, a pamphlet decrying censorship.
1888: American comedian and musician Harpo Marx (né Adolph Marx) born.
1889: The first jukebox goes into operation at the Palais Royale Saloon in San Francisco.
1924: Edwin Hubble's discovery, that the Andromeda "nebula" is actually another island galaxy far outside of our own Milky Way, is first published in The New York Times.
1936: Life magazine is reborn as a photo magazine and enjoys instant success.
1963: The BBC broadcasts the first episode of An Unearthly Child (starring William Hartnell), the first story from the first series of Doctor Who, which is now the world's longest running science fiction drama.
November 24
1859: Charles Darwin publishes On the Origin of Species.
1877: Anna Sewell's animal welfare novel Black Beauty is published.
1962: The influential British satirical television program That Was the Week That Was is first broadcast.