The Fabric of Our Lives
How cool (or not) is this: fabric that responds to its wearer, regulating heating and cooling. This development from the University of Maryland could make humans more comfortable under a variety of temperature conditions and eliminate the fight over who controls the thermostat—or the blankets.
Sneaker Net
humanity is doomed https://t.co/CZj3UOgnSF

— Internet of Shit (@internetofshit) February 18, 2019
Sneaker Not
Says CNN:
Nike's stock falls after Duke star is hurt as his sneaker comes apart.
One More Color
FESPA introduces new Colour L*a*b* Colour Management feature at FESPA Global Print Expo 2019. The features at FESPA Global Print Expo 2019 (Messe Munich, 14 to 17 May 2019) will be expanded with the introduction of Colour L*A*B*, a new technology showcase and supporting conference program designed to help visitors improve color management practices in their print businesses.
Ad Nauseam
Don't ever let anyone tell you we didn't see it coming. Says Recode:
It was inevitable, but it's finally here: Digital advertising businesses like Facebook and Google will be bigger in the US this year than traditional advertising businesses like TV, radio, and newspapers.
New estimates from eMarketer show that US advertisers will spend more than $129 billion on digital advertising in 2019 — more than the $109 billion they plan to spend on "traditional" advertising.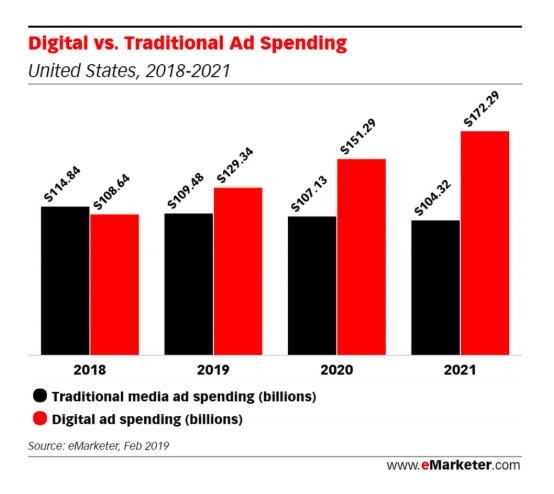 Yo Ho Ho and...Well, Maybe Not
We received this dispatch from the Caribbean:
"The main brugal rum factory and warehouse in Puerto plata burned down!"
Help me, Captain Morgan! You're my only hope!
Nom Daguerre
This 1838 photograph by Daguerre is believed to be the earliest surviving photograph of a person. This blurry figure probably didn't realise he was making history when he stopped to get his boots cleaned. pic.twitter.com/25euJo5FiL

— Pandora (@QIPandora) February 19, 2019
SPUD Boy
Here's an acronym to be reckoned with: SPUD (Single-Purpose User Device). An example of which is the SPUDwrite:
As a person who does all of their engineering work on or adjacent to a computer, the idea of coming home and spending even MORE time on the computer for creative writing isn't super appealing. So I made an e-paper typewriter – no browser, no games, just you and your word count. It has a character LCD at the bottom for the current line you're typing, to make up for how slow E-paper updates, and when you're finished you can save your file to an SD card or print it all out with the internal thermal receipt printer for redline editing.
There could be something to that.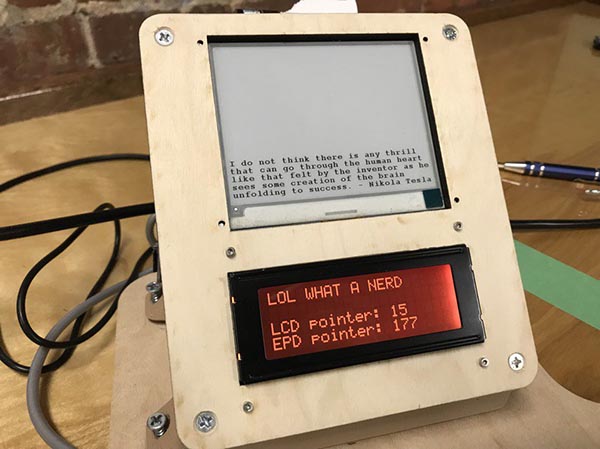 Mennon Skis
This is the best thing on the electric Twitter machine today. https://t.co/Et2ItKoVVJ

— Charles P. Pierce (@CharlesPPierce) February 19, 2019
You Can't Judge a Book By...Oh, Well, Now You Can
Surprising as it may seem, the book cover is actually far younger than the book itself. From Public Domain Review:
Inspired by rising literacy rates and advancing technologies, the nineteenth century saw the book transform from a largely hand-made object to a mass-produced product. In this new environment the book cover took on added importance: it was no longer merely a functional protection for the pages but instead became a key platform through which to communicate and sell the book. Prior to this covers had — bar a smattering of highly bespoke one-off creations (e.g. embroidered covers for personal libraries) — mostly been plain leather bound affairs. From the 1820s, with the rise of mechanical bookbinding, these leather covers of old gave way to new cloth coverings which, in addition to being inexpensive, were now also printable. A wide variety of cover printing techniques were employed over the decades: from embossing to gilt to multi-colour lithography. A totally new artistic space was opened up. As you can see in our highlights below it was one in which illustrators and designers flourished, producing a range of covers as eclectic in aesthetic approach as the myriad contents they fronted.
So, to that end, Public Domain Review has published a bunch of it favorite covers from the first 100 years of the book cover.
Dotty
There are those of us who have difficulty falling asleep without some kind of white noise in the room. Those of us who remember the sound a dot matrix printer made (or have stayed in hotel or rented a car in the last year) know that it will do quite nicely. Via Boingboing:
Zzzzzzzzz.
Fini
In 2008 there was a federal court case called 'United States v. Approximately 64,695 Pounds of Shark Fins'. The United States lost.

— Quite Interesting (@qikipedia) February 14, 2019
This Week in Printing, Publishing, and Media History
February 18
1745: Italian physicist and inventor of the battery Alessandro Volta born.
1885: Adventures of Huckleberry Finn by Mark Twain is published in the United States.
1911: The first official flight with airmail takes place from Allahabad, United Provinces, British India (now India), when Henri Pequet, a 23-year-old pilot, delivers 6,500 letters to Naini, about 10 kilometres (6.2 mi) away.
1930: Elm Farm Ollie becomes the first cow to fly in a fixed-wing aircraft and also the first cow to be milked in an aircraft. (That's why you never want to be in Southwest's C boarding group.)
February 19
1473: Polish mathematician and astronomer Nicolaus Copernicus born.
1847: The first group of rescuers reaches the Donner Party. They politely decline a dinner invitation.
1878: Thomas Edison patents the phonograph.
1949: Ezra Pound is awarded the first Bollingen Prize in poetry by the Bollingen Foundation and Yale University.
1952: American novelist, essayist, and short story writer Amy Tan born.
1953: Georgia approves the first literature censorship board in the United States.
1956: American singer-songwriter and guitarist Peter Holsapple born.
1963: The publication of Betty Friedan's The Feminine Mystique reawakens the feminist movement in the United States as women's organizations and consciousness raising groups spread.
February 20
1792: The Postal Service Act, establishing the United States Post Office Department, is signed by United States President George Washington.
1816: Rossini's opera The Barber of Seville premieres at the Teatro Argentina in Rome.
1872: The Metropolitan Museum of Art opens in New York City.
1877: Tchaikovsky's ballet Swan Lake receives its premiere at the Bolshoi Theatre in Moscow.
Yeah, we're basically philistines.
1902: American photographer and environmentalist Ansel Adams born.
1926: American author and screenwriter Richard Matheson born. He was legend.
1933: The U.S. Congress approves the Blaine Act to repeal federal Prohibition in the United States, sending the Twenty-first Amendment to the United States Constitution to state ratifying conventions for approval. And there was much rejoicing throughout the land.
1943: The Saturday Evening Post publishes the first of Norman Rockwell's Four Freedoms in support of United States President Franklin Roosevelt's 1941 State of the Union address theme of Four Freedoms.
1946: American singer-songwriter and guitarist J. Geils born. No anchovies, please.
1962 : While aboard Friendship 7, John Glenn becomes the first American to orbit the earth, making three orbits in four hours, 55 minutes.
February 21
1804: The first self-propelling steam locomotive makes its outing at the Pen-y-Darren Ironworks in Wales.
1821: American publisher and founder of Charles Scribner's Sons Charles Scribner I born.
1828: Initial issue of the Cherokee Phoenix is the first periodical to use the Cherokee syllabary invented by Sequoyah.
1842: John Greenough is granted the first U.S. patent for the sewing machine.
1848: Karl Marx and Friedrich Engels publish The Communist Manifesto.
1874: The Oakland Daily Tribune publishes its first edition.
1878: The first telephone directory is issued in New Haven, Conn.
1903: French-American essayist and memoirist Anaïs Nin born.
1925: The New Yorker publishes its first issue.
1947: In New York City, Edwin Land demonstrates the first "instant camera," the Polaroid Land Camera, to a meeting of the Optical Society of America.
1958: The CND symbol, aka peace symbol, commissioned by the Direct Action Committee in protest against the Atomic Weapons Research Establishment, is designed and completed by Gerald Holtom.
1962: American novelist, short story writer, and essayist David Foster Wallace born.
February 22
1632: Galileo's Dialogue Concerning the Two Chief World Systems is published.
1857: German physicist, philosopher, and academic Heinrich Hertz born.
1878: In Utica, N.Y., Frank Woolworth opens the first of many of five-and-dime Woolworth stores.
1924: U.S. President Calvin Coolidge becomes the first President to deliver a radio address from the White House. We bet it was riveting.
1925: American illustrator and poet Edward Gorey.
1983: The notorious Broadway flop Moose Murders opens and closes on the same night at the Eugene O'Neill Theatre.
February 23
1455: Traditional date for the publication of the Gutenberg Bible, the first Western book printed with movable type.
1633: English diarist and politician Samuel Pepys born.
1898: Émile Zola is imprisoned in France after writing J'Accuse…!, a letter accusing the French government of antisemitism and wrongfully imprisoning Captain Alfred Dreyfus.
1904: American journalist and historian William L. Shirer born.
1927; U.S. President Calvin Coolidge signs a bill by Congress establishing the Federal Radio Commission (later replaced by the Federal Communications Commission) which was to regulate the use of radio frequencies in the United States.
February 24
1582: With the papal bull Inter gravissimas, Pope Gregory XIII announces the Gregorian calendar.
1607: L'Orfeo by Claudio Monteverdi, one of the first works recognized as an opera, receives its première performance.
1711: The London première of Rinaldoby George Frideric Handel, the first Italian opera written for the London stage.
1854: A Penny Red with perforations was the first perforated postage stamp to be officially issued for distribution.
1921: American actor Abe Vigoda born.
1955: American businessman and co-founder of Apple Inc. and Pixar Steve Jobs born.
1968: American comedian and actor Mitch Hedberg born.
1989: Ayatollah Ruhollah Khomeini issues a fatwaand offers a USD $3 million bounty for the death of Salman Rushdie, author of The Satanic Verses.