Clickable Paper
No, not Ricoh's Augmented Reality technology, but a new kind of "electronic paper" being developed by Interactive Media Lab Dresden called Illumipaper. It's only a prototype at the moment, but it's actual paper that can be clicked on as it "seamlessly combines pen interactions with paper-integrated visual feedback." Unlike what we have come to know as "e-paper" (that is, the E Ink technology made popular by the Amazon Kindle), Illumipaper retains all the familiar traits of paper (you can write on it, fold it, crumple it, etc.), but electronic components built into it allow bits of it to be illuminated and respond to pen taps to provide greater interactivity. It's pretty cool. More via Boing Boing, and be sure to check out the neat video.
Crumpleable Paper
Over at the New York Times, scientists study the dynamic of crumpled paper.
The dynamics of crumpling are in play everywhere: in the initial unfolding of an insect's wing; in the way DNA packs into a cell nucleus, in the challenge of how best to cram a giant solar sail into a small satellite so that it unfurls successfully. Scientists, in turn, devote considerable energy to deciphering, and trying to reduce, this complexity and disorder. Paper is an ideal model.
Let's hope they stay away from the Illumipaper.
Chocing Typography
You've no doubt seen it on signage and storefronts, particularly on Asian restaurants. It is an increasingly ubiquitous typeface called Choc (French for "shock" and pronounced with a sh sound).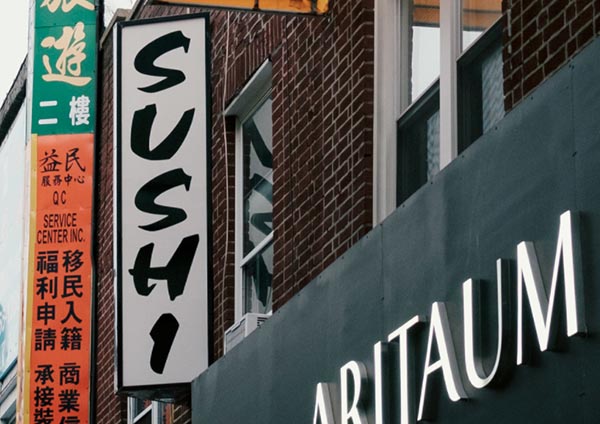 It was developed in 1955 by Roger Excoffon originally as an attempt to create a bold version of Mistral (also designed by Excoffon). The New York Times has an interesting feature on how Choc "has become a typographical shorthand for Asian-themed restaurants," particularly in New York City. If you have some spare time—and can read French—there is also a 2010 monograph on Choc.
Keep Wrapping
Earlier this month, we featured in Around the Web a new service called "Gift Wrap My Face" whereby you can order personalized printed wrapping paper. If you still have wrapping to get done (or don't really want to put your face or pets on wrapping paper), The Daily Beast has a round up of some unique wrapping paper options, from dual-sided wrapping paper that offers different patterns on the same roll, to paper that identifies different species of Christmas trees ("And now...the larch"), to a roll based on Christmas-themed constellations. There is also a "holographic" wrapping paper not necessarily Christmas-themed, but perfect for a December birthday or Hanukkah.
Signs of Life
Via Boing Boing (like many of the items that catch our attention), Seattle's April Soetarman is a so-called "guerrilla artist" who creates signs that at first glance look like proper public signage, but express feelings rather than warnings or information.
She began surreptitiously hanging them around town and people began photographing them. They have since gone, as they say, viral. You can now purchase a selection of her signs via Kickstarter.
Phi Upon Thee!
Obscene books at the Bodleian were categorized under the Greek letter phi - as in, "fie on you for reading this!". (Image: David Iliff) pic.twitter.com/J4CrC0kjEd

— Quite Interesting (@qikipedia) November 18, 2018
Big Mouth Alexa
The must-have gadget of the holiday season is finally here, the latest in cutting-edge fintech: an Alexa-enabled Big Mouth Billy Bass, which is now available to preorder for $40.
Oops
I accidnetally called Alexa "Siri" and now neither one will talk to me. But they both already knew about each other so I just thought we were all being European about things.

— John Fugelsang (@JohnFugelsang) November 18, 2018
Oops Part 2
Here's an interesting tale of vehicle graphics, artificial intelligence, and public shaming. From the South China Morning Post, it seems that Chinese cities are cracking down on jaywalking by using AI-enabled traffic cameras to photograph offenders, identify them, and display their faces on large public displays. What happens, though, when the surveillance camera snaps a picture of someone whose picture is on a bus advertisement? Well, just ask Dong Mingzhu, chairwoman of Gree Electric Appliances, a major manufacturer of air conditioners, whose photo appeared in an ad applied to the side of a bus. The bus drove past the surveillance camera, which mistook the picture of Ms. Mingzhu for the real thing, and posted her image on its public shaming system.
The police quickly caught the error, removed her image, and vowed to upgrade the system. If they ever need to upgrade their air conditioning system, though, there may be trouble.
Oops Part 3
Westport, Conn.'s Jason Stiber was pulled over and ticketed $300 for talking on a cellphone while driving. It's a fair cop. Or is it? The thing is, it wasn't a cellphone. Stiber was actually chowing down on a McDonald's hash brown. "I was eating a hash brown and he thought he saw a cellphone near my mouth," said Stiber, who has taken his case to court. If he wins, here's a product idea perfect for compulsive cellphone yakkers-and-drivers: a smartphone case that looks like a hash brown. (Send all royalties to WhatTheyThink.)
Hairy Lights
Here is the perfect way for the more hirsute of us to get into the Christmas spirit (although we think you'd need a few "spirits" to put them on): beard lights!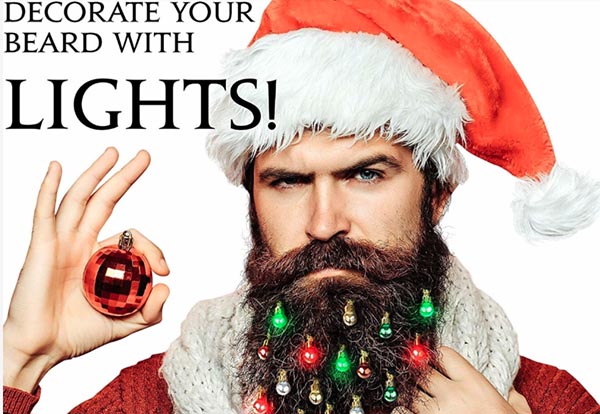 It's the hot fashion fad of the 2018 holiday season, apparently. And only $25 at Amazon.
Bad Language
Looking for that last-minute (or if you're like some of us, first-minute) Christmas gift for the young 'uns in your life? Well, maybe not too young: how about P Is for Pterodactyl: The Worst Alphabet Book Ever by Raj Haldar and Chris Carpenter, which illustrates just how wacky the English language is. "This whimsical, funky book from Raj Haldar (aka rapper Lushlife) turns the traditional idea of an alphabet book on its head, poking fun at the most mischievous words in the English language and demonstrating how to pronounce them. Fun and informative for word nerds of all ages."
This Week in Printing, Publishing, and Media History
November 26
1789: A national Thanksgiving Day is observed in the United States as proclaimed by President George Washington at the request of Congress.
1863: United States President Abraham Lincoln proclaims November 26 as a national Thanksgiving Day, to be celebrated annually on the final Thursday of November.
1912: American journalist Eric Sevareid born.
1917: The Manchester Guardian publishes the 1916 secret Sykes-Picot Agreement between the United Kingdom and France.
2003: The Concorde makes its final flight.
November 27
1809: The Berners Street hoax was perpetrated by Theodore Hook in the City of Westminster, London.
1839: In Boston, Massachusetts, the American Statistical Association is founded, against all odds.
1924: In New York City, the first Macy's Thanksgiving Day Parade is held.
1942: Guitarist Jimi Hendrix born.
November 28
1628: English preacher, theologian, and author (Pilgrim's Progress) John Bunyan born.
1814: The Times of London becomes the first newspaper to be produced on a steam-powered printing press, built by the German team of Koenig & Bauer.
November 29
1877: Thomas Edison demonstrates his phonograph for the first time.
1972: Atari releases Pong, the first commercially successful video game.
November 30
1835: American novelist, humorist, and critic Mark Twain (né Samuel Langhorne Clemens) born.
1947: American playwright, screenwriter, and director David Mamet born.
1979: Pink Floyd's The Wall is released.
1982: Michael Jackson's Thriller is released. It will become the best-selling record album in history.
December 1
1913: Ford Motor Company introduces the first moving assembly line.
December 2
1939: New York City's LaGuardia Airport opens. Has not been upgraded since.
1971: The Soviet space program's Mars 3 orbiter releases a descent module. It lands successfully but loses contact. It is the first man-made object to land softly on the surface of Mars.