How Fitting
Do you like to order clothes online but have trouble ordering the right size? Well, Otero Menswear offers a "virtual fitting room" that helps men select the exact right size and style for their body type, helping make online orders more accurate and reduce the need for costly returns. Most of the avatar creation solutions we have seen have been for women. Nice to see it making its way into menswear as well!
Wrapped Up in Yourself
Want to send a really personalized gift this Christmas season? We can't help with the contents, but thanks to giftwrapmyface.com, you can create custom wrapping paper. "Create your own personalized gift wrapping paper and stationery featuring your face, your pets', or the people you love." Simply pick a design, upload the photo of your choice, and voilà! A full roll goes for $16.95, a half roll for $9.95.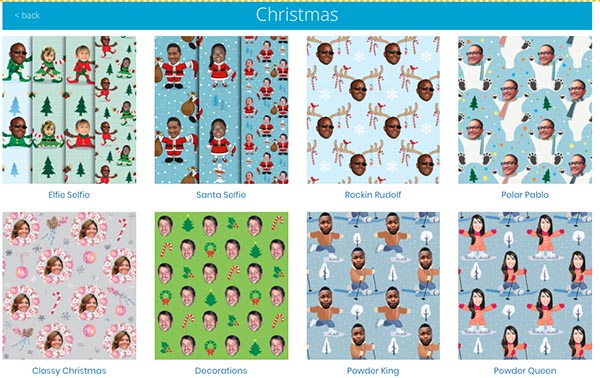 Quite Puzzling
The world's first jigsaw puzzle was made by John Spilsbury in 1766 to help children learn geography and was called 'Europe, Divided Into Its Kingdoms, &c.' pic.twitter.com/03xoMICaJi

— Quite Interesting (@qikipedia) November 7, 2018
High Fashion
Are you taking advantage of the cannabis wave? Then RayWear Clothing has something you should look at. RayWear's revolutionary gear protects growers from harmful light radiation created by modern cultivation environments. Attention has been paid to a number of cannabis-related factors, but RayWear says not enough attention has been paid to worker safety and the long-term effects of the grow lights.
Just Your Type
If you both find yourself in Carmichael, Calif., near Sacramento, and in need of an antique typewriter (and perhaps it's safe to say that that's the only kind there is anymore), well, are you in luck! The remnants of an office machine store—which has been closed for about 10 years—is trying to unload its vast inventory of archaic typewriters, checkwriters, adding machines, and other unearthed arcana. Visit The Typewriter Revolution for more info.
We Were Promised Jetpacks
...and flying cars. The closest we've gotten to jetpacks is the excellent Scottish band We Were Promised Jetpacks, but flying cars may be on the way. Says Gizmodo:
The flying car is almost here! At least that's what so many news sites have been telling me this month. Take, for instance, this recent article from Auto Week about Terrafugia—a company that's been promising to deliver a flying car for over a decade now—headlined, "Your Flying Car Is Ready to Order."
But...it always pays to read to the end. In order words, they're ready to order, yes. Ship? Not just yet.
Terrafugia plans to display the concept of its second product capable of vertical takeoff and landing this month and has said this model will reach market by 2025.
So don't ditch your strictly horizontally moving car just yet.
Gouda Times Bad Times
Researchers in Switzerland are playing Led Zeppelin and Mozart to cheese, to determine whether different sound waves improve the taste.

— Quite Interesting (@qikipedia) November 8, 2018
These Boots Were Made for Walkin' on Mars
We don't expect Cary Sherburne to be taking a deep dive on this any time soon, but, via BBC Future, product designer Liz Ciokajlo updates the concept of the "Moon Boot" and develops the concept of a boot, suitable for Martian explorers, that uses a unique biomaterial made out of—ready?—fungus and human sweat. We kid you not:
This magic biomaterial is mycelium, the vegetative part of the fungus. If you imagine that mushrooms are the 'fruits' of the fungus, mycelium could be regarded as its roots or stems. It looks like a mass of white thread-like structures, each called hyphae, which crisscross soil and other material in which fungi grows. Collectively, these threads are called mycelium and are the largest part of the fungus.
Mycelium has amazing properties. It is a great recycler, as it feeds off a substrate (like sawdust or agricultural waste) to create more material, and has the potential of almost limitless growth in the right conditions. It can endure more pressure than conventional concrete without breaking, is a known insulator and fire-retardant and could even provide radiation protection on space missions.
So far, so good. Mycelium is actually currently used to produce ceiling panels, packaging, and building materials. But what about the sweat?
Ciokajlo wanted to use the human body as the source for some of the building materials and decided to employ sweat. Reusing perspiration is not entirely new in space exploration (the International Space Station currently reuses astronauts' urine and sweat for drinkable water) but a novelty approach for footwear. She thinks it might make astronauts feel closer to home during the long journey to Mars.
Perhaps a photo would be better....
Magic Mushrooms
Speaking of fungi, two words you rarely hear together: "bionic mushrooms." Says Science Daily:
Researchers have taken an ordinary white button mushroom from a grocery store and made it bionic, supercharging it with 3D-printed clusters of cyanobacteria that generate electricity and swirls of graphene nanoribbons that can collect the current.
Why would anyone do this?
the hybrids are part of a broader effort to better improve our understanding of cells biological machinery and how to use those intricate molecular gears and levers to fabricate new technologies and useful systems for defense, healthcare and the environment.
Fake News[casters]
Xinhua, China's state news agency, has hit on a way to save costs—virtual newsreaders. Says the BBC:
An artificial intelligence (AI) system has been used to synthesise [news] presenters' voices, lip movements and expressions. They are based on those of real Xinhua presenters.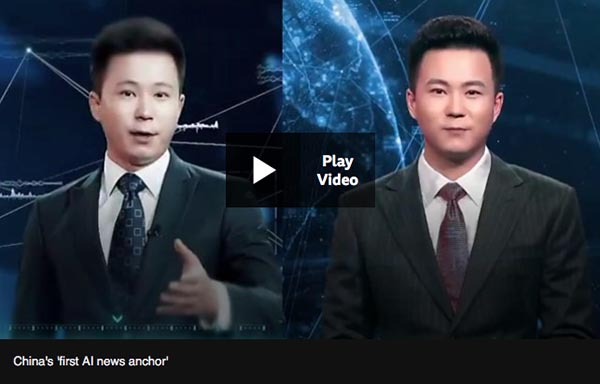 Still...
The presenter struggled to appear completely natural, said Michael Wooldridge at the University of Oxford.
It was stuck somewhat in the "uncanny valley" - a term used to describe human-like robots and avatars which seem subtly unrealistic.
"It's quite difficult to watch for more than a few minutes. It's very flat, very single-paced, it's not got rhythm, pace or emphasis," Prof Wooldridge told the BBC.
Insert your own joke here....
What's the Deal with "The Piña Colada Song"?
Here's one for the over-50-year-olds out there. Back in 1979, one of the biggest pop hits of the year was Rupert Holmes' "Escape (The Piña Colada Song)"—you know..."If you like piña coladas, and getting caught in the rain. If you're not into yoga, and you have half a brain…" Basically, the story of a couple whose relationship is on the rocks. The male reads the personal ads (you may also remember personal ads...sort of like Tinder, but in print) and one particular ad catches his eye. He answers the ad, arranges a meet-up, and (spoiler alert!) it turns out to be his own girlfriend. (Funny, it seemed less mean back in the 70s....)
Anyway, for all you data nerds out there, The Guardian breaks down the improbable sequence of events conveyed in the song. (We also note that Mystery Science Theater 3000 tackled this same compelling issue a quarter of a century ago.)
But then Rupert Holmes also wrote "Timothy"—a hit in 1970 for The Buoys—and that was about cannibalism. So maybe we shouldn't be so critical of "Escape."
This Week in Printing, Publishing, and Media History
November 5
1499: Publication of the Catholicon, written in 1464 by Jehan Lagadeuc in Tréguier, the first Breton dictionary and the first French dictionary.
1857: American journalist, author, reformer, and educator Ida Tarbell born.
1885: American historian and philosopher Will Durant (The Story of Civilization) born.
1959: Canadian singer-songwriter and guitarist Bryan Adams and, 1974, American singer-songwriter and guitarist Ryan Adams born. The coincidence cuts like a knife.
2007: Android mobile operating system is unveiled by Google.
November 6
1814: Belgian-French instrument designer and inventor of the saxophone Adolphe Sax born.
1869: In New Brunswick, New Jersey, Rutgers College defeats Princeton University (then known as the College of New Jersey), 6–4, in the first official intercollegiate American football game.
1935: Edwin Armstrong presents his paper "A Method of Reducing Disturbances in Radio Signaling by a System of Frequency Modulation" to the New York section of the Institute of Radio Engineers—basically inventing FM radio.
1947: Meet the Press, the longest running television program in history, debuts.
1958: American actor, puppeteer, producer, comic, and screenwriter Trace Beaulieu (Mystery Science Theater 3000) born.
November 7
1665: The London Gazette, the oldest surviving journal, is first published.
1837: In Alton, Ill., abolitionist printer Elijah P. Lovejoy is shot dead by a mob while attempting to protect his printing shop from being destroyed a third time.
1874: A cartoon by Thomas Nast in Harper's Weekly is considered the first important use of an elephant as a symbol for the United States Republican Party.
1897: American director, producer, and screenwriter Herman J. Mankiewicz (Citizen Kane) born.
1913: French novelist, philosopher, journalist, and Nobel Prize laureate Albert Camus born.
1914: The first issue of The New Republic is published.
1929: The Museum of Modern Art opens to the public in New York City.
1943: Canadian singer-songwriter and guitarist Joni Mitchell born.
1967: U.S. President Lyndon B. Johnson signs the Public Broadcasting Act of 1967, establishing the Corporation for Public Broadcasting.
1994: WXYC, the student radio station of the University of North Carolina at Chapel Hill, provides the world's first internet radio broadcast.
November 8
1602: The Bodleian Library at the University of Oxford is opened to the public.
1847: Irish novelist Bram Stoker (Dracula) became undead born.
1898: Canadian-American actress and singer Marie Prevost born. (Despite the story in Kenneth Anger's Hollywood Babylon—and a song by Nick Lowe—Prevost was not eaten by her dog.)
1918: German typographer and calligrapher Hermann Zapf born.
1972: HBO launches its programming, with the broadcast of the 1971 movie Sometimes a Great Notion, starring Paul Newman and Henry Fonda.
1973: The right ear of John Paul Getty III is delivered to a newspaper together with a ransom note, convincing his father to pay $2.9 million.
November 9
1818: Russian author and playwright Ivan Turgenev born.
1914: Austrian-American actress and inventor Hedy Lamarr (not Hedley) born. (During World War II, Lamarr and composer George Antheil developed a radio guidance system for Allied torpedoes, unused at the time, but the principles of which were incorporated into Bluetooth technology and are similar to methods used in legacy versions of CDMA and Wi-Fi.)
1934: American astronomer, astrophysicist, and author Carl Sagan born.
1967: The first issue of Rolling Stone magazine is published.
November 10
1947: English singer-songwriter, guitarist, and producer Greg Lake born.
1969: National Educational Television (the predecessor to the Public Broadcasting Service) in the United States debuts Sesame Street.
1983: Microsoft introduces Windows 1.0.
November 11
1675: Gottfried Leibniz demonstrates integral calculus for the first time to find the area under the graph of y = ƒ(x).
1821: Russian novelist, short story writer, essayist, and philosopher Fyodor Dostoyevsky born.
1922: American novelist, short story writer, and essayist Kurt Vonnegut born.