Finally, some good news. pic.twitter.com/mG2tFIK8iq

— Martin (@viceroymartin) November 4, 2021
AI-Yi-Yi, Part the Infinity: Shadow Play
We've often cited in this space examples of human endeavors for which artificial intelligence (AI) is gradually insinuating itself, whether it be writing, painting, or composing music. (Just last month, we mentioned that AI had completed Beethoven's unfinished Tenth Symphony.) Now, via The Verge, Shadow Planet, a new album by The Cotton Modules has just hit the shelves and it is notable that it is a three-way collaboration between human writer Robin Sloan, human musician Jesse Solomon Clark, and Jukebox, a machine learning music program made by OpenAI.
A seasoned composer, Clark sent seeds of songs to Sloan who fed them into Jukebox, which is trained on a huge dataset of 1.2 million songs and tries to autocomplete any audio it hears. The AI program, steered by Sloan, then built on Clark's ideas, which Sloan sent back to him to develop further.
The end result of this three-way trade is Shadow Planet, an atmospheric album in which snippets of folk songs and electronic hooks emerge like moss-covered logs from a fuzzy bog of ambient loops and disintegrating samples. It is a complete album in and of itself: a pocket musical universe to explore
If you click through, you can listen to snippets of the songs on the album or listen to it all on Spotify, if you think that would be a good idea.
All You Need Is Lava
Via Boing Boing, someone named Tragopandemonium devised one of the most elaborate Halloween costumes we have ever seen: a human lava lamp.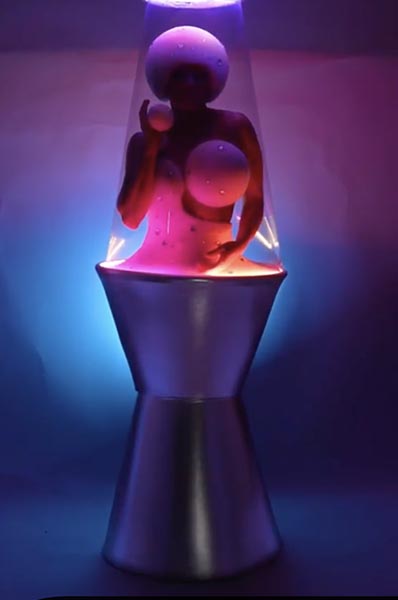 Perfect for social distancing. Read about the creation process here, if you want to try this next year.
Not Making Plans for Nigel
Nigel is officially extinct as a baby name.@ONS has released full 2020 baby names data. There were 189 boys called Kylo, 142 called Kacper, 86 called Aadam, 64 called Cai. Not a single* Nigel

— Harry Wallop (@hwallop) October 18, 2021
Heart of Glass
Core77's Rain Noe identifies three main problems with glass refrigerator doors, such as the ones you find in stores like Walgreen's:
Firstly, they don't consume enough electricity. Secondly, the clear glass makes it too easy for shoppers to see what's inside. Thirdly, they do not have the capability to give shoppers seizures.
Sounds horrific. Happily, the solution is on the way, thanks to a Chicago startup called Cooler Screens, which produces large dynamic displays that fit over decidedly non-dynamic glass doors and play video.
In 2019 the company talked Walgreens into rolling these out in 50 of their Chicago stores. Last year, they announced they'd expand them into 2,500 Walgreens stores nationwide, and Walgreens competitor Kroger has reportedly inked a deal as well.
Now, there could have been a killer app for this approach: "If these screens simply showed the actual inventory of each 'fridge but with larger labeling and more legible price tags, I could call that a win for the visually impaired," remarks Noe. But, no. "Instead, Cooler Screens views these as 'media platforms' that can barrage the consumer's senses with overlays and animations, so that they can sell, sell, sell."
We love dynamic digital displays, but any new technology has to be superior to the one it seeks to replace and we are not sure that is the case here.
The Lighter Side of Existential Despair
For more than a century, the writings of Franz Kafka—filled with all manner of paranoia and existential despair—have often led people to assume that Kafka himself was plagued with despair (propagated by the actually quite good 1991 Stephen Soderbergh film Kafka), but as anyone who has read Reiner Stach's excellent three-volume biography of Kafka can tell you, he was actually a well-liked, often fun character.
The Guardian last week had an article about the unearthing of a clutch of 150 drawings Kafka had made that were more whimsical and even cheerful than one would expect from the author of "The Metamorphosis" or "In the Penal Colony."
Populated by long-limbed clowns doing silly walks, Chaplin-like men with bowler hats, and slapstick horse-riding accidents, the previously unseen sketches and doodles showcase a man with a sunny imagination.
"It's hard to imagine the saint-like being who created these weightless drawings as an unhappy man," wrote the German novelist Daniel Kehlmann in an essay for Die Zeit newspaper.
The drawings, like all of Kafka's writings—which Kafka insisted should be burned upon his death—were saved from oblivion by Kafka's friend and executor Max Brod, and while the stories, novels, and a few drawings were later published, making everyone quite happy that Brod had ignored Kafka's plea, the bulk of the illustrations had remained in a Swiss bank vault until 2019, after sufficient legal wrangling allowed them to be seen by the public. Their public unveiling took place last week.
Far from mere doodles, the drawings also show Kafka to have been a man of considerable draftsmanship and artistic ambition. "We discovered that Kafka used to engage intensely with visual art," said Andreas Kilcher, the editor of a book of the Kafka drawings, published by CH Beck in Germany on 2 November and by Yale University Press in the US and UK next spring.
"His peers at school and at university had an immense interest in art, which Kafka not only shared but practised with real vigour", said Kilcher. "It was certainly more than something marginal to him."
Tolkien of My Extreme
Grown Man Refers To Map At Beginning Of Novel To Find Out Where Ruined Castle Of Arnoth Is Located https://t.co/k1RvugnjDX pic.twitter.com/KTPMZPjkGi

— The Onion (@TheOnion) October 26, 2021
Face the Sun
Even Corey Hart would find this a bit extreme, but it seems that full-face sunglasses may be becoming a thing. Says Core 77:
I have no idea if the viability of this product emerged A) because of the pandemic, and an increased willingness for some to cover their faces with a mask or face shield, or B) because Cobra Commander held more cultural cachet than I thought. But full-face sunglasses like these are now being sold on Amazon, eBay and even Etsy.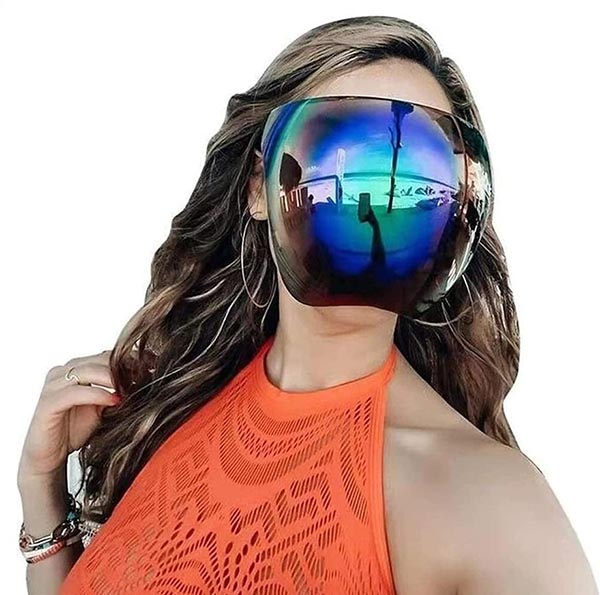 I'm sincerely curious as to what the benefit is: Do they block glare better? Are the people buying these hoping to stymie face-rec cameras in public? Is there a perception that these provide protection from the virus? Do people just like the way they look?
It can't be the latter, unless you are trying to go for the Robot from the new Lost In Space look.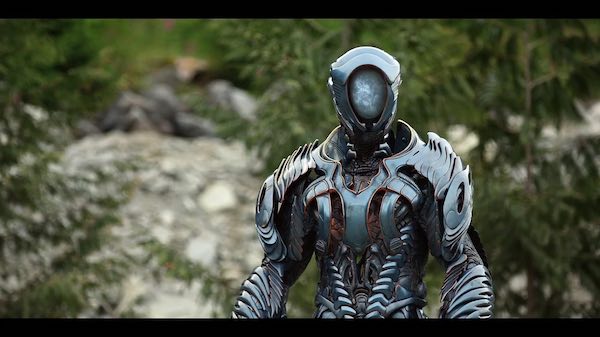 Vax Populi
The Oxford English Dictionary has announced the Word of the Year, and it is "vax." Says the BBC:
Vax has been chosen as the word of the year by lexicographers at the Oxford English Dictionary (OED).
Words related to vaccines have spiked in frequency in 2021 due to Covid, with double-vaxxed, unvaxxed and anti-vaxxer all seeing a surge in use.
OED senior editor Fiona McPherson says vax was an obvious choice as it has made "the most striking impact".
"It goes back at least to the 1980s, but according to our corpus it was rarely used until this year," she said.
"When you add to that its versatility in forming other words - vaxxie, vax-a-thon, vaxinista - it became clear that vax was the standout in the crowd."
Vax and vaxx are both accepted spellings but the form with one x is more common.
"Vaxinista"? Anyway, other lexicographers and publishers have their own choices:
Oxford Languages and Collins each decide their own word of the year, and in 2020 Collins chose "lockdown".
But Oxford decided it was an unprecedented year with too many contenders, so expanded its award to encompass a handful of newly key words including lockdown, bushfires and Covid-19, as well as Black Lives Matter, WFH[working from home], keyworkers and furlough.
But then, when frequency of use is the only criterion, we think the word of the year every year should be "the."
Antarticulation
The word "Arctic" is from the Greek for bear, "Arctos", making it the "bear-place".

The Antarctic is the anti-Arctic, the "no-bears-place".

— Quite Interesting (@qikipedia) October 25, 2021
What's a Meta For?
There are many things to mock about Facebook and its name change to Meta, but, via CNN, apparently social media users in Israel are mocking the name change. "Dr Nirit Weiss-Blatt, author of The Techlash and Tech Crisis Communication, tweeted: "In Hebrew, *Meta* means *Dead* The Jewish community will ridicule this name for years to come."
Which perhaps implies that the "Metaverse"—whatever that is—is actually the "Deadverse," which does not strike us as impossible.
Global branding has often proven problematic, since terms or phrases that seem innocent in one language may translate to something else, and something inappropriate. Inc. magazine, for example, offers "20 Epic Fails in Global Branding." Some famous ones we remember from way back were:
Coca-Cola's brand name, when first marketed in China, was sometimes translated as "Bite The Wax Tadpole."
KFC made Chinese consumers a bit apprehensive when "finger licking good" was translated as "eat your fingers off."
Ford blundered when marketing the Pinto in Brazil because the term in Brazilian Portuguese means "tiny male genitals."
You get the idea. Still, this doesn't mean that we shouldn't continue to mock Facebook/Meta mercilessly anyway.
MasterCard Kicks it Up a Notch
MasterCard has redesigned their credit, debit, and gift cards with distinctive notches, so that people who are visually impaired can easily distinguish among them or orient them properly when inserting them in machines.
With the new Touch Card, Mastercard has improved upon a current design standard by introducing a system of notches on the side of the card to help consumers use the right card, the right way, by touch alone. The new Touch Card credit cards have a round notch; debit cards have a broad squarish notch; and prepaid cards have a triangular notch. The standard has been designed to work with point-of-sale terminals and ATMs, ensuring it can be deployed at scale.
Mastercard's concept has been vetted and endorsed by The Royal National Institute of Blind People (RNIB) in the U.K. and VISIONS/Services for the Blind and Visually Impaired in the U.S. The card was co-designed by IDEMIA, the global leader in Augmented Identity, providing trusted solutions in the physical as well as digital space.

They also identify that with more and more cards eschewing raised characters, a lot of people have difficulty telling their cards apart, as well as how to orient them. And to be honest, even those with good eyesight could benefit from this, especially when it comes to inserting them properly in various types of machines.
All Maps Amazing and Terrible, Part the Infinity
Amazingly comprehensive map of every country in the world that uses the MMDDYYYY format pic.twitter.com/Gsy4KTBPLe

— Amazing Maps™ (@amazingmap) October 24, 2021
World map according to fish pic.twitter.com/QiBX6h3Q1A

— Terrible Maps (@TerribleMaps) October 13, 2021
Graphene Takes a Hike
Was it a good week for graphene news? It's always a good week for graphene news! A specially developed graphene membrane has been integrated into the lining of the norda 001 G+ Spike high-performance trail shoes. Adds Graphene-Info:
Directa Plus has created the G+ membrane that is integrated into the Dyneema one-piece woven upper lining in the toe box of the shoes. This is said to provide the runner with additional comfort due to the thermal conductivity and abrasion resistance of the graphene G+ membrane while adding almost zero additional weight, according to Directa Plus.
The norda 001 G+ trail shoes are available for consumer purchase and will be showcased at the ISPO Munich trade fair, the world's largest sports trade show, in January 2022.
AI-Yi-Yi Part the Infinity + 1: Eye Spy
Back in May, Around the Web introduced the WhatTheyThink audience to Ai-Da, a "robot artist." No, not an artist who paints robots, but an artist who is an actual robot. She (the robot identifies as female) was set to present an exhibition of her work at the Great Pyramid of Giza in Egypt last month, but was detained at the border and held in custody for 10 days. Why? ArtNews gives us the story:
The trouble reportedly started when Egyptian officials noticed that Ai-Da had a modem and cameras for eyes. Because of the technology within the robot, officials grew concerned that the artist-robot may have been part of an espionage conspiracy.
The British ambassador to Egypt apparently had to work intensively to get Ai-Da out of detainment in time for the show. The Guardian reported that Egyptian officials offered to exhibit the work with some of its gadgetry removed, but dealer Aiden Meller, Ai-Da's creator, insisted that the robot's cameras could not be taken out.
And here we get to one of the greatest lines ever in an art story: "Ai-Da's eyes are an essential part of her–she uses them to paint." Or at least to see what she is painting, unless she has a very strange painting style. The story has a happy ending: Ai-Da was released hours before the exhibition, and her eyes were left in.
Perhaps it is inevitable that robots will eventually be detained and imprisoned for crimes that human artists had previously been accused of.
Sic Joke
Jokes about misspelling things are pretty sic.

— Technology Connections (@TechConnectify) October 20, 2021
Truckin' Like the Doo-Dah Man
Interesting idea. Via Laughing Squid, trucks in Lübeck, Germany, can connect to overhead wiring to run on electric power, much like streetcars:
trucks can connect themselves to the electrical grid using specialized pantographs. These are motorized arms that lift out of the roof of the car to meet overhead wires. The idea behind this seemingly simple, albeit expensive undertaking is to reduce emissions on a broad scale.
Commatose
Punctuation … yes, powerful! ?? pic.twitter.com/EmJR7CAuan

— Grammar Police (@GrammarCops) September 24, 2021
Green Drinks
Do you like vodka? And do you like trying to reduce your carbon footprint? If yes to both, good news! Via The Guardian, Brooklyn-based Air Company is marketing Air vodka as "the world's most sustainable spirit" as the booze itself is made from CO2 captured from the atmosphere. Huh?
The Air Company takes CO2, either sucked directly from the air or captured at source at industrial facilities, and combines it with hydrogen created through electrolysis – the process where electricity is used to split water into hydrogen and oxygen. The technology used to merge these elements creates ethanol which, when combined with water, becomes a vodka.
This same ethanol is also used to make a hand sanitizer and, from this week, is being deployed by the Air Company to create a new fragrance called Air Eau de Parfum.
Let's hope they don't all taste the same.
The Air Company claims that the vodka removes a pound of CO2 from the atmosphere for each bottle made. And while critics point out that that may not be anywhere near a remotely significant amount, the company feels that if other manufacturers went that route, it could all eventually add up.
"If we can be a beacon for other people to try this, to help industries and the planet, that's a massive win," he said. "As other industries jump on board, costs will come down. We want more companies doing this."
Constantine said that people can, in the meantime, enjoy a drink and care about the climate at the same time. "People are going to drink regardless, people have been drinking alcohol for thousands of years, so if you can offer a solution that makes them feel better about that, that's one part of it," he said.
As for the vodka itself, the Guardian writer attended a tasting event and remarked that "it has a clean, clear taste and would be hard to differentiate from more traditionally made vodkas."
The New Normal
Finding a mask from last year in your winter coat pocket is the new version of finding $20

— Dr. Raven the Science Maven (@ravenscimaven) October 19, 2021
This Week in Printing, Publishing, and Media History
November 1
1512: The ceiling of the Sistine Chapel, painted by Michelangelo, is exhibited to the public for the first time.
1604: William Shakespeare's tragedy Othello is performed for the first time, at Whitehall Palace in London. A few years later...
1611: Shakespeare's play The Tempest is performed for the first time, again at Whitehall Palace in London.
1941: American photographer Ansel Adams takes a picture of a moonrise over the town of Hernandez, New Mexico that would become one of the most famous images in the history of photography.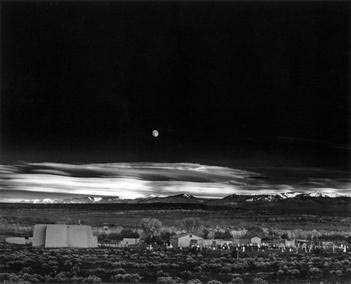 1968: The Motion Picture Association of America's film rating system is officially introduced, originating with the ratings G, M, R, and X.
1972: American poet and critic Ezra Pound dies (b. 1885).
November 2
1920: KDKA of Pittsburgh starts broadcasting as the first commercial radio station.
1936: The British Broadcasting Corporation initiates the BBC Television Service, the world's first regular, "high-definition" (then defined as at least 200 lines) service. It was renamed BBC1 in 1964.
1950: Irish author, playwright, critic, and Nobel Prize laureate George Bernard Shaw dies (b. 1856).
1960: Penguin Books is found not guilty of obscenity in the trial R v Penguin Books Ltd, the Lady Chatterley's Lovercase.
1961: American humorist and cartoonist James Thurber dies (b. 1894).
1988: The Morris worm, the first Internet-distributed computer worm to gain significant mainstream media attention, is launched from MIT.
November 3
1838: The Times of India, the world's largest circulated English language daily broadsheet newspaper, is founded as The Bombay Times and Journal of Commerce.
November 4
1922: British archaeologist Howard Carter and his men find the entrance to Tutankhamun's tomb in the Valley of the Kings.
November 5
1499: Publication of the Catholicon, written in 1464 by Jehan Lagadeuc in Tréguier, the first Breton dictionary and the first French dictionary.
1857: American journalist, author, reformer, and educator Ida Tarbell born.
1885: American historian and philosopher Will Durant (The Story of Civilization) born.
1959: Canadian singer-songwriter and guitarist Bryan Adams and, 1974, American singer-songwriter and guitarist Ryan Adams born. The coincidence cuts like a knife.
1979: American cartoonist Al Capp dies (b. 1909).
2007: Android mobile operating system is unveiled by Google.
November 6
1814: Belgian-French instrument designer and inventor of the saxophone Adolphe Sax born.
1869: In New Brunswick, New Jersey, Rutgers College defeats Princeton University (then known as the College of New Jersey), 6–4, in the first official intercollegiate American football game.
1935: Edwin Armstrong presents his paper "A Method of Reducing Disturbances in Radio Signaling by a System of Frequency Modulation" to the New York section of the Institute of Radio Engineers—basically inventing FM radio.
1947: Meet the Press, the longest running television program in history, debuts.
1958: American actor, puppeteer, producer, comic, and screenwriter Trace Beaulieu (Mystery Science Theater 3000) born.
November 7
1665: The London Gazette, the oldest surviving journal, is first published.
1837: In Alton, Ill., abolitionist printer Elijah P. Lovejoy is shot dead by a mob while attempting to protect his printing shop from being destroyed a third time.
1874: A cartoon by Thomas Nast in Harper's Weekly is considered the first important use of an elephant as a symbol for the United States Republican Party.
1897: American director, producer, and screenwriter Herman J. Mankiewicz (Citizen Kane) born.
1913: French novelist, philosopher, journalist, and Nobel Prize laureate Albert Camus born.
1914: The first issue of The New Republic is published.
1929: The Museum of Modern Art opens to the public in New York City.
1943: Canadian singer-songwriter and guitarist Joni Mitchell born.
1967: U.S. President Lyndon B. Johnson signs the Public Broadcasting Act of 1967, establishing the Corporation for Public Broadcasting.
1981: American historian and philosopher Will Durant (The Story of Civilization) dies (b. 1885).
1994: WXYC, the student radio station of the University of North Carolina at Chapel Hill, provides the world's first internet radio broadcast.
2016: Canadian singer-songwriter and poet Leonard Cohen dies (b. 1934).