Your Friday Floating an Anvil in a Tub of Mercury
Going Down
We were told that Facebook and its related series of apps—WhatsApp and Instagram—were down on Monday (honestly, we didn't notice). WhatAppened? From Gizmodo:
"Our engineering teams have learned that configuration changes on the backbone routers that coordinate network traffic between our data centers caused issues that interrupted this communication. This disruption to network traffic had a cascading effect on the way our data centers communicate, bringing our services to a halt," Facebook said.
Apparently, it even affected the key card readers and security badges, preventing employees in the building or their offices.
Unfortunately, Facebook, et al., are all functioning again.
Unfriended
'You're Deleting Your Account? We'll Be Sad To See You Go,' Says Facebook Prompt Showing User Photo Of Own Dead Body https://t.co/aJP2VFmm9U pic.twitter.com/kdeokkpmYB

— The Onion (@TheOnion) October 4, 2021
Beware the Blob
If you have been to a bookstore in the past few years, you may have noticed the latest trend in book cover design, which R.E. Hawley describes in Print magazine as the "book blob."
This design trend, well into its third or fourth year in the major publishing houses, has attracted plenty of nicknames and attendant discourse online—culture critic Jeva Lange calls it "blobs of suggestive colors," while writer Alana Pockros calls it the "unicorn frappuccino cover," and New Yorker writer Kyle Chayka once referred to it on Twitter as "the Zombie Formalism of book covers."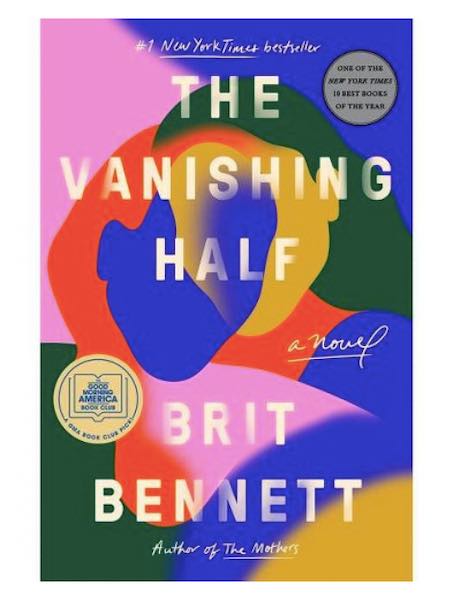 Hawley then ponders what is driving this trend.
Over the past decade, the publishing world engaged itself in a breakneck race to the bottom; as writer Margot Boyer-Dry noted in Vulture, Amazon's dominance and price-cutting have led to a massive loss in profits among publishers, even as sales have increased considerably.
"This leaves publishers with a killer combination of higher stakes and fewer resources," wrote Boyer-Dry, "which leads in turn to safer [design] choices." Part of "safer" in this context means visually grouping new releases with recent comparative titles, the way that Amazon does with user-data algorithms. As a marketing tool, cover design can get deployed to bring algorithmic logic back to the physical world. "If you liked The Vanishing Half, you might also like You Exist Too Much and The Death of Vivek Oji," these covers seem to murmur enticingly from the bookstore display.
New Orlean
I'm a little disappointed that this book isn't full of pictures of @susanorlean riding giraffes and competing in rodeos and stuff. pic.twitter.com/MMnbO4veXi

— Josh Gondelman (@joshgondelman) September 30, 2021
Open Books
Frustrated that today's ebook readers are "closed" devices "operating as small moving parts in a set of giant closed platforms," the Open Book Project has developed instructions for making an open source ebook reader. Says Boing Boing, "It's not a hack or alternative software for an existing commercial device, but a ground-up howto that starts with a $15 PCB and requires a soldering iron."
Or you could just buy printed books…
Coast to Coast
Bosnians: I wanna swim
Croatia : No pic.twitter.com/KMOeqz6LOE

— Terrible Maps (@TerribleMaps) October 5, 2021
Book of the Month Club Redux
…Or subscribe to a new service called The Manzanita Papers, in which a different "under-appreciated" book is sent out each month.
Manzanita Papers is a literary subscription service. We send out one excellent book per month, each one recommended by a different contemporary writer or editor, with a particular focus on hidden gems and underrated fiction. We hope to shine a light on some powerful works that haven't gotten enough credit. We imagine our boxes will be of interest to readers, thinkers, former and future MFA students, and writers.
A monthly subscription is $30, quarterly is $81, ands a yearly subscription (12 books) is $306, a 15% savings over the monthly rate. Boing Boing adds, "Each monthly shipment also arrives in a lovely handmade package, accompanied by some context and other curatorial materials."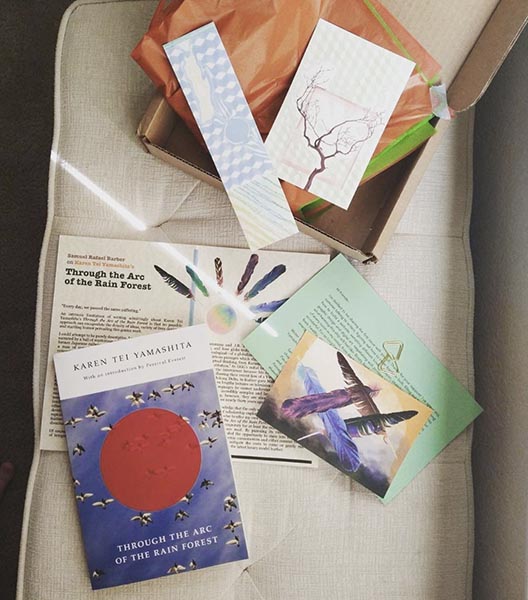 Issue #1 was Karen Tei Yamashita's Through the Arc of the Rain Forest, and #2 is Cherríe Moraga's Native Country of the Heart.
Millennium Falkon
Apparently the probe that is passing the planet Mercury imminently is called Colombo! Have they programmed it to reverse just as it's leaving and say "just one more thing, ma'am?" before plunging back off into orbit?

— Shaun Keaveny ?? (@shaunwkeaveny) October 2, 2021
Uncollected
People of a certain age often take great pride in their physical media collections, be it books, LPs/CDs, and/or classic movie DVDs. Sure, they can be unwieldy when moving house, but what wall décor is better than a big row of full bookshelves?
Over on Substack, something of a lament for the "digital death of the collector."
In the digital era, when everything seems to be a single click away, it's easy to forget that we have long had physical relationships with the pieces of culture we consume. We store books on bookshelves, mount art on our living-room walls, and keep stacks of vinyl records. When we want to experience something, we seek it out, finding a book by its spine, pulling an album from its case, or opening an app. The way we interact with something — where we store it — also changes the way we consume it, as Spotify's update made me realize. Where we store something can even outweigh the way we consume it.
While stream-based collections may save wear and tear on movers, and free up what can be crowded physical spaces, there can be a downside:
I don't actually own any of what I'm listening to. I'm just paying for access month by month with my subscription fee to the streaming service. My relationship to music is ultimately dictated by the Spotify platform, both what I can listen to and how I listen to it. …My cultural aspirations are at the mercy of a corporation in Sweden: If Spotify clashes with a particular record label or decides a song format is unsuitable, I won't be able to access it anymore through the channel I use most often, and I might very well just stop listening to it.
For some of us, this is a dealbreaker.
Not Spineless
Cozy Reading Nook To Generate $23K In Chiropractor Bills Over Next 5 Years https://t.co/DzcNNBXdIh pic.twitter.com/fg8cXKBtBp

— The Onion (@TheOnion) September 28, 2021
Waste Not
Was it a good week for graphene news? It's always a good week for graphene news! This process being explored by the Army Corps of Engineers will turn waste food, plastic and other materials into graphene and also recover elements such as cobalt and lithium. If successful, maybe it will eliminate those toxic burn pits we hear so much bad news about and produce some good effects instead.
Off Roading
this does not seem like a good feature pic.twitter.com/dGp8Ite8HI

— Bill Corbett (@BillCorbett) October 3, 2021
Masking
Halloween is approaching, a time when, at least lately, the scariest trick or treaters are the ones not wearing masks. Anyway, over at Atlas Obscura, "9 Places that Celebrate the Wonder of Masks."
masks obviously have a long, long history beyond recent Halloween traditions. Cultures all over the world, past and present, have used meticulously crafted representations of deities and spirits, or figures that pay homage to local folklore, legends, and traditions.
In a small Slovenian town there is a museum that showcases various masks of a single large creature, the Kurent, known for causing mischief and carrying a club topped with hedgehog quills. Visitors to Dar Es Salaam in Tanzania will find, in Shop #47 in the Mwenge Woodcarvers Market, an eclectic collection of ceremonial masks from across Africa—all made from various grains of wood and skillfully painted.
Our favorite is the "Mask of the Bat God" at the National Museum of Anthropology in Mexico City.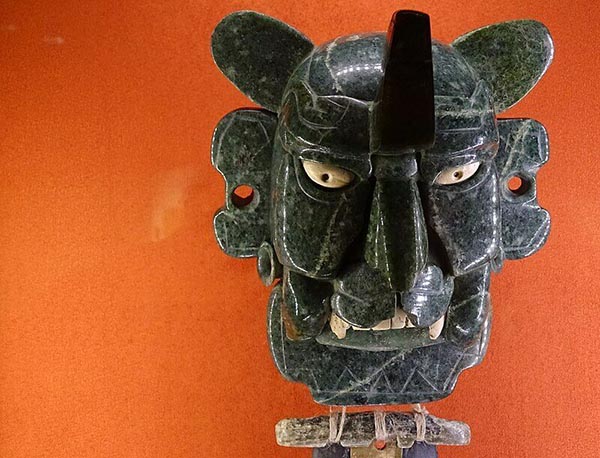 It's believed the mask was created between 100 BC and 200 AD at the height of Monte Alban's dominance of the region. It's made out of 25 pieces of jade, a green stone highly valued to Mesoamerican civilizations, with yellow, piercing eyes made from shell fragments. Now on display at the National Museum of Anthropology in Mexico City, it is known as the mask of the Zapotec bat god.
We are going to start wearing this out in public. It's probably not recommended by the CDC as protection against COVID, but it would sure as heck encourage people to social distance.
Signs of the Times: Oops
"Pay Attention. Keep Your Eyes on the Road" reads a giant LED sign that immediately takes everyone's eyes off the road.

They really didn't think that one through, did they?

— Adam Bernard (@AdamsWorldBlog) October 4, 2021
Gene Genie
This can't be good. From Wired:
a group of researchers from the University of Washington has shown for the first time that it's possible to encode malicious software into physical strands of DNA, so that when a gene sequencer analyzes it the resulting data becomes a program that corrupts gene-sequencing software and takes control of the underlying computer.
Granted, this is probably not a practical way for your average hacker to take over a computer. Still:
as genetic sequencing is increasingly handled by centralized services—often run by university labs that own the expensive gene sequencing equipment—that DNA-borne malware trick becomes ever so slightly more realistic. Especially given that the DNA samples come from outside sources, which may be difficult to properly vet.
If hackers did pull off the trick, the researchers say they could potentially gain access to valuable intellectual property, or possibly taint genetic analysis like criminal DNA testing. Companies could even potentially place malicious code in the DNA of genetically modified products, as a way to protect trade secrets, the researchers suggest. "There are a lot of interesting—or threatening may be a better word—applications of this coming in the future," says Peter Ney, a researcher on the project.
What Does it Median?
[statistician, flipping frantically through notes]

well, OK....so....how do we feel about medians-testing, then

— Ariel Edwards-Levy (@aedwardslevy) October 4, 2021
Decomposing Composers
Marginal Revolution asks, "How Much Would Bach Make on Spotify?"
Bach gets 6.7 million streams a month which pay .0037 per stream or about $25,000 a month or nearly 300k a year. (That is the total payment, however, composer royalties would be lower but he could also sell some T-shirts.) Not superstar earnings but much more than they earned in their lifetimes even after adjusting for inflation.
They round up some other composers' theoretical royalties: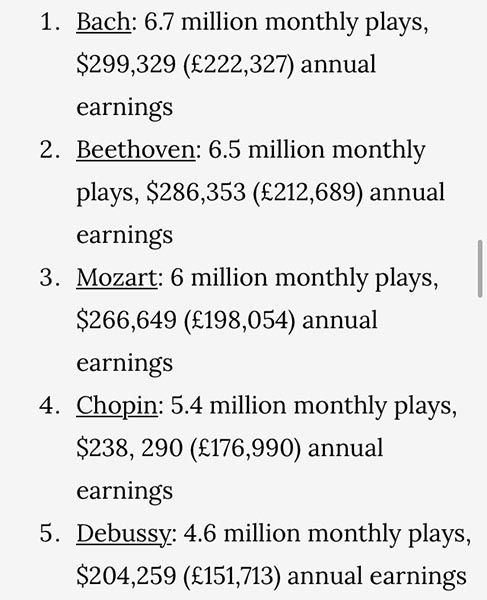 It would also be interesting, perhaps, to calculate what they would have earned in record/CD sales, since recorded music did not exist when these composers were alive.
Snail Mail
With the @USPS slowdown upon us, a reminder that the term "snail mail" came into popular use in the 1960s through the #PostOffice itself as part of its campaign to get Americans to adopt ZIP codes. pic.twitter.com/SWC6NXh8YZ

— Joseph M. Adelman (@jmadelman) October 2, 2021
AI-Yi-Yi, Part the Infinity: Ludwig Von
Speaking of classical composers, did you know that Ludwig von Beethoven has a new record coming out? It's due out on October 9, and it was the result of a very unusual collaboration.
Beethoven passed away in 1827, not long after debuting his Ninth Symphony, but he had already started work on his Tenth, but didn't get very far before he died. As a result, for centuries, Beethoven scholars lamented what might have been. There have been some attempts to "manually" work out what Beethoven had intended, but they never got beyond the First or Second Movement.
Now, thanks to AI, we will get to hear what Beethoven very well might have come kind of close to possibly coming up with. Essentially, a team at startup Playform AI taught a machine Beethoven's entire body of work and his creative process. Says Smithsonian:
In early 2019, Dr. Matthias Röder, the director of the Karajan Institute, an organization in Salzburg, Austria, that promotes music technology…was putting together a team to complete Beethoven's Tenth Symphony in celebration of the composer's 250th birthday. … Röder then compiled a team that included Austrian composer Walter Werzowa. Famous for writing Intel's signature bong jingle, Werzowa was tasked with putting together a new kind of composition that would integrate what Beethoven left behind with what the A.I. would generate. Mark Gotham, a computational music expert, led the effort to transcribe Beethoven's sketches and process his entire body of work so the A.I. could be properly trained.
The team also included Robert Levin, a musicologist at Harvard University who also happens to be an incredible pianist. Levin had previously finished a number of incomplete 18th-century works by Mozart and Johann Sebastian Bach.
The full article describes the process in detail. The recording will be unveiled the same day as the world premiere performance scheduled to take place in Bonn, Germany.
Hang Your Head Low
Just when I had escaped the guy-gets-swallowed-by-a-whale story??‍?? #RIPmymentions https://t.co/xTSk9P7w6g

— colin meloy (@colinmeloy) October 4, 2021
Square Routes
Back in the Before Times, we linked to a story about how some runners and cyclists were using apps like Strava—geomapping apps that track runs, walks, or bike rides—to make some unique art or messaging using their routes. Apparently, this has become such a popular pastime that a new site, Strav.art, has compiled an extensive gallery of "Strava Art," grouped by category ("Birds," "Dinosaurs," "Words & Numbers," "Xmas," and many others). Some of them are quite amazing.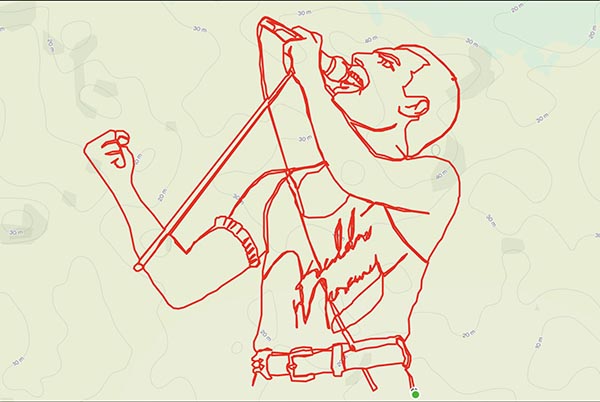 Space Oddity
poor guy is gonna have to fly coach to space https://t.co/joHLYhd76K

— Matt Oswalt (@MattOswaltVA) October 4, 2021
Vendi, Vidi, Vici
Over the years, we have seen vending machines for all sorts of products appear. What about a vending machine for china, such as this one developed by FudouKamui, an art student at the Xi'an Academy of Fine Art in Shaanxi, China.
The translation of the Chinese name of the unit is, aptly, "This is the Evidence of our Idiocy."
Indeed
Anyone can do any amount of work provided it isn't the work he is supposed to be doing at the moment.
ROBERT BENCHLEY#amwriting #procrastination #writing pic.twitter.com/SNCovbfBap

— Jon Winokur (@AdviceToWriters) October 6, 2021
This Week in Printing, Publishing, and Media History
October 4
1535: The Coverdale Bible is printed, with translations into English by William Tyndale and Myles Coverdale.
1582: The Gregorian Calendar is introduced by Pope Gregory XIII.
1669: Dutch painter and illustrator Rembrandt van Rijn dies (b. 1606).
1880: American newspaperman and short story writer Damon Runyon born.
1883: First run of the Orient Express. (No murder on it…yet.)
1927: Gutzon Borglum begins sculpting Mount Rushmore.
1941: Norman Rockwell's Willie Gillis character debuts on the cover of The Saturday Evening Post.
1957: Sputnik 1 becomes the first artificial satellite to orbit the Earth.
1985: The Free Software Foundation is founded.
1989: English actor and screenwriter Graham Chapman dies (b. 1941).
October 5
1947: In the first televised Oval Office address, President Truman asks Americans to reduce their consumption of grain in order to help starving Europeans.
1949: English biographer, novelist and critic Peter Ackroyd born.
And the world became a better place. https://t.co/1uwoHgY5KR

— Charles P. Pierce (@CharlesPPierce) October 5, 2021
1970: The Public Broadcasting Service (PBS) is founded.
2011: American businessman, co-founder of Apple Inc. and Pixar Steve Jobs dies (b. 1955).
October 6
1723: Benjamin Franklin arrives in Philadelphia at the age of 17.
1927: Opening of The Jazz Singer, the first significant "talkie" movie.
2010: Instagram is founded by Kevin Systrom and Mike Krieger.
2020: Dutch-American guitarist, songwriter, and producer Eddie Van Halen dies (b. 1955).
October 7
1777: The Americans defeat the British in the Second Battle of Saratoga, also known as the Battle of Bemis Heights.
1849: American short story writer, poet, and critic Edgar Allan Poe dies (b. 1809).
1885: Danish physicist and philosopher and Nobel Prize laureate Niels Bohr born.
1919: KLM, the flag carrier of the Netherlands, is founded. It is the oldest airline still operating under its original name.
1959: The Soviet probe Luna 3 transmits the first-ever photographs of the far side of the Moon.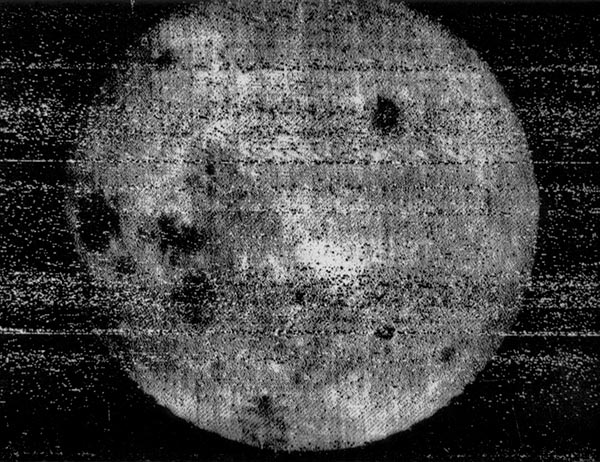 October 8
1921: KDKA in Pittsburgh's Forbes Field conducts the first live broadcast of a football game.
1962: Der Spiegel publishes an article disclosing the sorry state of the Bundeswehr, and is soon accused of treason.
1982: Cats opens on Broadway and runs for nearly 18 years before closing on September 10, 2000.
October 9
1446: The hangul alphabet is published in Korea.
1874: The Universal Postal Union is created by the Treaty of Bern.
1907: French actor, director, and screenwriter Jacques Tati born.
1940: John Lennon born.
1986: The Phantom of the Opera, eventually the second longest running musical in London, opens at Her Majesty's Theatre.
1987: American author, playwright, and diplomat, United States Ambassador to Italy Clare Boothe Luce dies (b. 1903).
2004: Algerian-French philosopher and academic Jacques Derrida dies (b. 1930).
October 10
1813: Italian composer and philanthropist Giuseppe Verdi born.
1924: "Actor," "director," and "screenwriter" Ed Wood born.
1985: American actor, director, producer, and screenwriter Orson Welles dies (b. 1915).