Statistics Humor
me: I discovered a new statistical law that says that all jokes on twitter are based on other jokes on twitter
friend: that's really cool! what do you call it?
me: *slowly takes off sun glasses* regression to the meme

— Kareem ??10x statistician?? Carr (@kareem_carr) July 31, 2019
AI-Yi-Yi
This is an ominous sign of things to come, although it admittedly wouldn't make for a great robot holocaust movie. Via Ad Age, "Chase Commits to AI After Machines Outperform Humans in Copywriting Trials."
Chase says that ads created by Persado's machine learning performed better than ads written by humans, with a higher percent of consumers clicking on them—more than twice as many in some cases. The difference can be as simple as what word choice resonates with consumers. One digital ad written by humans read, "Access cash from the equity in your home." However, Persado's version, "It's true—You can unlock cash from the equity in your home," performed better with customers.
Maybe the recipients were machines, as well.
Hopefully this will never be applied to printing industry trade publications. —WhatTheyThink Writing Unit #536.
All You Need Is Lava
Three words: "Breathable Lava Suits." As the climate emergency progresses, we might all need them. Meanwhile, a University of Missouri student is making the study of volcanoes more comfortable for geologists. The next challenge: New York City in August.
IoT Hits Bottom(s)
Two words: "Smart Diapers." Yep—technical textiles get to the bottom of things (namely, babies). P&G Pampers brand has launched the Lumi smart diaper system. This is an interesting turn for the Internet of Things. Wait until hackers get a hold of it....
Dim Bulbs
that feel when the software is so good you throw away $300 of smart bulbs because they're smart enough to ignore people hitting the lightswitches now pic.twitter.com/ufDpgR5xsV

— Internet of Shit (@internetofshit) July 30, 2019
Cool Threads
Having trouble keeping cool when out and about in the summer? Hate leaving your nicely air conditioned home or office? Well, next summer, you may be able to take the A/C with you. Specifically, Sony's Reon Pocket wearable air conditioner.
The device looks like a thin Apple mouse and can be worn with a special shirt that has a discrete pocket for it at the base of the neck, where it uses the Peltier effect to either lower or raise your body temperature, depending on the season.
And, yes, the temperature can be controlled via a mobile app (did you even need to ask?). Ha! Wait until the hackers get a hold of that.
Genetics Humor
Kinky Recessive Gene Loves Being Dominated https://t.co/UWQ4chTlSn pic.twitter.com/k2DIAS5LXm

— The Onion (@TheOnion) July 29, 2019
Map My Body
This picture essay from The Guardian starts off innocently enough:
Berlin-based paper artist Katrin Rodegast has always been interested in human biology, and in collecting old, illustrated science books.
Then things get a little weird.
[W]hen science and tech university ETH Zurich asked her to create body parts made out of maps of Zurich, she jumped at the chance.
Is that a usual request in Switzerland? Regardless, it is pretty cool.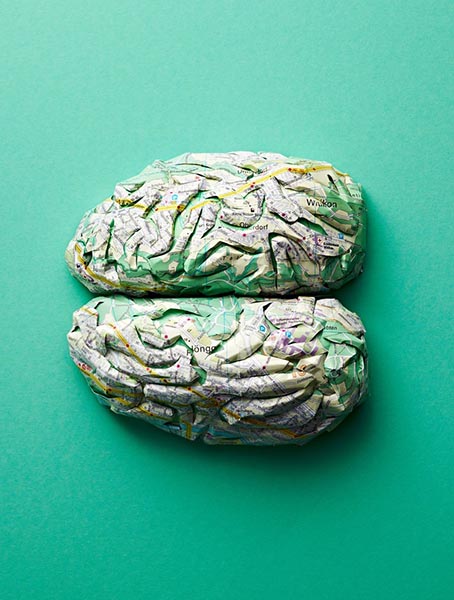 A paper brain? Not so much two hemispheres as TwoSides (sorry).
Map My Message
Speaking of mapping, people who use geomapping apps like Strava to track their runs, walks, or bike rides are starting to make some unique art or messaging using their routes.
In one case, a Texas man took his girlfriend on a long, inexplicably tortuous bike ride. When they got home, he showed her the route they had just taken, and it turned out they had spelled out an unconventional marriage proposal: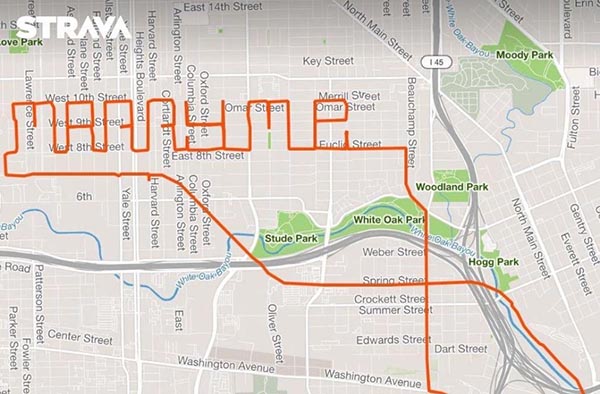 In another, a San Francisco runner mapped a line drawing of Mexican painter Frida Kahlo: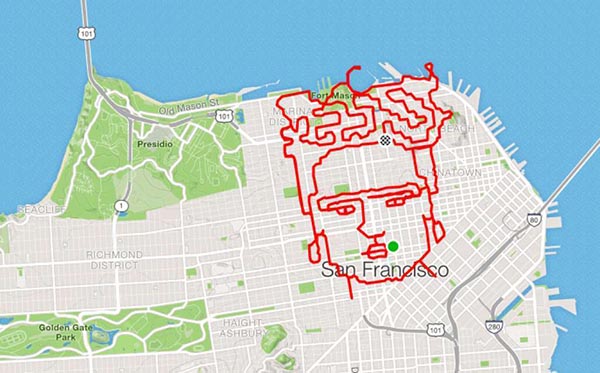 And it turns out our own managing editor, when running around town, seems to be preoccupied with WTT!: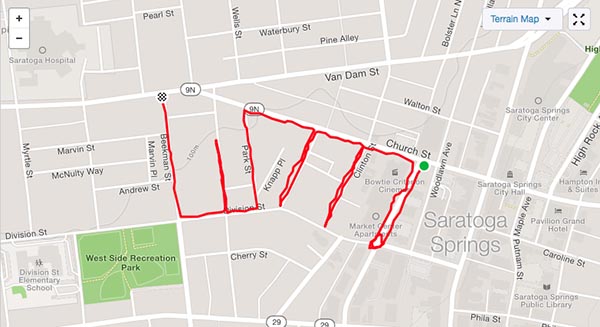 Punctuation is difficult...
Copywrong
Speaking of secret messages, some authors have fun with their books' copyright pages.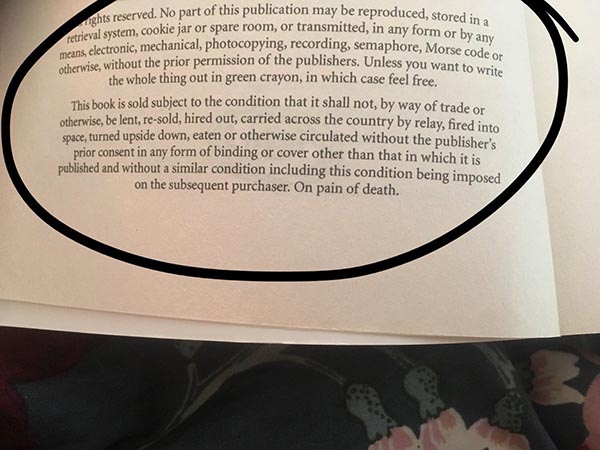 Brick Bikes
You know things have gone too far when you're bricking an *exercise bike* after three years ?? https://t.co/xih6mNs2T0

— Internet of Shit (@internetofshit) July 30, 2019
The Dark Side of the Moo
The recent Ohio State Fair outdid Iowa's (faintly ironic) cow butter sculpture: butternauts! Yes, the Apollo 11 crew rendered in butter. So, the Moon is not made of cheese after all, but butter.
Cross Words
"All together, ten test solvers see every @NYT_Crossword before publication." Will Shortz tells us how he works and shows us his very impressive wall of dictionaries. https://t.co/WsVKYE9xbG pic.twitter.com/UnUHHy7cTf

— Melissa Kirsch (@melissakirsch) August 1, 2019
Fur Crying Out Loud
Coming soon to a dictionary near you: the word "fursona": "typically furries create personalized animal characters which are referred to as a fursona." Furries? Merriam Webster traces the word "furry" back to the 17th century and tracks its increasingly disturbing evolution over the centuries.
Furrythen was used to designate a person who dresses up in a costume resembling such a character as well as an online user identified by an image of an anthropomorphic animal. These senses of furry are, perhaps, surprising to those unfamiliar with the community of furries that began to coalesce in the United States during the 1980s and 1990s, and into the 21st century. We're working on defining them. In the meantime, we'd like to enlighten the uninitiated.
Feel free to click through if you'd like to be enlightened.
Nerding Out
Speaking of dictionaries and lexicography, the New York Times this week rounded up some new books on languagewhich some of us have picked up for a little summer reading. Two weeks ago, we had cited the compelling new book on the semicolon (words rarely used together in the same sentence), but Peter Martin's The Dictionary Wars looks right up the alley of word nerds:
Martin's account of the dictionary feuds of the 19th century is as lively and entertaining as the battle itself. In one corner was Noah Webster; in the other, Joseph Emerson Worcester. Both seasoned lexicographers, they realized that Americans were coining new words, using old ones in new ways and preserving usages the British had dropped. Samuel Johnson's 1755 dictionary, even updated, wouldn't do. America needed its own dictionary. But who would write it?
By the way, it's reviewed separately but we also recommend another new book on language and how it is changing in the Internet era: Because Internet by Gretchen McCulloch.
States of Crime
If true crime is more your preferred genre, be sure to check out the NYT's list of true crime book by state—turns out, each of the 50 states has hosted a grisly crime which then spawned a true crime book. Find your state and crime here.
Your Five-Second Movie Review
I think Tarantino really captured how amazing it must've been to be able to drive quickly around Los Angeles.

— marc maron (@marcmaron) August 1, 2019
The Rocking Job Market
Are you an out of work stone carver who has begun to wonder if your skills might not be entirely in demand in today's high-tech world? Well, it turns out, you might be in luck. Since the Notre Dame fire three months ago, French officials have been trying to stabilize the structure enough to begin the long work of restoration. And, stone carvers, this is where you come in. From NPR:
When that work begins, there will be a new demand for experts who have the same skills required to build Notre Dame 900 years ago. In the workshops of the Hector Guimard high school, less than three miles from the cathedral, young stone carvers are training for that task.
Don't let these kids with their mad stone-carving skillz shut you out!
And if You Were Homer's Age?
If you were Lisa's age when The Simpsons debuted, you are Homer's age now.

— Raphael Bob-Waksberg (@RaphaelBW) July 29, 2019
Just Plane Weird
Granted, when computers and other devices are acting up, often rebooting them is the best way to get the software to behave itself. We accept this on laptops, smartphones, tablets. But an airplane?
Airlines who haven't performed a recent software update on certain models of the Airbus A350 are being told they must completely power cycle the aircraft every 149 hours or risk "...partial or total loss of some avionics systems or functions," according to the EASA.
Great.
Clone Conundrum
clones in fiction: SO MYSTERIOUS! they're exactly the same! they share thoughts. maybe they share A SOUL.

clones in biology: IF ALL MY MICE ARE GENETICALLY IDENTICAL WHY ARE MY DATA SO VARIABLE

— Dr. Caroline Bartman (@Caroline_Bartma) July 26, 2019
Clown Royal
Sometimes you see a headline and refuse to click through simply because there is no way the story could possibly live up to it. The Guardian's "Passenger in clown suit prompted mass cruise ship brawl" is one of those headlines.
This Week in Printing, Publishing, and Media History
July 29
1805: French historian and philosopher Alexis de Tocqueville born.
1818: French physicist Augustin Fresnel submits his prizewinning "Memoir on the Diffraction of Light", precisely accounting for the limited extent to which light spreads into shadows, and thereby demolishing the oldest objection to the wave theory of light.
1953: Canadian musician Geddy Lee (né Gary Lee Weinrib) born.
1958: U.S. President Dwight D. Eisenhower signs into law the National Aeronautics and Space Act, which creates the National Aeronautics and Space Administration (NASA).
July 30
Both English novelist and poet Emily Brontë (1818) and English singer-songwriter and producer Kate Bush (1958) born.
1909: English historian and author C. Northcote Parkinson, coiner of "Parkinson's Law," born. He would soon grow to fill the entirety of his crib.
1932: Premiere of Walt Disney's Flowers and Trees, the first cartoon short to use Technicolor and the first Academy Award-winning cartoon short.
2006: The world's longest running music show Top of the Pops is broadcast for the last time on BBC Two. The show had aired for 42 years.
July 31
1703: Author Daniel Defoe is placed in a pillory for the crime of seditious libel after publishing a politically satirical pamphlet, but is pelted with flowers.
1790: The first U.S. patent is issued, to inventor Samuel Hopkins for a potash process.
1919: Italian chemist and author Primo Levi born.
1965: British author and creator of Harry Potter J. K. Rowling born.
August 1
1774: British scientist Joseph Priestley discovers oxygen gas. (What had everyone been breathing before that?)
1819: American novelist, short story writer, and poet Herman Melville born.
1965: Frank Herbert's novel Dune was published for the first time. It was named as the world's best-selling science fiction novel in 2003.
1981: MTV begins broadcasting in the United States and airs its first video, "Video Killed the Radio Star" by The Buggles.
August 2
1790: The first United States Census is conducted.
1870: Tower Subway, the world's first underground tube railway, opens in London, England, United Kingdom.
1924: American novelist, poet, and critic James Baldwin born.
1932: The positron (antiparticle of the electron) is discovered by Carl D. Anderson.
2018: Apple Inc. becomes the first U.S. company to be valued at over $1 trillion.
August 3
1527: The first known letter from North America is sent by John Rut while at St. John's, Newfoundland.
1778: The theatre La Scala in Milan is inaugurated with the première of Antonio Salieri's Europa riconosciuta.
1811: American businessman, founded the Otis Elevator Company Elisha Otis born.
1859: The American Dental Association is founded in Niagara Falls, New York. (Was their theme song "Bridge Over Troubled Water"?)
1946: Santa Claus Land, the world's first theme park, opens in Santa Claus, Ind.
1977: Tandy Corporation announces the TRS-80, one of the world's first mass-produced personal computers.
August 4
1693: Date traditionally ascribed to Dom Perignon's invention of champagne.
1792: English poet and playwright Percy Bysshe Shelley born.
1821: The Saturday Evening Post is published for the first time as a weekly newspaper.
1834: English mathematician and philosopher John Venn, inventor of the Venn diagram, born.