In a previous article, I reported on the first half of the WhatTheyThink webinar "Print Production Outlook: Tracking the Turning Points," sponsored by Canon Solutions America. In this informative event, German Sacristan, director, Print On Demand Service, Keypoint Intelligence, presented data from Keypoint's recent Print Production Outlook survey. The data provided a snapshot of where the printing is today and where survey respondents expect it to go in the future. This article will look at the second half of this webinar, which focused on the current and future state of industry applications, as well as giving a nod to packaging and labels. (To view the webinar, click here.)
In Part 1, WhatTheyThink's Richard Romano set the stage for the rest of the data by looking at overall industry growth ($15.86 billion, up 20% over 2020, per Smithers Pira), much of which is due to the bounceback from the recession.
The webinar also noted that the decline in equipment sales contrasted with the growth in overall print volume. While sales of black-and-white and color equipment show declines of -2.1% and -2.0%, respectively, German Sacristan then pointed out, citing Keypoint Intelligence data, industry volumes are forecast to rise—1.2% CAGR for black-and-white and 10.2% CAGR for color.
The reason? Consolidation of print volume onto more productive print devices.
So what are PSPs printing on their fewer-in-number-but-more-productive printing devices? When asked, "Which of the following applications drive the most color print volume in your facility?" respondents cited brochures (63%) and direct mail (52%) as their top two.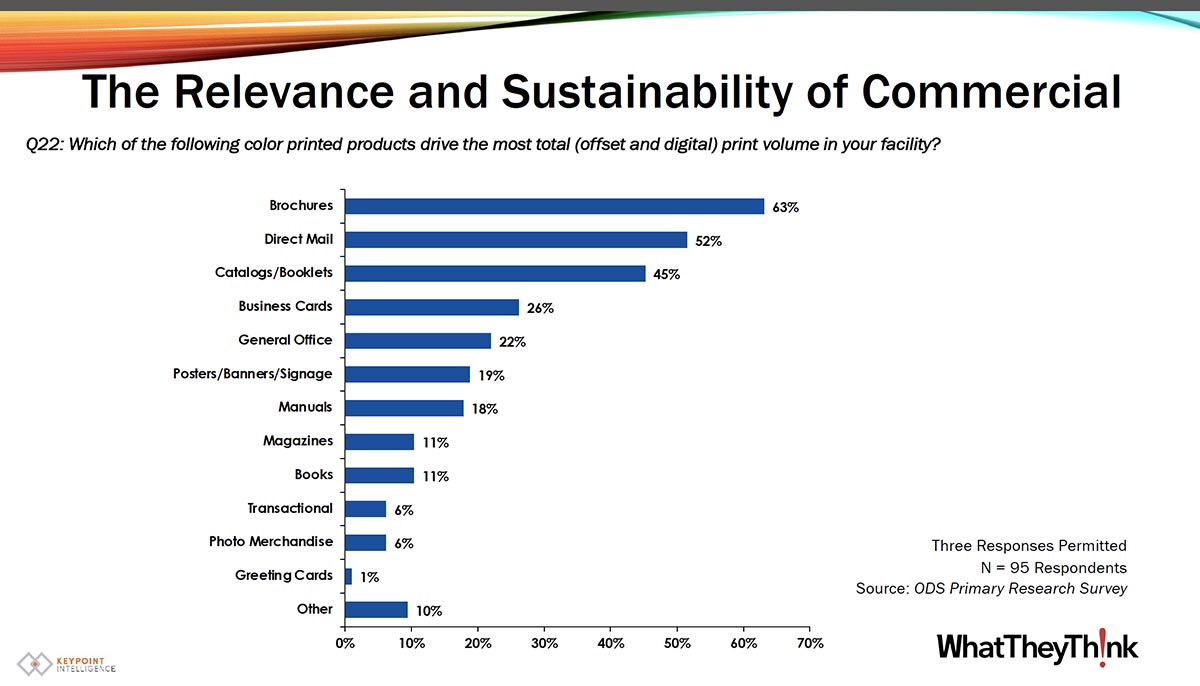 When asked which applications they expected to grow the most over the next two years, however, direct mail came out on top, with 75% saying they expected their direct mail to increase and 22% saying they expected it to increase by 25% or more. Books came in second, with 90% expecting their book volumes to increase, with 20% expecting them to increase 25% or more.
Other applications expected to grow 25% or more included catalogs/booklets (12%), posters, banners, signage (11%), magazines (10%), business cards (4%), and brochures (3%). Transactional, photo merchandise, and manuals were expected to either hold steady or decline.
Sacristan was quick to note the strong showing of direct mail. "With digital printing, brand owners are utilizing the mailbox to drive people to online shopping," he said. "The mailbox is a noncompetitive media for marketers right now, and it is proving to be a very strong channel for brand owners, marketers, and print buyers. For much the same reason, expect personalized and customized catalogs to grow, as well."
Another finding that may be a surprise to some readers is the strength of physical books, with 90% of respondents expecting their volumes of books to increase and 20% expecting their volume to increase 25% or more.
Also expected to rise are catalogs and magazines thanks to the combination of the strength of geomarketing and the shorter-run capabilities of high-speed inkjet presses. "Publishers' customers, the brands, are finding the value in segmentation—geomarketing—based on demographics and drive business," said Sacristan. "The versioning capabilities of high-speed inkjet allow brand owners to [both print higher volumes and] target their advertising by gender, household income, and other characteristics based on where the magazine is being delivered. This ability improves the relevance and effectiveness of the ad placements within magazines, and our panelists expect their volume of those products to grow."
Richard Romano, moderator of "Tracking the Turning Points," rounded out the discussion by discussing some of the trends in packaging and labels. He noted the trend toward "deep" penetration of toner and inkjet starting around 2019, in part due to the increase in customization. "As with other industry applications, we are seeing shorter runs and customization as CPCs increase the number of SKUs," Romano observed. "We do see some personalized packaging, such as Coke cans, but that's not expected to be a primary application."
Romano also noted the advances in flexo that are making it more competitive with digital. These include advanced screening to increase resolution, expanded color gamuts, better brand colors, and better color controls in general.
Romano also noted the increase in bespoke systems, which combine flexo with digital, a trend that has been on the rise for the past several years. "This might be a custom solution based on a specific type of ink head or transport mechanism, for example, so shops can do direct-to-shape or other industrial print or packaging applications," he explained. "This is much like the inkjet heads that we used to see attached to offset presses for producing limited variable data."
For more on bespoke systems, Romano pointed attendees to many of the articles written by David Zwang on this topic.
Romano concluded the event with an overall industry outlook:
Color digital printing volume is expected to grow.
Shift to digital will continue.
Digital run lengths will increase thanks to the longer run capabilities of inkjet.
Inkjet will keep growing, while toner will decline.
Inkjet will continue to offer more productivity and a lower cost, and in some categories, deliver commercial print quality.
Toner's decline will be mitigated by a larger number of small toner devices being replaced by a lower number of larger toner (and inkjet) devices.
Custom or "bespoke" solutions will become common in packaging.
Time did allow for audience questions, including the crossover between offset and inkjet sheets, click-cost savings of inkjet over toner, and more detail on the impact of the aggressive pricing of large online printers.
To view the entire webinar, click here.