A "smart workplace" is one where employees can perform their work more efficiently by leveraging devices and services. It eliminates repetitive tasks through automation, minimizes the time spent on tasks, and maximizes the time spent on high-value work.
The demand for collaborative technologies, cloud services, and remote solutions is high, and traditional AV products are being updated to better suit these new offerings.
Integrated Systems Europe is an annual exhibition that is often thought to be the world's largest professional audio visual event. This year's ISE show presented some new offerings that could be introduced into your office.
By Mark DiMattei
Introduction
Keypoint Intelligence defines a "smart workplace" as one where employees can perform their work more efficiently by leveraging devices and services. By its nature, the smart workplace should eliminate repetitive tasks through automation, minimize the time spent on tasks, and maximize the time spent on high-value work. The growing prevalence of cloud computing, artificial intelligence (AI), the Internet of Things (IoT), and automation are enabling businesses to increase employee productivity and mobility while also supporting the growth of the smart workplace market.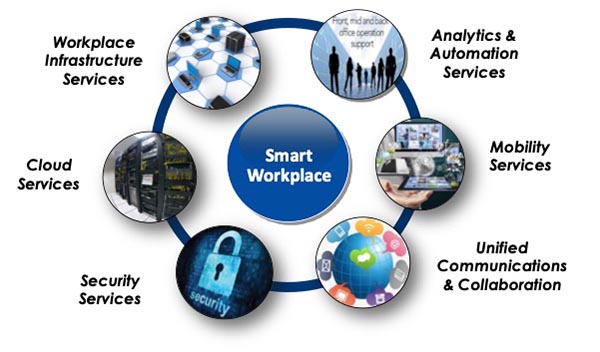 The Smart Workplace Taxonomy (Source: Keypoint Intelligence)
In a post-pandemic workplace, facilitating a safe and fluid work environment that can easily transition from the home to the office to anywhere will be especially important. Smart technology is no longer a luxury; it is fast becoming a necessity.
While the demand for collaborative technologies, cloud services, and remote solutions is high, more traditional A/V products like projectors, audio equipment, and video displays run the risk of being left behind. We will certainly need these more advanced solutions and services, but evolved versions of standard speaker phones and projectors will also be helpful in ensuring that everyone can work with maximum efficiency.
The Office of the Future
In the pre-COVID workplace, under 10% of employees were part of the remote audience. Of course, the pandemic pushed many more employees into a remote setup virtually overnight. Now that COVID has dragged on for over a year and a half, many more meetings in the future will likely include a higher share of remote attendees. Rather than viewing hybrid and remote working as a short term "band-aid" solution, smart technology manufacturers are rising to the challenge of making the mobile workforce viable for the long term. One way to achieve this would be smoother virtual presentations with fewer interruptions. A solution proposed by Cisco Webex layers the speaker in front of the presentation, allowing for some information to remain static while the speaker moves about. Regarding sound, the Sennheiser TruVoiceLift enhances the speaker's voice, blocking out external sounds while still switching seamlessly between multiple presenters to create a more conversational effect.
The Annual ISE Event
Integrated Systems Europe (ISE) is an annual exhibition that is often promoted as the world's largest professional audio/visual event. By considering the solutions and software presented at this year's show, we can see how tech companies are using smart technology to ensure that our offices continue to operate as efficiently as possible. The 2021 event witnessed a number of innovations:
The Artome M10 plug-and-play furniture comprises a projector, speakers, and mic for remote integration at larger presentations. The wheeled unit functions via HDMI or wirelessly.
The Ashton Bentley Complete Room Systems for Google Meet Series One includes three configurations of screen wrapping for the workplace: small, medium, or large. The single or dual-screen configuration can be managed from a laptop or tablet and includes connectivity ports if Wi-Fi is not available. Additional options to install ports and connectivity to a company's tables keep everything streamlined and clutter-free.
The Igloo Vision Immersive Workspace uses VR to turn walls into immersive digital workspaces, allowing teams to engage with their digital content in a new way. The walls create a square (or other geometric shape) of 360° projector screens. They can be divided into several screens or used as one big screen that is controlled by a phone or keyboard.
The Logitech Scribe is a whiteboard camera that provides virtual whiteboarding in every room no matter the size. It works with any surface and scribers. An image segmentation feature works like virtual sticky notes, making it possible to move various screens in multiple sizes around the whiteboard.
The Bottom Line
The range of smart products for today's workforce is expanding every day and shows no signs of slowing. A healthy mix of technology providers, emerging software developers, and system integrators are embracing the new remote workforce as well as influencing the design of future offices. Technology that brings people together and enables them to work collaboratively, securely, seamlessly, and efficiently is the new focus where office equipment meets professional AV offerings. As we move into the workplace of the future, Keypoint Intelligence will continue to track how vendors evolve this space in concert with smart technology.
Mark DiMattei is the Manager of Keypoint Intelligence's Publishing, Editing, and News department. In this capacity, he oversees the formatting, editing, and publication cycles for many different types of deliverables. He also assists in the production of blogs, analyses, research reports, and multi-client studies.