A few weeks back, you might have seen my roundup in Printing News and What They Think on interactive print and the relevance of augmented reality (AR), QR Codes, and other interactive print features for the printing industry. Not the "pie in the sky" applications, but the real-life, on-the-ground applications that are selling and creating ROI. (If you haven't seen it, check it out here.) But really, why should you care?
Interactive features like AR, VR, and QR Codes offer more than just a "cool factor." They have benefits in consumer behavior that your clients should know. By understanding these benefits, and potentially offering AR/VR services (with QR Codes as the doorway to those experiences) yourself, you are improving your clients' business, as well as your own.
Deloitte Digital recently released a report, "Snap Consumer AR" (conducted on behalf of SnapChat) on the impact of AR on retail, and I included several of the charts in my presentation for WTT's August 25 LunchNLearn Webinar on this topic. Here are some of my takeaways from that report, along with some other data from around the AR world.
1. Use of AR is growing…so ignore it at your peril.
The growth in AR is being fueled by many behaviors, notably "mobile for everything" and social media (i.e., SnapChat). Deloitte forecasts that the number of people classified as "frequent AR users" will rise from 1.5 billion today to 4.3 billion in 2025.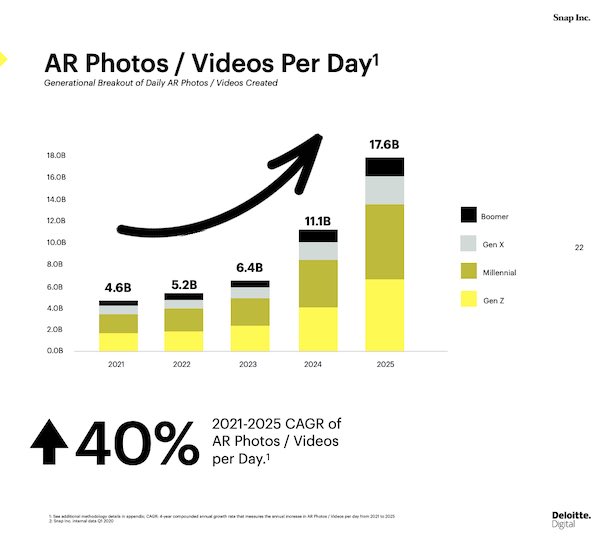 While these are largely social media (i.e., SnapChat) users, a growing percentage of consumers are using AR as a tool, including for shopping. Indeed, Deloitte found that 41% of AR users are interacting with AR for this purpose. What might this look like on the ground? It might look like virtual try-on features, the ability to visualize products in-home, and the ability to manipulate products to view them from all angles, both interior and exterior.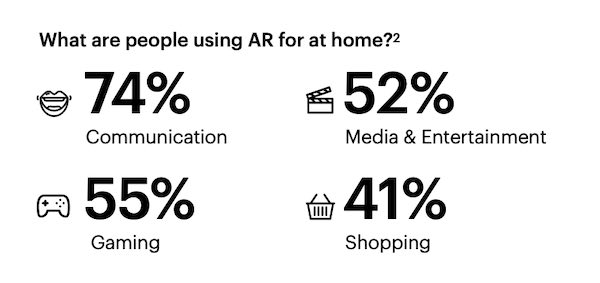 2. AR is already being used for retail shopping.
As noted, AR already has a solid presence in the world of retail, and nearly all (94%) of AR-enabled shoppers say they continue will continue to use AR this way. This is an indication that marketers are doing a decent job of rolling out AR experiences that users actually want to keep using.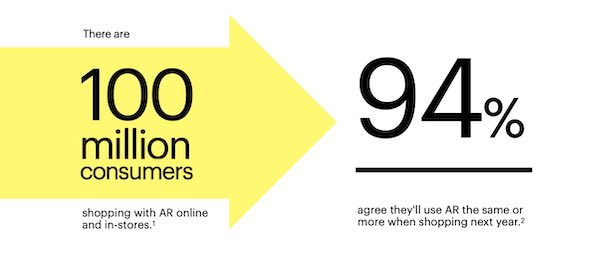 3. AR gets more attention.
AR delivers almost 2x the visual attention as non-AR equivalents, and people who frequently use AR with their family and friends are 50% more likely to pay attention to a brand. Get the eyeballs, get the sales. It's no wonder that products incorporating elements of AR are 94% more likely to convert to sales (Harvard Business Review).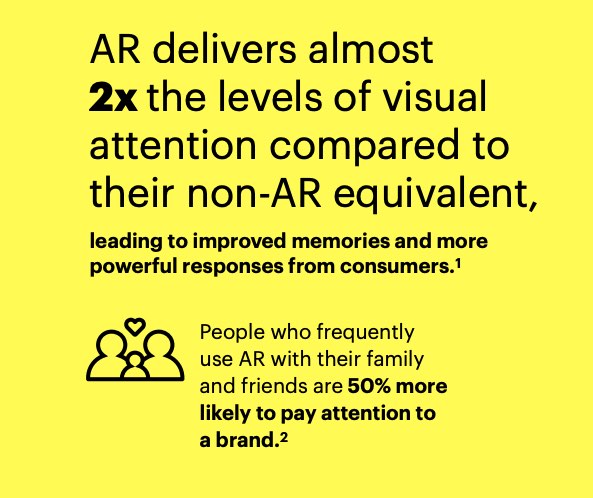 4. AR reduces returns.
According to AR Insider, AR-guided purchases lead to a 25% decrease in returns. This is due, in part, to the ability of shoppers to more accurately visualize products before they buy them. This is reinforced by Deloitte data which found that 56% of shoppers agree that AR gives them more confidence about product quality. Thus, the authors of the report call returns "a $550 billion problem, which AR can help fix." AR continues to show itself as a highly practical tool, as well as a flashy one.
5. AR delivers higher conversion.
Here's is some other data, both from Deloitte Digital and from elsewhere around the industry that round out the reasons that AR has become a force in the world of retail.
Brands are 41% more likely to be considered if they have a branded AR experience (Deloitte Digital).
Retailer Houzz is seeing a 19% spike in engagement among customers using AR (Houzz).
Product visualization using AR can boost conversion by 40% (AIthority).
AR conversion rates on Instagram are 80% higher than the standard 3% conversion rate without AR (Statista/Millennial Marketing).
48% of shoppers are already using AR or are willing to use AR for shopping in the near future (Nielsen).
So…to quote myself in the lunch-and-learn, "If you're waiting for AR to get here, you're too late. That horse has already ridden." AR is a force to be reckoned with, and it's one that you should be considering.