Your Friday Ice Crystallizing Soap Bubbles on a Levitating Magnet
These vaccines are like a shot in the arm.

— Andy Kindler (@AndyKindler) March 12, 2021
Down the Drain
While the term "non-fungible" does sound vaguely digestive ("Man, I must've eaten something really non-fungible last night"), the silliness continues, as Charmin has now started selling its own (dear lord…) toilet paper-themed NFTs which it is calling "NFTPs." (If Mr. Whipple were alive today, he'd roll over in his grave, which would just be strange.) Anyway, from The Verge:
The NFTs even come with a "physical display," in case you want to "hang your NFTP in your bathroom alongside your IRL rolls." No, actually, I wouldn't want to do that — especially if it's a screen that's showing one of the flashing, glitchy GIFs that switch between showing a roll of toilet paper and the brand's bear mascots. That would just be distracting.
Charmin is only selling one NFT for each of its five designs, so they're quite limited — just like real-life rolls of Charmin were a year ago. The one silver lining is that Charmin does say it'll be donating the proceeds from the NFT sales to the Direct Relief charity.
"IRL rolls" should not ever be a term.
NFT WTF
This one is so meta it'll make your head hurt. From Boing Boing:
DC's senior vice president of legal affairs sent a warning letter to artists and writers warning them not to sell "digital images featuring DC's intellectual property with or without NFTs."
My friend Sean Bonner promptly digitized the letter and is auctioning it on two NFT marketplaces, OpenSea (current high bid $943) and Zora.
Tales from the Crypto
I would like to trade my personality in for one that gets excited about crypto and NFT's instead of one that can't help concluding they are meaningless scams

— Mike Hogan (@mike_hogan) March 12, 2021
Jeans Therapy
We all love our blue jeans! But are we in denial about the environmental impact of producing even one pair of jeans? Austrian company Lenzing explains how it's done now and proposes a much more sustainable process in this easy-to-understand five-minute video.
Bad Timing
One year ago this week, I finally opened Mr. Cough's Handrail Licking Emporium and said to myself "Now I just sit back and wait for all that sweet cash to pour in."
Then I checked the news...

— Paul Myers (@pulmyears) March 16, 2021
Graphene
Was it a good week for graphene news? It's always a good week for graphene news! From WTIN, researchers in nonwovens are using this miracle material in a wide range of advanced PPE and air and water filtration systems. Will it be a key to eliminating the coronavirus and protecting us from future pandemics?
Big Mac Attack
Here at McDonald's. I AM HERE TO HELP! pic.twitter.com/G8OoqsxZEo

— Scott Hanselman (@shanselman) March 14, 2021
Deputy Serif
Hardcore fans of the typeface Garamond and DC Circuit Court lawyers is probably a pretty small Venn diagram, but they will not be happy at the court's most recent ruling: no Garamond is to be used in court documents.
Federal Rule of Appellate Procedure 32(a)(5) requires courts of appeal to accept briefs in any proportional typeface so long as the typeface has serifs and is at least 14-point in size. However, the court has determined that certain typefaces, such as Century and Times New Roman, are more legible than others, particularly Garamond, which appears smaller than the other two typefaces. Today the court announces a revision to the Circuit's Handbook of Practice and Internal Procedures to encourage the use of typefaces that are easier to read and to discourage use of Garamond.
Garamond—cancelled!
Overlooked
THE SHINING remains a hugely empathetic portrait of a guy trying to get some work done with a child around

— Adam Nayman (@brofromanother) March 13, 2021
New Masters
Via Laughing Squid, a reimagining of classic works of art in today's mobile/social media age.
Italian artist CRUDEOIL 2.0 has reimagined some of the most iconic paintings of the Old Masters into the modern world. Each work of art is completely reinterpreted with the ubiquitous context of social media and technology as the primary premises, making the subjects of each piece appear a bit more self-conscious, vapid, and narcissistic in general.
Get a Real Job
Turns out the covid vaccine appointment site is run by my dead mother. pic.twitter.com/sfFKHo197V

— David A. Goodman (@DavidAGoodman) March 15, 2021
Zoom Out
Sure, we're all sick to bloody death of Zoom, but this new "Zoom Escaper" widget seems a bit extreme. Says The Verge:
[Zoom Escaper] lets you add an array of fake audio effects to your next Zoom Call, gifting you with numerous reasons to end the meeting and escape, while you still can.
You can choose from barking dogs, construction noises, crying babies, or even subtler effects like choppy audio and unwanted echoes. Created by artist Sam Lavigne, Zoom Escaper is fantastically simple to use. All you need do is download a free bit of audio software called VB-Audio that routes your audio through the website, then change your audio input in Zoom from your microphone to VB-Audio, and play with the effects.
Verge news editor Chaim Gartenberg tried out the various effects and here is his opinion:
Urination: "That sounds very fake. Also, I'm not entirely sure what the plan is to sell this as a reason to leave a call?"
Construction: "This sounds like you literally stood in the middle of a construction site. I think the sounds need to be a bit more muffled to sell it, but it's very good."
Man Weeping: "Those are the sobs of a broken man. But who's crying — is it your roommate, your partner?"
Bad Connection: "This one works really well. Your audio is coming through broken up and disrupted. Get off the call."
Echo: "Extremely annoying and very convincing. This sounds like a busted Zoom connection. If someone I was speaking to had this, I'd tell them to get it fixed. It wouldn't be feasible to have a meeting with that."
Wind: "If you were trying to skive off work, I'm not sure how you'd convincingly sell gale force winds in your own office."
Dog: "That sounds very real. It sounds like a dog barking outside, but maybe not the sort of thing you'd need to take care of?"
Upset Baby: "That baby sounds decently upset! This is definitely something you should go and check on! Go and take care of your baby!"
This sort of thing is not new, of course. Many years ago, we knew an ad sales rep (no one now working with us) who had the sound effect of a ringing phone on his computer and he would trigger it when he wanted to get off a phone call. "There's my other line. Gotta go." It was a strategy that worked less well after he told people about it.
Still, some things we can get on board with: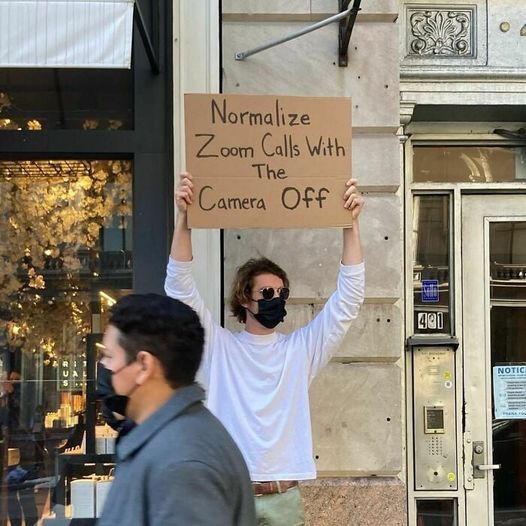 Sure, he could flash this sign on Zoom itself, but he probably has his camera off.
Or Zoom Call
March 12, 2021
Fit to Be Dyed
Back in the day, the only people who generally sported tattoos were Marines and members of biker gangs. (And, of course, on TV, Ricardo Montalban famously had a Tattoo.) We're not quite sure when that changed, but now they are ubiquitous—and tattoo technology itself is evolving. Researchers are now even working on making them light-emitting. From Gizmodo:
a team of researchers in Europe have created what they're calling the world's first light-emitting tattoo based on OLED screen technology that, besides presumably looking kind of cool, could also serve as a visible warning about potential health concerns.
(Regular visitors to our Around the Web shebeen may recall a couple of weeks ago when we linked to implantable LEDs and other objects.)
Tattoos can also play audio, via Skin Motion's Soundwave. Basically, you upload an audio file (preferably a short one; you probably don't want Wagner's entire Ring Cycle tattooed on your body—or maybe you do!) where it is converted into a tattooing stencil. Then you find a specially Soundwave-trained tattoo artist who then applies it to your flesh. Upload a picture of your tattoo, and if you scan it with a mobile app the audio will play. It will remain active as long as you continue to pay the annual $9.95 subscription, if it doesn't seem weird to have to subscribe to your own skin.
Taped Over
He said his last words. Then, after a brief silence, he went over to the other side. ?? https://t.co/DtFc5JRGjh

— Daniel Maier (@danielmaier) March 10, 2021
Cello Shots
There are plenty of good reasons to get your COVID-19 vaccination as soon as you are able, but here's another—some lucky vaccinatees got a surprise cello concert. Says the Albany Times Union:
Newly vaccinated Massachusetts residents were treated to a mini concert over the weekend when famed cellist Yo-Yo Ma brought out his instrument after getting his second coronavirus shot.
A masked-up Ma took a seat along the wall of the observation area Saturday at Berkshire Community College in Pittsfield and played for about 15 minutes to applause from the other attendees.
The renowned musician, who lives part-time in the area, said he "wanted to give something back," The Berkshire Eagle quoted Richard Hall of the Berkshire COVID-19 Vaccine Collaborative as saying.
Best Outtake Ever
I never considered there'd be outtakes of the "His Master's Voice" promo shoot IN 1901 but now I can't stop laughing. pic.twitter.com/myQK2DliGS

— Mark Greenmantle ???????(@MarkGreenmantle) March 14, 2021
The Price is Wrong
As if this headline, on the face of it, weren't disturbing enough. From the NY Times: "Doctors Are Investigated After Posting Organ Photos Online as 'Price Is Right' Game." One might have interpreted this in an Anthony Weiner kind of way, but it's even worse (or perhaps not as bad, depending on your point of view):
A health care network in Michigan said it had opened an investigation after some operating room doctors posted photos on social media last week showing themselves holding a surgically removed organ and tissue material as part of a game that they likened to "The Price Is Right."
The doctors, who are employed as medical residents by Spectrum Health in Grand Rapids, Mich., and specialize in obstetrics and gynecology, asked people to guess how much an unidentified organ weighed, according to one of the Instagram posts obtained by the NBC affiliate WOOD-TV.
At the very least, it's some kind of HIPAA violation ("Hey! That's my gallbladder!"). "The posts appeared to show at least one patient in the background, the television station reported." Oops.
And Worst of Times
?This is the best time in publishing ever,? https://t.co/a9sTthShzH pic.twitter.com/gpFjBnT1Ko

— BoSacks (@BoSacks) March 12, 2021
Precision Cutting
Back in the late 1980s, the late, great Phil Hartman played a recurring character on Saturday Night Live called "The Anal Retentive Chef," whose cooking demonstrations featured precisely chopped ingredients and hardcore cleaning. If you or anyone you know is an anal retentive cook, you will definitely want the Obsessive Chef Cutting Board from novelty product company Fred and available via Oddity Mall. No more randomly sized carrot slices!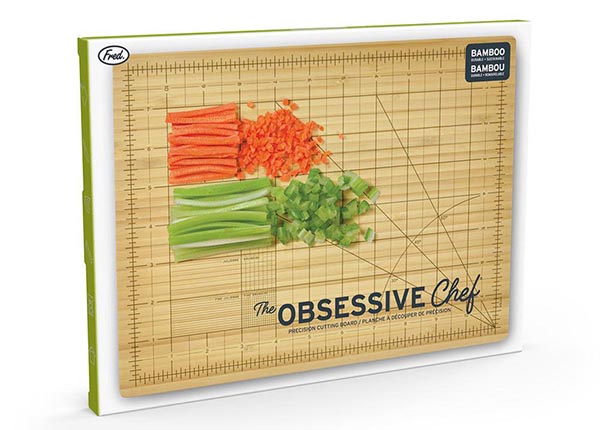 A la Cartography
The most popular word in each state pic.twitter.com/LY7LewNohn

— Terrible Maps (@TerribleMaps) May 18, 2019
Just Plain Nuts
While the term "NUTmobile" could refer to virtually any vehicle on I-495 in Massachusetts, it specifically refers to the Planters Peanuts version of the Oscar Meyer Wienermobile. And, as it happens, they are looking for drivers. So when you are finally able to leave quarantine and get out and about, why not do it in style: behind the wheel of a giant, motorized peanut? After all, the past year has been completely nuts.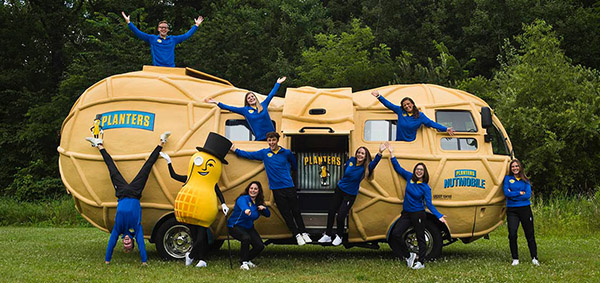 Show up in this and you will have no trouble social distancing.
Crate Expectations
I honestly can't tell if, when things fully open up, I'm gonna bust out like crazy or if I'm gonna feel more like one of those dogs whose gotten so used to his crate he just kinda prefers it there now

— Ed Solomon (@ed_solomon) March 14, 2021
This Week in Printing, Publishing, and Media History
March 15
44 BC: Et tu, Brute? Roman general and statesman Julius Caesar dies (b. 100 BC).
still the best Ides of March tweet imhohttps://t.co/qRW3j8Zm1c

— Bill Corbett (@BillCorbett) March 15, 2021
1918: American author, critic, and biographer (James Joyce, Oscar Wilde) Richard Ellmann born.
1937: American short story writer, editor, and novelist H. P. Lovecraft dies (b. 1890).
March 16
1870: The first version of the overture fantasy Romeo and Juliet by Tchaikovsky receives its première performance.
1894: Jules Massenet's opera Thaïs is first performed.
1906: English-American violinist and comedian Henny Youngman born. Take his wife...please!
1926: Robert Goddard launches the first liquid-fueled rocket, at Auburn, Massachusetts.
In 1920, the New York Times published an editorial claiming that Robert Goddard "lack[ed] the knowledge ladled out daily in high schools" and that it was "absurd" to believe that rockets would work in space. They issued a correction 17 July 1969, the day after Apollo 11 launched.

— Quite Interesting (@qikipedia) March 11, 2019
2020: The Dow Jones Industrial Average falls by 2,997.10, the single largest point drop in history and the second-largest percentage drop ever at 12.93%, an even greater crash than Black Monday (1929).
March 17
1941: American singer-songwriter and guitarist Paul Kantner born.
1956: American actor, comedian, screenwriter, and author Fred Allen dies (b. 1894).
1973: The Pulitzer Prize-winning photograph Burst of Joy is taken, depicting a former prisoner of war being reunited with his family, which came to symbolize the end of United States involvement in the Vietnam War.
March 18
1733: German author and bookseller Christoph Friedrich Nicolai born.
1768: Irish novelist and clergyman Laurence Sterne dies (b. 1713).
1850: American Express is founded by Henry Wells and William Fargo.
1932: American novelist, short story writer, and critic John Updike born.
1961: American singer-songwriter and guitarist Grant Hart born.
March 19
1813: Scottish missionary and explorer David Livingstone born, we presume.
1895: Auguste and Louis Lumière record their first footage using their newly patented cinematograph.
1928: Irish-American actor, director, producer, and screenwriter Patrick McGoohan born. Be seeing you.
1931: Gambling is legalized in Nevada. (What are the odds it'll catch on?)
1933: American novelist Philip Roth born.
1962: Bob Dylan releases his first album, Bob Dylan.
2008: British science fiction writer Arthur C. Clarke dies (b. 1917).
March 20
43 BC: Roman poet Ovid born.
1828: Norwegian poet, playwright, and director Henrik Ibsen born (not in a doll's house).
1852: Harriet Beecher Stowe's Uncle Tom's Cabin is published.
1896: With the approval of Emperor Guangxu, the Qing dynasty post office is opened, marking the beginning of a postal service in China.
1915: Albert Einstein publishes his general theory of relativity.
1922: American actor, director, producer, and screenwriter Carl Reiner born.
1923: The Arts Club of Chicago hosts the opening of Pablo Picasso's first United States showing, entitled Original Drawings by Pablo Picasso, becoming an early proponent of modern art in the United States.
1948: With a Musicians Union ban lifted, the first telecasts of classical music in the United States, under Eugene Ormandy and Arturo Toscanini, are given on CBS and NBC.
1950: English drummer, percussionist, and songwriter Carl Palmer born.
1964: Irish republican and playwright Brendan Behan dies (b. 1923).
March 21
1952: Alan Freed presents the Moondog Coronation Ball, the first rock and roll concert, in Cleveland, Ohio.
2006: The social media site Twitter is founded.
Anything catch your eye "around the Web"? Share it with us at [email protected].