According to a recent Keypoint Intelligence survey, over a third of respondents had increased their purchases of certain types of printing products in their efforts to remain open during the pandemic.
The most common purchases included items that communicated the company's response to COVID-19 and in-store/on-site pandemic protocols.
During the pandemic and beyond, retailers need to find new ways to drive traffic to their stores, regardless of whether people are shopping in person or online.
By Mark DiMattei
Introduction
Many months into the pandemic, it has become clear that COVID-19 will continue to impact businesses and people's lives for quite some time. In addition, the ongoing health crisis will most certainly shape and change the way we do business in the future. Print buyers' business strategies will also shift, and this will affect print service providers in ways that we are still discovering. In response to these ongoing market trends, Keypoint Intelligence has been conducting surveys based on the most common interests within the production printing market, including print buyers' vertical markets strategies, drivers, applications, media channels, and ordering processes. This article discusses the findings from our recent research as we navigate a path forward through the pandemic.
Piquing Print Buyers' Interests
There is no question that COVID-19 has had an influence on print buyers' business strategies. According to recent research from Keypoint Intelligence, over one-third of survey participants reported that they had increased their purchases of certain printed products in their efforts to remain open during the pandemic. Another 40% were planning to do so. Although this probably doesn't mean that overall print purchases will increase through the pandemic, it's still good to know that print remains a relevant channel for connecting with and communicating to customers.
Figure 1. Printing Purchases in Response to COVID-19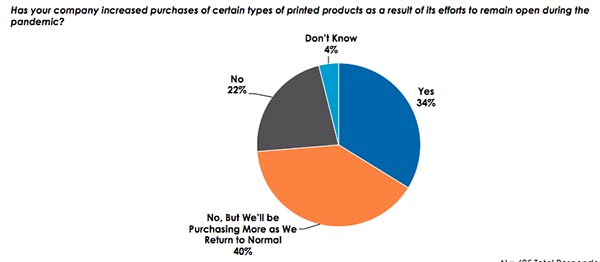 N = 695 Total Respondents
Source: US Vertical Vision Study: Vertical Industry Views from a Socially Distanced Perch; Keypoint Intelligence 2020
Among those respondents who had purchased printed materials, the most common applications included communications detailing the company's response to COVID and signage/materials that outlined new in-store/on-site protocols. Today's businesses are working to strike a balance between supporting clients and prospects who prefer to shop on-site while still supporting the increasing number of purchases that are occurring online. As a result, it should come as no surprise that direct marketing initiatives and sales promotions were also common as these efforts can help PSPs promote their businesses across all channels.
Figure 2. Events or Initiatives that Prompted Print Purchases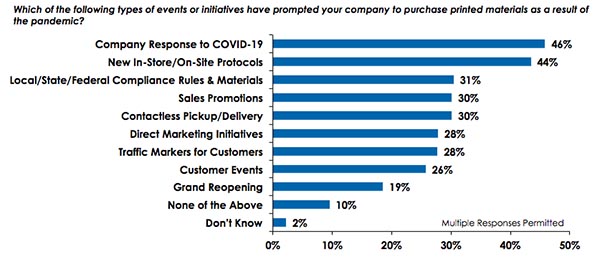 N = 695 Total Respondents
Source: US Vertical Vision Study: Vertical Industry Views from a Socially Distanced Perch; Keypoint Intelligence 2020
The Fall and Rise of Print Applications
As more businesses work to remain open while also facilitating online purchases during the pandemic, there is an ongoing need to drive more purchases, regardless of whether they occur in person or online. As a result, many marketing applications are expected to return to near normal levels during 2021. The same is true for direct mail. Transactional printing is another mechanism for PSPs to remain in front of their customers. Although more and more consumers and businesses are shifting to online portals to view their statements, transactional printing volumes are expected to rebound somewhat due to rising concerns about e-mail scams and a lack of online security.
Table 1. Print Volumes Applications Declines (March–December)
How do you expect your print volumes for these product categories to grow/decline during the following time periods?

March to Mid-July

June to August

September to December

Marketing Collateral

-39%

-19%

-12%

Direct Mail

-35%

-16%

-11%

Transactional

-20%

-11%

-7%

Books

-17%

-9%

-9%

Source: US Vertical Vision Study: Industry Views from a Socially Distanced Perch; Keypoint Intelligence 2020
Walking a Balancing Act
We all know that a good marketing campaign includes multiple elements: direct mail, e-mail, SMS, and/or telemarketing. Although direct mail may seem like an overly traditional (and dying) medium, no one can deny that it is a strong enabler of marketing as it helps many businesses address their main communication objectives and concerns. This is particularly true in today's digital age—direct mail can capture attention and stand out amid a seemingly endless stream of e-mails.
Digital fatigue is a real phenomenon, so marketers should ensure that they are listening to what their customers want. With the pandemic dragging on, many people are seeking a break from the many screens they look at each day. The physicality of print can also help create a connection between a business and the consumer. Digital communications are often cheaper, but printed communications still have their place.
The Bottom Line
Few would question that COVID-19 has disrupted all of our personal and professional lives, and the printing industry is no exception. The good news is that PSPs have an opportunity to carry on strategic conversations with their customers during a time when they might be more open to change and new ideas. Commercial printing has the potential to drive products that enable greater differentiation because savvy PSPs can influence or even participate in the development of the strategy and content. Print buyers just need to be proactive when working with their clients so they can get the most out of their offerings.
Mark DiMattei is the Manager of Keypoint Intelligence's Publishing, Editing, and News department. In this capacity, he oversees the editing, formatting, and publication cycles for many different types of deliverables. He also assists in the production of blogs, analyses, research reports, and multi-client studies.