Streaming, social media, and online gaming have seen sizeable increases in 2020.
A recent study showed a link between social media use and depression, as well as trauma, during the COVID-19 pandemic.
Younger generations in particular want to reduce their use of technology and spend more time outside
By Colin McMahon
Introduction
At this point, saying that 2020 has been a strange year is like calling water wet. Many have adjusted to the changes brought on by the COVID-19 pandemic. Remote workflow is now the norm. Now that temperatures across the nation are trending downward, a large number of Americans are preparing to repress what little outside interaction they had this summer and hunker down for what may be a challenging winter of increased cold, darkness, and isolation. This certainly hasn't been the only depressing news that has happened since the pandemic hit, but this bleak opening does not dictate the tone of this entire piece. Although 2020 has brought its own unique set of unanticipated challenges, there is also a real opportunity for print to position itself as a light within the darkness, an eco-friendly alternative to plastic, and a lingering but solid connection to our fellow human beings.
The Somber Realities of 2020
When COVID-19 forced people to abandon their old lives and live in much higher levels of isolation, it was no wonder that many started connecting more often via digital options. A report published by Datareportal showed that streaming, social media, and online gaming activities all saw sizeable increases post-COVID.
Figure 1. Digital Activities in 2020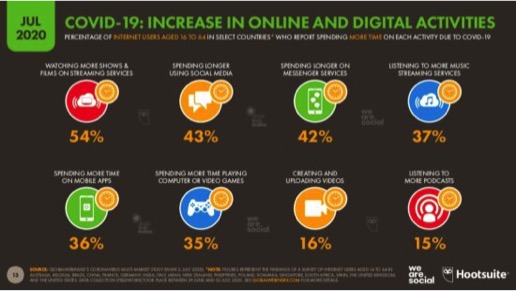 Source: Datareportal
This shift, while allowing people to occupy their time, is not all positive. Social media in particular has proven to be a double-edged sword, since its connections often fuel anxiety, depression, and other problematic emotions. A recent study published on Science Daily showed a link between social media use and depression, as well as trauma, during the COVID-19 pandemic. Researchers stated that without external distractions, many users were becoming too absorbed in their social media accounts. This made it harder for them to disconnect, even if they were being exposed to repeated negative information. Further complicating matters, this is an election year in the United States—so there's no shortage of negative social media posts by any means.
Print as a Human Connection
Given this reality, it is unsurprising that many people are seeking ways to disconnect from their digital channels. Earlier this year at Canon's thINK virtual event, Mintel representatives reported on this trend, noting that younger generations in particular want to reduce their use of technology and spend more time outside. Based on these trends, print companies can and should position themselves as the physical alternative to digital channels.
Figure 2. Changing Attitudes Toward Technology

Source: Mintel/Compremedia
It is no secret that printed communications can never be as efficient as digital ones. Emails that can be sent and read in seconds have a much longer road through the mail. Nevertheless, speed isn't everything. Given the increased dependency on digital, the thought of disconnecting is becoming increasingly appealing. Mail providers and print communication channels should lean into the slower pace of printed communications, offering it as an escape from a digital world that seems to never slow down.
Likewise, the trip to the mailbox—once a chore—is now itself an escape from the confines of the home; likely one of the few that does not require a face mask. The mail itself represents a physical, tangible connection with the larger world. During a time when family travel and friend gatherings are greatly restricted, emphasizing print as a way to send something real to loved ones is likely a winning strategy.
Print as an Eco-Friendly Alternative
Of course, COVID-19 is not the only large anxiety that the world has faced in 2020. Enormous and devastating wildfires have burned through Australia and much of the US Western Coastline. This has brought attention back to climate change, an issue that will only grow more prevalent in the coming years. Almost all Americans have seen the images of fire and death through (where else?) their online portals. Many feel powerless and as they witness the weight of the disaster unfolding before their eyes.
In the past, print has not had an eco-friendly reputation. Logging and deforestation made people skeptical and want to move off paper- and wood-based products. Now, however, a new enemy is looming large in the fight against pollution: plastic. As a substance, it never breaks down and has been wreaking havoc on ocean life and land habitats. Paper, by contrast, can be biodegradable—especially when using eco-friendly inks and treatment processes.
By pushing environmental initiatives, print can not only be the return to the human connection, but the return to caring for the world around us. Many people want to feel like they are doing something positive, no matter how small, to combat the trauma of 2020. It will give them more encouragement to disconnect if they feel doing so will also benefit the environment.
The Bottom Line
For all of the troubles it's brought us so far, 2020 isn't over yet. Only time will tell what other surprises might be in store before we enter into another new year, and 2021 will undoubtedly bring its own problems. Many people feel that too much has already happened, but that doesn't stop the future from marching on. There is a real fatigue present in this always on digital world, and much of this is tied to the endless stream of online channels. Print can serve as a means of self-care and a voice of calm by urging people to slow down and reconnect with friends and loved ones through a more tangible communication. Adding an eco-friendly component will only sweeten the deal.
Colin McMahon is a Senior Editorial Analyst at Keypoint Intelligence. He primarily supports the Business Development Strategies and Customer Communications services. In this role, he creates and refines much of Keypoint Intelligence's written content, including forecasts, industry analysis, and research/multi-client studies. He also assists with the editing and formatting processes for many types of deliverables.