Your Friday Listening to the Milky Way
Says NASA: "A new project using sonification turns astronomical images from NASA's Chandra X-Ray Observatory and other telescopes into sound. This allows users to "listen" to the center of the Milky Way as observed in X-ray, optical, and infrared light. As the cursor moves across the image, sounds represent the position and brightness of the sources."
I'm going to remove the phrase "avoid like the plague" from my vocabulary, because .. people are not avoiding the plague, it turns out.

— Karie Westermann (@kariebookish) October 11, 2020
Our Type of Project
If you are interested in typography and type specimens, head on over to typespecimens.xyz, which is a project designed to "bring together a curated stream of type specimens from around the world. Focussed on digital specimens, we'll also be talking with the designers and users of these typefaces to bring you behind the scenes content on their creation. We'll hear about the successes. Hopefully the horror stories, too. Everybody loves a good horror story." It comprises a website, a publication, and a newsletter.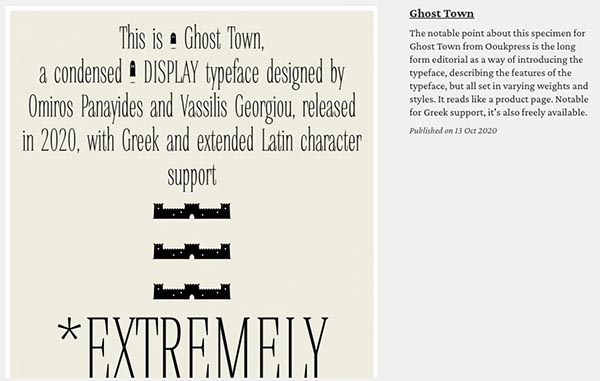 Our Kind of Characters
If you have poor vision, you often have difficulty distinguishing letters in more conventional typefaces. To help solve that problem, the Braille Institute and Applied Design Works have developed Atkinson Hyperlegible, a free typeface "that makes text more readable for people with low vision."

Flying in Circles
New limited prints. Bauhaus bird colour wheel with individually painted gold finch on each. https://t.co/9mTNNdXAw1 pic.twitter.com/447Jd5qxap

— Jim Moir (@JamesMoir10) October 9, 2020
Model Behavior
PVH-Corp owned Tommy Hilfiger is exhibiting role model behavior in the fashion industry—an industry that contributes more than its share of environmental impact—by pledging to become fully circular by 2030.
Called 'Make it Possible', the strategy was developed as part of a two-year collaboration between the fashion giant and Futerra. It bears the tagline: 'Waste Nothing and Welcome All'.
Under the strategy, "fully circular" products are defined as those which enable all materials to be part of sustainable biological and technical loops after the end-of-life phase. Tommy Hilfiger has pledged to change its designs and sourcing requirements to ensure that all lines meet this criteria, shifting to recycled synthetics and regeneratively-produced natural materials. The business has already piloted fully-recycled jeans and trained 80% of its designers on circular strategies.
We hope many other fashion brands follow suit.
Prime Number
But only if they sign up for Prime. https://t.co/wqU9XBJhlU

— (((Josh Malina))) (@JoshMalina) October 11, 2020
Vacation Destination
Well: "Researchers At Large Hadron Collider Are Confident To Make Contact With Parallel Universe In Days"
the astoundingly complex LHC "atom smasher" at the CERN center in Geneva, Switzerland, are fired up to its maximum energy levels ever in an endeavor to identify - or perhaps generate - tiny black holes.
If successful a very new universe is going to be exposed – modifying completely not only the physics books but the philosophy books too.
It is even probable that gravity from our own universe may "transfer" into this parallel universe, researchers at the LHC say.
Can we go there now?
Round and Round
See this thread for the numbers and more facts! https://t.co/IFhx50boqj

— Dr James O'Donoghue (@physicsJ) October 12, 2020
Cold Time
In Stephen King's 1998 novel Bag of Bones, a ghost uses magnetic fridge letters to communicate from beyond the grave, which is probably the only creepy part of the book. We were reminded of this when we read about, via Core77, a clock that displays the time by moving fridge magnets around:
Orc Lift
Says The Verge:
Logitech subsidiary Blue Microphones has announced a new World of Warcraft special edition of its Yeti X microphone...the USB microphone also includes a host of audio samples taken from the game's upcoming Shadowlands expansion and voice modulation effects that Blue says will make you sound like the game's assortment of orcs, imps, and gnomes, and more.
We're going to start using this for our Webinars.
ARf
The US Army is testing augmented reality goggles for dogs https://t.co/8BeGDFyQLh pic.twitter.com/da1JCClPbO

— The Verge (@verge) October 9, 2020
Big Bills
Art collective MSCHF has come up with an interesting approach to helping pay off medical bills: they create large-scale paintings of medical invoices and then sell them as art. Says CNN:
New York-based MSCHF, which is known for its irreverent art projects, identified Americans with sizable medical debt, including one with a bill for over $47,000. The group then hand-painted the invoices on 6-foot-tall canvases and sold them on the art market for precisely the amount owed.
...
The project, dubbed "Medical Bill Art," began with MSCHF placing an ad in its eponymous magazine earlier this year. About 100 people responded to the ad with information about their circumstances, according to Greenberg.
"It felt like being punched in the stomach to read our emails," he said, adding: "Given MSCHF's audience is young, it was especially gut-wrenching to hear from high-school and college students with tens of thousands of dollars of medical debt."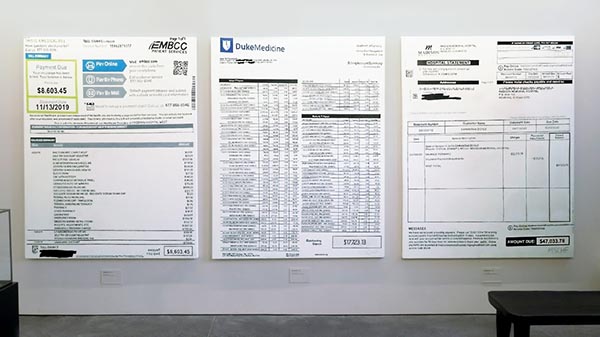 Happy Feet
Michael Flatley, aka 'The Lord of the Dance', has raised over €1 million for his charitable foundation by selling paintings made using his feet.

— Quite Interesting (@qikipedia) October 10, 2020
AI-Yi-Yi, Part the Infinite
Robots and artificial intelligence have been turning up in all sorts of fields once thought to be creative and thus solely the purview of us meatbags. We have highlighted in past installments of Around the Web various attempts at robotic writing. Now, Gizmodo asks, what is the future of the robot comedian? Can AI be funny? Will there ever be a "Weird AI" Yankovic (a pun that really only works with a sans serif font)? They surveyed some experts in the field to get their input. First of all, the easiest humor for AI (or us, for that matter) is puns.
I wrote a program called JAPE: Joke Analysis and Production Engine. It makes puns. All the puns it makes were well-structured, and a subset of them were funny. (For example: What do you call a martian who drinks beer? An ale-in.) Puns were low-hanging fruit, because the knowledge required is strictly textual: we have a lot of text-knowledge encoded in a form that AI can access (basically, dictionaries and thesauruses).
...
Comedy, like all arts, is bound by a set of rules, as the old joke (TIMING!) goes. AI is great at rules, in that it is bound by them, and sentenced, for the most part, to imitate those that have come before it, whether that be human or machine. The results of AI can also be remarkably obtuse—not quite getting, or replicating, the nuances of rules we have implicitly accepted. It is these slips which can often be funny: not so much as an uncanny valley, but an unfortunate, almost slapstick, one. The gap between our learned modes of experience, and AI's replication of them, can be funny, corny, and even hilarious.
...
I believe it is possible for future AI technologies to generate funny pictures/art. Despite variations in the reasons for being funny, psychologists agree that funny materials may share some common and unique characteristics, such as out-of-the-ordinariness, unexpectedness, incongruity, etc., and that it is the presence of these common characteristics that distinguish funny pictures from the unfunny ones. Their studies further show that funny pictures are usually associated with animals or people doing something unusual or inconsistent with the context. If this indeed is the case, it is possible to leverage the latest developments in AI technologies, in particular the generative AI models such as the Adversarial Generative Networks (GANs), which have achieved spectacular success in generating realistic images.
It's doubtful we will willingly pony up the cash to see a robot comedian, although it would be interesting to see what a robot comic with laser cannons built into its eyes could do to a heckler. —WTT Writing Unit #811
Count Down
I was recently asked who my favorite vampire was. I said, "the Muppet from Sesame Street."

They told me, "he doesn't count!" I replied, "I assure you, he does."

— Josh Teis (@joshteis) October 5, 2020
All the Muppet films are deeply felt.

— Jeremy Woodcock (@jwPencilAndPad) October 13, 2020
The Trolley Problem
Do you miss air travel? No, nor do we, although there is one aspect of flying that we are vaguely nostalgic for: the drinks trolley, which is often the only way to make it through a hellish flight (or, basically, a flight). Qantas recently decommissioned its 747s and part of that decommissioning they sold off 1,000 fully stocked bar carts.
A spokesperson for the airline confirmed to Travel + Leisure that the bar carts sold out in two hours.
They were complete with 40 mini bottles each of red and white wine, a bottle of Champagne from the business class cellar, two business class amenity kits, a first-class Sheridan throw, and two business class sleeper suits.
We were tempted to buy one just so we would park it in the hallway and keep people from using the bathroom.
Overthinking the Problem
Pedestrians and Cyclists: "We want safer streets with slower speeds"

Tech Industry: "Here, put a 5G device with a monthly-subscription fee on your bike so careless drivers won't hit you anymore" https://t.co/bV5MqUY9Z1

— Nate Hood (@natehoodstp) October 11, 2020
Out on the Tiles
Via CNN, a Canadian tourist gets her preternatural comeuppance after she boosts two white mosaic tiles, two pieces of amphora vase and a piece of ceramic wall from the Archaeological Park of Pompeii:
Since returning to Canada, she said, she has suffered two bouts of breast cancer, resulting in a double mastectomy, and her family has also been in financial trouble.
"We can't ever seem to get ahead in life," she wrote, blaming the bad luck on the tiles.
Good thing she never visited the Egyptian pyramids. Those pharaohs could launch some mean curses.
Canon Aid
It's not unusual for older people to venerate (often) younger people who can fix seemingly insoluble computer problems. But this may be taking things a little too far. From the New York Times:
In many ways, Carlo Acutis was a typical teenager. He loved his PlayStation and making videos of his dogs. He favored Nikes and jeans, and he had a cellphone and an email address.
But in one significant respect, Carlo — who was just 15 when he died of leukemia in 2006 — stands out from his peers: He is on his way to becoming the first millennial to be recognized as a saint in the Roman Catholic Church.
Carlo has apparently become the "patron saint of the Internet," not just because of his tech savvy, but his use of the 'net to express his Catholicism.
In the months before his death, he created a website that cataloged miracles.
"Carlo was the light answer to the dark side of the web," his mother said, adding that some admirers have called him an "influencer for God."
Her son's life, she said, "can be used to show how the internet can be used for good, to spread good things."
Various people have also attributed medical miracles to either their contact with, or praying to, Carlo, which is the first step toward canonization. All they need is a second verified miracle and into the pantheon he goes.
Off on a Tangent
Being an #engineer, and from #Tanzania, this one! https://t.co/o9ULudn6WH pic.twitter.com/XXgGLuIliu

— Leon Prentice (@leon_prentice) October 13, 2020
The Song Didn't Remain the Same
The pandemic-induced shutdowns have been a big boon to one particular party: birds. A San Francisco ornithologist used the quarantine period to see what effect a human-free city had on birds and birdsongs, specifically the city's sparrows, which were used to competing with the noise of the city. It turned out, there was quite a big effect indeed. Says Smithsonian:
To find out if and how the sparrows' songs had changed, Derryberry and her colleagues looked at two sets of recordings: the first, from the spring of 2015; the second, from the spring of this year after shelter-at-home mandates. The recordings were taken in the same places, included locations in urban San Francisco and surrounding rural areas of Marin county.
When Derryberry's team compared the recordings, they discovered that in spring 2020 city sparrows made a dramatic shift to lower, quieter song, while in 2015 the songs stayed high and loud. Rural birds in 2020 sang lower songs too, though their changes weren't as dramatic as those of the city sparrows. As a result, between the different years surveyed, city birds underwent a big change, while rural birds only tweaked their tune slightly.
...
Derryberry says she was intrigued by reports of people hearing more birds during the shutdown. "We were shocked to find that, even though they're softer, their songs are transmitting at twice the distance—almost three times," says Derryberry. "So, no wonder people are noticing them, even though they're singing more softly you can hear many more because it's so quiet."
Evolving Language
Speaking (as it were) about how communication changes, those of us pedants who are obsessed with "proper English" should take a listen to the below clip, which traces the evolution of the English language over the past 13 centuries. It's not until around the Elizabethan era that spoken (or even written) English becomes comprehensible. (Actually, the biggest factor in creating what would become "standard" English was William Caxton's installation of the first printing press in England in the 1470s.)
Baad Company
Boing Boing tells of a strange story out of India in which a goat had wandered into town walking on its hind legs.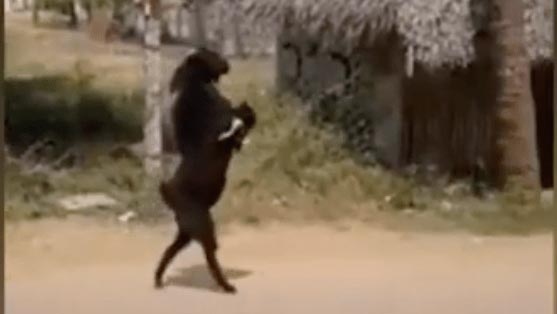 Now, if it had been playing the pan flute, we'd be really impressed.
If you've seen a sheep with his hat on backwards driving a golf cart today just keep on scrolling... pic.twitter.com/ndVHkI01DG

— Rex Chapman???? (@RexChapman) October 10, 2020
Flat Out
This ferrari got bricked because someone tried to upgrade it underground....where there's no cell reception. DRM in cars rules. https://t.co/vPkjsDb4DA pic.twitter.com/Lwsj8pZwYM

— Internet of Shit (@internetofshit) October 12, 2020
Core Workout
Watch as David Rush seeks to set a Guinness world record by slicing 40 apples while juggling knives:
Dr. Joe in Retirement?
Old Man Remembers When Things Cost Roughly The Same As Now After Adjusting For Inflation https://t.co/wLKzev4v1d pic.twitter.com/Uco1Nw29Ef

— The Onion (@TheOnion) October 13, 2020
Dave Chandler 1948–2020
Dave Chandler, a well-known personality in the graphic arts industry and former managing director of The Bespoke Agency, died last month at his West Sussex home following a long illness.
After graduating from Leeds University in mechanical engineering, he was quick to demonstrate his entrepreneurial and practical skills, setting up a small screen-printing business producing graphics and exhibition display materials. The company was located at the family business, Dartford Motors, which at the time Dave would also manage in his father's absence.
A chance meeting led to a long-term association with the world leading pre-press and press controls company, Crosfield Electronics, initially as a supplier and later as manager of its busy marketing and exhibitions department. This was a period when the industry supported many national and international trade shows and Dave excelled in this area with a considerable command of the many skills involved, including stand design, construction, logistics and on-site presence.
Jim Salmon, former Crosfield managing director, recalls: "He was such a wonderful, cheerful, creative and capable guy. Dave was widely respected throughout our whole print and graphics related industry, but especially among the Crosfield alumni. In Crosfield he contributed so much to the building and creation of Crosfield's strong image around the world."
In December 1994, Dave took on the new role as managing director of The Bespoke Agency, a leading graphic arts PR and marketing communications company. His brief was to expand the business and implement new internal processes, while managing a broad portfolio of major clients.
His ability to quickly grasp a client's requirements and develop a communications strategy led to some particularly close client relationships as Eric Bell, former marketing director at Goss International, confirms: 'From a client perspective having Dave Chandler on the team gave us an edge, he was the ultimate all-rounder. Professional, articulate, creative, interesting, supportive, fun, a motivator with an amazing attention to detail but at the same time a true blue-sky thinker. Dave would engage with every project, issue or opportunity we threw at him with total commitment and he had the respect of people across the entire Goss business.'
Phill Traverse, director at Treefrog Design concurs: 'I first met Dave working on the design of the corporate brochure when he was still at Crosfield. Over time Dave moved from client to colleague, collaborator and mentor. In every aspect he was encouraging, supportive, insightful and inspirational - his influence on me was huge and I owe him a great deal.'
At Bespoke, Dave was respected for his energy, strong work ethic and being generous with his time and knowledge mentoring the company's younger employees. Dave's legacy at Bespoke is summarised by current managing director Ben Dodson: 'Dave's passing marks a very sad day for our company. Much of who we are today, as both communication professionals and people, has been influenced by Dave's kind personality, creativity, supportive and measured management style and his vision for a customer-centric service offering. Dave will be much missed, but his legacy lives long within our business and the many people he influenced.'
On retirement, Dave pursued his lifelong love of sailing with his long-term partner and soulmate Fiona. His passion for the sea was ignited in his youth when Dave worked for the boatbuilder Ray Stapley and spent his summers in Fowey in Cornwall racing speedboats. It was no coincidence that his home in West Sussex was close to Chichester harbour and his treasured Hanse 34 ft yacht 'Finona'. Never a man to be idle, Dave enjoyed spending time in his shed at the bottom of the garden honing his myriad creative and practical skills; projects included repairs, replacement parts and new solutions for the home, the boat and a restored classic MG sports car, together with occasional artworks in wood and metal. He was also a keen and proficient amateur photographer.
David John Chandler was born on 23 October 1948 at Dartford in Kent, the son of John and Betty. He was educated at Dartford Technical High School and Leeds University. He will be greatly missed by Fiona, his family and many friends, colleagues and contacts. He leaves a son Simon, granddaughter Lilly Mae and is survived by his mother Betty and brother Simon.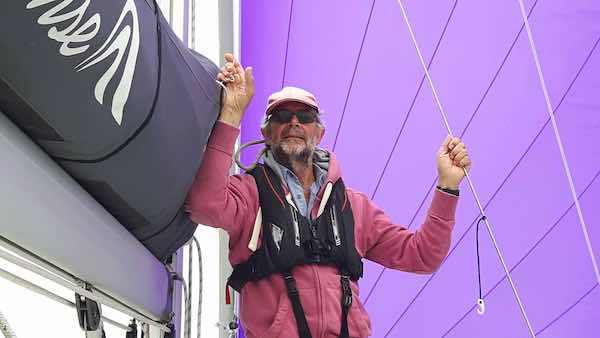 Dave onboard his treasured yacht "Finona"
Donations in Dave's memory may be made to:
CancerWise - https://cancerwise.org.uk/
St Wilfrid's Hospice - https://stwh.co.uk
RNLI - https://rnli.org
This Week in Printing, Publishing, and Media History
October 12
1892: The Pledge of Allegiance is first recited by students in many US public schools, as part of a celebration marking the 400th anniversary of Columbus's voyage.
1979: The Hitchhiker's Guide to the Galaxy, the first of five books in Douglas Adams' Hitchhiker's Guide to the Galaxy comedy science-fiction trilogy, is published.
October 13
1983: Ameritech Mobile Communications (now AT&T) launched the first US cellular network in Chicago.
October 14
1582: Because of the adoption of the Gregorian calendar, this day does not exist in this year in Italy, Poland, Portugal, and Spain.
1884: George Eastman receives a U.S. Government patent on his new paper-strip photographic film.
1888: Louis Le Prince films the first motion picture, Roundhay Garden Scene.
1894: American poet and playwright e. e. cummings born.
1912: The Power of Paper: Former president Theodore Roosevelt is shot and mildly wounded by John Flammang Schrank. Regardless, Roosevelt delivers his scheduled speech—the text of which in his coat pocket blunted the impact of the bullet.
1926: The children's book Winnie-the-Pooh, by A. A. Milne, is first published.
1947: Chuck Yeager becomes the first person to exceed the speed of sound.
1968: The first live TV broadcast by American astronauts in orbit is performed by the Apollo 7 crew.
October 15
99 BC (probable): Roman poet and philosopher Lucretius born.
70 BC: Roman poet Virgil born.
1582: Adoption of the Gregorian calendar begins, eventually leading to near-universal adoption.
1783: The Montgolfier brothers; hot air balloon makes the first human ascent, piloted by Jean-François Pilâtre de Rozier.
1844: German composer, poet, and philosopher Friedrich Nietzsche born.
1881: English novelist and playwright P. G. Wodehouse born.
1908: Canadian-American economist and diplomat John Kenneth Galbraith born.
1923: Italian novelist, short story writer, and journalist Italo Calvino born.
1926: French historian and philosopher Michel Foucault born.
1939: The New York Municipal Airport (later renamed LaGuardia Airport) is dedicated (and has not been updated since).
1956: FORTRAN, the first modern computer language, is first shared with the coding community.
October 16
1758: American lexicographer Noah Webster born.
1847: Charlotte Brontë's novel Jane Eyre is published in London.
1854: Irish playwright, novelist, and poet Oscar Wilde born.
1923: The Walt Disney Company is founded.
1927: German novelist, poet, playwright, and Nobel Prize laureate Günter Grass born.
1950: The Lion, the Witch and the Wardrobe by C.S. Lewis is published.
October 17
1558: Poczta Polska, the Polish postal service, is founded.
1771: Premiere in Milan of the opera Ascanio in Alba, composed by Mozart at age 15.
1814: Eight people die in the London Beer Flood. But what a way to go, right?
1827: Bellini's third opera, Il pirata, premieres in Milan.
1888: Thomas Edison files a patent for the Optical Phonograph (the first movie).
1907: Marconi begins the first commercial transatlantic wireless service.
1915: American playwright and screenwriter Arthur Miller born.
1919: RCA is incorporated as the Radio Corporation of America.
October 18
1851: Herman Melville's novel Moby-Dick is first published as The Whale.
1922: The British Broadcasting Company (later Corporation) is founded by a consortium, to establish a national broadcasting service.
1947: American singer-songwriter and pianist Laura Nyro born.
1951: The Studio for Electronic Music was established at the West German Broadcasting facility in Cologne, making the first modern music studio.
1954: Texas Instruments announces the first transistor radio.
1964: English journalist, author, and programmer Charles Stross born.
1979: The Federal Communications Commission begins allowing people to have home satellite earth stations without a federal government license.
Anything catch your eye "around the Web"? Share it with us at [email protected].