Commentary & Analysis
Creative Sign Designs Spurs Collaboration with Dry-Erase Paint
As Creative Sign Designs was preparing to remodel its facility, President & CEO Jamie Harden came across dry-erase paint from ThinkPaint and immediately saw the benefits, both for his own staff and as a potential new revenue stream for the business.
By Cary Sherburne
Published: September 6, 2016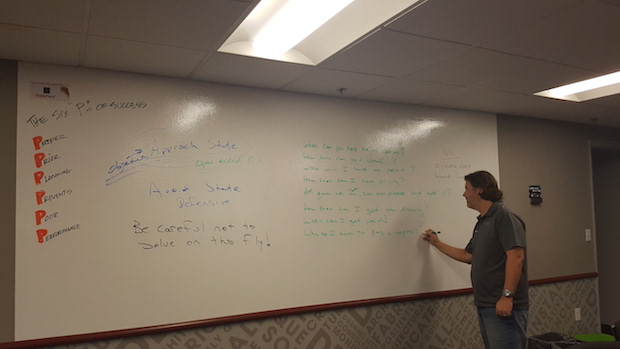 Most companies have a whiteboard somewhere in their facility, and it is a great tool for use during meetings to record ideas and action items. But Creative Sign Designs, in partnership with ThinkPaint, has taken this tool to an entirely new level. According to its President, Peter Tepperman, ThinkPaint transforms any surface into a creative canvas, making any wall painted with its product a whiteboard surface.
Creative Sign Designs, located in Tampa FL, is celebrating 30 years in business. The company has about 120 employees and focuses on the creation and installation of interior and exterior architectural signage. President & CEO Jamie Harden explains, "These are generally very custom projects. For example, if a hospital is being built or remodeled, it needs everything from patient room signage and wayfinding to donor recognition plaques."
Harden was in the process of his own remodel when he encountered the president of ThinkPaint at a Young Presidents Organization event. "It came up in the discussion that they were coming out with a new dry-erase paint," he says, "and I liked the concept of it. We immediately shifted some things around in our own remodel so we could take advantage of it. This is something I would never have thought of, and now we not only use it ourselves but have the opportunity to market the concept to our customers."
During the remodeling process of its 50,000 square foot facility, Creative Sign Designs painted a wall in its lobby and a wall in a conference room with the new paint for a total of 150 square feet. "We were advised not to frame the painted area," Harden says, "as it tends to constrain things. What we have found is that for whatever reason, collaboration and brainstorming work more effectively with ThinkPaint than with a normal whiteboard. It feels more fluid because it is part of the room."
In the company's lobby, the whiteboard painted area offers a place to boost employee morale with recognition, announce company meetings, communicate other important information, and do fun things like posting a riddle of the day. "Because it is part of the décor," Harden adds, "it has an element of clean lines you don't feel with a traditional whiteboard. It has become part of the fit and function of the facility. We feel it has helped spur better communication and more innovative thinking in our organization, and we believe it will only get better over time."
As an added bonus, customers who visit the plant are intrigued with the idea. "We've only been using it for a couple months," Harden reports, "and we haven't really been actively selling the idea yet. But it is high on our to-do list for any client who is building a new facility or doing a remodel, especially in their back office operations. Anywhere there is a collaboration opportunity, it's an intriguing application and a really innovative approach. We think there is some good opportunity here, for us and for our clients. ThinkPaint has been great to work with, and we look forward to partnering with them in the future."