The COVID pandemic has created demand for new print applications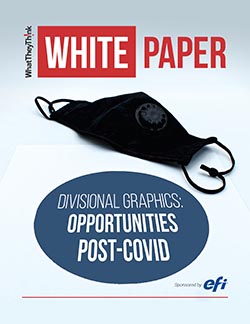 The COVID-19 pandemic quickly spawned new forms of signage and display: what EFI calls—and has trademarked—"Divisional Graphics." These are structural graphics intended to enable or enforce social distancing in public spaces like restaurants, bars, stores, and other locations to help in preventing the spread of contagions—and not just COVID. Divisional Graphics also include as subset other forms of safety signage, such as "distancing dots" and other kinds of graphics.
Although vaccinations against the virus have begun, the coronavirus will remain a persistent threat for the foreseeable future, but even when the immediate threat of the virus has passed, demand for these kinds of graphics applications—and whatever they evolve into—will likely remain. What will today's COVID-related materials likely evolve into? What opportunities will remain for these materials, and what new ones will arise? The new white paper, Divisional Graphics: Opportunities Post-COVID, sponsored by EFI, looks at the present and future of divisional graphics and COVID signage.
In this white paper, you'll learn:
What Divisional Graphics are and how they are produced.
How the COVID crisis quickly created new opportunities for print service providers offering these materials.
How print service providers and university inplants "pivoted" to new applications during the crisis.
How the demand for these graphics will persist and evolve—even after COVID is no longer a threat.
What the business opportunities are for companies offering these materials.
Divisional Graphics: Opportunities Post-COVID white paper complements a recent Divisional Graphics LunchNLearn webinar presented by Richard Romano, Managing Editor of WhatTheyThink, Brian Adam, President of Olympus Group, and Dina Vees, Assistant Professor at Cal Poly and advisor to University Graphic Systems (UGS), Cal Poly's student-run printing and design operation.
Download the white paper here.
About WhatTheyThink
WhatTheyThink is the printing and publishing industry's leading media organization, offering a wide range of publications that deliver unbiased, real-time market intelligence, industry news, economic and trend analysis, peer-to-peer communication, and special reports on emerging technology and critical events. Special interest sections include Economics, Wide-Format & Signage, Labels & Packaging, Software, Print Finishing, Textiles, and Industrial Print. WhatTheyThink hosts webinars and live events as well as providing content through a syndication program, delivering content directly to related websites. In addition, WhatTheyThink offers a wide range of lead generation and branding programs that help print- and publishing-related companies achieve business growth. For more information about partnering with WhatTheyThink, contact Eric Vessels at email: [email protected], Kelley Holmes at email [email protected] or Paul Zimmerman at [email protected].