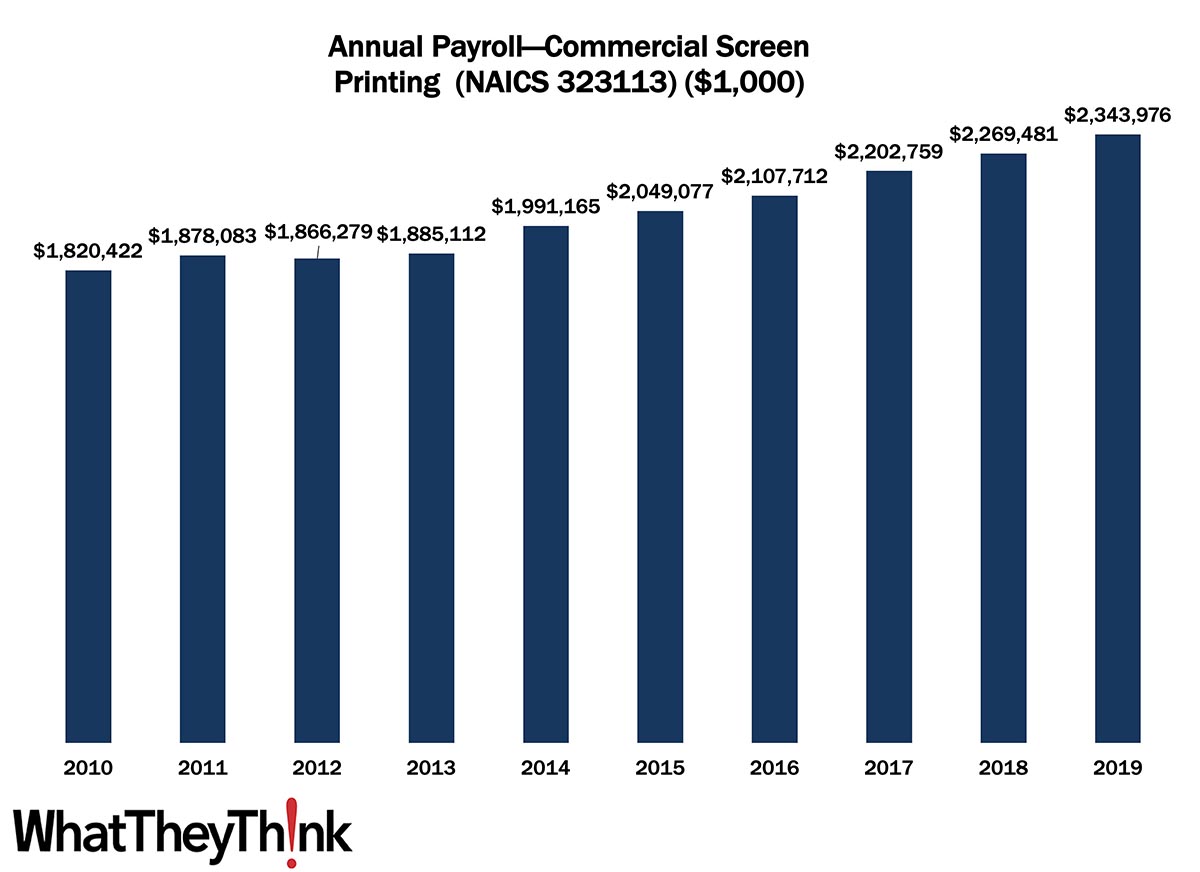 We continue our look at annual payroll in the printing industry.
In 2010, US commercial screen printing establishments had an annual payroll of $1.8 billion. Payrolls in this NAICS were generally unaffected by the Great Recession and rose over the course of the 2010s, at least on a current dollar basis, finishing out the decade at $2.3 billion in 2019. Note that County Business Patterns payroll data are reported in current, not inflation-adjusted, dollars. If we were to adjust for inflation, 2010 payroll would be equivalent to $2.1 billion in 2019, so we are essentially looking at an overall decline of -10% in payroll over the course of the decade. Unlike other NAICS we have been looking at, this is almost entirely due to inflation—employment and establishments had increased by +12% and +16%, respectively, over that same time period.
We attribute these increases to the rise of specialty printing. Screen is commonly used to print on textiles (T-shirts being the emblematic example), and these kinds of items really started to take off in the past decade. Couple this with the rise of short-run and digital technologies that can complement screen, and as demand for specialty items has increased, establishments and thus their employee counts have grown to take advantage of this hot print application area. Unfortunately, payrolls have not increased proportionately.
Coming up next in this data series:
323117 (Books Printing)
32312 (Support Activities for Printing—aka prepress and postpress services)
These data, and the overarching year-to-year trends, like other demographic data, can be used not only for business planning and forecasting, but also sales and marketing resource allocation.
This Macro Moment
Yesterday, the Bureau of Economic Analysis (BEA) released its second estimate of Q1 2022 GDP:
Real gross domestic product (GDP) decreased at an annual rate of 1.5 percent in the first quarter of 2022, according to the "second" estimate released by the Bureau of Economic Analysis. In the fourth quarter, real GDP increased 6.9 percent.
Previously, the BEA had estimated Q1 GDP to have decreased 1.4%. The Q4 2021 estimate is unchanged.
The update primarily reflects downward revisions to private inventory investment and residential investment that were partly offset by an upward revision to consumer spending.