Finishing plays an important role in service differentiation and sales revenue.
Quick turnaround is the most important differentiator associated with finishing, but offering options and the ability to be creative are great ways to stand out from competition.
Tracking the cost of finishing is vital to understanding its value.
Respondents preferred to combine their offset presses and production digital print operations so they could use the same finishing equipment, and thereby maximize their investments.
By Mark DiMattei
Introduction
Finishing documents with cutting, folding, binding, and other methods is crucial to the production of any application. However, finishing methods that are designed to meet the needs of long-run offset may not be suitable for digital printing. The expanding array of digital printing methods has changed the nature of finishing from large-scale devices focused on offset printing to automated methods that are often brought in-line with a production digital printing device. To maximize quality, productivity, and innovation, the role and importance of finishing must evolve as well.
Finishing Closes Deals
According to Keypoint Intelligence's Market Trends in Print Finishing study, many PSPs report that finishing has helped them to win deals. In fact, only 11% of respondents reported that they had never lost a deal due to finishing requirements. Among those respondents who had lost deals because of finishing requirements, the most common reasons included not having the required finishing capabilities, followed by price and turnaround time. All three of these factors can feed upon one another—if you don't have the right capabilities and therefore need to outsource that part of the job, price and turnaround time can be impacted.
Deals Lost Due to Finishing Requirements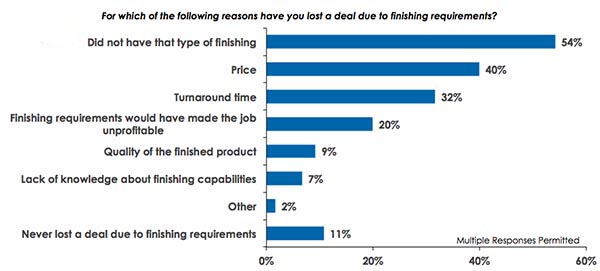 N = 120 Print Service Providers in the US and Canada
Source: Market Trends in Print Finishing, Keypoint Intelligence – InfoTrends 2020
Finishing Creates Market Differentiation
In addition to closing deals, finishing can also serve as a differentiator. Not surprisingly, respondents to Keypoint Intelligence's survey ranked quick turnaround and quality as the key differentiators of finishing. The ability to quickly complete a quality job grows in importance as run lengths decrease and customers demand ever shorter delivery times. At the same time, however, it is also worth noting that a variety of finishing options the ability to offer creative ideas were also important differentiators. Diverse, creative options enable PSPs to stand out from their competitors and grab the attention of consumers and clients.
Finishing Differentiators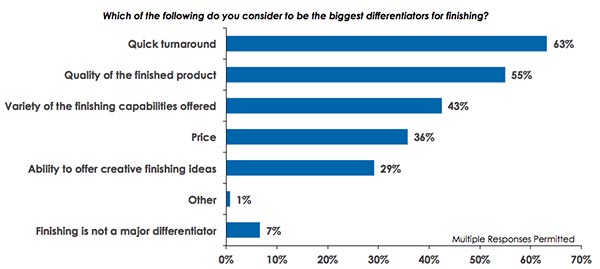 N = 120 Print Service Providers in the US and Canada
Source: Market Trends in Print Finishing, Keypoint Intelligence – InfoTrends 2020
Offset Versus Digital
Offset and digital finishing options are often at odds. Longer offset runs tend to be better suited for finishing through dedicated manufacturing tools. Meanwhile, shorter runs and requirements for quick turnaround naturally do not lend themselves well to devices that take a long time to set up. Additionally, with the growing prevalence of high-speed inkjet digital printing systems, many PSPs find there is a requirement for higher volume and productive finishing tools that have new capabilities for finishing workflow and automation (offline or in-line).
According to Keypoint Intelligence's research, 80% of respondents that had digital print and offset press technologies generally preferred to use the same finishing equipment for both. Only 11% preferred to keep offset and digital production separate, while another 9% reported that combining digital and offset was not possible due to format and other requirements. Regardless, there are benefits to co-locating digital print and offset printing capabilities.
Next Steps
It's all well and good to consider the statistics of finishing options, but there are some actions PSPs can take to ensure that they're getting the most out of finishing.
Get a grip on your current options. Evaluate how you leverage finishing in your current offerings. Focus on the applications that require finishing (e.g., folded brochures, bound books, or die-cut promotional items).
Keep an eye on costs. The only way to truly determine how valuable finishing can be for you is to keep track of all the related costs. Are you using budgeted hourly rates? Are you charging separately for finishing? Once you've obtained a thorough understanding of how finishing is accounted for, you can develop a better go-forward strategy.
Budget for future purchases. Having a plan for additional equipment purchases ensures that you're tracking the investments required to sustain, build, and grow your business. Even if finishing purchases only show up occasionally on a multi-year purchasing cycle, it's always a good idea to have a plan.
Don't forget to account for finishing when making digital print purchases. Printing solutions typically involve a substantial investment, but hidden costs are sometimes overlooked. It's important to consider the role that finishing will play when a new production digital print system is purchased.
The Bottom Line
Finishing may be one of the final steps for many print applications, but it shouldn't be ignored until the end of the process! Although respondents to Keypoint Intelligence's survey clearly believe that finishing capabilities can differentiate their businesses and contribute significantly to sales revenues, this does not necessarily mean that all PSPs are paying enough attention to finishing. There is still work to be done, but most PSPs understand the value and benefits that finishing can deliver. Now is the time to think about how finishing can be applied to other business decisions—especially when making new investments in equipment.
Mark DiMattei is the Manager of Keypoint Intelligence – InfoTrends' Publishing, Editing, and News department. In this capacity, he oversees the editing, formatting, and publication cycles for many different types of deliverables. He also assists in the production of blogs, analyses, research reports, and multi-client studies.