As personalized marketing continues to advance, the rules for what works and what doesn't continue to change. What worked a decade ago, when personalized marketing was new, doesn't have the same impact now. Today, nearly everyone is doing it, so the expectations are higher. That's the conclusion of the report "Driving Value with Advanced Personalization" from Liveclicker and The Relevancy Group.
While the study focuses specifically on e-commerce and retail, it contains valuable insights that can be broadly applied to all market verticals and all types of personalized marketing.
The return on investment for highly personalized marketing? The study put the number at 2000% plus. While we can't apply that directly to print or digital marketing, since this number comes from the e-commerce environment and includes things like personalized product recommendations and live inventory data, as well as the type of rules-based personalization that our industry is doing, the point is, it's big. We're not talking incremental change.
However, as Liveclicker points out, the key to impressive results lies in the word "advanced." The type of personalization that is basic and easy isn't enough.
Basic personalization, such as adding first names to emails and personalizing subject lines, are now so common that they're really table stakes. They're not impressing customers – although consumers may well notice if they're missing – and they're not driving results. They'll become even less impressive as technology continues to advance.
Where are retailers along this curve?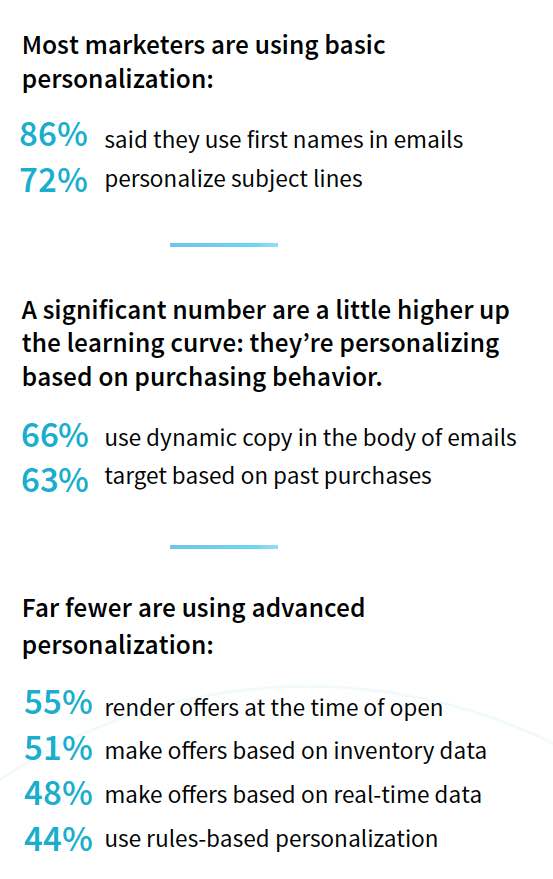 The report rounds out with a case study from Chico's. In 2018, the retailer was looking for ways to better promote its high-end Black Label collection. It designed a test around purchase information it had on its customers. Its promotional emails were split into two test groups: one leading to a product page showing a product that, based on the customer's past purchase history, she would likely be interested in. The second group was a collection page, curated by Liveclicker software, that populated the page in real time with new product arrivals.
The results?
Roughly the same number of customers placed orders, regardless of which page they landed on.
The average order values of the collection pages showed double-digit lifts over the single product page.
"It seems that when customers were shown only one item, they weren't necessarily enticed to explore the site further," notes the report. "But when they saw a collection of items, a good number of customers discovered—and purchased—items that didn't initially interest them, resulting in a double-digit lift in average order values and an overall improvement in orders placed overall."
What's interesting is that the case study doesn't necessarily point to the advanced personalization itself as the reason for success. While we can assume that the new products curated for the collection were selected based on information about each customer, the case study doesn't say that. Rather, it appears that the draw from the collection outweighed the standalone personalized product recommendation. This should be encouraging to marketers, whether retail or not, that are using personalized communications but not ready for 100% dynamically driven product pages. We can assume a base level of personalization by Chico's, but ultimately, it appears that it was psychology that won the day.
The takeaway for everyone? Personalize, test, and know thy customer! A little bit of consumers psychology helps, too.