With centralized marketing, customers more control over the marketing process and are better positioned to deliver a consistent brand message.
With decentralized marketing, local resources can leverage their in-depth knowledge of customers and prospects to better customize messages for each location.
With W2P marketing, customers can create an online marketing portal that provides guidance and direction to customers while still granting them the freedom to develop their own marketing strategies.
By German Sacristan
Introduction
When selling web-to-print (W2P) solutions to marketers, the greatest value surrounds the centralized and decentralized marketing conversation. Although it is perfectly normal for brands to consider expanding their territories and channels to increase sales productivity, doing so is not always as easy as it may seem in today's world. Years ago, most businesses only had one shop and/or one channel in a single town. Now, they will typically have a web presence and hundreds or even thousands of shops in different locations as they work to increase sales productivity. In cases like these, your customers' strategic marketing questions will revolve around whether to use centralized or decentralized marketing across multiple locations.
Centralized vs. Decentralized Marketing
With a centralized marketing practice, the marketing strategy and the creation and distribution of the marketing materials are handled by the corporate or central marketing team. Meanwhile, decentralized marketing is when different locations create and distribute their own marketing materials, usually under brand guidelines. As is often the case, each strategy has its own benefits and drawbacks:
If your customers are choosing centralized marketing, they have more control and are better positioned to deliver a consistent brand message. At the same time, however, they will miss out on the opportunity to allow their local sales and marketing resources—who are closest to their customers—to help customize the messages for each location. At the end of the day, these local channels know their prospects and customers the best, so not leveraging this expertise can hinder marketing effectiveness.
For customers that choose decentralized marketing, local sales and marketing resources can better customize messages for each location based on their in-depth knowledge of prospects and customers. Unfortunately, decentralized marketing can also mean potentially relying on hundreds or even thousands of shops and channels to handle marketing and branding strategies. As a result, key brand messages may become diluted, inconsistent, or possibly misrepresented.
The Best of Both Worlds
One technique for getting the best out of both marketing options (centralized and decentralized) is to use an online marketing portal where local teams can customize content while still adhering to controlled brand guidelines. W2P or Web-to-Promotion technology could enable your customers to market more effectively across different channels and territories, and it might prove to be a natural fit.
With W2P marketing, your customers can create an online marketing portal that each sales and marketing team can access regardless of their physical location. At the same time, however, customers can still build and own their marketing strategy using the portal and decide which marketing products and content are the most relevant based on their strategy. Simply put, the portal would provide direction and recommendations to channels while still giving the customer the flexibility to choose what they need, when they need it, and how they use it.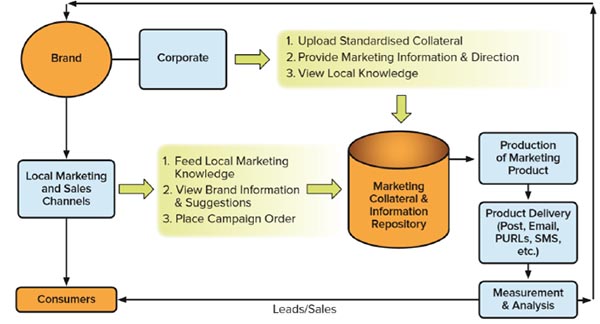 Sample Workflow of a W2P Marketing Strategy (Source: Keypoint Intelligence – InfoTrends)
Your customers will be able to upload assets into a branded online marketing repository for all sales channels. In addition to corporate documents (e.g., brochures, flyers, and cards), these assets might also include promotional items (e.g., T-shirts, coffee mugs, and promotional materials) that can be used to market products and services.
The online experience is secure with W2P marketing—each user has defined rights, permissions, and login information. Additionally, each marketing asset can have locked and editable areas that are controlled by the corporate marketing department to help ensure compliance. Different channels might also have access to different marketing products and content based on what they sell and where they sell it.
Finally, your customers' sales and marketing channels would be able to order what they want, and you would fulfill the orders within the agreed-upon timeframe based on service-level agreements (SLAs) that are set at the corporate level. All of these marketing activities could then be measured and analyzed by your customer's corporate marketing team for future improvements.
The Bottom Line
Centralized and decentralized marketing strategies have their own benefits and drawbacks, but a W2P marketing approach may help deliver the best of both worlds. W2P marketing supports your customer's core marketing strategy and enables them to monitor the use and effectiveness of local marketing activities. As an added bonus, services of this type can help reduce some of the risks that might prompt your customers to turn to your competitors!
German Sacristan is the Director of Keypoint Intelligence – InfoTrends' Production Print & Media group. In this role, he supports customers with strategic go-to-market advice related to production printing in graphic arts and similar industry segments. German's responsibilities include conducting market research, assembling industry and technology forecasts, custom consulting and development of analyses, developing editorial content on technology, and supporting clients in the areas of production digital printing.