Within the label industry, nearly all PFP businesses are label converters.
Small companies represent the core of the print-for-use market, and Labelexpo had many exhibits targeting them.
Based on a survey revealed at Labelexpo by trade association FINAT, the "most desired" new business area for Europe's label converters was pouch-making.
By Bob Leahey
Introduction
As usual, the recent Labelexpo Europe event (September 24–27) in Brussels was loaded with digital print technologies. Dozens of the roughly 600 exhibitors in attendance were dedicated to one type of digital printing or another, and many of the analog press suppliers were showing their own digital products, either as standalone webs or hybrids of inkjet and flexo.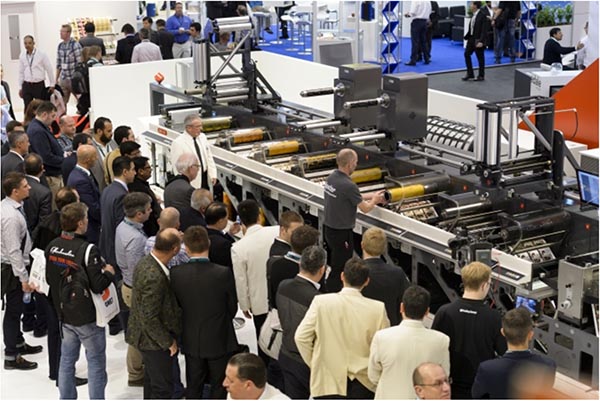 Labelexpo 2019 show floor in Brussels. Source: Labelexpo Europe
There are many ways to segment the digital print technologies shown at Labelexpo 2019, but this article explores the split between digital printing equipment designed for print-for-pay (PFP) service providers vs. those dedicated to print-for-use (PFU) end users. A primary theme is emerging: digital printing technologies that are primarily targeted toward PFU users are growing, while also adding new applications that are increasingly attractive to PFPs.
Print-for-Pay Service Providers
Within the label industry, nearly all PFP businesses are label converters. They are called "print-for-pay" because they buy media from suppliers, convert it to labels (both printed and unprinted), and sell that output to product manufacturers (i.e., brands) and others. Label converters handle the centralized printing of labels on analog presses as well as digital printers. These businesses are the primary target for producers of big EP webs (e.g., HP Indigo, Konica Minolta, Xeikon) as well as big inkjet web producers (e.g., Colordyne, Domino, Durst, Jetrion, Screen, Xeikon). Collectively, these production-level EP and inkjet webs range from about $200,000 to well over $1 million.
Nearly all of these centralized systems operate side-by-side with flexo and other analog printers in the plants of label converters. In this capacity, they can quickly and easily print short runs with fine color graphics, freeing the flexo webs to print just the long runs where they excel—a boon to workflow. In fairness, the occasional big digital label webs are placed with manufacturers (i.e., PFUs) like food or drug manufacturers that have the combination of print needs and expertise to operate a production digital label web in-house. For the most part, though, big manufacturers leave label and package printing to converters.
The Print-for-Use Segment
Small companies represent the core of the print-for-use market, and Labelexpo had many exhibits targeting them. Most digital printers marketed toward the PFU segment are dubbed "tabletops" (i.e., an inkjet or toner-based printer small enough to be placed on a table or bench). These devices range in price from $2,000 to about $25,000, or $50,000 for a printer plus a finisher. Some of the best-known tabletop vendors include Afinia, Astronova, Colordyne, Epson, Okidata, Primera, and VIP Color.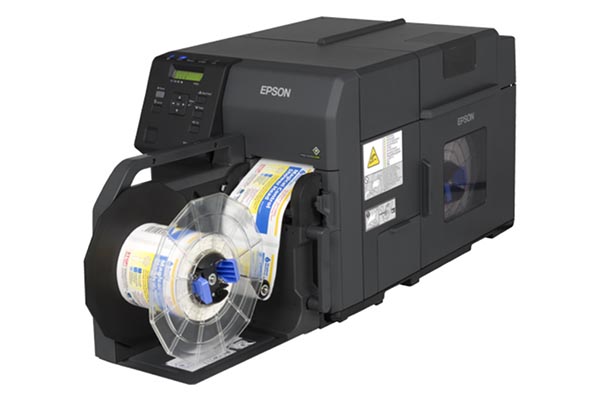 Epson's C7500 tabletop label printer. Source: Epson
Placements for these devices are mainly decentralized. The devices typically produce small batches for small companies, with a lot of "high mix/low volume" print jobs. Examples of target customers include specialty food and nutritional supplement manufacturers. Again, though, there are exceptions to this rule—some tabletop printers are operated by small PFPs.
Ramping Up
One primary lesson from Labelexpo 2019 regarding PFP vs. PFU is that tabletop/benchtop devices are evolving and are now capable of effectively producing a broader range of applications. As a result, the lines of who prints what for whom continue to blur. The new options will steer more tabletop- and benchtop-sized printers into companies that sell their output to others (PFPs), and they will enable some end-users (PFUs) to print flexible packaging for the first time. Here are a few examples:
The Trojan T2-C (2018) is a baby version of the Trojan T2 that is essentially a high capacity tabletop label web inkjet printer. Although the specifications of this device are familiar with the Memjet technology that it's based on (e.g., CMYKK dye inks, 1,600 dpi, 18 mpm speed, 8.8" web width), this machine can reportedly operate 24/7 and costs $30,000.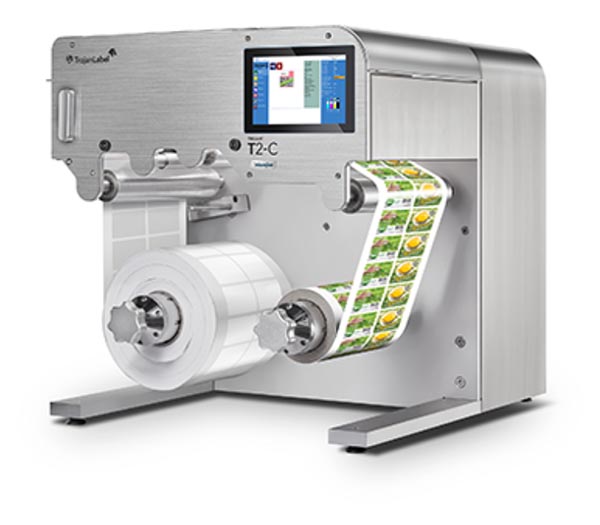 Trojan's Label T2-C tabletop label printer. Source: AstroNova
Afinia is now offering a Memjet-based label printer that carries the same price as the Afinia L901 ($12,000). At Labelexpo 2019, Afinia showed its new device printing pillow-type flexible packaging pouches with lamination in-line. Separately, Afinia loaded the laminated output into a form-fill-seal machine to yield small printed pouches on the show floor. It should be noticed, however, that the pouches have to be small; the web, like the Trojan T2-C, is just 8.8 in.
Okidata, which supplies toner-based LED tabletop webs, focused on its new Pro 1050 at the event. This 5.10in., 1,200-dpi web is unique among tabletops in that it prints CMYK + white. The white ink is distinctive and normally found only at converters. It will likely prove valuable in the Fast-Moving Consumer Goods (FMCG) label printing market for clear labels, specialty designs, and graphics.
Based on these and other products on display at Labelexpo, inkjet technology supplier Memjet deserves a special mention. Memjet's VersaPass technology is the jetting inside the existing tabletop/benchtop printers from Afinia, Trojan, and others. Although VersaPass (2010) has its limitations (e.g., dye inks, short printhead life, high running costs), it has primarily succeeded in the tabletop market because of its high resolution/speed and low equipment costs. At Labelexpo, though, Memjet highlighted the new "Dura" versions of its technology. The DuraFlex (2019) and DuraLink (2018) products offer reconfigured thermal inkjet heads for long life and pigmented inks for light resistance. AstroNova, Trojan Label's parent, showed one of the first DuraFlex-based webs in prototype. Although this mini-press is still unnamed, unpriced, and has other details yet to be determined, it will likely blur some lines. Although AstroNova has always sold its devices primarily to end-users, the company's newest offering will likely be a better fit for label converters.
The Most Desired New Application
Based on a survey revealed at Labelexpo by trade association FINAT, the "most desired" new business area for Europe's label converters was pouch-making. Labelexpo 2019 had lots of applications of this type on display. For example, HP Indigo's booth was displaying the HP Indigo 20000 operating with a complete "PackReady" lamination and pouch-making by Karlville.
HP Indigo 20000 for flexible packaging and labels. Source: HP Indigo
The Rigoli MVZ was another interesting product based on Memjet technology. This device is distinguished by its width (42 in. vs. 30 in. for HP Indigo's 20000), and its price ($300,000 vs. $1.7 million for HP Indigo's 20000). Rigoli reports several placements for the printer in Italy, with nearly all of them going to coffee and food companies. This provides another lift for PFU placements, in this case fairly high production-level equipment.
The Bottom Line: An Ecosystem is Key for Success!
The vendors and users who want to break boundaries and do new things will need more than just good color digital printers. Vendors that have experienced the most success have supported their products with software that facilitates creation, color management, automatic calibration, imposition, and tracking. Finishing and media components are also important. In all areas where digital has succeeded in food packaging, there are certain critical elements that must be addressed to conform to regulations. These may include the listing of ingredients, expiration dates, and country of origin. Software and workflow components that help ensure print compliance is vital for the successful use of these tools in all environments. Overall, an effective ecosystem will need to support the new digital label and packaging printers, which will in turn enable new roles for new users.
Bob Leahey has many years of experience in consulting to the peripherals and supplies industries. At Keypoint Intelligence – InfoTrends, his primary focus is conducting custom research projects, most often on inkjet, thermal, and color laser technologies used for commercial and industrial applications. He is also the main analyst for InfoTrends' Color Digital Label and Packaging (CDLP) continuous information service. His clients have included a wide range of printer and supplies manufacturers, and other companies, in all regions.