In addition to increasing engagement, game mechanics encourage consumers to actively promote their involvement amongst their social media circles.
Applying the principles of gaming to outside fields is known as gamification. Although this is not a new process, it is underutilized by many industries.
Research from Keypoint Intelligence – InfoTrends has confirmed that the best AR apps are seamless, taking virtually no time to implement while remaining highly social.
By Colin McMahon
Introduction
At first glance, game mechanics and workflow practices may seem worlds apart. After all, workflow procedures are created to generate productivity and drive revenue, while game mechanics are tailored solely for entertainment purposes. Nevertheless, these two areas have overlapped for decades. Those who have enrolled in frequent flyer rewards programs or own a gold, diamond, or sapphire level credit card have themselves participated in business-oriented game mechanics.
Game mechanics—including the ideas of social competition, collaboration, measurable achievements (level design), and feedback loops—help drive consumers to use products. Furthermore, in addition to increasing engagement, game mechanics encourage consumers to actively promote their involvement amongst their social media circles. For example, Delta Airlines never pays anyone to post about how they were able to earn a free flight through their rewards program, but people choose to do this all the time. Proper use of game mechanics has made businesses millions, and there's no reason that print service providers (PSPs) shouldn't use it with their consumer-oriented offerings.
Understanding Game Mechanics and Gamification
A game is defined as any experience that engages at least one person in a collaborate or competitive effort against a defined set of rules (and potentially other people). Despite their fun nature, games are rigid experiences that are designed to be played in specific ways. Deviation from the rules will often cheat the experience or produce a completely nonsensical result. Games—especially video games—are often segmented into levels of difficulty, becoming harder and more complex as the player progresses further.
Applying these same principles to fields outside of gaming is called gamification. Once again, this is not a new process, but it is still underutilized by many industries. When properly employed, gamification can produce noticeable results. According to a 2018 TalentLMS survey on gamification in the workplace, 89% of employees felt that gamification made them more productive, and another 88% believed it made them happier… and this is only on the internal side!
In the United States alone, gaming is a multi-billion-dollar industry. Research conducted by ESA found that 65% of American adults play video games, with most (60%) using their smartphones to game.
Gaming Habits by Age
Share of US adults who sometimes/often play video games on a computer, TV, game console, or portable device like a smartphone

Women

Men

Ages 18-29

49%

72%

Ages 30-49

48%

58%

Ages 50-64

34%

29%

Ages 65+

25%

23%

Source: Pew Research Center; March & April 2017
With so many people enjoying gaming, why are some companies hesitant to incorporate game mechanics into their marketing strategies? The simple answer is because it's not always easy! While good use of game mechanics engages consumers and draws them into a brand, improper use only serves to consume resources. No one wants to play a poorly designed game, especially when there are thousands of great options to choose from.
Many companies, like airlines, have stuck to basic game mechanics for this very reason. A frequent flyer program is game design at its most basic—the more points the user puts into it, the more rewards they receive. This encourages them to spend money they would otherwise save. In addition, since all of these programs are brand-specific (you can't book Delta flights to get JetBlue points), the traveler will always feel pressure to use the same airline. A frequent flyer program is a much safer investment than, say, designing a comprehensive 3D video game that promotes a Virgin Atlantic plane and selling it for $60.
PSPs that are considering incorporating game mechanics in their products should first ask themselves the following questions:
Who is my current audience?
Who is their ideal audience?
Game design should then be tailored into an experience that accommodates both groups. In addition, the potential opportunity must also be considered. PSPs can create loyalty programs that are similar to those of airlines and credit card companies, but would more sophisticated gamification techniques enable greater product enhancement?
Augmented Reality and the New Potential of Gamifying Print
While some may think of print as a static technology, the reality is that it is still evolving in today's world. Augmented reality (AR) can have a particularly strong impact on print. Using AR involves creating a digital overlay on top of physical, real-world images. This digital overlay can consist of text, images, animations, films, or even game mechanics. Companies like HP and Konica Minolta have already developed software platforms to help PSPs incorporate AR into their current and future printing solutions, bringing pages to life in a way that was never before possible. Like so many other tools that have come before it, though, AR can be used poorly. Incorporating AR with print does not automatically translate into an improved experience. PSPs must consider the big picture when creating AR applications. A user who spends several minutes providing personal information, downloading an app that only works on certain images, and working to align it properly will be disappointed if the end result is only that the image moves slightly.
With so many apps at their disposal that are less invasive, less time-consuming, or more universally applicable, consumers will not want to invest in apps that do not deliver an adequate reward. AR is a powerful new opportunity that truly enables print to do more, but the experience must be as enjoyable as a game. Above all, the consumer must be entertained and engaged to the point they wish to continue—a one-and-done AR experience is a wasted investment for a PSP.
Keypoint Intelligence – InfoTrends has been tracking consumers' behaviors toward AR for several years. Our research has confirmed that the best AR apps are seamless, taking virtually no time to implement while remaining highly social. The most commonly used personal AR experiences incorporated animated photo/video filters (via sites like Facebook/Snapchat).
Most Popular AR Applications for Personal Use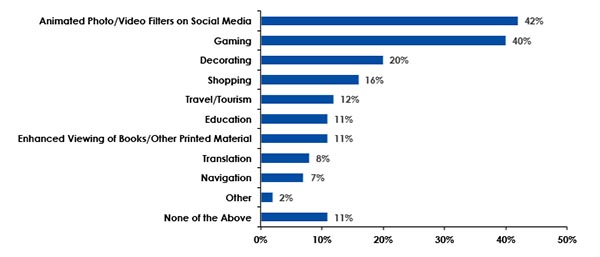 N = 883 Respondents who are using AR
Source: Immersive Imaging Study; Keypoint Intelligence – InfoTrends 2018
Apps like these can be used in seconds and then easily shared with friends and family on popular social networks used by millions of people. There is potential for PSPs to add these same social options to print (enabling users to customize books, brochures, and other media with personalized touches), but it should always be remembered that the best games are easily learned and shared.
The Bottom Line
Gamification is only expected to become more prevalent as time goes on. The share of gamers on a global basis continues to rise, and innovators will continue to find new ways to apply game mechanics outside their original field. PSPs can capitalize on this trend by embracing the concepts of gamification by promoting social aspects (collaborative or competitive), developing a level structure, and incorporating positive feedback loops into their product offerings.
Colin McMahon is a Research Analyst at Keypoint Intelligence – InfoTrends. He primarily supports the Business Development Strategies and Customer Communications services. In this role, he creates and refines much of InfoTrends' written content, including forecasts, industry analysis, and research/multi-client studies. He also assists with the editing and formatting processes for many types of deliverables.