The DuraLink head has been redesigned at its core—the heating elements have been repositioned to cut thermal wear, only one ink color is channeled per head, and other features have been altered to accommodate pigmented CMYK inks.
DuraLink is a much more durable head; Memjet reports that it has 10X the life of VersaPass.
Since DuraLink was announced in August 2017, Memjet has made initial contact with 147 prospective partners (34% from the Americas, 42% from EMEA, and 24% from Asia Pacific).
By Bob Leahey
Introduction
Today's inkjet printer market has some big developments from Memjet to consider. Briefly, Memjet's second-generation technology, DuraLink, has achieved its first commercial placements from a few OEMs, and more OEMs are coming. It is important to note that packaging is the focus for all of these first implementers. Based on the other prospective OEMs with whom Memjet is currently working, the company is launching DuraLink printers for industrial applications as well.
Background
Memjet DuraLink was first announced in August 2017 and is quite different from the company's long-established VersaPass technology, which now powers thousands of printers from about 30 OEMs. Like VersaPass, the DuraLink head is 8.77 in. (225 mm), end-user replaceable, and based on thermal inkjet technology. It jets aqueous inks and achieves 1,600 dpi resolution. At the same time, however, a notable difference is that the DuraLink head has been redesigned at its core. The heating elements have been repositioned to cut thermal wear, only one ink color is channeled per head, and the nozzle orifice size and other features have been altered to accommodate new, pigmented CMYK inks (VersaPass inks are dye-based).
Although the new DuraLink head has other design differences from VersaPass, the ones just cited do the most to separate the two technologies and yield the following differences:
DuraLink is a much more durable head; Memjet reports that it has 10 times the life of VersaPass
Its printed images are much more environmentally resistant, particularly to light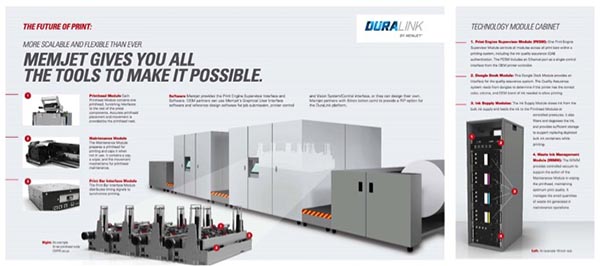 DuraLink brochure image
Industrial Print Applications
With these features in mind, Memjet's mission with DuraLink has been to steer the new technology into industrial print applications. Here are the earliest examples:
Colordyne 3600AP Retrofit Module and Engine Kit: Includes two label webs, one a module to turn a flexo web into a hybrid, the other an engine that is customizable for integration with a partner's press.
MGI AlphaJet: This multi-station B1-size sheet printer uses DuraLink for color graphics, then piezo inkjet for digital embellishment, and then piezo again, if needed, for printed circuitry such as RFID.
UP Group DuMax 330: This high-speed standalone color label web is offered by one of China's top technology marketing companies.
Basch Leopard by Liaoning Zheng Hong Basch: This monochrome label printer centrally prints addresses and codes on paper labels for big logistics and express delivery companies in China.
As a group, these first implementers are indicative of things to come; a label or packaging application is the focus in each case. Also, the target is centralized, high-volume print, not the desktop printing that is often attributed with Memjet VersaPass technology. Finally, these first OEMs are from all regions—Colordyne is based in North America, MGI is in France, and UP Group and Basch are in China.
Regarding the geography of the DuraLink prospects, Memjet General Manager Eric Owen recently explained that since DuraLink was announced in August 2017, Memjet has made initial contact with 147 prospective partners; of that total list, 34% of the companies are in the Americas, 42% are in EMEA, and 24% are in Asia Pacific. He added that 56% of the prospective partners have been intent on developing printers for some type of packaging application—labels, folding cartons, flexible packaging, or corrugated—and they range widely, from long-time Memjet OEMs such as Colordyne to companies that have never been Memjet partners.
During the short time during which Memjet has been marketing DuraLink, Owen reports that 61 companies have moved past the introductory phase, to at least have an NDA with Memjet. Many of these interactions involved more, such as visiting Memjet in San Diego or making initial drawings and investigating media and finishing options. Of those 61 businesses, seven are now fully committed to DuraLink product development—they've bought jetting modules and subsystems from Memjet and dedicated engineering staff to product development, working closely with Memjet along the way. All seven have at least prototypes ready now, and three—Colordyne, MGI, and UP Group—have begun marketing products. Basch, noted earlier, is close to commercialization; another OEM, Prototype and Production Systems, Inc. (PPSI), and two unnamed companies make up the rest of the seven committed partners. After this group, Memjet says another six companies, also unnamed, are close to deciding on full product development.
Can DuraLink Compete With Other Industrial Jetting?
With DuraLink, then, Memjet is aiming its latest thermal inkjet at high-volume jetting applications that are primarily based on piezo inkjet (Epson, Fujifilm, Kyocera, Ricoh, Xaar, etc.) or continuous inkjet (Canon Océ, Kodak, Screen) thus far. These other jetting technologies have a reputation for ruggedness and, in the case of continuous inkjet, throw distance—both important qualifiers for industrial printing. Can Memjet compete with these established industrial jetting technologies? Without seeing a lot of units in the field, it's difficult to answer that question today. That said, Memjet DuraLink has features—a few of which it shares with VersaPass—that make it a credible fit for industrial printing. For example:
Aqueous inks: Memjet inks are always aqueous, with none of the photoinitiators that have given UV piezo its reputation for potential toxicity. Memjet inks are considered safe for indirect food contact, a great benefit given the importance of food packaging applications.
Head size: At 225 mm (8.77 in.) for both DuraLink and VersaPass, just five stitched Memjet heads make up a 1-meter line head. This is fraction of the stitching that most piezo heads would require. Fewer heads and less stitching cut down on risks and likely costs.
Orifice/faceplate configuration: The jetting orifices of a Memjet head occupy only a narrow strip (0.7 mm wide) on the faceplate, limiting the surface area exposed to a head strike. The orifice row is made from silicon dioxide (very hard) and is slightly protected by a thin bead of epoxy right next it, a little ridge that holds circuitry.
Possible 4 mm throw distance: Optimal throw distance for DuraLink is still a tight 0.7 mm. The same is true for VersaPass, but Memjet reports that with design modifications and investments in hardware and software, a DuraLink OEM can achieve a throw distance of up to 4 mm (over 1/8 in.).
As always, there's the question of costs. How does Memjet compete in this area? Memjet printer prices have generally been low or even very low, but even at 10 times the life of VersaPass heads, DuraLink jetting units will need a lot of replacement units. The cost of ink must be accounted for as well. According to Eric Owen, similar to VersaPass printers, prices for DuraLink printers will be low in relation to the competition. He elaborates, "We'll go where we have to with prices for industrial users, and we'll be competitive. With 10X printhead life, however, DuraLink jetting units will have a positive impact on overall cost."
The Bottom Line
DuraLink already has a few developers ready to go to market, and others will certainly follow. Memjet is ready to support them with heads, inks, subsystems, and engineering. Another important impression is that the DuraLink OEMs and products will show up in all regions, and for a wide range of uses. Although packaging is one application, others are also likely, with commercial printing one of the top candidates. At least one application will be flexible packaging, an area in which Memjet is little-known at this time. Three OEMs (Colordyne, Trojan, and Rigoli) introduced VersaPass-based printers in 2018 to print that application, using pre-treated films from Sihl (Germany) to print pouches and bags. These businesses and others are candidates that will likely enable DuraLink to establish itself as a good option for digital flexible packaging applications.
Finally, Memjet appears to be moving up a notch in terms of who it competes with. As noted earlier, the list of core inkjet technology suppliers that compete in industrial printing applications is now a long one. Thanks to its DuraLink offering, Memjet will soon join these ranks.
Bob Leahey has many years of experience in consulting to the peripherals and supplies industries. At Keypoint Intelligence – InfoTrends, his main work has been to conduct custom research projects, most often on inkjet, thermal, and color laser technologies used for commercial and industrial applications. He is also the main analyst for InfoTrends' Color Digital Label and Packaging (CDLP) continuous information service. His clients have included a wide range of printer and supplies manufacturers in all regions.