On a global basis, DTG printed garments represent around 9% of the printed T-shirt market. North America remains at the forefront of the industry in terms of print volume and retail value.
The North American DTG market is currently valued at over $2.5 billion and is expected to achieve a compound annual growth rate of 10.5% through 2021.
Mass customization, increased personalization, and environmental benefits are fueling the growth of short-run print on demand.
Workflow tools and ease of use are creating growth potential in new segments. The expansion into synthetics is also creating additional opportunities in commercial and industrial printing.
By Catherine Cresswell
Introduction
By now, it's a well-known fact that digitally printing onto fabric is a viable and reliable method for producing long-lasting, high-quality, washable applications like signage, clothing, home décor, and a host of technical fabric applications. Although the process is not simple, advancements in printheads, ink, pre-treatment options, and printing equipment, coupled with ease of transportation, enable the creation of more cost-effective short-run solutions.
Direct-to-garment (DTG) printing represents a growing component of this market. With DTG, finished garments are loaded onto the printer's platen to accommodate a multitude of T-shirt sizes and even edge-to-edge printing. DTG printing can be used with white or colored garments, but colored garments will often require pre-treatment and a base of white ink where the color will go.
According to Credence research, consumers will purchase well over 10 billion new T-shirts per year, and printed/custom printed items represent over 54% of this volume. Based on Keypoint Intelligence – InfoTrends' 2017 Global DTG Forecast, digital DTG printing represented less than 9% of the printed/custom printed market in 2017. At the same time, this industry is experiencing double-digit growth as businesses strive to satisfy the growing demand for creativity, personalization, faster turnaround times, and shorter run lengths.
Key Industry Trends
Over the past few years, suppliers and producers alike have witnessed several key trends that are driving demand for digital DTG printing. These include:
Mass customization: From a supply chain perspective, mass customization creates the need for a toolset that enables short-run manufacturing so suppliers achieve fast turnaround, minimize waste, and reduce inventory. On average, per capita spending on clothing in the U.S. was $795 in 2017, and some of these items were undoubtedly decorated T-shirts.
Personalization: Today's consumers have a strong need for individual self-expression, and they are frequently influenced by popular celebrities or current events. Many consumers use clothing to express themselves, and this fuels the need for personalized DTG printing.
The environment: The textile industry has a bad reputation for pollution and resource consumption during the manufacturing process, but new standards like OekoTex enable consumers and suppliers to better understand the environmental impact of various printing processes. Today's manufacturers are taking steps during all parts of the process—cotton growing, fabric production, cutting and sewing, and supply chain management—to reduce their impact on the environment.
These industry trends bode well for the ongoing expansion of digital printing, particularly given its ability to address many facets of the supply chain. For example:
Digital printing facilitates the production of short-run or small-batch lots. In addition, just-in-time manufacturing helps accommodate seasonal demands or new introductions to reduce waste.
Now that virtually all businesses can access a production capacity that will meet their needs, major brands can offer new products from emerging designers with lower risk so consumers can fulfill their need for self-expression. Digital also enables consumers to create their own designs via web-to-print orders that can often be accommodated in 24 to 48 hours.
Digital printing on fabrics conserves resources because the process generally requires less water. Furthermore, DTG printing saves even more water because it is a dry curing process.
The DTG Landscape
DTG printing is most advanced in the U.S. and is being fueled by growing consumer interest. In January 2019, the ISS Show in California provided evidence of continued advancements in DTG, encompassing the low-end commercial market as well as the high-volume industrial market.
The DTG printer market includes commercial and industrial devices as well as a few subsegments within each category based on print volume and price. Small producers will typically serve their local communities with a range of garment decoration and premium manufacturing services. Meanwhile, larger manufacturing facilities with screen printing equipment will usually produce high-volume output and may outsource some of the work to offshore companies. Finally, some other companies are riding the wave of mass customization by making extensive use of e-commerce. Using web-to-print portals and partnerships, these businesses can aggregate production in a hub-and-spoke operation to meet consumers' demands for fast turnaround and customization.
All of these producers rely on several key products to accommodate their production needs. These include an ever-growing array of products that support retail over-the-counter printing for small commercial businesses as well as industrial and hybrid systems. These higher-end industrial products include a range of digital and analog technologies.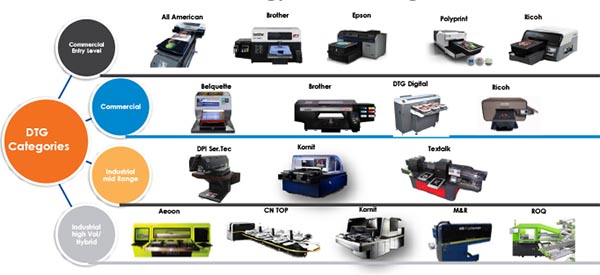 The DTG landscape. (Source: Global DTG Printing Forecast; Keypoint Intelligence – InfoTrends 2018)
Over the past few years, commercial devices have seen a dramatic improvement in functionality, usability, and reliability coupled with a decrease in prices. Recent product introductions have included improved speeds, better resolution, circulating printheads, white ink printing capabilities, and improved user interfaces. Brother's GTX printer and Epson's SC2100 attracted a lot of interest at ISS 2019, and plug-and-play type devices like Ricoh's Ri100 offer very low price points (<$5,000) that promise to spread the technology beyond the garment decoration channels. Innovations in platen shapes and sizes have also helped to broaden the list of possible applications, enabling DTG printing on baby clothes, size XXL T-shirts, jeans, baseball caps, tote bags, cushion covers, and a variety of promotional gifts.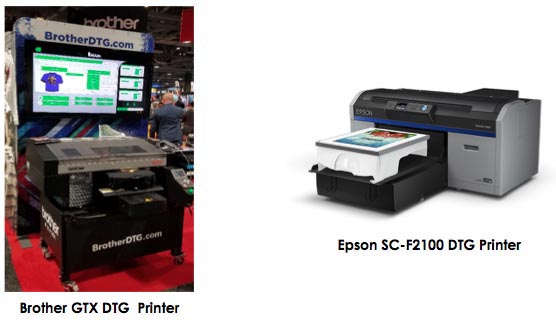 DTG printers at ISS 2019. (Sources: www.duecigrafica.it; Keypoint Intelligence – InfoTrends)
Toner-based transfer printing has also seen a widespread increase in popularity for garment printing applications. Vendors like Oki Data and Uninet offer white toner and even metallic effect toners, bring yet another dimension to the low end of the market.
On the industrial printing side of the market, some devices can accommodate up to 400 T-shirts per hour. Most of these devices are priced well above $100,000. Kornit, which was instrumental in setting this segment in motion, has since been joined by other high-volume suppliers of dedicated and hybrid systems (e.g., Aeoon, M&R, OvalJet). Hybrid devices combine analog screen or pre-treatment with digital printing, typically in a screen printing carousel formation.
The combined DTG sector in North America was valued at over $2.6 billion in 2018 and is expected to achieve double-digit growth (10%+) on an annual basis. By 2021, over 210 million pieces are expected to be printed using inkjet DTG technology.
2019 ushered in a flurry of new developments in this space, all designed to improve productivity, quality, or expand DTG pigment ink printing to synthetic garments. These developments were common among commercial printing vendors as well as some in the industrial space. We are also seeing a growing number of shop management and web enablement tools with low-priced cloud-based ordering tools. Many of these are offered as Software-as-a-Service (SaaS), enabling providers of all sizes to offer online design, web-to-print, fulfillment, and inventory management services.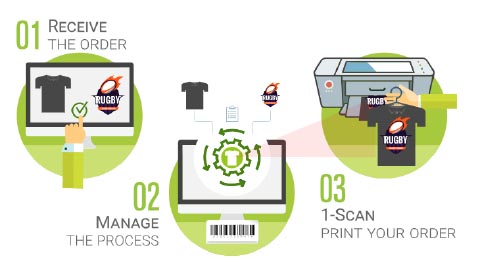 Wurk's Wurkflow Management Tool. (Source: www.workflow.net)
In terms of new device announcements, Roland DGA entered the DTG space with its VersaSTUDIO B12 device. Kornit also launched its new ATLAS and Avalanche POLY PRO printers. Introductions from emerging players included Omniprint's Cheetah industrial DTG printer, Photo USA Machine Elements' SMART-540, and ROQ's roqhybrid DTG dual inkjet hybrid DTG device.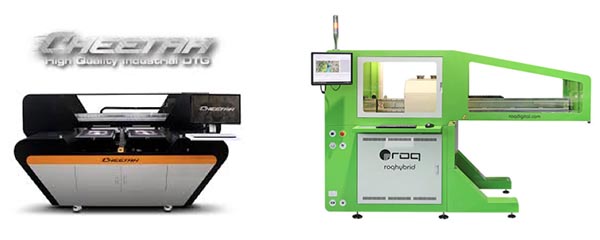 Omniprint's Cheetah (left) and ROQ's roqhybrid (right).
The Bottom Line
Digital printing is an obvious choice for print service providers in segments like garment decoration where margins are good and demand is robust. At the same time, however, digital printing on textiles requires a fundamental understanding of supply chain business practices and production processes. Understanding the unique standards within this segment (e.g., crock, wash-fastness) is critical to success. There are many solutions that can enable print service providers to expand their opportunities, but it is important to establish a realistic business case before jumping into any new market sector. Opportunities abound for businesses that can effectively integrate design-to-order capabilities with increased color complexity, and the rising demand for mass customization will continue to fuel the transition to digital.
As Associate Director at Keypoint Intelligence – InfoTrends, Catherine Cresswell is responsible for the research and analysis of all aspects of the digital textile printing market with a focus on European activity as well as the European supplies market. She has more than 24 years of experience in analyzing and forecasting digital print markets covering office, production, and wide format digital printing. She specializes in supporting and advising the material industries across Europe, the U.S., and Japan on technology and market developments to help shape their product and marketing strategies across digital print markets.