Preliminary counts indicate that Print China 2019 attracted over 200,000 visitors and 1,200 exhibitors.
Although offset presses are rarely on display at Western events, Print China is one of the few remaining printing trade shows that still displays a wide range of offset presses.
One of the most promising new introductions came from China-based Founder Electric, which introduced its P6600, a full-color continuous feed inkjet press.
By Ralf Schlözer
Introduction
Print China, Asia's largest printing industry exhibition, has been held every 4 years since 2007. The 4th iteration of the show took place from April 9th to 13th at the Guangdong Modern International Exhibition Center. The trade show alternates with China Print in Beijing, which is also held every four years and caters to the general printing industry as well. Since the Chinese market is so vast, both shows have a unique regional appeal—Print China focuses on Southern China while China Print caters to the Northern China printing industry. Both shows are large enough to attract local as well as international visitors, primarily from the Asia Pacific region. Sponsored by Printing and Printing Equipment Industries Association of China (PEIAC), both shows have the same organizers and claim visitors from more than 100 countries. Language can sometimes be a barrier, and not all vendors are well-prepared for a discussion in English.
A final post-show statement for 2019 is not yet available, but Print China 2015 set an historical record with a total trade volume of nearly 6 billion RMB (about US $1 billion, intended transactions included). This represented an increase of about 20% in relation to Print China 2011. In addition, Print China 2015 surpassed the 8th Beijing International Printing Technology Exhibition (China Print 2013) to become the largest exhibition in Asia and the second-largest in the world (Drupa in Germany captured the first place spot). About 206,000 visitors attended Print China in 2015, up 20% over 2011. The preliminary count for 2019 amounted to just over 200,000 visitors—in line with what was seen four years ago. The 2019 event attracted 1,200 exhibitors from 28 countries.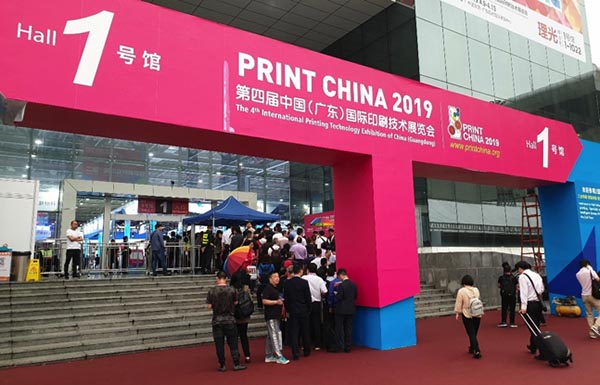 Entrance to Hall 1 at Print China
More About the 2019 Event
Print China covered several halls of the Dongguan Exhibition Centre, with many halls having two floors. The ground floor of Hall 1 was reserved for digital printing, but several additional digital print exhibits were sprinkled among the other halls as well. Hall 6 was dedicated to label printing equipment, but once again, label printers—especially digital ones—were also found in other halls. While the ground level floors were packed with exhibitors and visitors, the upper level was decidedly less busy. Print China 2019 accommodated 140,00 sq. meters of space, only slightly smaller than Drupa 2016 (158,237 sq. meters).
Print China is one of the few remaining printing trade shows that still displays a wide range of offset presses. Offset presses are rarely on display at Western trade shows because of cost reasons, plus press vendors believe that all customers and prospects who are interested in offset devices are known and can be directly targeted with open houses. Meanwhile, the Chinese market is a bit different—its shows continue to attract potential buyers who may not been on the prospect lists of large equipment manufacturers. As a result, events like Print China are an important venue for capturing the attention of these companies.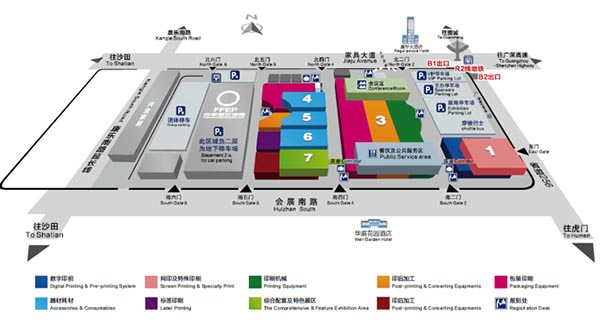 Hall layout at Print China 2019
The Chinese Printing Industry
In terms of paper consumption, China represents the largest printing industry in the world. Since China is the world's workshop, it should come as no surprise that packaging and label printing volumes are very high, but China also ranks on top for commercial print (on paper).
In relation to other regions, the Chinese print industry is very price-sensitive. Despite the size of the overall industry, competition is quite fierce. This slows down shift from monochrome applications to full color and likely means that monochrome digital printing will remain a viable market in this region for many years to come. The high level of price sensitivity in China is primarily confined to equipment pricing and running costs; much less attention is paid to supply chain optimization, value-added services, and just-in-time production. This, coupled with low labor costs, means that digital printing technology remains relatively weak in China. At the same time, however, the shift toward digital print will be fueled by rising labor costs, a shortage of qualified laborers, and additional pressure on efficiency. Furthermore, new government regulations banning pollution in cities will force analog printing plants to relocate. Meanwhile, low-emission digital devices would still be permitted in urban areas.
Printing Equipment on Display
The Print China trade show focuses on commercial printing and related industries. Although non-commercial exhibitors are gaining in importance, commercial print represents the largest component of the show. Most of the leading analog and digital print equipment manufacturers exhibited at Print China 2019. Some Chinese manufacturers surprised attendees with new device launches, and this was especially the case for continuous feed inkjet technology. One of the most promising new introductions came from China-based Founder Electric, which introduced its P6600, a full-color continuous feed inkjet press. This device, which will be released in 2020, accommodates up to 6 colors, offers a print width of 660 mm, and features a web speed of 150 m/min.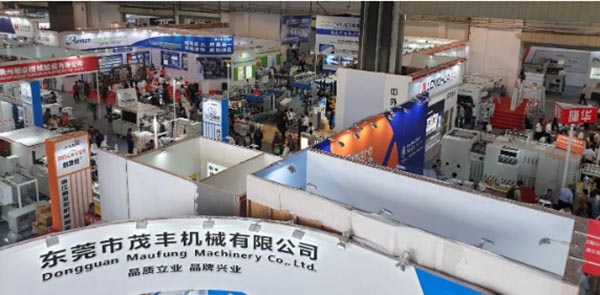 Overhead view of Hall 3
Since the Chinese market is biased toward packaging printing, the large amount of packaging presses and converting equipment at Print China 2019 came as no surprise. There were few new introductions of digital packaging presses; even Heidelberg's Primefire 106 was shown offsite. Most of the activity came from the digital label printer side of the market. During this year's event, Keypoint Intelligence – InfoTrends counted at least seven of these devices that saw their launch or first public presentation, most from Chinese manufacturers. Short-run and label printing is often a springboard to digital packaging printing, and Print China 2019 was a vivid testament to that.
Embellishment equipment also featured quite prominently at Print China. This is likely due to a relatively high interest in embellishment effects as well as the strong importance of label and packaging printing in China. Established manufacturers like Scodix and MGI showcased their latest products, but several domestic equipment manufacturers also demonstrated new products that rivaled these. InfoTrends counted at least 4 new devices from local vendors at the show, and these manufacturers will typically offer a lower equipment cost to gain a foothold in the market.
The Bottom Line
Given its size, Print China retains a remarkably low profile in relation to Drupa or some trade shows in the United States. That said, this event caters to a lively print industry in China and is increasingly reaching some surrounding countries as well. Several vendors have already begun to capitalize on the size and the number of visitors that Print China attracts. Obviously, most domestic equipment vendors have been using Print China and China Print for years as a launching pad for new equipment, although much of the equipment from domestic producers fails to make an impact outside of China. This has begun to change as more and more international vendors have started launching products at Print China. For example, Konica Minolta showcased its AccurioLabel 230, while Heidelberg previewed a cloud-based workflow/ management system for folding cartons. While developments from domestic vendors will of course continue, we also expect to see more international device launches at major Chinese trade shows in the future.
Digital printing technology is only beginning to scratch the surface in China, but growth is expected to accelerate over the next few years. The movement toward increased customization and just-in-time production is becoming ever more prevalent, driven by a rapidly growing e-commerce market in China. Furthermore, printers are also facing rising labor costs, a shortage of skilled laborers, and environmental regulations that may affect analog printing. It will be interesting to see how China's digital printing market develops in the years to come, particularly during China Print in Beijing during 2021 and the next Print China in 2023.

As Director of Keypoint Intelligence – InfoTrends' On Demand Printing & Publishing Consulting Service, Ralf Schlözer is responsible for all service related publications and research on a global basis. He handles market trend forecasting and research projects, as well as the creation of presentations, newsletters, and analysis reports. Mr. Schlözer has over 20 years of experience in the Graphic Arts and Graphic System Manufacturing industries. He also has extensive knowledge of traditional and direct imaging presses as well as non-impact printing technologies.