Mailers are advised to read and understand the requirements of these 2019 programs to ensure that their clients achieve the best results.
The first promotion of 2019, which went into effect this week, provides a 2% postal discount on qualified mail pieces incorporating tactile, sensory, and interactive elements.
For best results, build enough time into the campaign planning process to submit the campaign to the USPS for review and approval well ahead of the target mail date.
By Pat McGrew
Introduction
At the beginning of this month, the USPS opened the first of its six 2019 promotions. With a USPS Board of Governors finally in place, the USPS has gone beyond offering simple incentives to shore up mail volume. These new USPS promotions encourage mailers, marketers, and printers to work together using innovative technologies and cutting-edge techniques to create unique and engaging mail pieces.
Program Overview
Although these new programs promise great options for postal savings, there is a tougher requirement for planning and execution this time around. Mailers are advised to read and understand the requirements to ensure that their clients achieve the best results.
Here's a summary of the 2019 USPS Postal Discount Programs in order of eligibility:
Tactile, Sensory, and Interactive (TSI) Mail Piece Engagement: This promotion leverages print innovations to heighten the recipient's experience and increase response rates with sensory engagement. Qualified pieces will incorporate specialty inks (including ones that conduct electric circuits or react to exposure of water, pressure, or light), special paper (ranging from those with holographic effects to pieces with edible components), and interactive elements (like pop-ups or infinite folds). From February through July, the USPS is offering a 2% postal discount on qualified Marketing Mail and non-profit letters and flats.
Emerging and Advanced Technology: Similar to the Mobile Shopping Promotion but significantly broader in scope, this offer is designed to encourage mailers to enhance the effectiveness of a physical direct mail piece by making it a part of a more cohesive campaign and incorporating a distinctly multi-channel experience. This promotion will run from March 1 through August 31, 2019, and qualified pieces will receive a 2% discount at the time of mailing. To qualify for this promotion, the piece must incorporate a technology like Virtual/Augmented Reality, Digital to Direct, Bluetooth Low Energy Beacon, Near Field Communications, Video in Print, or one of the newcomers to the program (e.g., Mixed Reality, Addressable TV, and Integration with Digital Assistants).
Earned Value Reply Mail: To stall the decline of First-Class mail, the USPS will award registered mailers a $0.03 credit for each Business Reply Mail, Courtesy Reply Mail, and Share Mail piece they send in April, May, and June. Participants can apply their accumulated credits to future mailings of First-Class Presort and Automation cards, letters and flats, and Marketing Mail items.
Personalized Color TransPromo: From July 1 to December 31, the USPS is offering a 2% discount to first-time participants who use color and marketing messages to enhance their bills and statements. Mailers who have taken advantage of this promotion in previous years must use dynamic color and personalized messaging to qualify.
Mobile Shopping Promotion: This promotion offers an up-front 2% discount on the postage of Marketing Mail flats that include a call to action and a print/mobile technology that recipients can scan to make an online purchase. This promotion will be in effect from August 1 to December 31, 2019, with registration beginning on June 15, 2019.
Informed Delivery: From September through the end of November, business mailers who register for Informed Delivery and launch an interactive campaign within the platform can claim a 2% discount on postage.
USPS 2019 Mailing Promotions Calendar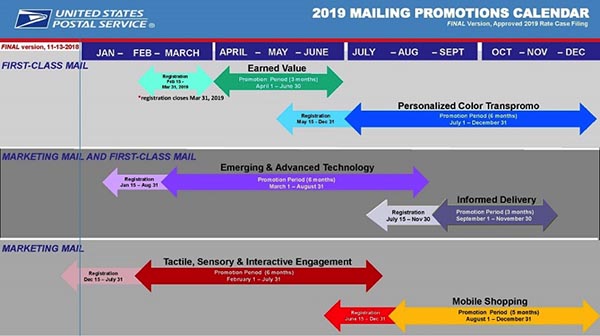 Meet Program Requirements by Planning Ahead
Although these promotions can provide significant value to mailers, meeting the requirements can require some work. For best results, build enough time into the campaign planning process to submit the campaign to the USPS for review and approval well ahead of the target mail date. Take the time to educate your clients on any requirements and timeframes so that there are no surprises.
For more information and guidance on how to create a campaign that meets the USPS requirements, visit https://postalpro.usps.com/promotions. Pay careful attention to the registration periods and the different e-mail addresses for each of the promotions. Mailers should be prepared to respond to questions from reviewers so they can make any necessary changes to meet the requirements.
The Bottom Line: Why Bother with Discounts Anyway?
In addition to the significant savings that are available to mailers, innovative, data-rich, and relevant mail pieces can improve the customer experience, promote better response rates, and increase ROI. The USPS promotions for 2019 are designed to move mail toward long-term and sustainable growth by leveraging its unique value. When used correctly, direct mail can jump-start engagement and drive digitally-connected commerce, particularly on mobile devices and among Millennials.
With the right tactics, you can dramatically increase the value that you deliver to your customers by enabling them to deliver more relevant mail pieces and saving them money on potage costs. At the same time, you can simultaneously add volume to your digital color print production, and the benefits of this will come right back to your bottom line!
Leveraging more than three decades as an evangelist for technology in communication, Keypoint Intelligence – InfoTrends' Pat McGrew uses her technical and marketing background to lead the industry toward optimized business process and information workflows. She has worked with companies to help them define their five-year plans, audited workflow processes, and developed sales team interventions and education programs. She educates the industry in production workflows to promote effective communication. If you have stories to share, Pat would love to hear from you! She can be reached via Twitter (@PatMcGrew), LinkedIn, or e-mail ([email protected]). For more information on how to gain access to InfoTrends' content or to subscribe to our consulting services, contact Deanna Flanick at [email protected].