EFI plans to focus on its internal culture, ensuring that every employee has an exceptional experience that can be passed on customers.
A fashion show featuring Ariel Swedroe's designs, realized using EFI technology, was a great case study about the power of digital for design and execution.
Beyond the main tent sessions, the 20th anniversary edition of the event was more focused on EFI's core competencies than 2018 had been.
By Pat McGrew
Introduction
2019 was the 20th anniversary edition of EFI Connect, a networking event for EFI customers and partners that happens in Las Vegas each January. Even though EFI Connect has been around for two decades now, this year's event included many firsts. Customers, partners, analysts, and journalists in attendance enjoyed a lively event emceed by Frank Tueckmantel and hosted by Bill Muir, EFI's new CEO. With the event team, Muir delivered all of the educational elements that you would expect from a vendor networking event and married them with relevant keynotes that had a Las Vegas flair. Muir is a measured speaker, and he offered a straightforward view of EFI and where it is going.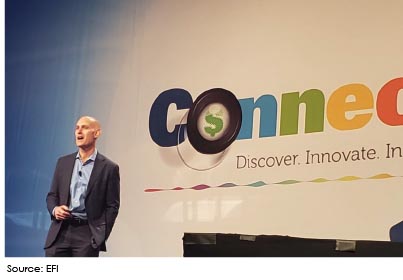 Bill Muir delivers the keynote address at EFI Connect.
As he takes the controls to steer the EFI 4.0 engine (a nod to Industry 4.0), innovation and execution will be key. Muir believes that his company must do a better job of execution. This means focusing on the internal culture, ensuring that every employee has an exceptional experience that can be passed on customers. Muir believes that if EFI focuses on its culture and customers, the capital to achieve its goals will follow.
Event Highlights
In addition to Muir, main tent sessions included:
A Fireside Chat with Joe Popolo, CEO of The Freeman Company
Olivier Gariépy and Michel Savoie from the Cirque du Soleil Costume Shop
Ariel Swedroe, teen fashion designer and Principal at Swedroe by Ariel
The connecting thread of the keynotes was the use of EFI technology. For attendees, the Freeman and Cirque du Soleil stories provided a myriad of ideas for products and services, as well as some insight into how global organizations view the opportunities enabled by EFI's technologies. From using DesignPro for creative design and Optitex to execution across a variety of print formats and materials, the guided journeys that these speakers provided were highlights of the event.
Ariel Swedroe's contribution should not be discounted. As the granddaughter of well-known Miami architect Robert Swedrow (Turnberry Place, Omega) she had access to his designs and collages. She has parleyed them into a booming high-end fashion line spanning beachwear and resortwear, plus a new men's line. Smart mentorship from DesignLab Miami's Angie Cohen, guidance from her family, and the staff at her magnet high school all help ensure that this teen designer will remain on the road to becoming a fashion force in coming decades. The fashion show featuring her designs was another great case study about the power of digital for design and execution.
A fashion show featuring Swedroe by Ariel designs.
Beyond the main tent sessions, the 20th anniversary edition of the event was more focused on EFI's core competencies than 2018 had been. Last year, we were all waiting for an announcement by EFI and Xerox regarding the FreeFlow Print Server, but it didn't come until after the event. The acquisitions of Reggiani and Optitex were fresh, the arrangement with Jetrion to take on sales and service was new, and we also learned that EFI was repackaging its software solutions into suites. Sessions covered the products from a technical and application perspective, but it was difficult to know where to spend time with so many options. The agenda of this year's event was built to appeal to regular, long-time attendees and first-time attendees alike—and there were many of both!
Sessions & Press Briefings
Key talk tracks from the sessions and press briefings were the ongoing and ever-expanding opportunities for EFI's customers. According to EFI's VP/General Manager of Industrial Printing José Luis Ramón, today's digital opportunities include not only the wide-format rigid, roll, and hybrid solutions, but also printing on ceramics and building products. The Nozomi device have been enhanced with eco and POP modes, and all of the modes can now be used with white ink. The new Nozomi top feeder and enhanced coater expand product options even more.
According to Adele Genoni, VP/GM of EFI Reggiani, digital is the future of textile printing. Fast fashion, custom footwear, the expanding personalization of luxury goods, and consumer demand in home décor are paving the way. EFI's new motto is Credibility from Slogan to Action, and the company is bringing additional ink and chemistry options as well as its new Bolt device for single-pass textile production to market. Not all of the textile announcements came from EFI Reggiani, however. John Henze, VP of Sales and Marketing for EFI Fiery, noted during a press briefing that Fiery DesignPro and the Fiery Image Viewer also bring productivity to the textile production story.
Nick Benkovich, VP for Productivity Software, also provided an update. Within the Productivity software suites, the migration to HTML5 web interfaces is enabling customers to quote faster and win more work while reducing the costs of creating estimates. Ongoing improvements to PrintFlow and AutoCount, as well as the evolution of MarketDirect ProcessShipper, provide substantial differentiation for customers seeking to justify upgrades.
Ken Hanulec, VP of Marketing for Inkjet Solutions, shared EFI's Vision Statement: Inspiring the World with Spectacular Imagery on Any Material. To help accommodate this vision, EFI continues to expand its wide format product portfolio. The company recently announced the addition of "cold cure" LED to reduce energy consumption while also expanding substrate options. Meanwhile, the VUTEk FabriVU 340i for soft signage with inline fixation is an interesting offering for PSPs supporting sign installations. The soft signage market is growing because it can be up to 50% cheaper to ship and is often installed by a single person.
Outside of the press briefings, Keypoint Intelligence – InfoTrends' Pat McGrew and Kate Dunn participated in educational sessions at Connect. In addition to a joint presentation on Big Opportunities in Wide Format Printing, McGrew and Dunn hosted a panel that included Nathaniel Grant (President of GAM Graphics and Marketing) and Dan Johansen (Ricoh's Marketing Manager for Wide Format in Commercial and Industrial). In addition, Kate Dunn gave a presentation on Building an Employer Brand to help attendees understand how to write sales position descriptions that attract talent. Pat McGrew presented 3 Big Ways to Expand Your Inkjet Business, which focused on technology, workflow, and applications that can help attendees grow their businesses.
The Bottom Line
User events are always a good way for attendees to meet one another, develop their own networks, and learn about products and services that they might not hear about from their account reps. EFI gave owners of its hardware and software offerings a compelling reason for making their way to Connect in Las Vegas. During this year's event, the educational offerings spanned the needs of the newest customers all the way up to those who have been using EFI's solutions for many years. A number of EFI partners were also featured (e.g., Ricoh, Xerox, and Enfocus) to help PSPs create more well-rounded print shops. EFI has shifted its focus to customer needs, and this is a great way for the company to continue building its annual Connect event.
Leveraging more than three decades as an evangelist for technology in communication, Keypoint Intelligence – InfoTrends' Pat McGrew uses her technical and marketing background to lead the industry toward optimized business process and information workflows. She has worked with companies to help them define their five-year plans, audited workflow processes, and developed sales team interventions and education programs. She educates the industry in production workflows to promote effective communication. If you have stories to share, Pat would love to hear from you! She can be reached via Twitter (@PatMcGrew), LinkedIn, or e-mail ([email protected]). For more information on how to gain access to InfoTrends' content or to subscribe to our consulting services, contact Deanna Flanick at [email protected].