Whether you are helping your customers develop their marketing strategies or educating them about the value of printed communications vs. digital, it's important to understand the growing importance of environmental issues in the minds of consumers.
According to a new study by Nielsen and The Conference Board ("Global Consumer Confidence Survey"), 81% of consumers globally feel that it is "extremely important" or "very important" that businesses implement programs to improve the environment. This is somewhat lower in more developed markets like the United States (69%), where the populations are more insulated by technology, medical care, and other modern comforts, but it's still the overwhelming majority.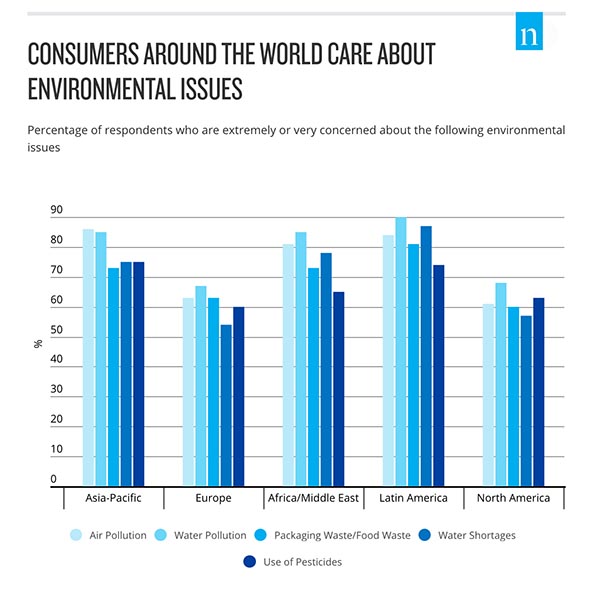 Concern is also (and not surprisingly) highest among Gen Z, Millennials, and Gen X consumers.
Nielsen asked about specific environmental issues, including air pollution, water pollution, packaging waste/food waste, water shortages, and use of pesticides.
Issues surrounding packaging waste clearly impact our industry, but what about the others? They don't, directly. What matters here is the larger trend.
Notes Nielsen,
In light of these concerns, consumers around the world are making adjustments in their shopping habits. While still juggling convenience, price and awareness along with their need to better the world, they're looking for companies to step up as partners in their quest to do good.
If consumers care this much about the specific issues studied, we can extrapolate to other environmental issues, including those that impact the areas that MSPs and PSPs touch. These include:
Client messaging
Channel mix
Client education about environmental impact of different channels
Consumer education about environmental impact of different channels
Substrates selected
Packaging and print materials design (such as decisions relating to weight, shape, and recyclability)
Of course, many more.
If environmental issues aren't on your radar (other than your own internal production), maybe they should be. They are certainly on the mind of your clients' target audiences, and wherever you can help your clients capitalize on that, you should.
Nielsen concludes its release on the study with this:
Corporate responsibility and sustainability strategies may take different shapes around the world, but one thing is clear: Consumers are using their spending power to effect the change they want to see. They key to being benevolent and bankable partners in their efforts is in understanding where current sales spikes can be seen and embracing the changes that are on the horizon.
That pretty much says it all, doesn't it?