If you're doing multichannel marketing (and even if you're not), the percentage of mobile Internet users should matter to you. It should matter both in terms of how the target audience is responding (and how you accommodate that response) and in terms of print's competition for marketing dollars.
Right now, according to eMarketer's "U.S. Mobile Usage and Ad Spend Snapshot" (January 2018), there are 274.6 million Internet users in the United States. Of these, more than 93% are mobile, which means they access the Internet on a mobile phone or tablet at least once per month. Fifteen percent of those (40.9 million) are accessing the Internet exclusively from their phones, up 11% between 2016–17. The takeaway? You cannot do multichannel marketing effectively without building up your mobile competency.
Here are some more numbers from the eMarketer report:
Total mobile phone Internet users: 223.0 million, up 6.0%.
Tablet Internet users: 157.4 million, up 4.6%.
Smartphone Internet users: 219.8 million, up 6.1%.
While Internet users do use multiple devices, the percentage who are mobile only is growing:
Desktop/laptop Internet users only (18.0 million). This is down 11.8%.
Dual mobile and desktop/laptop Internet users: 215.8 million up 2.0%.
Mobile only Internet users: 40.9 million, up 11.1%.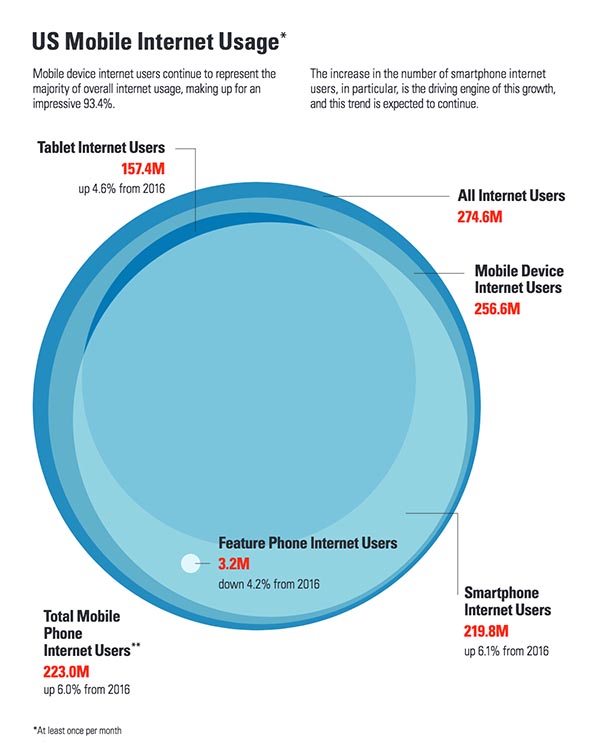 Source: eMarketer
Mobile is also important because print has to compete with mobile for clients' budgets. According to eMarketer, mobile ad spending reached $46.7 billion in 2017 and was twice that of desktop ad spending. Notably, the bulk of those dollars were spent on in-app ads. In fact, 84% of mobile Internet time is now spent in apps, compared to 15% via mobile browsers.
As mobile-only usage grows and Internet time is being spent in apps rather than in browsers, simply sending people to a mobile-optimized version of a website isn't going to be enough. Marketers need to understand and optimize the full mobile marketing experience, and if you—as a marketing services provider—are going to offer true multichannel marketing campaigns, you're going to need the competency to help them do it. That competency has to be more than just lip service. It must be competency that you actually own.
What's your mobile in-house competency? Is that going to change in the next 12 months? Why or why not?