As social media, mobile and other forms of digital communications became more universally accepted in the early 2000s, many marketers diverted dollars that had previously gone to printed communications to a digital-only strategy, placing even more pressure on a consolidating commercial print market.
But was their confidence in digital communications misplaced? This cartoon shows how a marketer might misunderstand what drove a consumer to make a purchase. Just because the actual order was placed via a mobile device doesn't mean that mobile communications drove the action!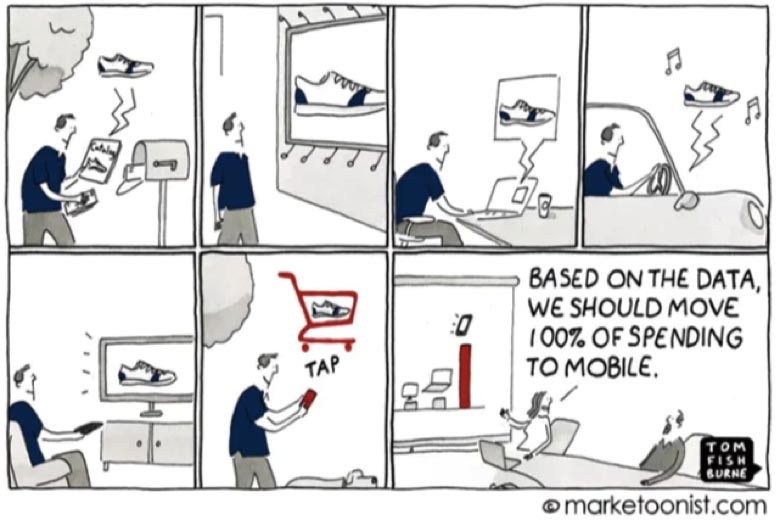 In recent years, marketers are again turning to print as an important element of an omnichannel communications strategy. Even in transactional printing, which was one of the fastest areas to go digital, many customers still want a printed statement, although payment is typically done online now.
Interestingly, Millennials, which now comprise the largest population cohort, love getting mail! A recent USPS study, conducted in mid-2016,[1] revealed that the vast majority of Millennials take the time to look through their mail and would rather scan for useful information in the mail than in email. And 90% of Millennials, according to the study, view direct mail advertising as reliable.

In fact, almost half of Millennials ignore digital ads with only 15% saying they ignore direct mail ads! And it's not only Millennials! Email fatigue has driven other population cohorts to seek relevant information from printed communications, most of which still arrive in the mail.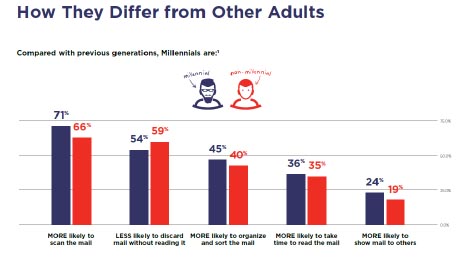 There's also the issue of how recipients respond, emotionally or otherwise, to print versus digital communications. As reported in the study, the USPS partnered with the Center for Neural Decision Making at Temple University's Fox School of Business on a study to gauge responses to physical and digital advertising pieces, resulting in very interesting data:
Printed mail required 21% less cognitive effort to process.
Direct mail resulted in a 70% higher retention rate as compared to digital ads.
Activation in parts of the brain that that correspond to motivation response was 20% higher for direct mail.
All of this adds up to better results for the marketer and a better consumer experience, important in ensuring effectiveness of customer communications programs.
For service providers producing customer communications, the future looks promising. This is not to say that service providers should ignore digital communications – not by a long shot. It is still important to offer omnichannel services. But the good news is that print is a growing and important component of most marketing campaigns these days.
To hear directly from service providers who have generously shared their experiences and insight into the growing importance of printed communications across a variety of segments, be sure to visit our webinar archive. This one-hour session is chock full of great information and was sponsored by Quadient (formerly GMC).
[1] Millennials and the Mail, https://www.uspsdelivers.com/still-relevant-a-look-at-how-millennials-respond-to-direct-mail/