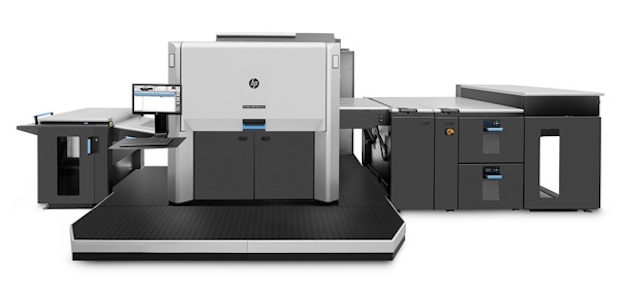 HP Indigo 12000
On the second day of drupa 2016, HP Indigo announced two major sales of its new HP Indigo 12000 presses:
Photo specialty company Shutterfly purchased 25 HP Indigo 12000 presses to be installed this summer in order to accommodate the company's peak holiday season; and
Cimpress, the parent company of VistaPrint, acquired about 20 HP Indigo presses to be installed in The Netherlands, Italy and Canada, with more than half to be installed by the end of the year.
Printing 29 inch sheets in color at up to 4600 per hour, the HP Indigo 12000 press is capable of producing over two million color sheets per month. It has improved color accuracy and consistency, and includes workflow and automation tools that make it capable of handling thousands of jobs daily – a must for both of these companies.
"Shutterfly has been an Indigo customer for more than 15 years," said Alon Bar-Shany, HP Indigo's General Manager. "This is the largest deal in the history of Indigo, and we are thrilled to be able to continue our partnership with Shutterfly." He also told WhatTheyThink that Shutterfly is also acquiring the new HP DFE and Horizon Smart Stackers to complete its production enhancement. "Our long relationship and Shutterfly's confidence in our ability to executewere important decisions factors," Bar-Shany added.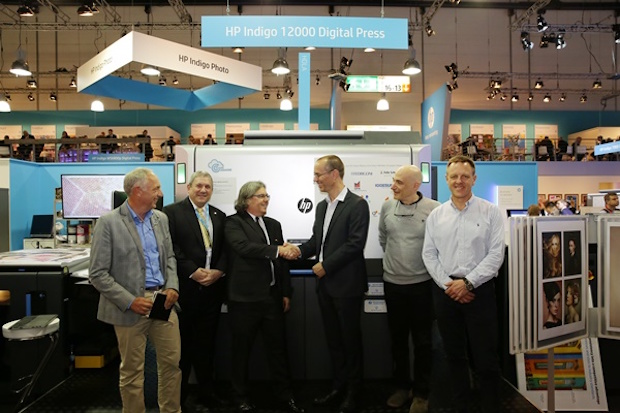 Cimpress CEO Robert Keane shakes hads with Indigo General Manager Alon Bar-Shany
Cimpress, currently HP Indigo's largest customer, is about to become an even bigger customer with the addition of about 20 HP Indigo presses along with some other equipment, new DFEs and workflow components. Cimpress is also using HP's recently announced PrintOS. Both Cimpress and Shutterfly also own HP Indigo 10000s.
"We have installed 350 of our Series 4 presses in the past four years," Bar-Shany says, "and with these two sales and some others that have taken place in the first two days of the show, we are now suddenly at 400; and while we are still focused on the entire Series 4 line (Indigo 10000, 20000, 30000), the HP Indigo 12000 is starting to become the real workhorse for mid-sized to larger companies. It's evidence that the Indigo line still has a lot of life, and there is much more to come from Indigo as we move into the future."
While some of the volume to fill these presses, particularly those at Cimpress, will come from offset transfer, much will be new volume. Bar-Shany adds, "There is still a massive opportunity to convert offset to digital, and these presses will help us and our customers do that. Even if we only converted one percent of current global offset volume, it would triple our business!"