Recent economic data have not been very encouraging for the first estimate of GDP. Last year, the first quarter was negative as there was a large inventory correction from prior quarters (and also the annual blame for Winter weather, as if Winter does not occur every year in seasonal adjustments... but that's another story for another time). The chart of retail sales excluding motor vehicle sales compared to prior quarters shows quite a dip into negative territory (click chart to enlarge)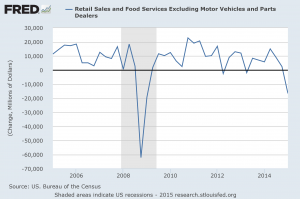 The growth of industrial production, as measured by the Federal Reserve, has been slowing for four months (click chart to enlarge)
The consensus GDP forecast among forecasters was in the 3% range, but over recent weeks have been revised downward by many of them. A slower first quarter caused the Federal Reserve to reduce some of its annual forecasts, as we noted last month. The Fed continues to report growth in most of its districts, however (Beige Book released 4/15/15).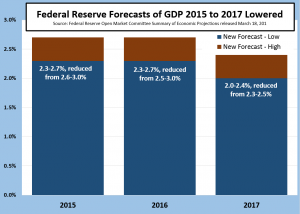 The Atlanta Fed has a special project,
GDPNow
. GDP is prepared by the Bureau of Economic Analysis, and the components of their calculation are known and documented. The Atlanta Fed creates a GDP estimate as the data the BEA use are released and revised. They report this GDP estimate and compare it to the
Blue Chip
economic forecast, and the range of its ten highest and ten lowest forecasts. This means that those interested in economic conditions can get a preview of the upcoming GDP report. The
GDPNow
website has plainly-written background about the project and its methodology, as well as a timetable for its updates. The latest chart, as of this writing, shows GDP for Q1 as +0.2% (click chart to enlarge). Note how the Atlanta Fed GDP estimate has been heading lower as new data have been released, and is now well below the range of the bottom ten forecasts.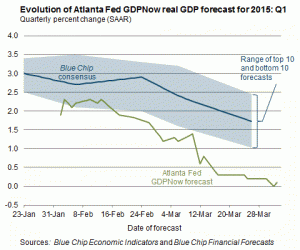 The
GDPNow
estimate is only for the GDP quarter estimate that is about to be released. In this case, that first estimate of Q1 GDP, called the "advance" estimate, is less than two weeks away. Once that official report is made,
GDPNow
will be used to estimate Q2's GDP.
GDPNow
is an important tool for planners and businesspeople, but needs to be viewed in context. GDP is of little use in day-to-day decisions but can answer the question of whether or not perceived business conditions are rampant, or industry-, or company-specific. You're always better off being focused on your clients and prospects, rather than general economic data, especially short term movements in them. But it is quite possible that the GDP report of April 29 might be quite a downside surprise for many business owners and may prompt concerns about recession. Look long term: we're probably still in the range of overall real GDP growth of +2.25 to +2.75%. # # #